What makes you despise the Police the most? If it is not obese cops taking a knee to folks who want to end capitalism, boycott Israel, end the nuclear family and defund the Police, it is perhaps the way that the Rozzers always bleat about lack of resources to fight crime but then leach ever more from taxpayers to fund woke profligacy. Remember that the applicant for the job advertised below will never tackle one single crime and is only No 2 in the West Midlands Police unit responsible for sniffing out incorrect thoughts within the force, yet will still be among the top 5% of earners in the UK. Oh yes and that £74,340 comes before the perks…
These include:



28 days annual leave (plus bank holidays) with the option to purchase additional days




access to a Corporate Health Cash Plan and wellbeing website




modern working environment in central Birmingham 




the opportunity to save on travel costs through a Corporate Travel Scheme 




the option to join a generous pension scheme



Fuck me, I am tempted to apply. So what would I have to do? Apparently I'd have to "lead the implementation of the WMP Fairness and Belonging agenda, strategy and plan which underpins delivery of our workforce vision and values, and our 'This Work Matters' strategy."  Good, so I wouldn't have to do anything to do with solving crimes or catching criminals or making the force better at either of those things. That's a relief.
Instead, if I am appointed, I'd "support and oversee improved inclusive culture throughout the workplace – encouraging the integration of initiatives in the force. The role will also see you managing all inclusion issues relating to operational Force activity, as our recognised expert in this field. You'll also lead and develop your people which includes a team of Diversity & Inclusion practitioners and the Fairness in Policing team, but your influence will be felt across the Force."
Great, so nothing to do with tackling crime then? After all, as taxpayers, that is sort of what we might hope the Old Bill might think was its actual job. So what skills do I need? Anything to do with catching criminals or actually being a Policeman? Er…no!
"With an authentic presence and highly effective interpersonal skills, you'll naturally inspire confidence and instil trust as a visible leader.  You'll be creative, collaborative and adaptable committed to achieving true change-led results; you'll be comfortable challenging senior leaders. You'll have demonstrable ability relevant to of delivering diversity and inclusion strategies both internally and externally and be comfortable representing West Midlands Police on an external stage. To join us, you'll need to show you can lead a diversity and inclusion function in a large organisation, with achievements to demonstrate how you'll add value in this role.
You will have expertise, commitment and dedication to the inclusion agenda and you will be well-connected, knowledgeable, insightful and able to evidence experience of strong leadership capability within large complex operations involving the direction and support to staff teams and effective partnerships with a wide range of internal and external clients."
Great. I bet family members living in the West Midlands must feel safer already. 
And the Police wonder why more and more of us see them as another British Institution that has completely lost the plot.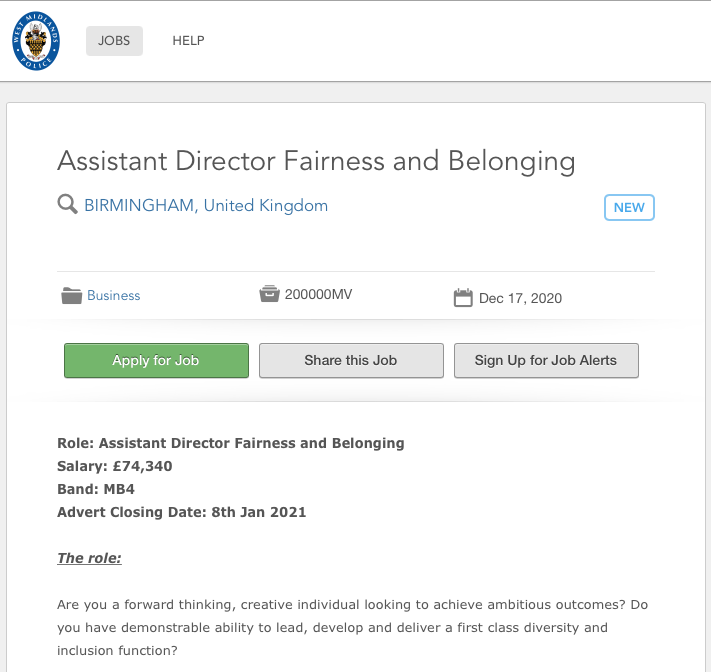 If you enjoyed reading this article from Tom Winnifrith, why not help us cover our running costs with a donation?