My business deal on harvesting my olive trees with Nicho the Communist is over two years so that he gets half the profits from a bad year and half from a good year, these things run in cycles. 2020, when I could not muck in as the Mrs was giving birth back in Britain, was a bad year. The oil produced was enough to cover the fees of the Albanians who do the actual work, after leaving 15 litres for my own use. My fear is that this year will not be very good either and I have invited Nicho up to the hovel for a swim, a drink and an inspection.
If he agrees that 2021 is going to be a poor year, I plan to give him 2022 as part of our venture but to harvest this year myself with any volunteers who wish to fly out from Britain. I can provide accommodation and even pick folks up from Kalamata bus station, a few hours from Athens airport. More on this later if Nicho agrees with my assessment.
Last week Nicho was too hungover to meet me at noon in Kambos to pick up my oil. And, as I sat in the Kourounis taverna as the clock marched further and further past noon, I feared that we would suffer a repeat no show. But suddenly lovely Eleni plonked a large can on my table and handed the phone to me. My business partner was in Kalamata but had arranged everything with Vangelis, the man at the olive press. I swapped one fifteen-litre can for three five-litre cans and walked down the road where my oil, mixed in with everyone else's from this village, was decanted into the cans which you can see below.
I plan on taking two back to Britain and leaving one here for use when we are at the hovel or, perhaps, to bring back with another two post the harvest nearer Christmas.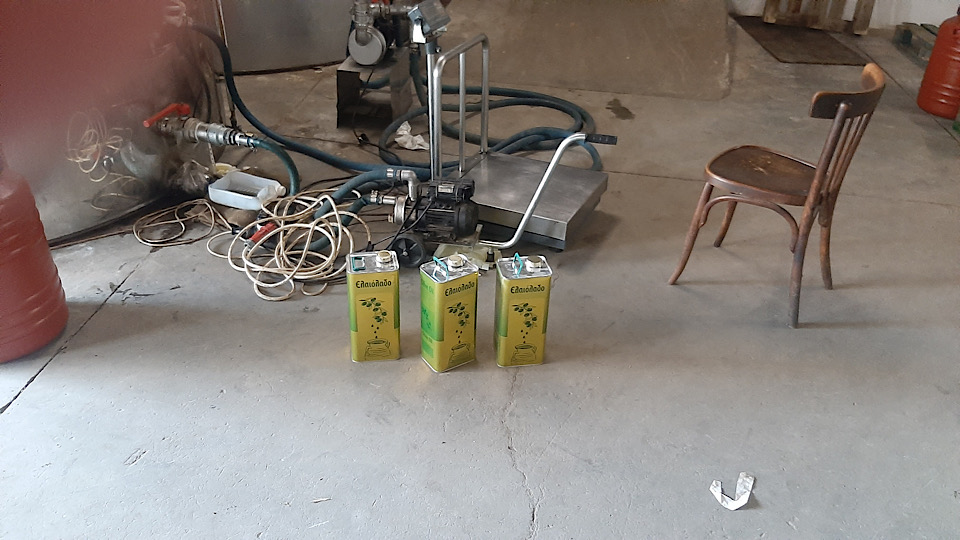 If you enjoyed reading this article from Tom Winnifrith, why not help us cover our running costs with a donation?