Having arrived in Kalamata after eleven last night, I was jolly glad to have booked a hotel in town rather than trekking out to the Hovel. After a warming Metaxa in the lobby while I answered emails and I lugged my two heavy bags to bed. On the way out to Greece I now take 25 kg of books to stack the shelves here, on the way back i shall take 15kg of my oil (I hope) and 3 kg of wood ( I shall explain that later).
After 17 hours of travelling I slept well but was up early for a covid friendly breakfast. That is to say I was not allowed within two metres of the buffet but had to point at an omlette and some bacon to a masked waitress  who then carried it to a table. I was the only person in a room with open doors. As it was a warm morning I sat outside having a coffee waiting for my hire car to be dropped off by a lady called Eleni who is lovely but, of course, not as lovely as lovely Eleni fromthe Kourounis taverna. She sat down at my table outside on the street as forms were filled in but to do so had to show a form demonstrating that she was double jabbed. She, the waitress and I laughed. This is insane. 
By 9.30 i was on my way to Kambos and the Greek Hovel. The bad news is, as I had been warned by George the architect, some bastard has stolen the gas canister we use to power the range cooker and I can't buy a new one till tomorrow. As Paddy Leigh Fermor notes, the one complete bastard of a Greek is a reminder to you about how unbelievably generous and decent the rest of them are. I view the incident thus. The other bit of bad news is that the bat room had some dead wildlife diversity in it, that is to say four rats which had starved to death. I almost felt sorry for them although I am a little cross with the world's most unreliable carpenter for not fixing the gap under the door. I spent a happy hour cleaning that room forensically. The rest of the house was in perfect order. And I took abreal pleasure in unloading the books that have travelled 3,000 miles onto shelves that are really filling up.
If you ever visit, among the new arrivals is a book on a British Policeman in 1930s Albania, a short biography of Eden, a book on cricketers who killed themselves, a volume on British eccentrics which I half read on the plane and a number on the history of Byzantium as well as one Paddy Leigh Fermor book. The library here grows more eclectic by the visit.
My first harvesters, a husband and wife team of R & S arrive this evening. So I dug out the electric twerker and have started charging the battery. Sacks and nets have been unpacked and we are ready to go first thing in the morning. Of course it will be a rubbish harvest. The warmest and driest summer since 1987 means that Kambos is in downbeat mood.  But, as you can see below, some trees have a reasonable number of olives on them.  I have not walked the entire property yet but I'd be hopeful that we might just harvest 500 kg or ten sacks. I will, no doubt, revise that forecast as we go along. And it may not be upwards.
For now I sit in my T-shirt enjoying the last of the sunshine after a lunch of veal in a tomato sauce and a diet coke at what was once called Miranda's but is now, again, under new ownership. Natch the new owners are ignoring the smoking ban and masks for staff and customers alike are strictly optional. Lunch set me back all of six and a half euro and it was very good indeed. I just hope that none of my volunteers for this harvest are either vegetarian or non drinkers. Such an approach to life  might be applauded in the hell hole that is London but would be seen as rather peculiar here in Kambos.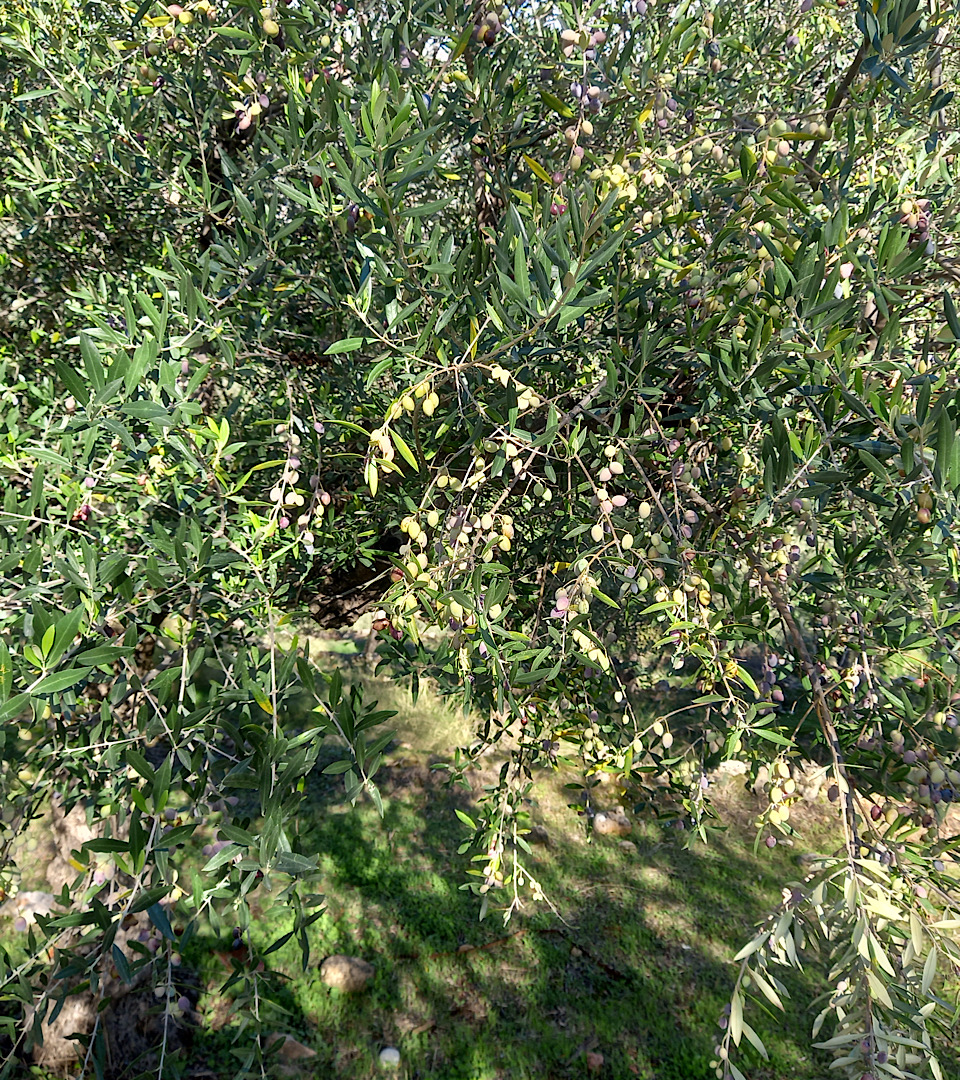 If you enjoyed reading this article from Tom Winnifrith, why not help us cover our running costs with a donation?