We all got up early. B & myself said fond farewellls to R&S as they started the trek back to Airstrip One. This was to be the last day of harvesting. But first…
Fearing a visit from Nicho the Communist on Sunday – something that, in the end, the storms prevented – we set about trying to destroy the evidence of my branch cutting. As I noted before, it was minor but my business partner was adamant that we alone among all olive harvesters in Kambos, should not cut a single branch.  B & myself put nearly all of the cut branches on top of some older branches from years gone by. Naturally, we checked first to see if there were any resting snakes under the intended pyre. No, we did not. That was a joke and if there are any adder loving wildlife nutters wanting to report me to the authorities, remember that in Greece we swerve on mountain roads if we see a snake. We swerve to kill.
In the end we were chucking on whole packs of firelighters and I tried again on the Saturday. But everything is so wet that I am afraid that the evidence is still here to see. My hope is that Nicho will forget about it and by the time he and I are up at the hovel once again at Easter, this year's dead branches will have blended into last year's dead branches. And moreover, I shall be burning on day one when I come next to clear all the remaining evidence.
Olive harvesting with two is harder than with four. We do not lay out all the mats but just use two, one either side of a tree. That tree is twerked and we move the mats on and repeat, all the time gathering more olives. Thereality was that there were relatively few trees with a decent yield left. Rain was intermittent but as we came to the last two trees which were absolutely dripping with olives but 150 yards fromthe house we kneew that it was almost time to call it a day. The rain started to fall heavily but we nailed those last two trees, dragged the mats back to the hovel and emptied our days labours into the sieve. 
The annoying thing is that as I sit on the balcony with a morning coffee today I can see two trees right next to the house with branches heaving with olives. C'est la vie. We ended day 4 (Thursday) with 16 sacks. Not 16 Albanian sacks with 50kg but 16 sacks with varying amounts of olives and far too many leaves.  That, we agreed would be it. The man at the press said that hecould not be sure he would open at theweekend if th rain was too bad as nobody would be bringing in sacks to press and so we had to drop off our material on Friday, day 5. Moreover Hellenophile B was planning a trip that day to Sparta and Mystras.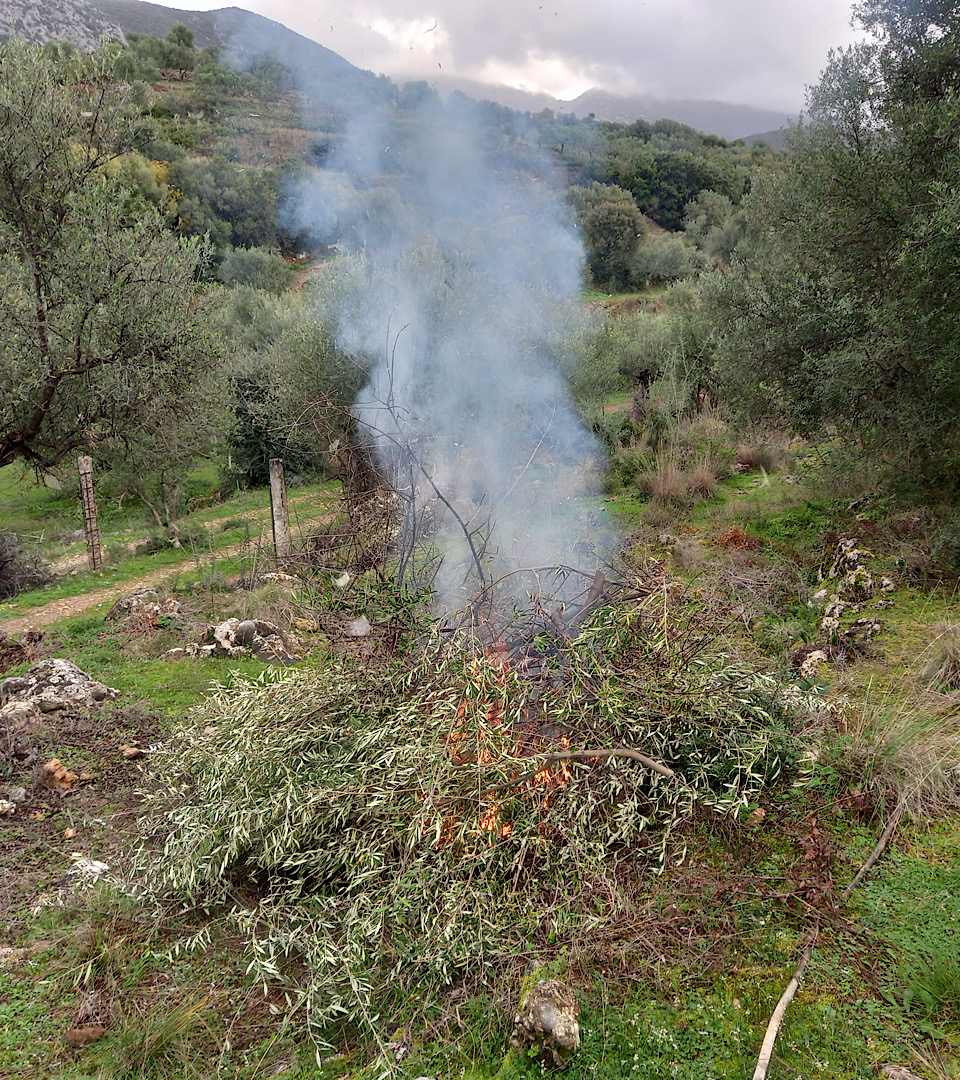 If you enjoyed reading this article from Tom Winnifrith, why not help us cover our running costs with a donation?