It was the last day of the harvest for R&S who had to start the day with a trip to Stoupa for covid tests. That left myself and B starting proceedings in glorious sunshine and laying mats along the side of the house facing up into the mountains. The three trees here are well fertilized, in the way that only a man can do, and are better than most in this very poor year. But the day started badly with a wire into one of the clamps on the twerker's battery coming out. Luckily..
B trained as an electrician in his youth and so without pliars but by using alarge stone he fixed it. This, and the fact that he is a large lad which is helpful when it comes to carrying large olive sacks, means that he can come again. Twerking these trees happened at ground level but also, to tackle those fruit at the top of what are tall trees, from the balcony I built on this side of the house.  This is the photo I shall use for my cunning new Greek Hovel business.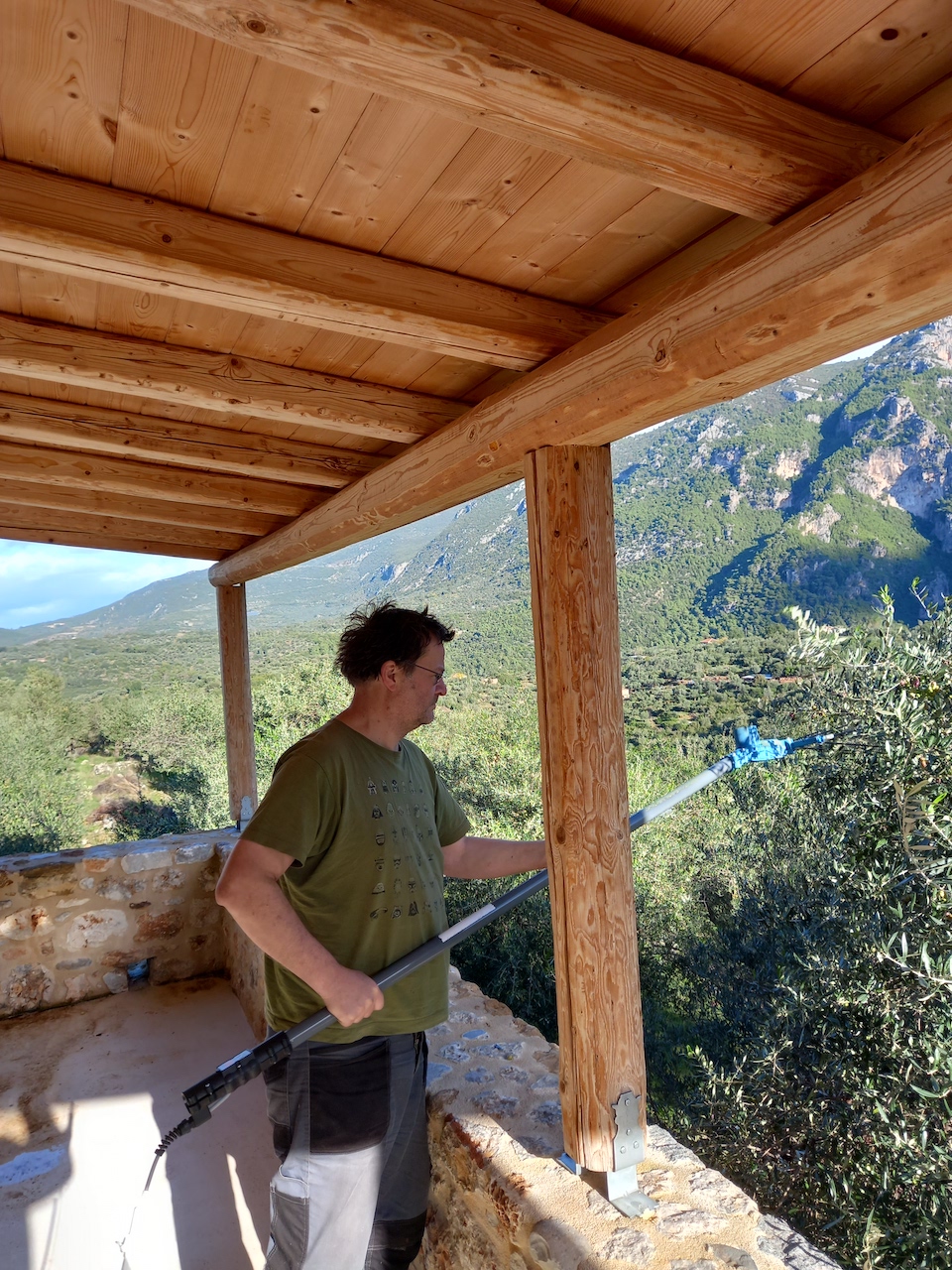 By 10, R&S had returned and we laboured all day. R,B and myself moved mats and twerked. I would cut branches from trees that are just unmattable and where one tree stood well away from any other tree with fruit and had just one spray of fruit itself. Those branches were taken back to S at the sieve where she cleaned them of olives while listening to cookery podcasts. Now and again she'd say "teas up" and she made us a simple cold lunch so we did not waste time koing to Kambos. Again, theday was amixture of sunshine and rain but conscious that this was our last day of a full team we laboured into it was too dark to see anything. The photo below is about 20 minutes after we called it a day.
We deserved a trip into Kambos and another meal at what was Miranda's where Nicho the Communist and Vangelis were already unwinding after their own long day of harvesting or, in the case of Nicho, supervising harvesting by his Albanians.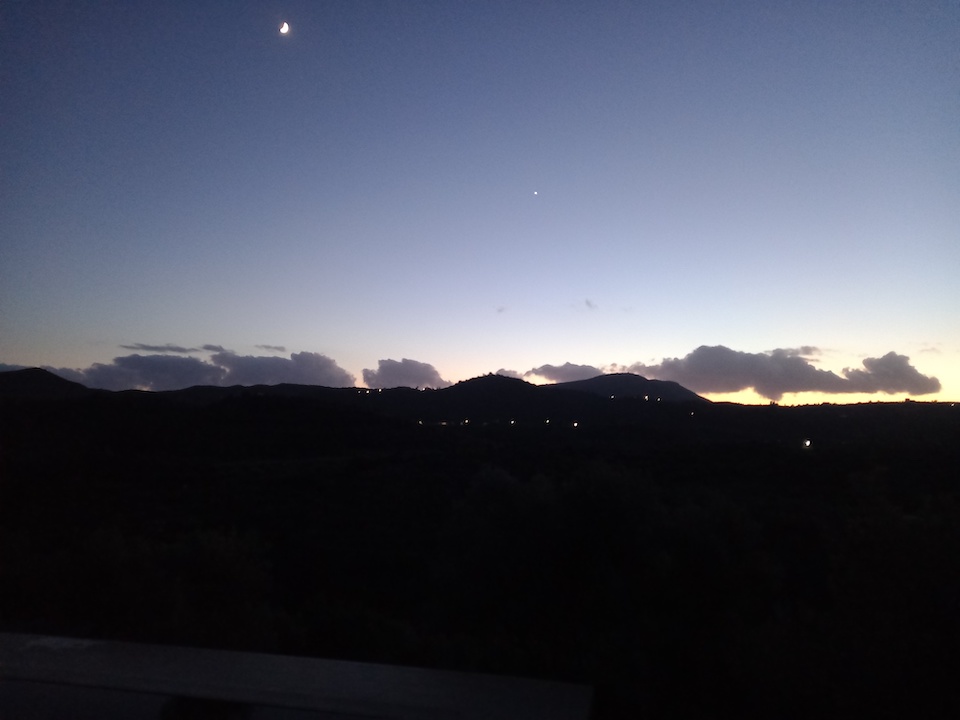 We chatted and he asked me sternly, if I had been cutting trees?You may remember that he had said that he would kill me if I had. I could not tell a lie and tried to explain that it was just a few where you simply could not get a mat to them. But this was lost in translation. Vangelis had a go at me in Greek and Nicho in English. I assured him again that it was just a few but he said that he would be coming up on Sunday to inspect my butchery. I bought them a bottle of tsipero and rather hoped that he would have forgotten about this by Sunday.  By the spring those branches will be starting to regrow and nobody will be any the wiser. And the main body of trees has not seen a saw at all. 
I really have only cut two small trees situated on rocks that were hard for me to even clamber up let alone rest a mat on, and taken a few branches from another 10 or so which in the context of 250 trees is no crime. But on the way home we discussed how we could hide the evidence. Firelighters were to be bought in the morning.
If you enjoyed reading this article from Tom Winnifrith, why not help us cover our running costs with a donation?