In Greece, this time of year is known as the "burning season". We start fires in the olive groves, thus averting their spread over the summer. Therefore, as you drive up from Kalamata to Kambos, everywhere you see small plumes of smoke rising from the fields, as folks rush to finish their burning – before it becomes illegal.
If you start a fire now, the grass is green enough to stop it from spreading rapidly. Thus, you can destroy the piles of olive branches cut down during the harvest. Leave those branches, now dry and easy to burn, lying around, and, should there be a forest fire in your neck of the woods, they will act as a conduit, allowing flames to travel quickly from tree to tree.  For the same reason, it makes sense to cut down the long grasses and weeds around the house, so they can start to rot before they dry.
Very soon, the law will ban fires and barbeques up here, in order to avoid uncontrollable fires.
Armed with a pack of firelighters, I kicked off my fires yesterday.  Please do not ask me if I checked for wildlife underneath the wood. Suffice to say, having set the fire, I retreated fast lest anything slithered out. Unfortunately, one fire did spread to some of the building materials, which were discarded by the builders. But if a bit of plastic went up in smoke along with a wooden pallet or two, I can live with that. One day, the builders might just, as promised, remove what is left.
I noted, rather crossly, as I lit the fire that some kind soul had added a metal bedframe to my discarded wood. When I arrange for the builders' rubbish to go, for they will not do it themselves, the removers can take it as a bonus.
Bravely, I gathered all the, now rotting, planks the builders had left, checking each with my sturdy walking boot lest it be hiding a snake or scorpion. That wood was also added to the fire, thus removing another potential hiding place for wildlife diversity. I am not sure when the burning season ends, but I see smoke in the distance this morning. I reckon I can set a few more fires today, and my part in this annual ritual will be done.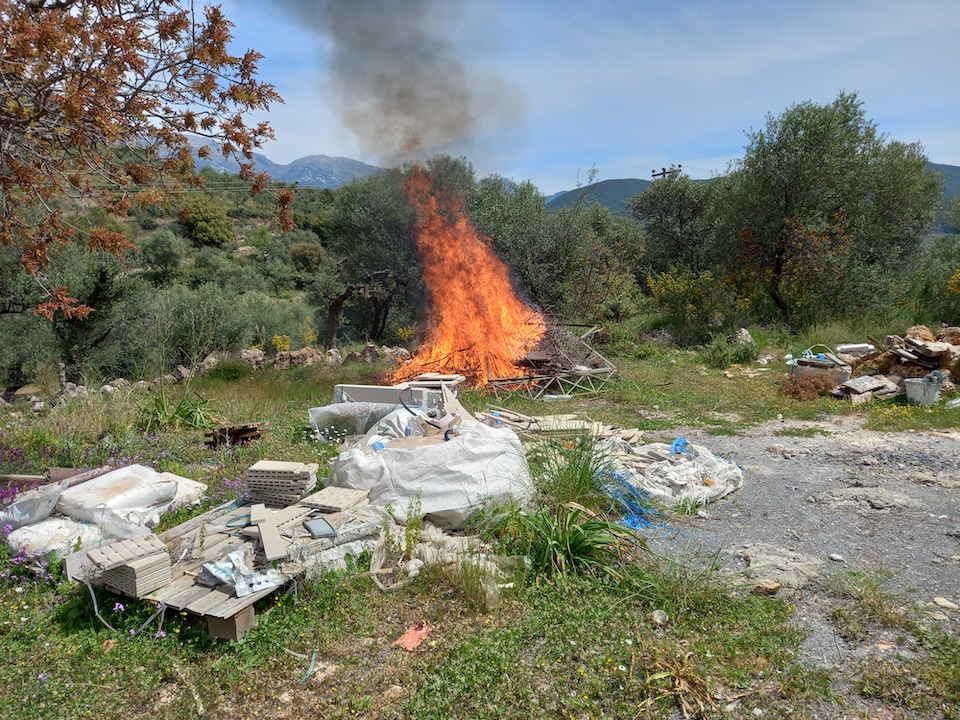 If you enjoyed reading this article from Tom Winnifrith, why not help us cover our running costs with a donation?