Heroic harvester T and I knew we had a deadline to meet. At 4 PM mad lefty L and villager George would be arriving to tie up our bags Albanian style and to take the harvest in George's 4×4 down to the press. So we started early, 7 am, putting our Englishman's sacks and the even smaller English Gentleman's sacks through the grill, pictured below, removing more leaves and decanting into a new small sack which we poured into the most full of our sacks. We created Albanian sacks, ones containing almost 50kg, full to the brim.
Then it was back to harvesting where we finished the area behind the ruin on the top level which is always good. We then took in a few trees on the first terrace down which we shall call T's trees as every day he had said how full they looked. So we harvested them, and a day's work had, probably, yielded 125 kg. The new olives were decanted and L arrived to explain to T how he was an oppressed member of the proletariat and that I was an evil capitalist. T, an ex lawyer and passionate investor in shares did not argue with L's analysis of our labours. With bags tied, T – who was sensitive to my ongoing illness which almost three weeks later is only now starting to go away – picked up, now tied, Albanian bags alone to get them  onto George's strong Greek shoulders and into his truck. George drove off to the press. We were done.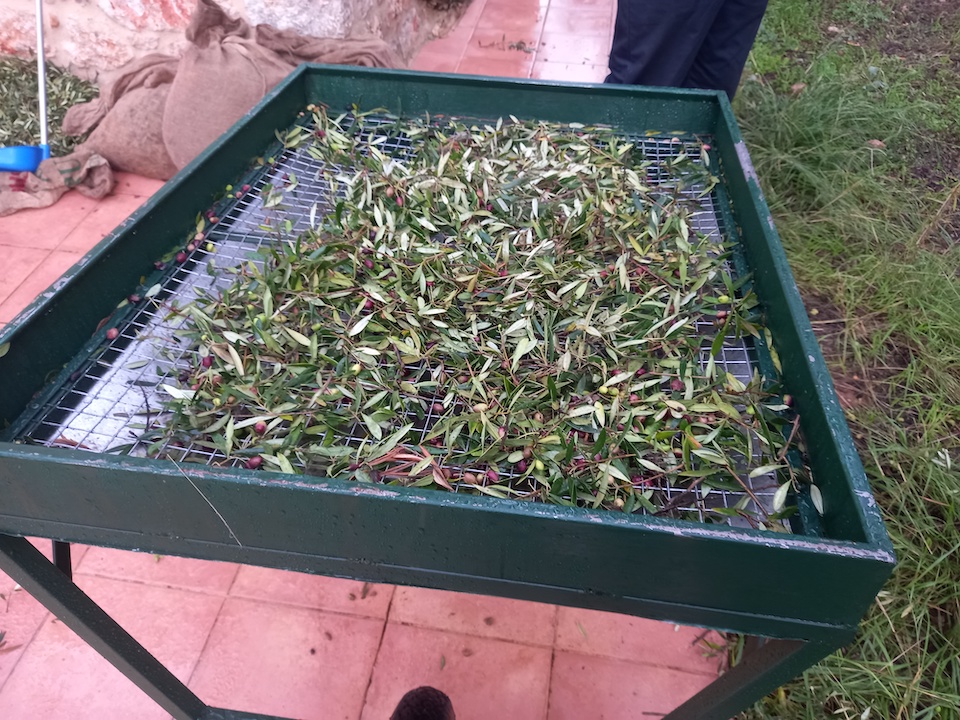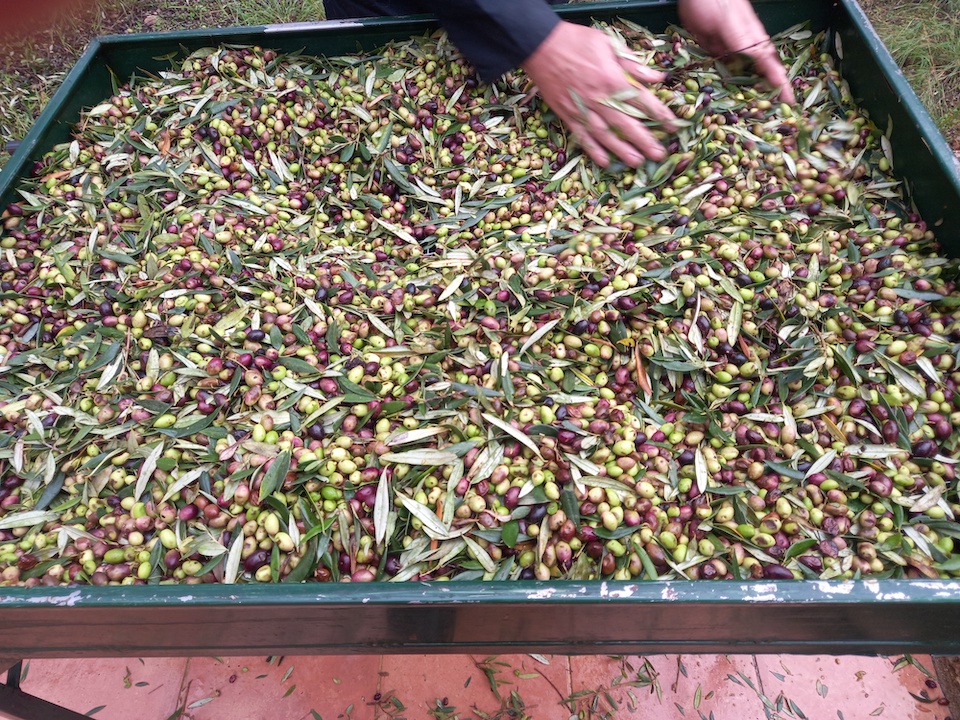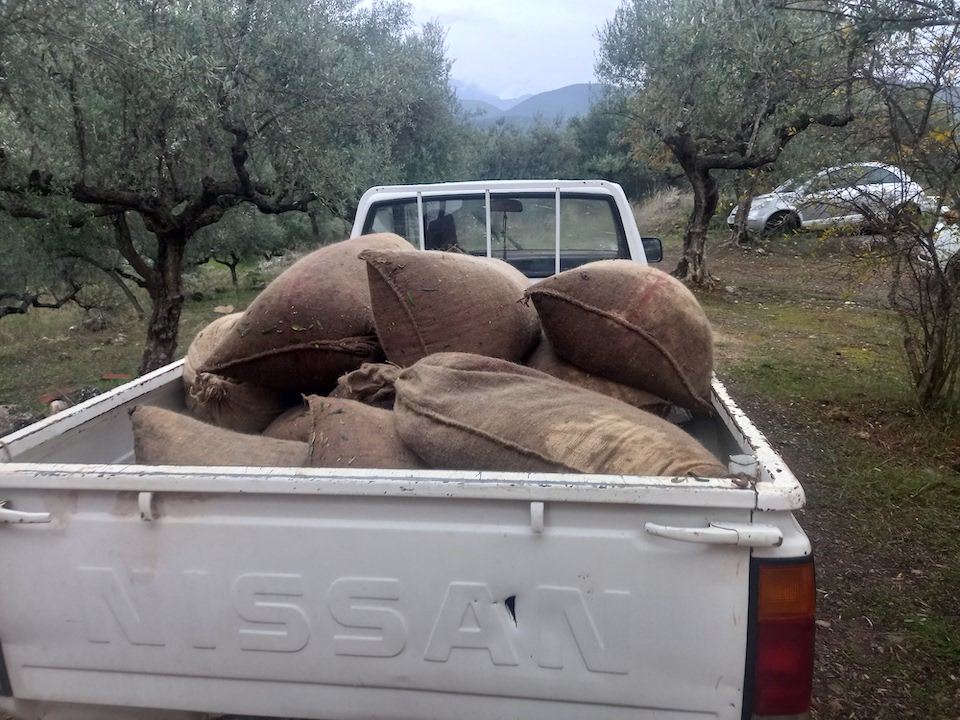 We headed off into Kambos an hour or so later and wandered into the press. The bad news was that the press was to be shut on the Wednesday as rain was forecast. The good news is that they knew we were leaving at the crack of dawn on Friday, so had bumped us up the queue to that night. T and I headed off for supper now and again popping in for a progress report. Then after supper we headed to the new cafe bar opposite the press for a large glass or two of red wine, at 1.2 Euro a pop, while our olives moved up the queue. At about ten the pressing began and T – who had never seen a press before and was fascinated, and I who am a veteran so less fascinated wandered across the road.
The photos below follow the journey of my bags from being emptied into a hopper, washed then crushed. Mine were all in one tank marked with my name, the same name as is written on all of my bags. At the end I took 15 litres in three cans as I always travel with a hold bag. T took 3 × 100 ml as he travels with only a cabin bag. L would see this as the exploitative nature of capitalism in action but T was happy.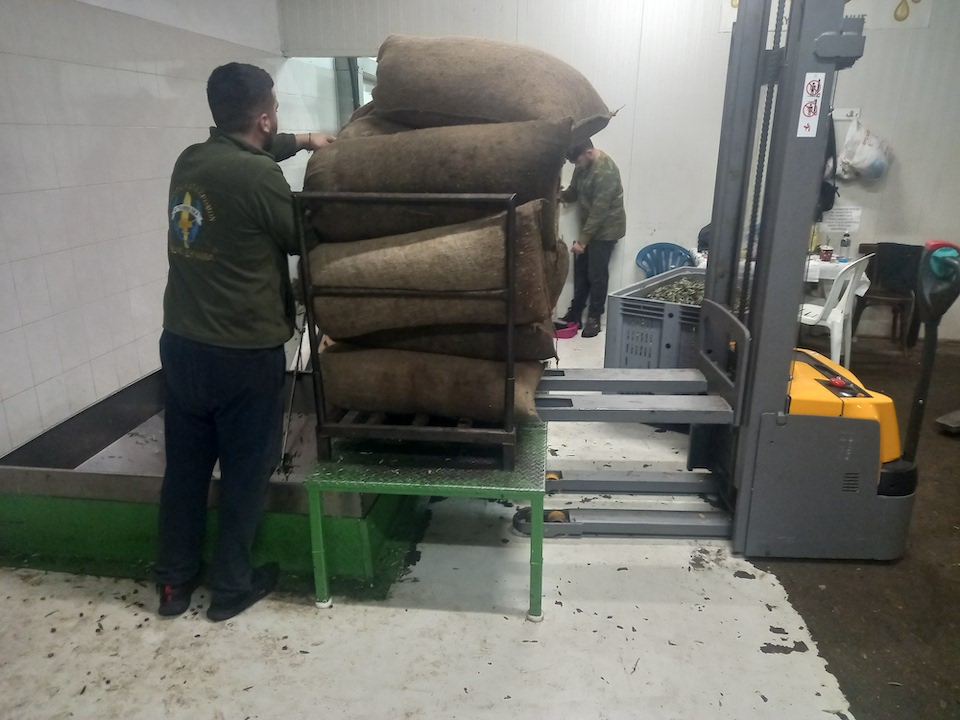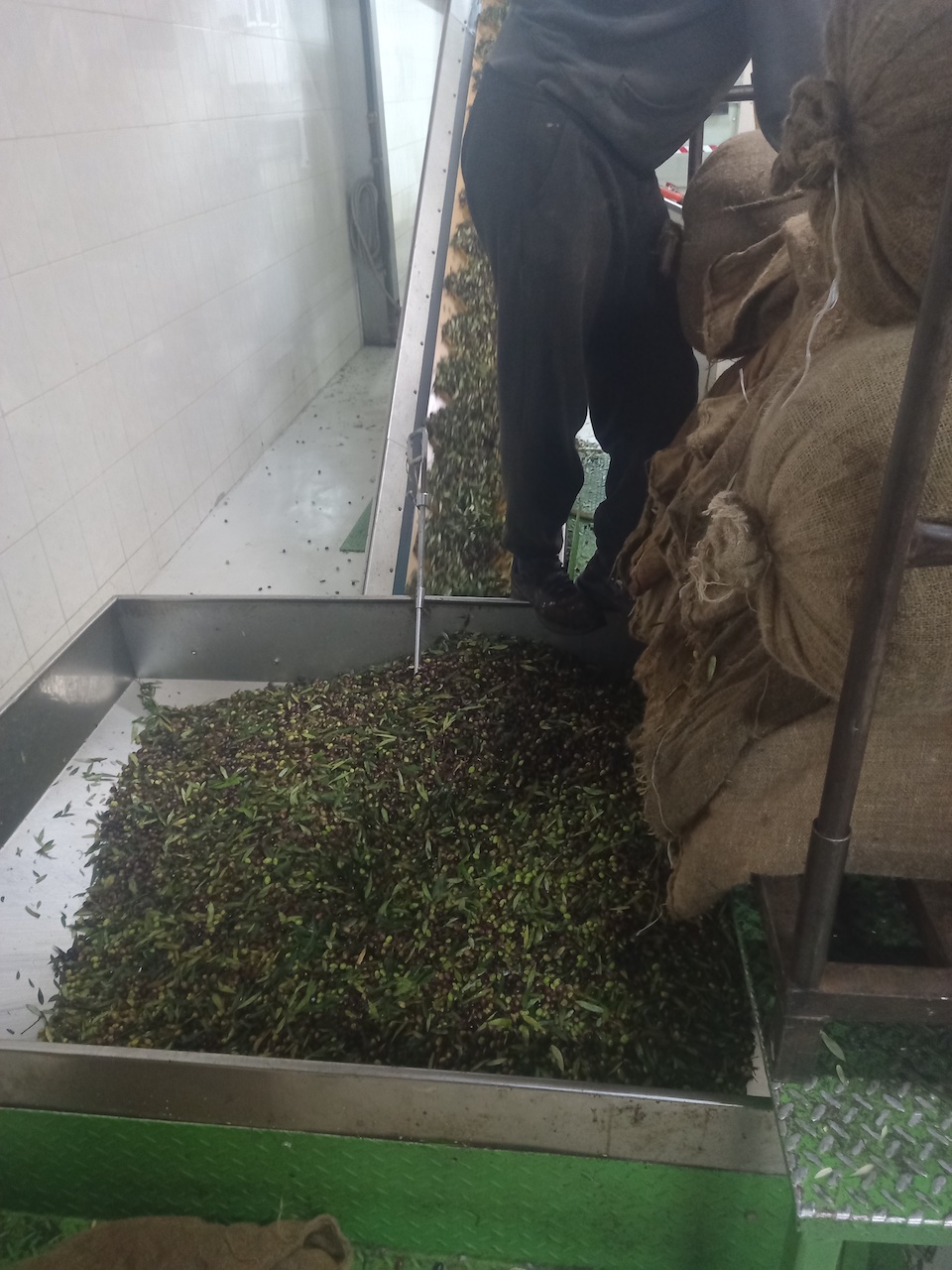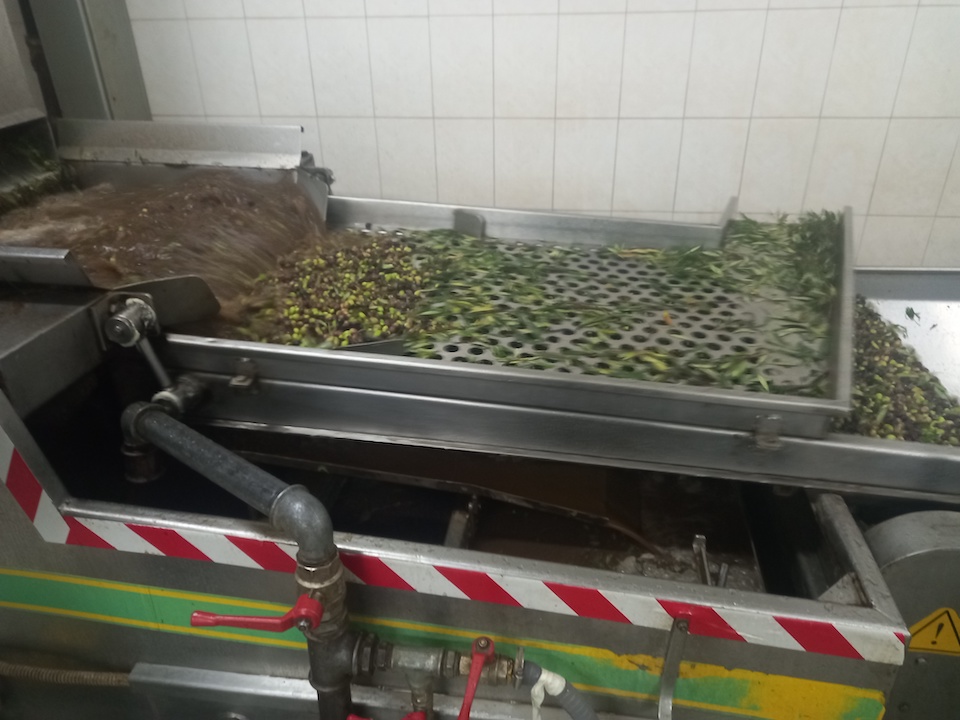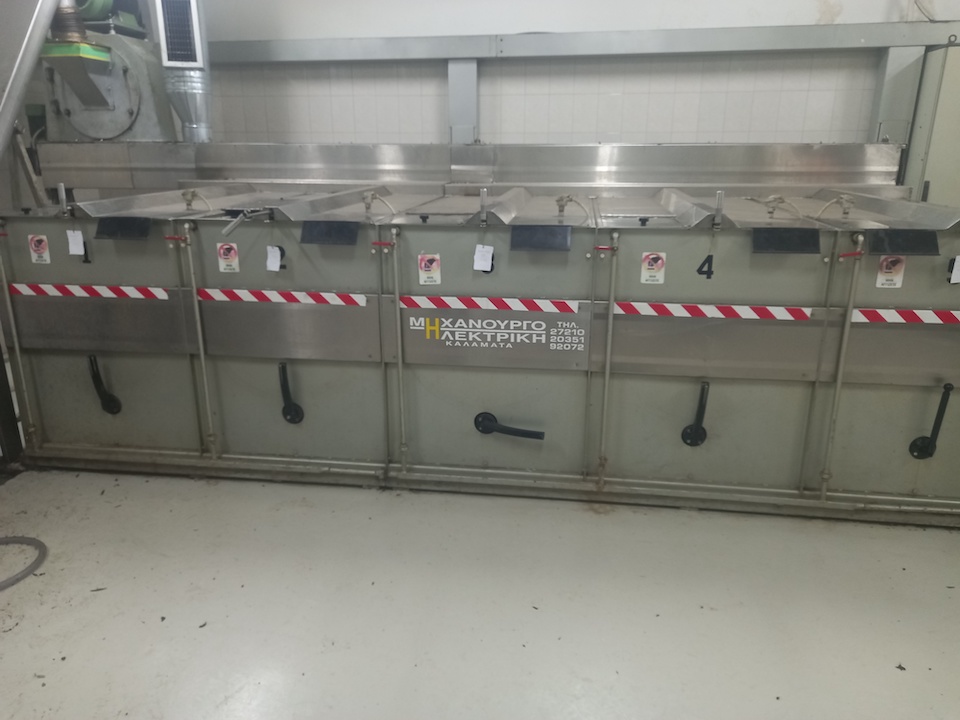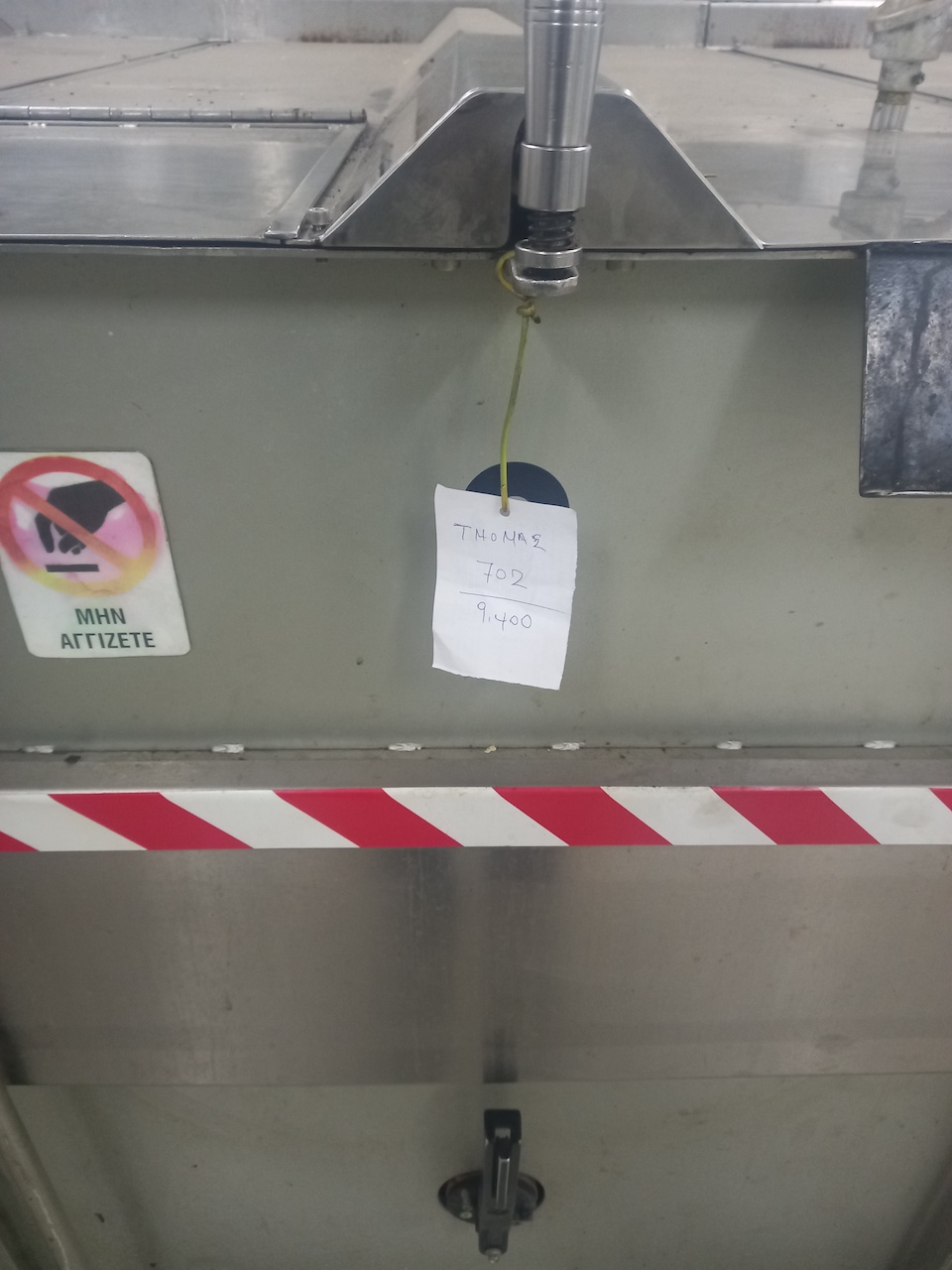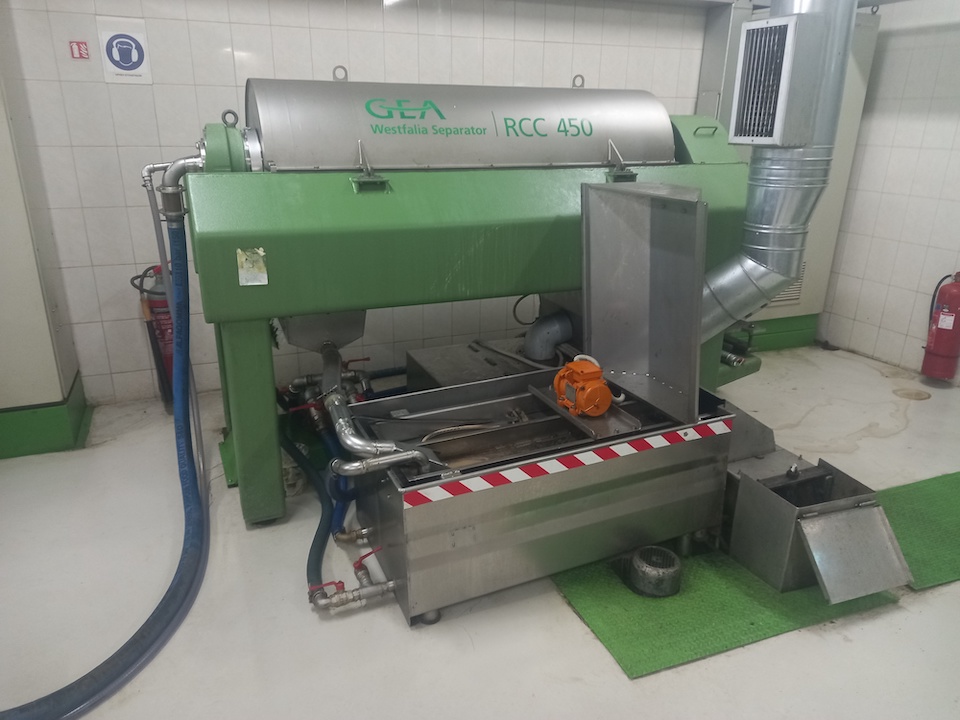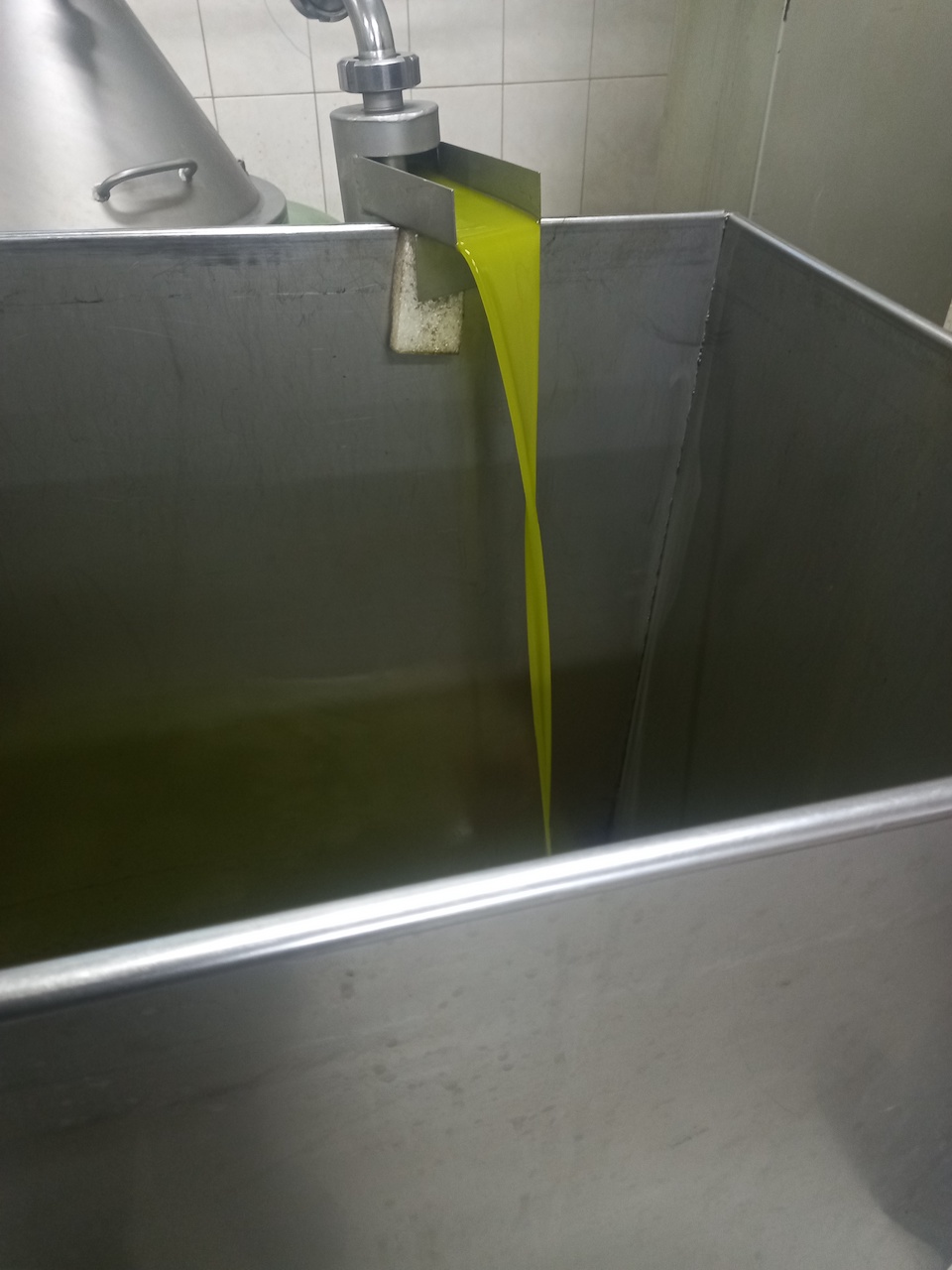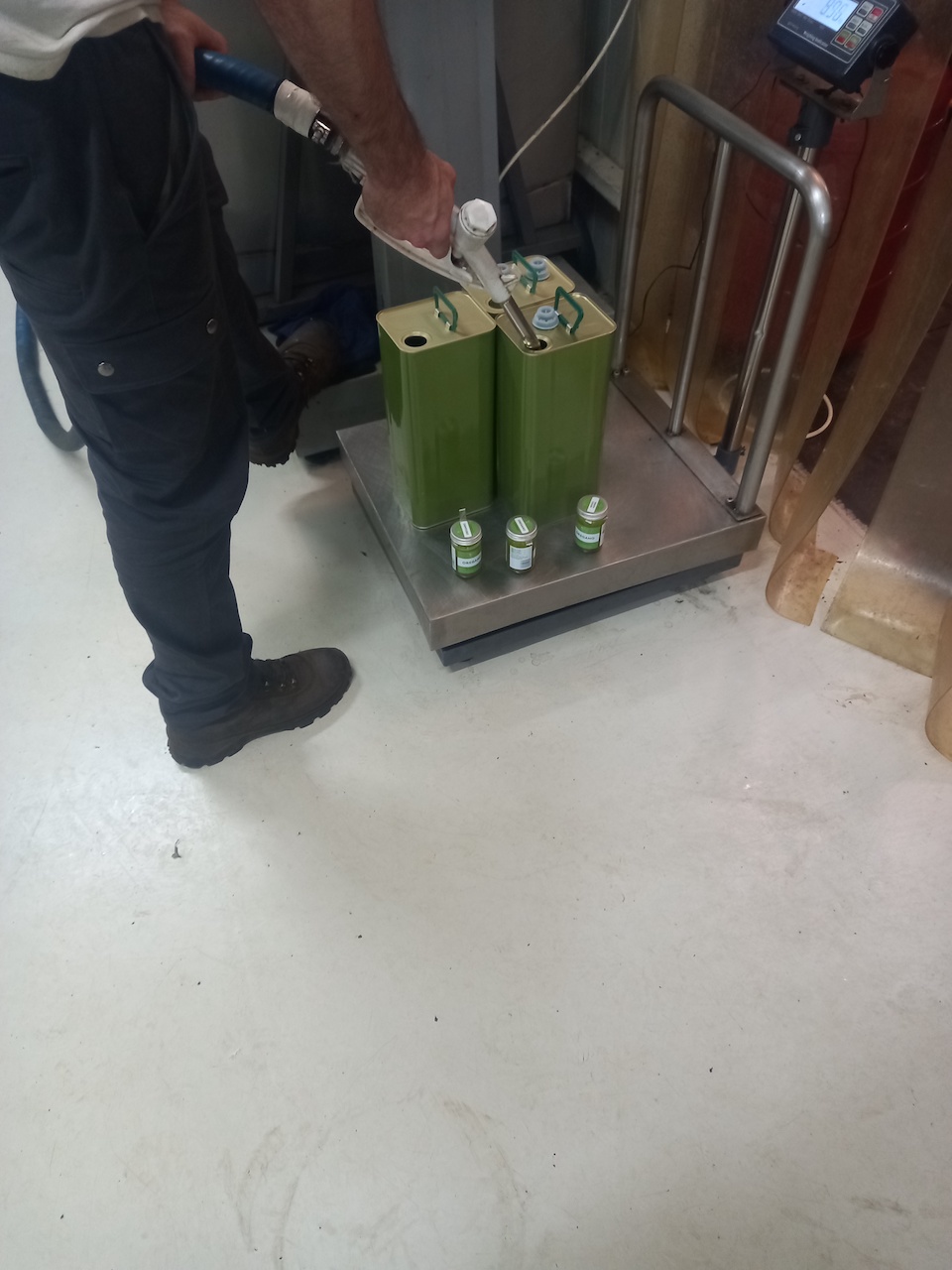 The usual paperwork followed. 702kg of olives had produced 106 litres of oil which meant that I was selling 91 litres to the press. The price this year was almost 5 Euro a litre, in prior years I had received as little as 2.5 Euro. The movement is partly down to me having fewer leaves this year on which I was congratulated by the boss of the press and partly down to macroeconomics, that is to say failing crops in Italy and Spain  and the problems across Greece with the disappearance of the Albanians.  Net result: another 453 Euro into my Greek bank account.
I have not checked the balance on that account for several years, I just top it up each year with the olive money. At some stage I shall reach the 4,000 Euro mark which is one of the tests for residency which would allow me to buy a car in Greece or a gun. Or maybe I shall never get around to it and when I fail my own MOT the Mrs will find in Greece a little bonus to pay for my funeral, like one of those scam schemes promoted on TV by Micheal Parkinson but without the bloated middle man costs.
That is for another day, although I felt so ill this harvest that I did give harvester T a way to access my phone in case something happened and I took a turn for the worse. But the harvest was done and T and I had time to relax, drop off Christmas presents to the mad lefties L&G (blue cheese from Shrophsire), lovely Eleni ( mince pies and Scottish biscuits) and to George the Architect (booze) and deal with a few administrative matters in Kalamata.  I should say that on this holiday I drunk almost nothing. I was feeling that ill. I ate sod all too as I completely lost my appetite.
The day after my return to Airstrip One, I drove my Aunt L and my family to a siblings reunion in Shipston to swap presents and that sort of thing. They all remarked on how thin myself and my sister T had become. She has done so by dieting, showing real willpower. I managed it by being ill and as I, only now, start to recover, I look at my face in the mirror and a far less fat face than I am used to stares back. I recommend this illness based diet to one and all as a way to shed the pounds for those like me with zero willpower.
If you enjoyed reading this article from Tom Winnifrith, why not help us cover our running costs with a donation?