The British state has not shut down 1 trans business. It has not transported one trans person. It has not organised a Kristellnacht for  the trans community or barred trans folks from working in a range of jobs. It has not killed one trans person. It has not denied them equal rights with the 99.6% of the population who don't identify as trans or the 99.95% who have not had operations to transition. Yet India Willoughby says that, bar the camps, folks like her are being treated as trhe Jews were by the Nazis.
As the postergirl for the loudest shrieking tiny minority in the UK today, India goes to show that as soon as you bring Hitler or the Nazis into an unrelated argument you have lost that argument or are borderline batshit crazy or both. 
You also insult the memory of the six million Jews murdered by the Nazis by trivialising what happened. To do this a few days before Holocaust Memorial day is particularly offensive. If this was a figure on the right trivialising the holocaust he or she would face mass calls to be silenced and deplatformed but when you sit at the top of the pyramid of victimhood there is nothing that you cannot say.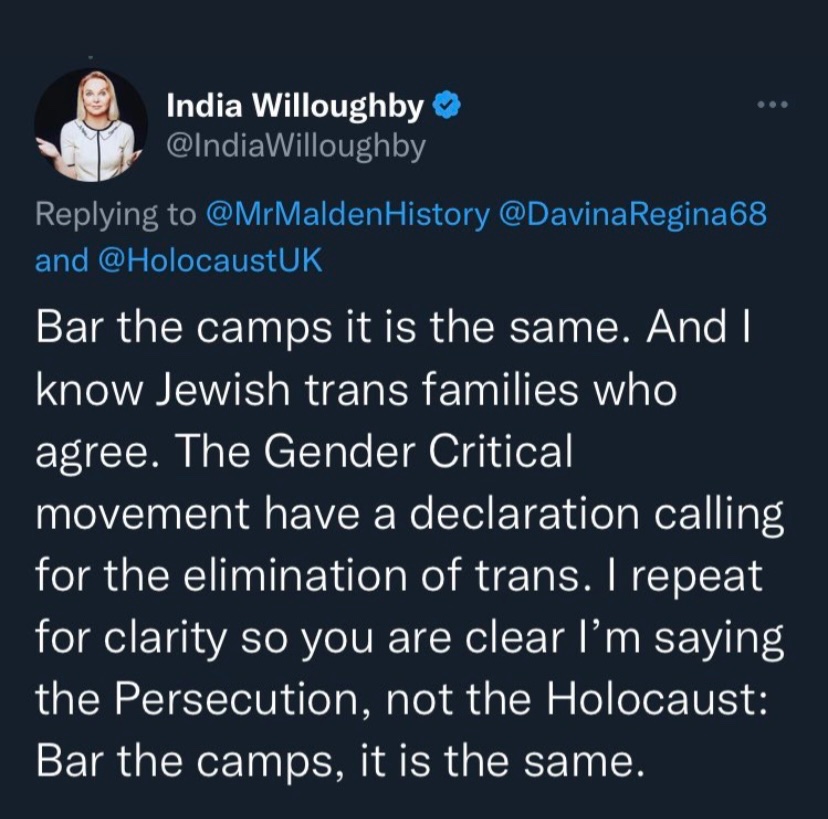 If you enjoyed reading this article from Tom Winnifrith, why not help us cover our running costs with a donation?