Having restored a hovel which will be 100 years old next year into a quite amazing eco palace I'd want to live there all year round. But my young wife has a career in Airstrip One and so wer must all stay here. And so when we are not in the Mani peninsular in Sourthern Greece, the eco palace is now avaiallable to rent. The pool season is May 1 to October 31 and the nearest airport (Kalamata) is open for direct flights from the UK April to the end of October. It is less than an hour away. If you like crowds and noise this is not for you.

But if you want a luxury dwelling with a pool, stunning views and isolation but which is, in fact, just two and a half miles from the nearest village, the Greek Hovel is your sort of place. The photos below start with the view as you approach. There are more photos on Airbnb where you can also make a reservation.
I should flag up now that there are now just four weeks unbooked between June 1 and the end of September. October is, as it stands free as well as is May. Most of the non pool season is also free. You can still swim in the sea and Greece in the Spring and Autumn is a gorgeous green, pretty warm and a great place too relax without the threat of meeting a tourist. That is the ideal time to check out Mistras, Paddy Leigh Fermor's Kardamili or all the other sites of the Peloponnese.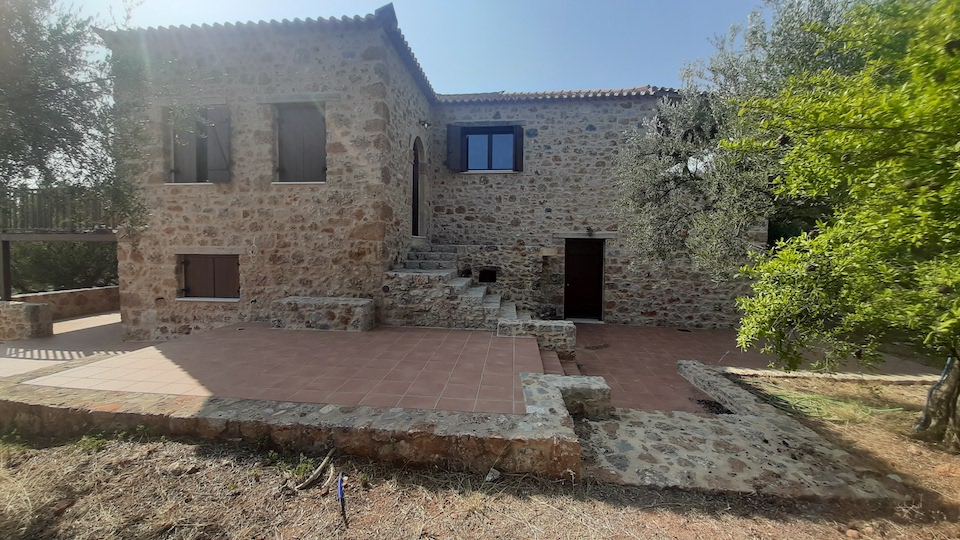 Next up is a view from the pool showing the balcony that leads from the kitchen and beyond it three little windows in the main living space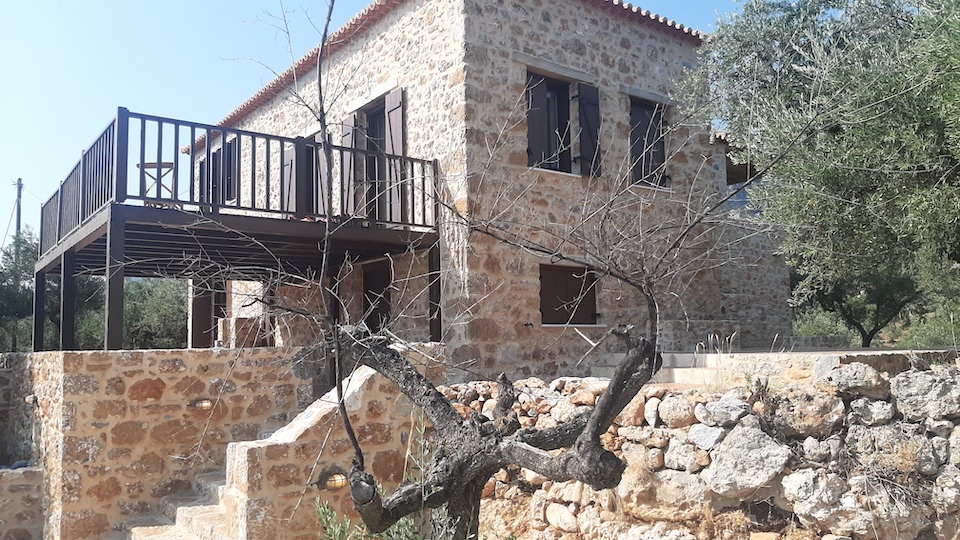 Photo three is the view from the balcony that runs along the back of the main living space above both the rat room and the main bedroom. Yes those really are mountains.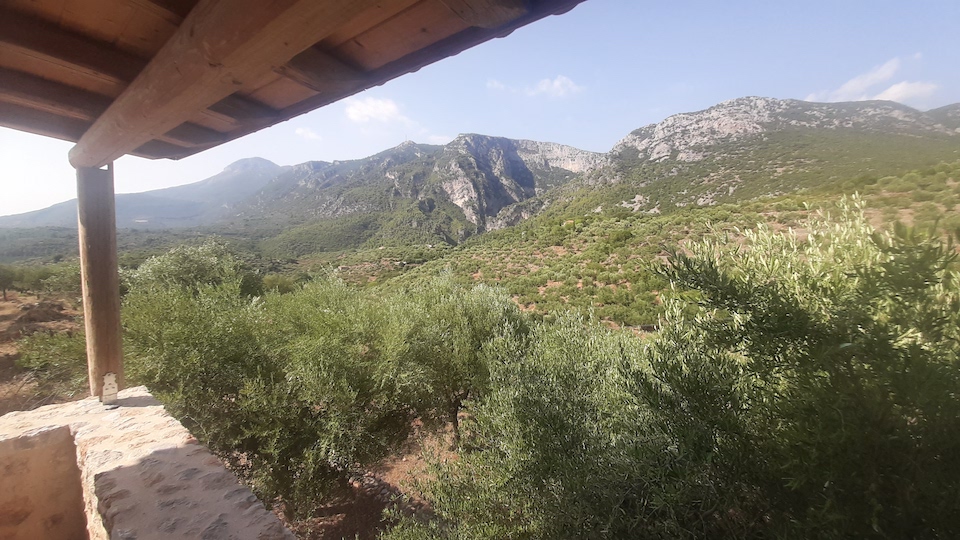 Photo four is the view along our land, which stretches for 800 yards or so, taken from the main living space. This morning I sat in wonder looking at the local golden eagle perched on that redundant telephone wire.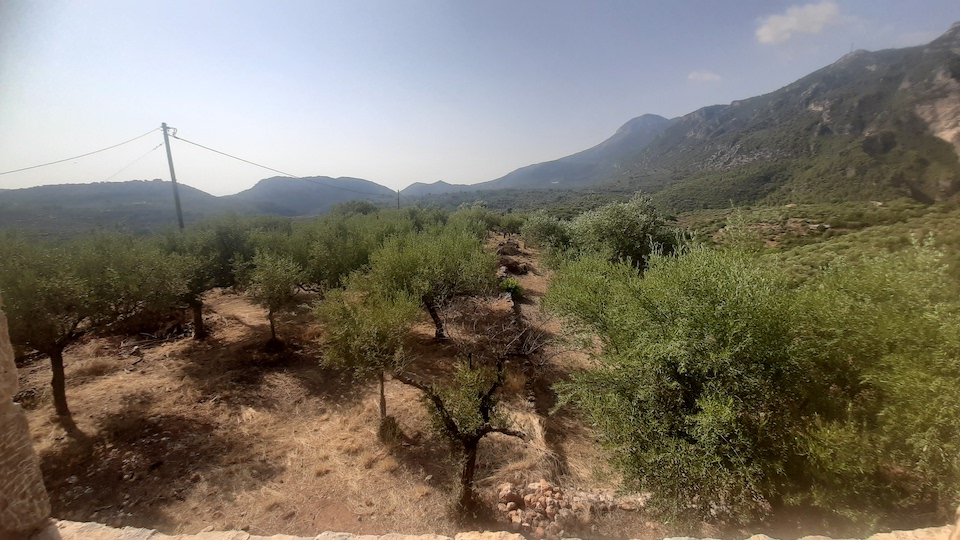 Next up is the view from the kitchen balcony where newly cleaned items from the bat room are drying. The pool is below and as you look out further, you can see the abandoned convent on the other side of the valley and in the distance Zarnata Castle on the high hill beyond Kambos. The pool is now looking very blue and is almost ready for use.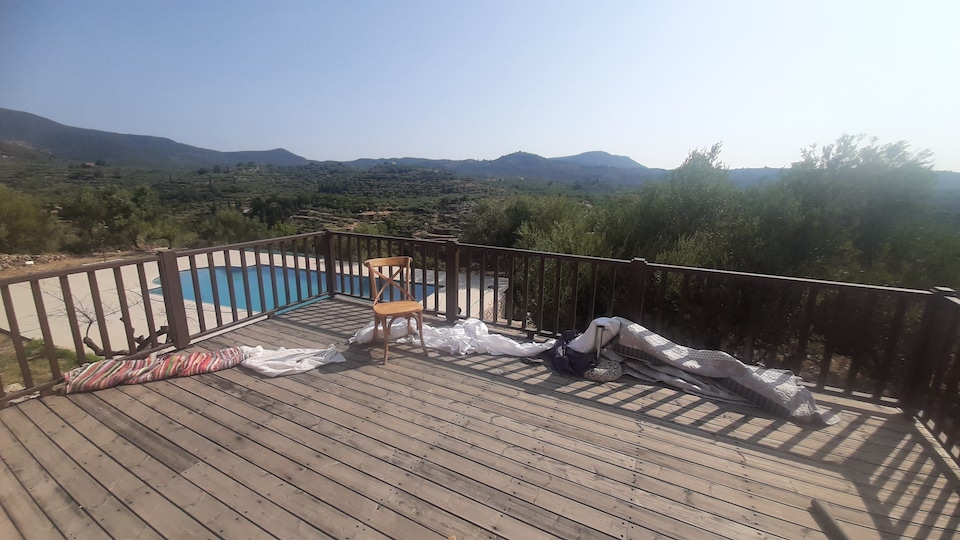 Finally, taken from the balcony, a view into the main living space, now with a table for meals and with a massive sofa for lying on watching old Sherlock Holmes movies.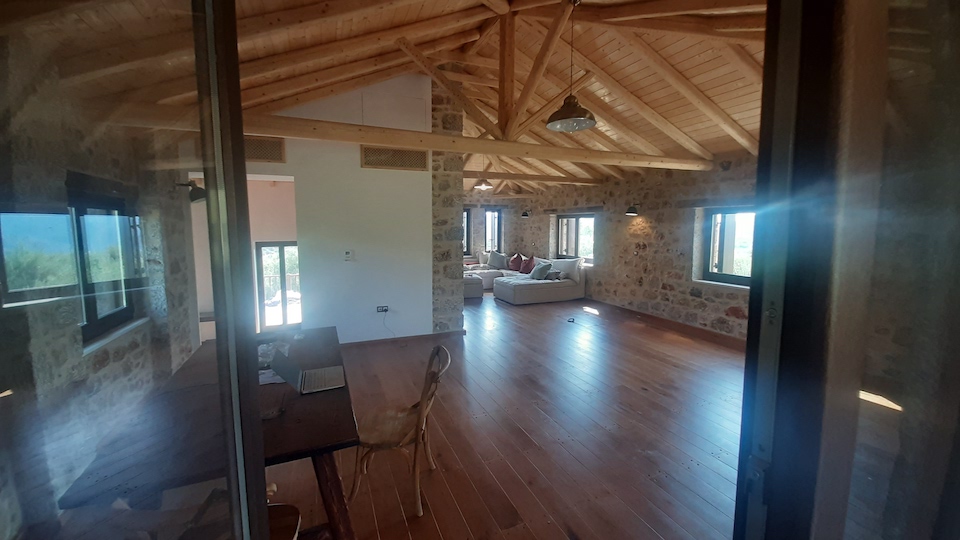 If you enjoyed reading this article from Tom Winnifrith, why not help us cover our running costs with a donation?