I went to Zitsa partly on the Byron trail but largely because I am a foodie. Perhaps that explains the weight issues. Okay, it does. On the Byron front I read some poetry online last night as I sat looking down over the valley. It was hard to think of Byron drenched in a thunderstorm in this place as the temperature zoomed past 40. At some stage I will try to put together a piece comparing and contrasting the good Lord's brave Hellenic verse flowing with pride at a nation about to be reborn with some of the craven words of today's Greek leaders. But just to show that Byron is not forgotten in Zitsa I bring you a picture of a street sign. Not perhaps the most interesting way to start a piece but it makes my point.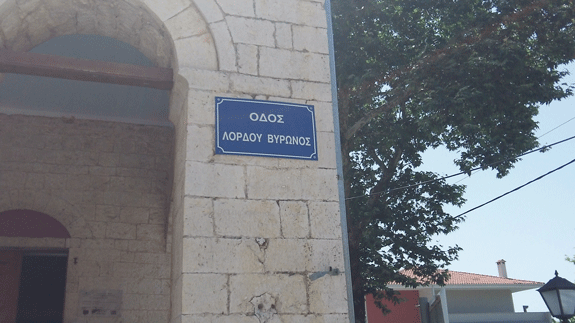 And now to the most important matter – filling my tummy. I detailed the local sparkling red wine last night here. Frazer Thompson of Chapel Down has emailed me to say sparkling red does not work and gives you headaches. All I can say is that in my attempt to acquire the taste, after three glasses I had no headache. The Zitsa wine festival is in two weeks and I am sorry that I shall miss it. In fact I am sorry to leave Zitsa because a) it is gorgeous and b) I met the most wonderful couple and had lunch with them today and would like to have stayed longer. They have written their version up here. They obviously think I have a screw loose but humoured me delightfully. They restore ones faith in humanity.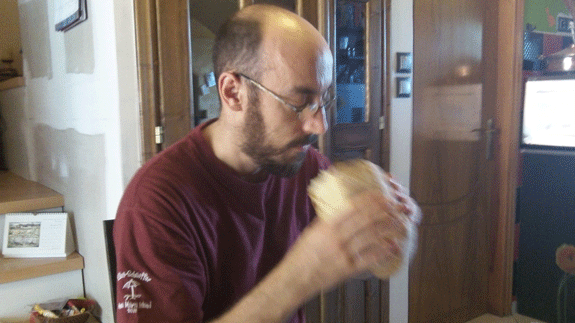 Kostas has been running the bakery here for twenty years. He says that he has always loved bread. That is why he is so good at making it. It is the "love." His bread is incredibly good as are his cookies
But this is more than just an amazing bakery. This is part of the community and that means not just the village community but the wider community that is everyone. And so Kostas has always had a policy of allowing "couch surfing." Turn up at his place and you can spend the night in his spare bed for free or more if you wish.
Such kindness should have its reward and for Kostas the greatest reward was that a few years ago an American lawyer, Anna, stayed on the couch for a night. Then she came back for another visit. Then they chatted by email for eight months. And a couple of years ago she chucked in the law and married him. She is the one with the online presence but is also now a baker and able to speak good enough Greek to tell jokes – that is always the acid test.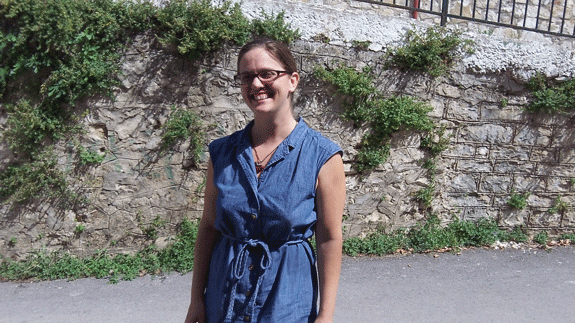 I had read about this bakery and did indeed wander in with the words "is this the most famous bakery in Greece" and within a couple of minutes I had been invited to stay for lunch. I almost felt embarrassed that they were so hospitable but the prospect of helping them devour two fat trout from Metsovo on potatoes with some of Kostas' amazing bread was just too good to refuse. And it meant that I got to meet their adorable kitten as a bonus.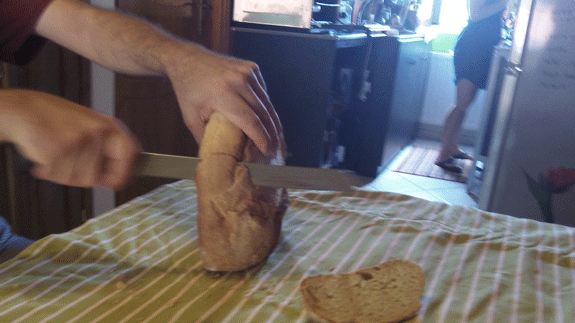 The trout, potatoes and bread are all cooked in an enormous oven. But although this is their oven it is also part of the community. The other day a neighbour killed a sheep for some celebratory meal. Where do you cook a whole sheep? In the bakery oven, where else. Kostas would not charge for this he just does it. That is how a community works in these parts.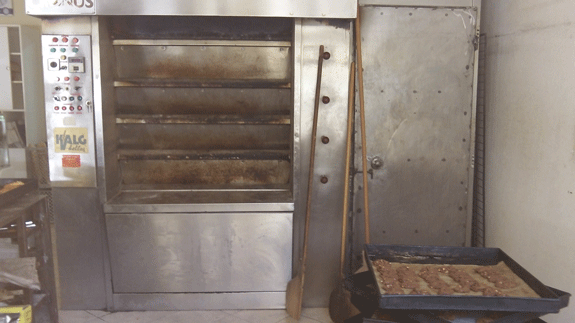 Naturally, over lunch we talked of how the downturn is affecting Zitsa. The VAT on bread has gone up from 8% to 13% and some raw materials prices (diesel) have gone up as well. But bread prices have not been increased. That is a margin hit. But this couple have a sheep farm and – like everyone else in the village – a small vineyard (whose grapes can be sold to the three local wineries) to fall back on. Everyone will always need bread. But I could see Kostas and Anna taking further margin pain in order to insulate others. He puts it thus. In his grandmother's time life was far worse than today. Ultimately in this village everyone will look after each other and they all own their own houses and can feed themselves. Ultimately what more do you need as a minimum? You need a great view as well. So here is another snapshot of Zitsa, taken from just a few yards up the street from the bakery.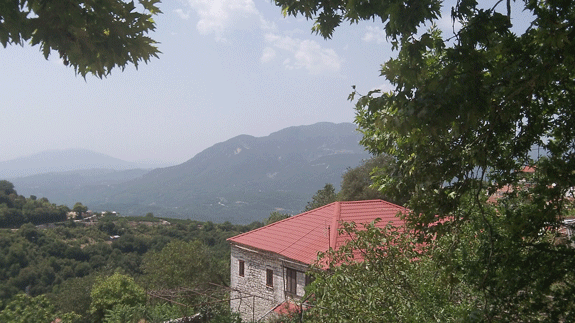 It is not just the sheer generosity of this couple that knocked me off my (tired and smelly) feet. The food was also amazing. I was given a few cookies to take away with me which came in rather handy as my bus only pulled into Athens after midnight. Some of the cookies are Greek recipes. And so I bring you below a plain slightly sugary cookie on the left and on the right a carrot based creation which Kostas says – and I believe him – goes well with wine.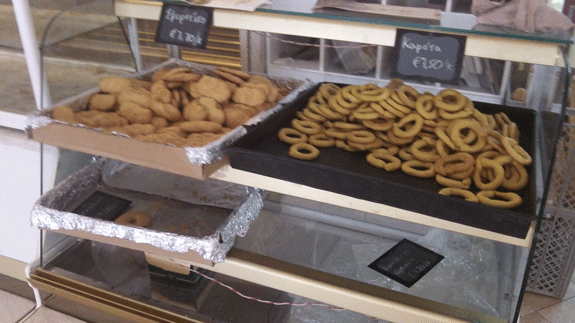 But others are his own creations. Below are a range.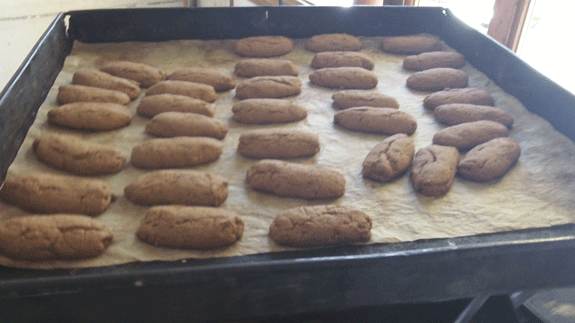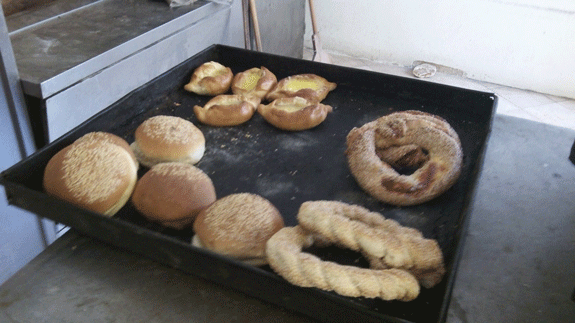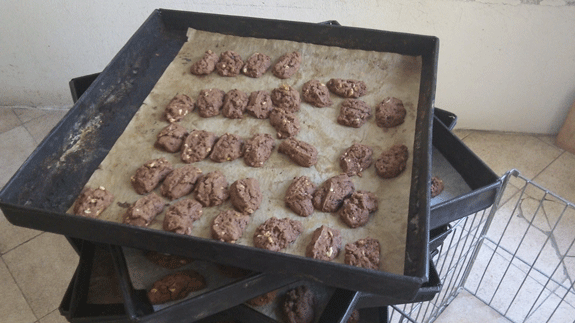 The smell from the bakery is wonderful. As I sat round the corner having a cigarette and sitting under a large plane tree admiring the view, I could smell the cinnamon waiting my way. I felt like I was taking on calories through my nose just sitting there. The one drawback to the job Kostas and Anna do is that they say they cannot smell the bakery; they have become immune to it. If they go away on a trip then after a few weeks away they can once again smell what they are cooking for a while. They do not know (well they probably do) what they are missing. I think I can still smell it now – or perhaps that is the remains of the cookies sitting on my desk.
It is a 40 minute bus ride from Ioannina to Zitsa. I shall be writing about Ioannina tomorrow. If you are anywhere near this part of the world, you now know where the most famous bakery in Greece is. Bad news Anna & Kostas, I shall be coming back. And if you are ever in London, I look forward to treating you to banana and butterscotch pizza as we discussed.
If you enjoyed reading this article from Tom Winnifrith, why not help us cover our running costs with a donation?