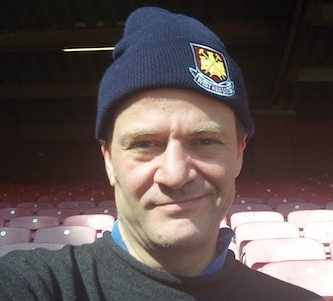 It is the Capital One Cup tonight. Wake up, really it is meant to matter. West Ham is at home to Wigan. Call me a fake hammer but I cannot get excited and am staying at home to watch a Midsomer Murders special instead.
Wigan is a poor team. Come May they will be in the bottom six and so they will rest players and focus on the League. West Ham are not a great team but a good enough one not to be in the bottom six come May but no chances will be taken and players will again be rested. Perhaps that means a start for Yossi instead of Vaz Te or for Tomkins ahead of Collins and Linda (McCartney) ahead of Matt Taylor. In all three cases I hope so and I hope all three have blinders and thus keep a first team place on Saturday.
I have always been a Yossi fan and Vaz Te has not impressed of late. Collins has made some howlers and I cannot see why Tomkins is not an automatic first choice. He came through the Academy and is a far safer player than Ginge (who is now bald). As for Linda vs Taylor it is a toss up.
There will be other new faces making an appearance tonight. But would I want to go to see to see an experimental West Ham side play? No. It is cold and wet and it is Wigan we are playing. Wigan is a piss poor team who everyone hopes will be relegated in May as they add nothing to the Premiership. For Wigan the Capital One Cup is a distraction and so they will field a second string side as they focus on grinding out points in the Premiership. So a second string line-up from a piss poor and boring team versus an experimental West Ham side in a competition no-one cares about ( unless you get to the quarter finals when you start to care a bit) on a cold and wet night in East London? Ta. But no ta.
Instead we have a Midsomer Murders special. Now this is an embarrassing confession. There have, to date, been 210 murders in Midsomer over 94 episodes. And I have watched every single one of them. I have stacks of Midsomer box sets waiting for a time in my life when I can happily watch them all over again.
I had doubts as to whether the original Inspector Tom Barnaby, John Nettles (ok, this is really embarrassing, I also have several Bergerac DVDs), could be replaced. His relationship with his original sergeant (Troy, played by Daniel Casey) was an excellent two-way interplay (right up there with Morse/Lewis and Lewis/Hathaway – yes I have all the Morse and Lewis episodes on DVD as well). But the one liners delivered by the new Barnaby, Tom's cousin, played by Neil Dudgeon are excellent. His relationship with his dog, his eccentricity and his relationship with sergeant Jones (Jason Hughes) are very entertaining. If anything the new Barnaby/Jones interplay is the best yet.
Tonight's special promises an all star cast including Maureen Lipman who in the preview seems to be wearing exactly the same clothes she wore as a dippy flatmate who took an overdose in Educating Rita 30 years ago. I am sure that it will all be nonsense. But as to what i shall be watching at 8 PM it is no contest…Midsomer here I come.