Who would believe that the fine cat below is the same species as my morbidly obese three legged moggie Oakley. The latter, for some reason, has a deep aversion to the working classes and so when middle class folk arrive he is uber-friendly. When tradesman arrive it is rather different. Right now plumbers are installing a new bathroom for the Mrs and Oakley is spending his entire working day cowering under the duvet in the top bedroom.
Back here in the Greek mountains I was driving down from the hovel last evening and towards the end of the track through the olive groves about 200 yards before snake hill I spotted this cat.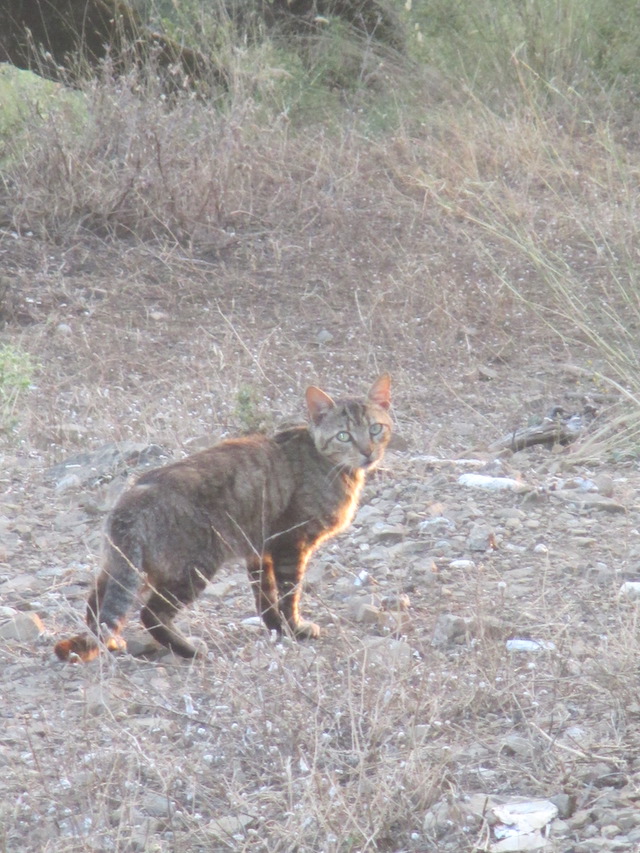 Though domestic in terms of gene pool, he or she lives totally in the wild up here in the area around the hovel. They are afraid of humans but not of snakes, rats, mice, lizards or indeed more or less any other member of the wildlife diversity community. All are considered fair prey for supper.
Oakley, who could not catch a cold, would not last up here for more than a day. Like the Mrs he is not cut out for hovel dwelling and would be demanding a move to a posh hotel by the sea, very quickly. His cousins are in their element and the more members of the wildlife diversity community they devour, the better.
If you enjoyed reading this article from Tom Winnifrith, why not help us cover our running costs with a donation?