Rivington Street
785 days ago
You may remember that Rivington Street had the chance to dramaticaly improve its finances by selling the t1ps businesses, including Master Investor, to Nigel Wray for half a million quid back in 2012. A deal was signed and agreed and then poor Jim Mellon was persuaded that this busines,s which had always been profitable with me in charge, would be so much more profitable if left in the hands of Richard "Gollum" Gill and a clown called Mark Robertson rather than useless old TW.  Sadly for Jim he believed Gollum et al.  It started losing cash at once and that dragged Rivinton over the edge. Nine years later we have the latest accounts for what is now the Master Investor Group which is wholly owned by Jim. Ouch.

950 days ago
Okay that is not a huge number. Despite being behind a paywall my main site, www.ShareProphets.com has achieved almost ten times as many reads in one fewer year. But some might be surprised that my ramblings on rebuilding and living in hovels in Greece and Wales, on life on both, on politics, on jokes and on all sorts of other matters, mainstream and obscure, get any readers at all. So this is a modest landmark. When this website started it was therapy for me at a very difficult time in my life and I'd be lucky to get 30 page impressions in a day. 

2600 days ago
You know that I always like to keep close tabs on how my good pal Jim Mellon is doing with those businesses he asset stripped from Rivington Street, the firm I set up. History might have been different had RSH accepted large cash offers for them but Jim wanted them for himself. So lets go to what was t1ps.com the owner of a range of websites and the increasingly badly attended and irrelevant Master Investor Show. Its accounts for calendar 2014 were approved on April 24 2015. Its calendar 2015 accounts were due by September 30th but....

2729 days ago
I see from numerous congratulations messages from folks who I I do not know, sent via LinkedIn, that I am celebrating another anniversary. Having checked it out it appears that www.TomWinnifrith.com is four years old. It was a very strange birth indeed.

3593 days ago
Guest authors Han Solo & Luke Skywalker write: Jim Mellon's Rivington Street Holdings (RIVP) today finally called in the administrator for the PLC but its statement 'fessing up to this was er, somewhat incomplete. 
Jim Mellon and his fellow directors admitted that he had bought the events business Ex-Events and t1ps.com from banrupt Rivington for
"a total consideration of £170,000, including the settlement of historic creditors, following an extensive marketing process in which Galloway Limited's offer was considerably in excess of all other tenders"

Extensive marketing? Really?

3633 days ago
By guest writers Han Solo & Luke Skywalker

We rather sensed that this was coming…the disturbance in the Force was clear. While Rivington Street fails to inform its shareholders officially of the progress of the pre-Christmas sale of its assets at knockdown prices, others are being told.
CEO Mark Roberston announced that he had bought the flagship BlueCurve operation ( for a song) on LinkedIn having neglected to tell the administrator – as he had as a director been charged with doing – of a potential trade buyer known to him which could just have realised a far greater sum for Rivington.
The market research operation Viewpoint (profitable according to the Rivington website) has been sold for less than £20,000 to a competitor and we understand that PR firm Bishopsgate (profitable according to the Rivington website) has been sold to its management for the sum of a box of mince pies. No we made that up. It is less. Try £1. Merry Christmases all round.
Yesterday t1ps finally admitted 

3639 days ago
I am devoid of ideas and must rush home to feed the cats as I complete my domestic odessey vfrom Rivington Street to Bristol. As such I offer up a simple picture for you this week and ask for your captions by 9 AM next Friday. Simply post then in the comments secti9on below.


For what it is worth my entry is:

"New management calling the 15% of our passengers who have not already abandoned ship…anyone fancy coming to an investment show in late April?"
Last week I asked you for a caption to this picture in the robber capitalist issue.

3646 days ago
Devoid of an internet connection at home I have been forced to spend the whole day in the pub and as I embark on my third large Rioja I am trying to be careful that I do not write anything too silly.
As such I make no comment on the picture of someone below who is clearly a master investor but came up under the google search "robber capitalist." Should you wish to post a suitable caption in the comments section below feel free. The deadline is 9 AM Friday.


Last week I asked you for a suitable caption to this Nigella themed picture.

3646 days ago
I explain why I am still sporting a Movember tash. Fear not it will come off this weekend.

There is a brief comment on the death of Nelson Mandela but that is covered in more detail in an article here

I look at how the global warming nutters have commented in such an asinine way on the storms.

And then I talk for the first time about my departure from Rivington Street just under two years ago. That was a company I founded 13 years ago which is now going into administration, 19 months after I left it and 28 months after I stopped being its CEO.

3648 days ago
The Shareprophets team writes: A number of writers on Shareprophets used to work for and/or own shares in Rivington Street the Plus listed company now going through administration after almost three years of being chaired by offshore Isle of Man investor Jim Mellon. But this process is throwing up a number of questions. 
The administrator Resolve has worked with Mellon, who is still refusing to go to South Korea to answer allegations of insider dealing, before on transactions which allowed him to buy assets from companies that had encountered financial issues under his chairmanship, notably Speymill.
Since the middle of this year Mellon has bought four companies out of Rivington.

3820 days ago
Friend of colourful James, fan of the Real Man and artist – what more could be said about Pauline Amos.  My initial article about her performance art at the opening of her show attracted a few comments. The video of that art (showing her taking her clothes off and inviting folk to paint her body) attracted rather more views. In case you missed it, the video is below.

But as promised I went along to Pauline's exhibition which is in the basement art gallery at the Tramshed on Rivington Street Shoreditch and runs for another week or so. The gallery details can be found at www.cocknbullgallery.com
The Tramshed itself has become a Mark Hicks restaurant which is pleasant enough, if far from cheap. The new world of Shoreditch. But the bird was paying and so after seeing Pauline's show I had a pleasant enough glass of wine and a few – overpriced – nibbles. As to the show…
Its theme is how man has killed man through the ages. There are prints and some contemporary art paintings hung in an unusual way. The colours and layout are meant to shock and they do. It took the bird and I about 15 minutes to wander around the cold basement checking out the 20 or so smaller pieces on the wall and the ten or so large main features (including the canvas which Pauline was painted on). 
As I think most folks know I am not a great art expert so cannot offer up 500 words on the inner meaning of it all. If it was meant to appear violent, angry and shocking (as I think it was) then Pauline has succeeded.  The bird and I both took that message from the show and if you are in the area you could find a lot worse ways to kill a quarter of an hour before heading off to The Grill, or The Diner or even, if it is still going, that Moroccan Place on Old Street ( but not the Tramshed) for something to eat.

3947 days ago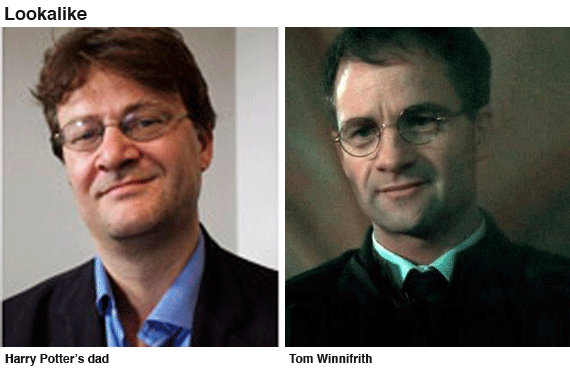 Old photo – I am thinner now…
A charming group of three young people were the last customers at Real Man Pizza Company. on Friday. I managed my best ever Linguine Manx for the young patent lawyer who was paying and that seemed to go down well which pleased me greatly – not the money just the achievement. If you are not au fait with Manx-Italian cuisine, linguine is a bit like spaghetti and the (home created) dressing is based on crab with parsley chopped into the sauce which has a tomato backing but also a bit of chilli, garlic and a dash of Manx vodka (a drink unique to RMPC). And the main ingredient is a dozen or so Manx Queenies (scallops) gently pre-fried in garlic. I served with more parsley chopped finely on top and it looked as great as it tastes. I really am getting the hang of this…
It was the last dish of my day (our busiest day in the year to date) and so I chatted with the customers one of whom stared at me and said "You are Harry Potter's Dad aren't you?" I was bespectacled that night but I promised that I have not been moonlighting in recent years as James Potter. I insisted vehemently that I was not Adrian Rawlins, the actor who played James Potter. To which I got a Christine Keeler (or was it Mandy Rice Davies) "well you would say that." I promised that I was not and turned the conversation round to how on that very table (Number 12) that very afternoon, the actor Ken Stott was lunching. We chatted amicably as we both used to hang out in the Rivington Street Grill a few years ago.
Going back home afterwards I stared at myself several times in the mirror. Other than thinking how the white flecks in three days of stubble made me look rather old, I concluded only that I look nothing whatsoever like the actor who plays James Potter. A very pleasant girl but what was she thinking?

4092 days ago
It was announced today that I had sold 4.35 million shares in Rivington Street Holdings. There will be another 400,000 sold within 24 hours.
Just a brief note to explain. The 400,000 is the final consideration on the purchase of the Real Man Pizza Company outlet and so they will be cancelled by Rivington. I now own that restaurant entirely and can make a few tweaks. The new improved wine menu goes live this week. And a new Monday play list is on the way. I have at least one new pizza recipe for a new Autumn menu.
The rest I sold to John Wisbey of AIM listed Lombard Risk Management. He now owns just under 10% of Rivington. He is a software man so I imagine knows the Blue Curve operation well and he also knows what else Rivington does. I have not got the faintest idea why he wishes to buy. Ask him.

4189 days ago
Yes I have quit Rivington Street Holdings as well. I no longer work for the company. Why? I refer to my earlier acid tests on what I do next. I hope that I have made clear that going forward I shall only work a) with people I like and respect, b) where I earn a decent wedge and c) where I enjoy what I am doing. There was no need for Rivington to make such an announcement as I had quit as a director and it had been announced 3 weeks ago but there you go. I wish the decent, hard working staff at Rivington all the best for the future.
Does this mean that I am leaving t1ps.com? No. I have signed an agreement to write for it, do videos and help organise Master Investor, etc. There is a lot happening behind the scenes at t1ps – let's see what happens and on that basis I am happy doing such work for t1ps.
But there are other things to do as well. I have just signed a contract to publish an e-book and am looking at a number of other interesting opportunities in the writing and consultancy area. It may well be that I throw myself 100% back into t1ps if all the acid tests are passed. We shall see.