food
1142 days ago
The Mrs and I got married five years ago today. I salute her patience, tolerance and good humour in lasting half a decade. I am a lucky man. And, in fact, very lucky for we are today back up at the Greek Hovel and she took me and Joshua for an anniversary lunch at Miranda's in Kambos as you can see below.

3044 days ago
The photos of Charles Saatchi grabbing domestic goddess Nigella Lawson by the throat are pretty shocking. He has apparently dismissed it as a "playfull tiff". Hmmmm.

I have always had a soft spot for Nigella although I cannot say that her recipe books are the most thumbed in my library. I am very much a Darina Allen man. She too had a few problems with her other half when he was done for possessing er…inappropriate images, on his computer. I wonder if domestic goddesses always hook up with the wrong sort of man?
Naturally I do not count Delia in this category as my bookshelf would rather be seen containing hard core pornography or the collected works of Polly Toynbee than anything produced by the not so sober chanteuse from Norwich.
As for Miss Lawson? Well it seems that Mr Saatchi has manhandled her before in public. No doubt that was also a playful tiff. But I kind of think a true Goddess could do better. Okay, the guy might be very entertaining and absolutely minted but he does appear to be a total brute as well as a bit of a haggard old man. And at 97 or whatever the old dog is, he is not going to change his ways. Nigella is a good looking bird ( if perhaps she has eaten one too many of her 3 zillion calorie recipes), she seems quite sharp and I am sure she could do better.

3154 days ago
You thought that this was my only blog? Noooooooh. I have started another one. Usually it is just one post a day but I hope to do more – it is my Real Man Blog! Today's article is below – I tend to use photos for this blog and and am working on trying to get some video content in. The subject is normally food or drink – there are no wild political rants on this blog – that stays here.
What appears below is today's entry – you can find the whole blog here.
What is Linguine Manx?
It is a recipe pretty much unique to Real Man Pizza Company – it was created by head waiter Aldo (who is actually a trained chef and a great cook) and by owner Tom Winnifrith and it tastes amazing. If you are in Clerkenwell you have to pop in and try it at our quirky Celtic Italian Restaurant..
Linguine – it is a bit like spaghetti but just a tad thicker. The Manx side? The dish contains Queenies, scallops from the Isle of Man. The Queenies are accompanies by crab meat, and also chilli, garlic, lashings of freshly chopped parsley and a backing of our tomato sauce. There is also a dash of Manx vodka just before the tomato goes in.. And then there is a bit more parsley added on top once the linguine is folded into its dressing. Salivating yet? You should be.
And hey presto a Manx Linguine as you can see below.
One of our lunch guests very wisely went for the Linguine Manx yesterday. His co-diner opted for Penne Carbonara ( penne folded into cream based sauce with bacon and freshly chopped mushrooms – once again freshly chopped parsley on top). The two dishes stand side by side below.
Suggested Italian wine for this combination: Tosca Bianco Villa Lucia, described as a fresh and vibrant white wine, medium bodied with aromas of orchard fruit and peaches and zesty lemon on the palate. Or perhaps if you want something a bit special a Riva Leone Gavi ( a delicate white with intense fruity and lemony notes)?
We do not just do pizza at Real Man but as with our pizzas, our pasta dishes use all fresh ingredients and combine the traditional with our own specially created and unique dishes.

3196 days ago
And so it emerges that cheap Tesco burgers contain horsemeat (up to 29% in some cases), the company grovels and withdraws the product line and everyone is horrified. What is the fuss? It is not as if the hundreds of thousands of customers who have already munched their way through grilled Shergar have actually noticed or complained.
The highly processed junk food that most Britons buy in supermarkets bears so little relation in taste to what it is meant to be thanks to the addition of vast amounts of chemicals, flavourings and preservatives that you could probably serve up dog, cat, horse, or fox as part of the end product and no-one would be any the wiser. By the time folks have added vast amounts of equally artificial sauces you could probably chuck in a bit of cardboard as well and it would make no difference. I am almost surprised at the idea that a cheap burger priced for chavs in a supermarket contains any beef at all. I had assumed it was all off cuts, innards and chemicals and frankly it makes no odds what animal they come from.
Horse meat tastes fine as a dish. It is not that different from beef. In the same way that guinea pig meat tastes, when prepared normally, pretty much like chicken but just a bit better. But most of our fellow citizens have not actually ever seen an animal killed for food. And so they have a vague notion that somewhere along the line cows or sheep are bumped off and end up in Tesco's and this is okay but the idea of eating my sweet little pony, a fluffy guinea pig or what the RSPCA terms one of Britain's favourite mammals, cute little foxy woxy, is seen as a sort of crime against society.
Britain's urban mass consumers of junk food want a cheap product that tastes like "meat" – had the company branded its product "meat burgers" no-one would have noticed and it could have carried on flogging the line for years with the customers gorging happily and not having to associate eating meat with the idea of killing animals. If folks want something that tastes really good they need to venture along the food chain and a bit closer to the abattoir's knife and accept that what they were eating was not that long ago a living breathing creature.
The more I think about it the more I have a desire to eat guinea pig once again. Perhaps I could buy some Tesco chicken nuggets and just hope that I get lucky or maybe a visit to the pet shop is in order. I imagine that the RSPCA would try to prosecute me but it really is a very tasty dish indeed.

3290 days ago
Three Good Things is the new book by celebrity cook and all-round good guy High Fearnley-Whittingstall. Hugh is a blog roll hero of mine and as such I trundled along to hear him speak on Friday lunchtime. The hall was packed. I emerged far from convinced about both the book and, I am afraid, about Hugh.
I will always delight in watching River Cottage. It is not on the BBC and it is cracking TV. The idea that one can preserve the countryside and create real food at low cost is incredibly appealing. The idea that folks must understand that to eat meat you must kill animals is one that I push to all my Townie mates but they still do not get it. Hugh is a great presenter and loves his subject. But now I turn to my concerns.
Firstly the new book

3304 days ago
Sir Andrew Motion, is the new president of the Campaign to Protect Rural England. I grew up in the boonies and want to live there again one day and after 10 minutes on the Campaign's website I can safely say that these cretins do not speak for me or for most folks who live or who grew up in the shires.
I was prompted to visit this website by Motion's claim that Londoners should venture out into the shires and hug an animal. Yup. The countryside really needs loads of 4×4's heading out from Islington and Camden with folks ready to scare sheep in lambing season or frighten the chickens. My only hope is that the first animals that the townies try to hug are any one of: A large gander, a fox, badger, stoat or an really aggressive cockerel. Or maybe a large bull.
Sir Andrew, who lives in North London

3309 days ago
Fat Lady Clarissa Dickson Wright is in the soup for suggesting that badgers which are despatched in the forthcoming cull should be eaten. I am with her all the way. Indeed I would go further and reintroduce fox to the menu as well.
We are terribly squeamish about what we eat and indeed our relationship with death and animals is utterly out of kilter. I have eaten guinea pig (it was crispy and delicious) and horse and would have no problem with a bit of roast dog if it was offered to me.
Obviously I could not eat a cat. But why do we accept that it is okay to eat rabbit but not guinea pigs?

3350 days ago
It is a National Holiday in Greece. So instead of 25% of the shops being closed (because they are bust) 100% are not open for business. And those hard working Greeks elsewhere are also having a day off. This is not Independence Day as it is in India but a holiday celebrating the anniversary of the ascension of the Virgin Mary to heaven. As a protestant I am not really up on this Virgin Mary stuff but given how hard everyone in Greece toils I am sure that they need a day off.
Last night I enjoyed supper with an Anglo Greek couple and we discussed, among other things, the price of milk and the logistics of moving house here. They are related and do not switch off – this place is crackers.
In Greece you can buy a Lorry or a Van like anywhere else.

3354 days ago
An odd week. In the brave new world of new media, in terms of twitter followers I moved up from 18.25 millionth place to be just inside the top 12 million. Never before have I rushed past 6 million people so quickly! Only eight weeks in the twittering game I am hard on the heels of long time veterans like t1ps Editor in chief Richard Gill, although the tweets he sends out (pictures of floorboards) are, I can see a big draw (More interesting than your fizzy red wine – RG).
Geographically, I moved from Albania where I took some great snaps and had a very good time back to Greece where I found myself appearing (photo and all) on the website of the best bakery in Greece, here.. And now having left England to decide my future plans and to write a book I am a week away from almost finishing the book and have, I think, decided what to do next. And so have made plans to return in early September.
Meanwhile the world moves on.

3356 days ago
I went to Zitsa partly on the Byron trail but largely because I am a foodie. Perhaps that explains the weight issues. Okay, it does. On the Byron front I read some poetry online last night as I sat looking down over the valley. It was hard to think of Byron drenched in a thunderstorm in this place as the temperature zoomed past 40. At some stage I will try to put together a piece comparing and contrasting the good Lord's brave Hellenic verse flowing with pride at a nation about to be reborn with some of the craven words of today's Greek leaders. But just to show that Byron is not forgotten in Zitsa I bring you a picture of a street sign. Not perhaps the most interesting way to start a piece but it makes my point.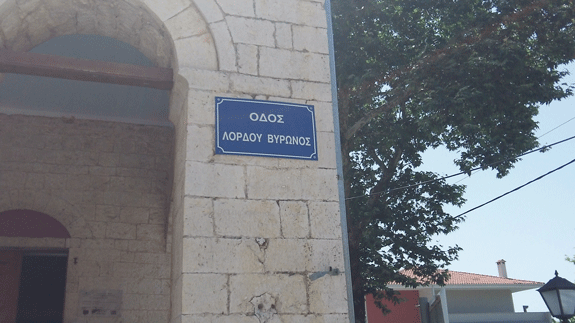 And now to the most important matter – filling my tummy. I detailed the local sparkling red wine last night here. Frazer Thompson of Chapel Down has emailed me to say sparkling red does not work and gives you headaches. All I can say is that in my attempt to acquire the taste, after three glasses I had no headache. The Zitsa wine festival is in two weeks and I am sorry that I shall miss it. In fact I am sorry to leave Zitsa because a) it is gorgeous and b) I met the most wonderful couple and had lunch with them today and would like to have stayed longer. They have written their version up here. They obviously think I have a screw loose but humoured me delightfully. They restore ones faith in humanity.