Fourth time lucky. At the agreed time, Nicho the Communist wandered into the Kourounis taverna in Kambos for our trip to inspect the olives at the Greek Hovel. I had left him the previous day five hours into his binge with George, George and anyone else he could find as he celebrated St George's Day. He confessed that he had continued celebrating until late at night on a taverna crawl round Kambos - there are four places to drink in our village of 536 souls.He had that look, that I remember from my own days of heavy drinking, that says "I am never going to touch alcohol again." But of course you always do. Having not touched the demon drink for almost ten days I am feeling a little smug. Excuse my smugness.

I drove us up to the Greek hovel. We discussed snakes which are all now out of hibernation. "It is their time" he said in a way that reminded me of the Lord of the Rings. Now starts the fourth age of man. Or in Kambos, Gandolph, or Papou, announces Now is the age of snakes. But conversation was a little hard when your companion obviously just wants to go back to bed. He did however note that the Hovel is a lovely place but, as we crawled along the long and winding and very bumpy track looking for snakes to run over, just a bit far from the village. "I like it that way" I assured him. "No-one can find me."

Arriving at the hovel we immediately met a herd of goats. Whose are they asked Nicho. I did not have a clue but said that I did not mind. Nicho was less certain pointing out that they will eat my olives. And indeed that is the case. Sheep walk on the grass and tend to eat only things that lie on the floor. Goats jump on rocks and will eat anything, frigana included, but do have a penchant for olive tree leaves. Nicho went up to an enormous billy goat and told it to bugger off. Which it did. I assured him not to worry. I do not mind losing a few olives if I also lose some frigana. More importantly, snakes do not like goats.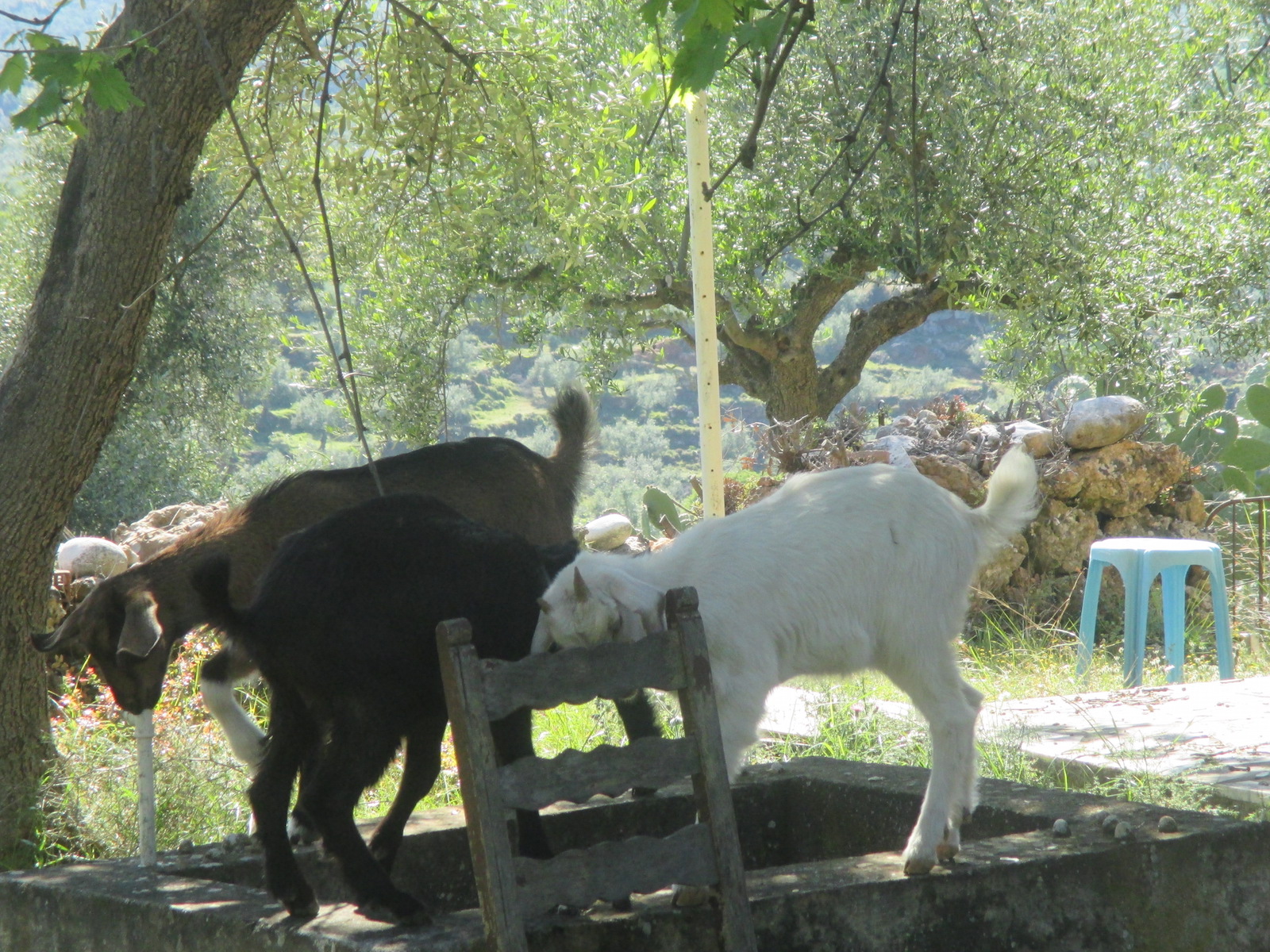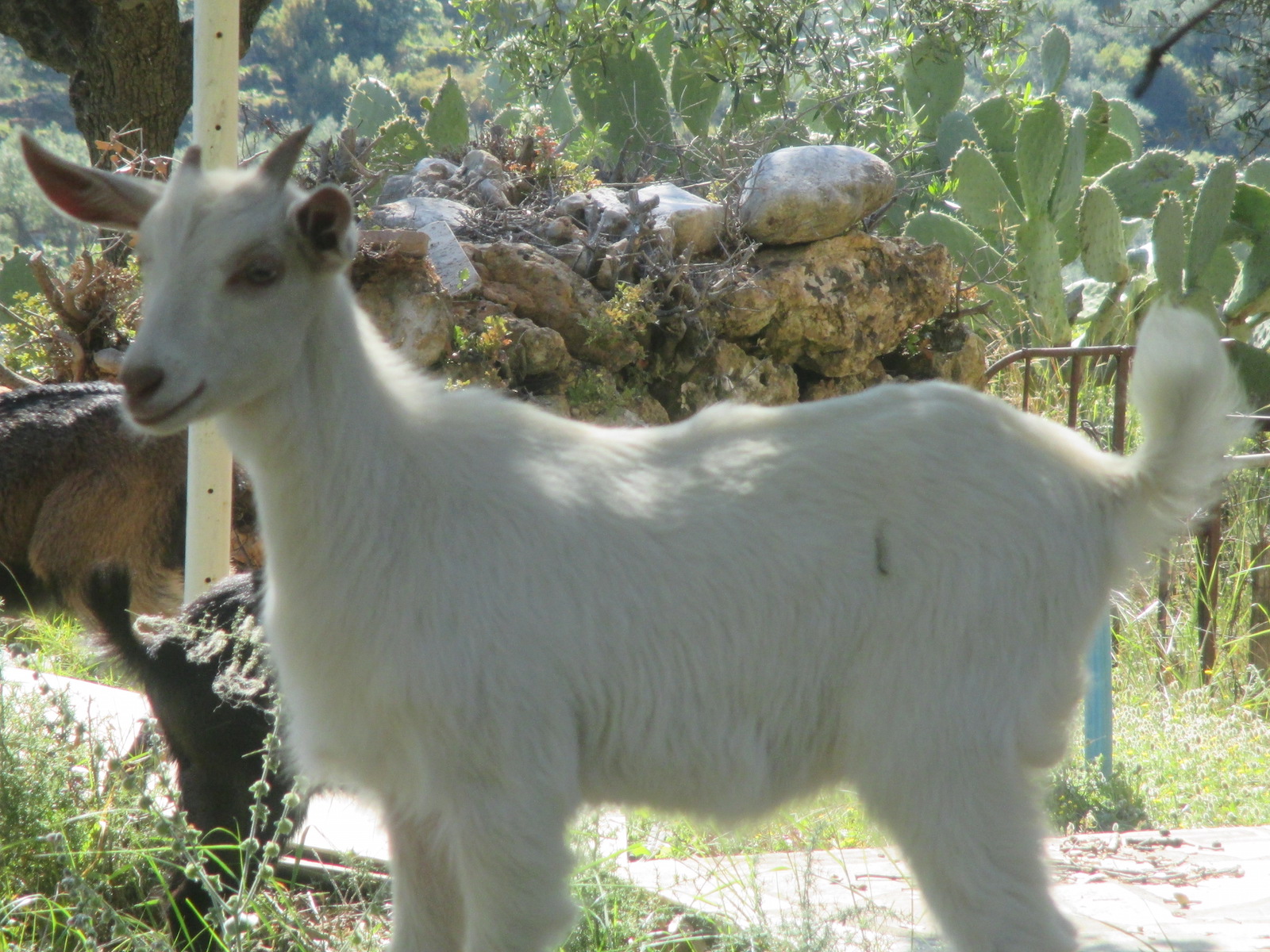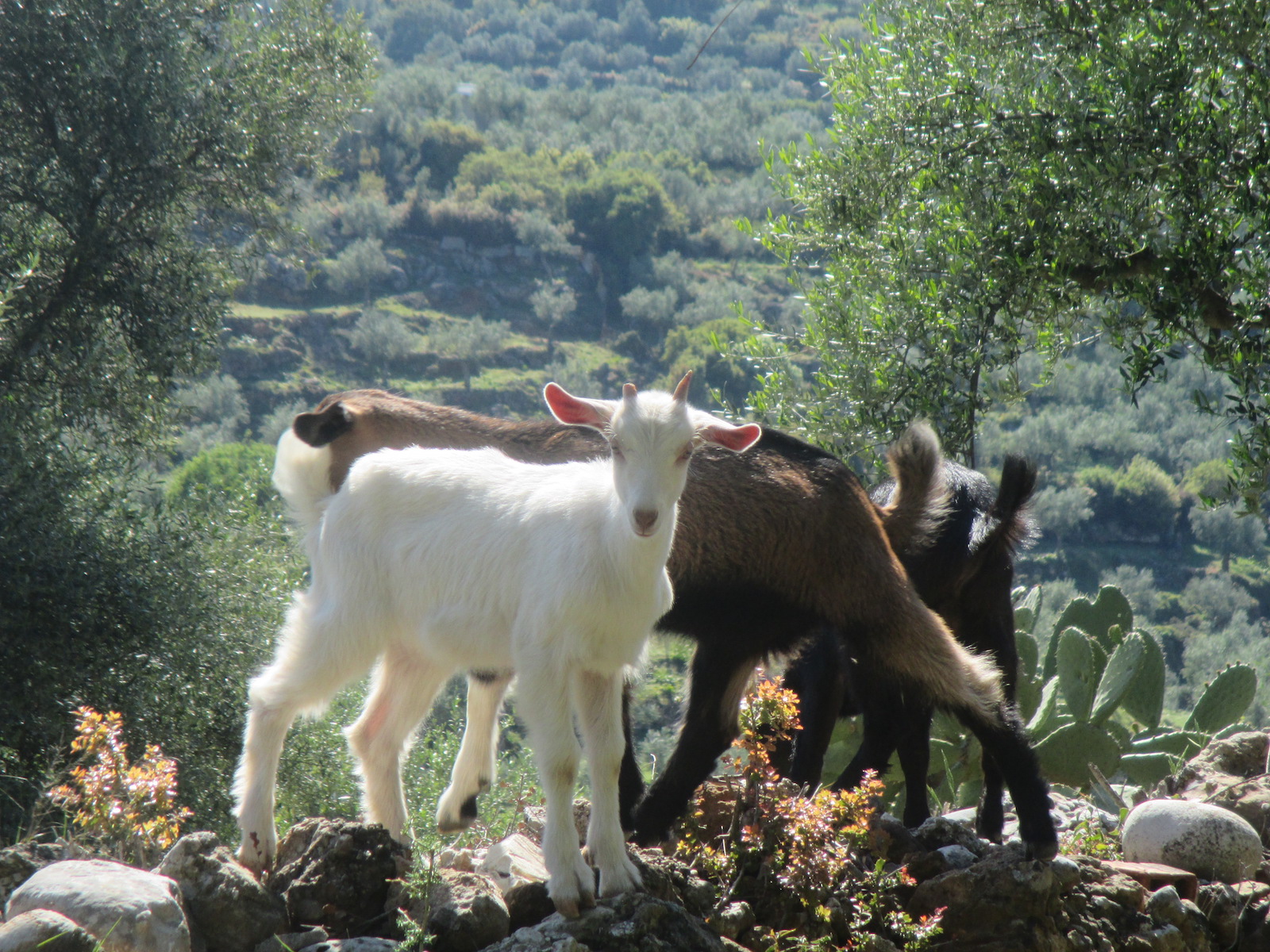 The purpose of our trip was to check out my wild olive trees - trees whose fruit cannot be processed into oil. I seem to have been a little confused on this matter. The two trees I had identified as wild as they produced big black olives which George the Albanian shuns when we harvest, are in fact not wild olives. Those are olives which you need to cure to eat as opposed to pressing for oil. Aha. I told the Mrs later that this was women's work and a job for her. She seemed unconvinced.

But as we wandered to the far reaches of the property, at either end, we did indeed discover at least 20 wild olive trees. Nicho says that he will monitor them this harvest and we will splice on domestic olives for next year so upping my yield. But it gets better still. As we wandered across the land we identified spaces for at least another sixty new trees to be planted this October at a cost of 8 Euro a pop. The net result of this all would be to increase my harvest, ceteris paribus, by at least 50%.

George the architect looks at a non olive tree and says "the Foresty Commision has said we must not chop it down.". I look at these trees and the undergrowth that surrounds them and say "that looks the sort of place snakes like". Nicho looks at that tree and says "I will chop it down so we can plant more olives." I like Nicho's attitude.

So this weekend we are are to poison the frigana which has made a resurgence in certain of the further reaches of the property and will chop down some trees. Nicho has ordered the poison already and he assures me that the areas we deal with will be brown and weed and frigana free within a month. And that the poison will also drive the snakes onto my neighbours' lands. I like the sound of that. We start at 9 AM on Saturday. I cannot wait.
If you enjoyed reading this article from Tom Winnifrith, why not help us cover our running costs with a donation?