I have never hidden my admiration for Priti Patel. She is the sort of aspirational Tory who could widen the franchise in the way Disraeli and Thatcher managed. Her parents arrived in the UK with nothing and worked hard. Priti went to a state school and modest university (Keele) and has worked hard. Her gut instinct on the role of Government, the EU, law and order and so many other issues marks her out aqs a real Tory in an era where the party is dominated by the privileged, the conceited ands the incompetent. Having said all of that I accept, sadly, that for breaking the ministerial code and for being a little economical with the truth when exposed, she had to resign. But those baying for her blood include some awful folks..meet Mona Baker who is an academic.

For what it is worth if Lord Mandelson and the Right Honourable Keith Vaz can make comebacks after doing far worse than Priti, I have no doubt that she will return to the cabinet and, perhaps one day while Labour sticks to white male leaders, the Tories will give Britain its first Asian and third female PM. We shall see. Mona Baker would not like that. She started an online petition to have Priti sacked.

You can see Mona's profile on twitter and details of her petition below.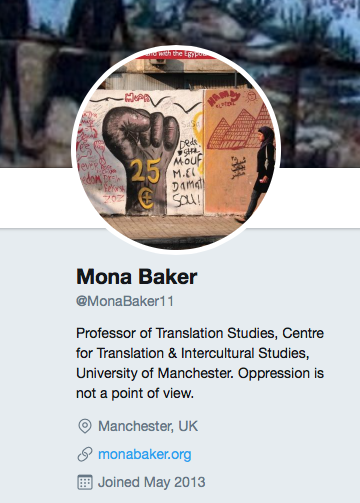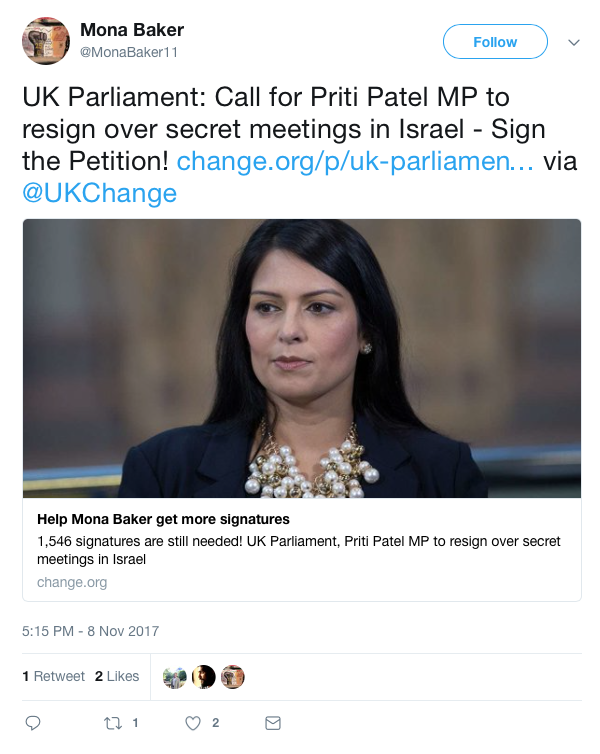 Now I accept that Priti had to go for breaking the code. Mona arrives at the same conclusion and bayed for blood but her issue seems as much tied up with who Priti met rather than the fact that she held "freelance" meetings. Had Priti met a stack of French politicians and charities I doubt Mona would have been on her case. You see Mona is on the militant wing of the Israeli hating lobby in academia, a lobby which often spills over into Jew hating. Her willingness to endorse lies in this cause is one reason why you must worry what poison folks like her implant in the minds of our young people.

You will see below three tweets that Mona retweeted .The first is a Retweet of a downright lie. Priti Patel discussed giving money to the Israeli army's units in Golan which are treating wounded refugees from Syria. That would be Muslim folks attacked by Muslims who flee to the evil Jews to obtain safety and medical assistance. And the wicked Jews provide both. Most of us would agree that the wicked Jews are doing a rather good thing. But the Jew haters twist what actually happen into a blood libel, that is to say the assertion that Priti wanted to give cash to the IDF to go kill Arab Muslim kids. And Mona retweeted that blood libel. She retweeted that lie.

Do you think she teaches any other lies or any other blood libels to her students?
Next up is a RT of a suggestion that claims of anti-semitism in Labour are just a smear. There is no real anti-semitism in Labour this is just a smokescreen, no doubt, created by those wicked Jews again. Quite clearly there is anti-semitism in Labour as a leading Jewish Labour supporter demonstrates here. Yet Mona tweets the opposite.

Finally we see Mona supporting the boycott of Israel. In this case it is a pop singer. In other case the boycott Israel movement has got Israeli academics no-platformed simply for being Israelis and has urged the waging of economic war against a state that exists under UN mandate. Only among certain Arab factions and on the wild fringes of left wing opinion here in the West is there support for a "one state solution" which does not involve those pesky Jews.
Of course Mona is entitled to support that view but her RT's of clear blood libels and other lies really does make you worry for what poison she drips into the curriculum for her impressionable young students. And her visceral hatred of poor Priti is now put into a wider context.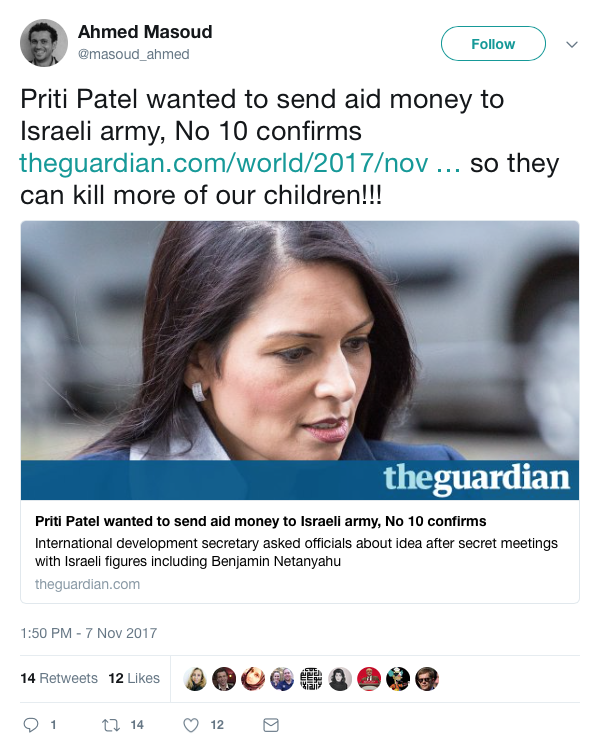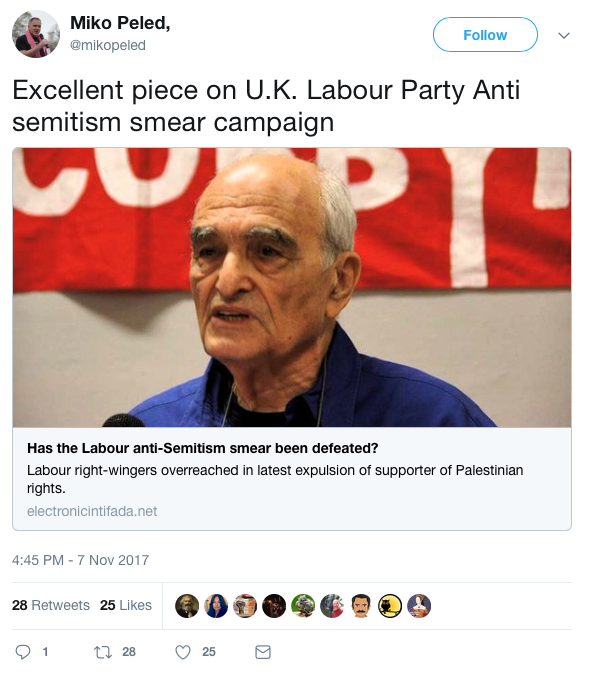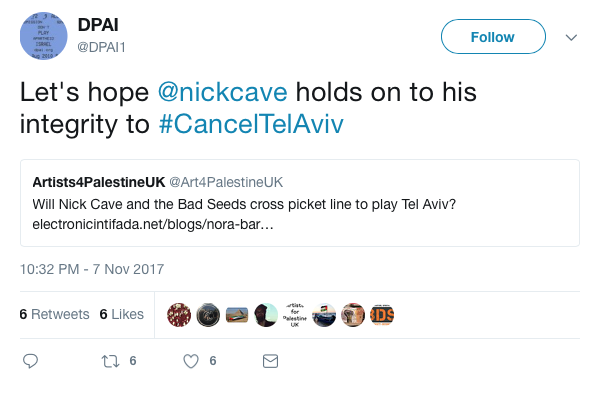 If you enjoyed reading this article from Tom Winnifrith, why not help us cover our running costs with a donation?