As if the Mrs has not suffered enough during the past five years, today she has the unenviable task of explaining to our, almost, two year old son Joshua why, when they arrive back in Bristol there will be no Oakley to greet them. For yesterday afternoon, Oakley went to a better place.
Joshua adored Oakley, He calls the Greek Hovel, where I am staying on for a few days, "Joshua's House," The house in Bristol is "Oakleys house". The "King of cats" he called "Oakley da King" and repeated the phrase endlessly. Da King would go to sleep next to Joshua's cot to keep him company and would head into his room to listen to bedtime tales. He must have known more about the Gruffalo than any other cat.
I first met Oakley seven years ago when my previous companion, Kitosh, died very suddenly having travelled with me from London via Paris to the isle of Man. Grief stricken I headed to the MSPCA where two older cats were sitting unwanted and unloved. There was the very affectionate Tara, who passed away a couple of years ago, and another one who hid in his hutch but was, I was assured, very friendly, if very fat and lazy. That was Oaks.
They travelled with me after my rather hurried departure from the tax dodgers and for a while stayed with the pizza hardman Darren Atwater in Hackney. I know that Darren and his Mrs are devastated by the news. It was during this time that Oakley developed cancer and had his leg amputated. We were told that the big C would probably return within five years but that he was so fat and old that it would not be an issue.
At one point, even with three legs, Oaks tipped the scales at 6.6 kg. So he went on a diet. But in the past year his weight has plunged from 3.7 kg to just 2.7 kg and it was almost certainly the cancer that got him. There is a guilt in that his final days were spent without us. But he was receiving many visits a day from professional cat sitter Terry the hipster plus numerous visits from admirers such as Mu and Godfather Johnny. Perhaps it was a day spent with a junior doctor (Johnny) and being forced by the cruel Shipman to watch the hammers lose on MOTD that proved the final straw, oaks slept loyally in a West Ham blanket.
When Terry the most excellent hipster cat-sitter found him yesterday he had lost all his energy was not eating or drinking and was rushed to the cat hospital. By the time he arrived his eyes were losing colour, jaundice was setting in and there was only one outcome. The Mrs and I both had tearful final conversations with him, well monologues. He did recognise our voices, he really was fading fast. We told him we loved him and said goodbye. I am glad that Terry rather than the Mrs and Joshua had to go through those final hours. Sorry if that sounds selfish.
We will bury the ashes in the garden with a small ceremony as we did when the ashes of Kitosh were interred.  Tara's body was buried rather hastily underneath a rhubarb plant before Joshua could notice.
I think back to five wonderful cats I have owned. There was Big Puss ( aka Jesus) a gift from Uncle Chris when I was young who earned his blasphemous nickname by sleeping in the straw of our crib back at Byfield. He lived to a ripe old age, fathering many children. Poor babysitter, the great, Neil Masuda had to bury him. His replacement had enormous triangular ears and being born in 1982 was named after the bomber with huge triangular wings sending Easter presents to the Argies at that time. Vulcan lived a long life and died peacefully sparing my father a trip to the vets he could not bear to make even though it was the only option so decrepit was "Vulcs". Then the much travelled east End lad Kitosh and then Oakley and Tara.
In my worst times they would lie in bed with me as I watched old videos and were a great comfort. Oakley was always keen on jumping into bed even when with three legs it involved taking a long lollop up and launching himself like a missile. Not having him launch himself into our bed to offer up big fishy breathed kisses as a reminder that it was time for his first breakfast, will leave a big hole in the life of myself and the Mrs.  As for poor Joshua, I just don't know what the Mrs will say.
I am not sure I can face another pet death. I have had a cat in my life for almost all of my own existence but Oakley really was the king. There could be no substitute.
I take consolation that the King is now at peace with no more suffering. Below he is pictured with his long time companion Tara, with Joshua and alone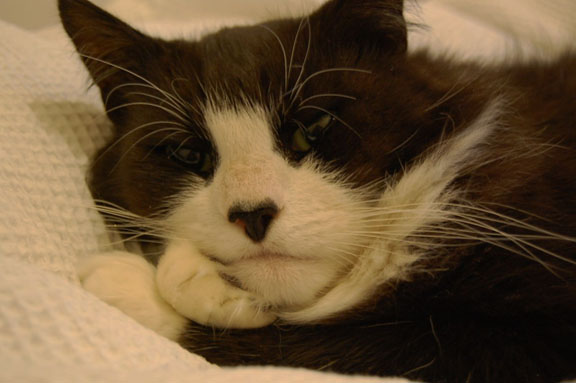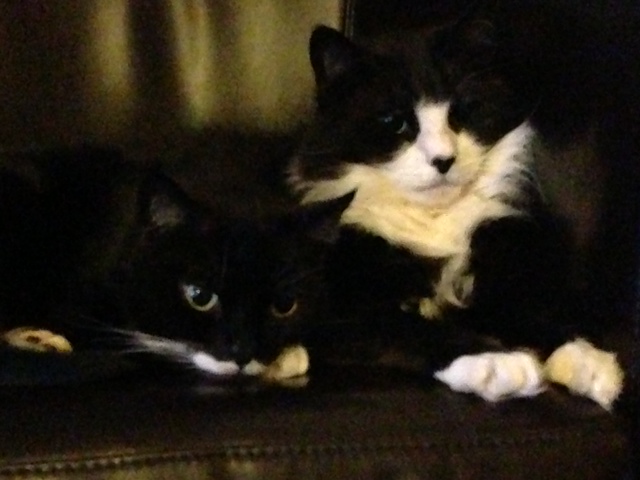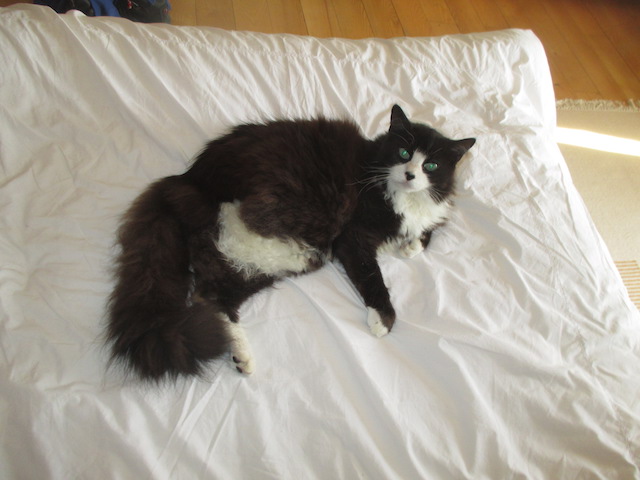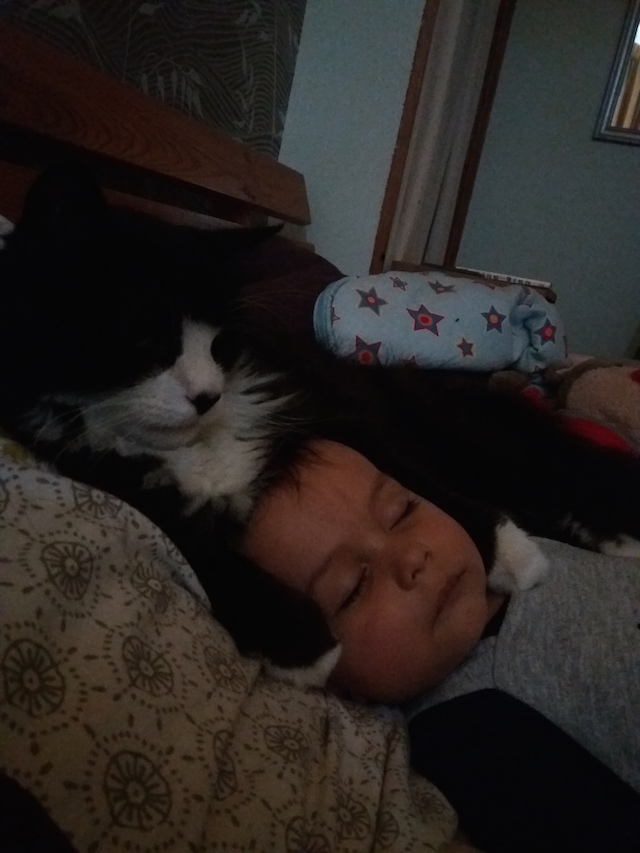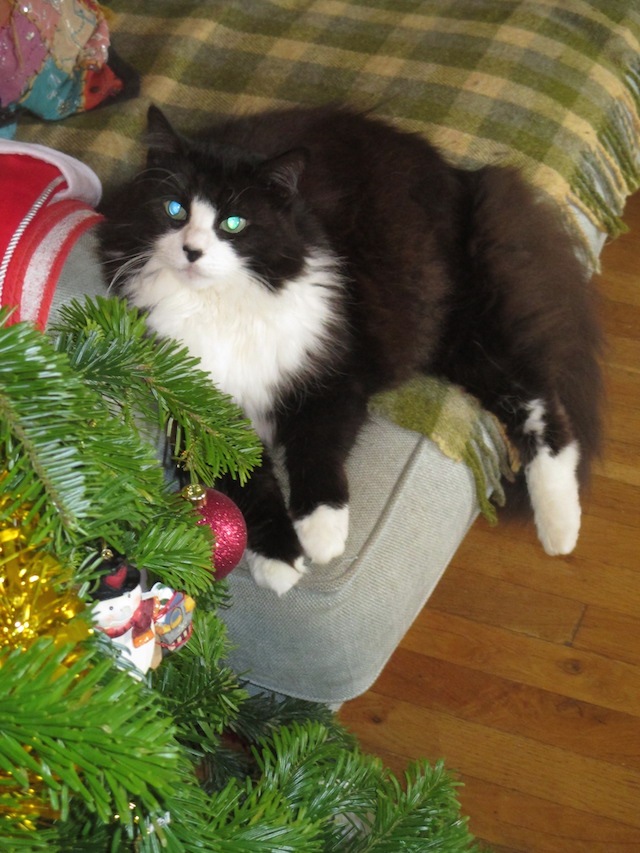 If you enjoyed reading this article from Tom Winnifrith, why not help us cover our running costs with a donation?