"Next warns on Brexit" risks screamed the headline on the BBC website as you can see below. On radio and TV broadcasters shouted the same message. But if you read what Next, a company run by highly pro Europe management, actually said rather than what the state funded broadcaster said it said you might be surprised.
The BBC article states
Next said the UK retail market remained "volatile" and it remained "cautious" in its outlook.The Brexit-related risks include higher tariffs on goods imported into the UK. However, queues and delays at UK and EU ports as a result of increased customs declarations for other companies posed the biggest risk. The retailer said it was preparing for the possibility that the UK leaves the EU without a transition period or a free trade agreement in place.However, it downplayed the impact a no-deal outcome would have on its business.
Ends.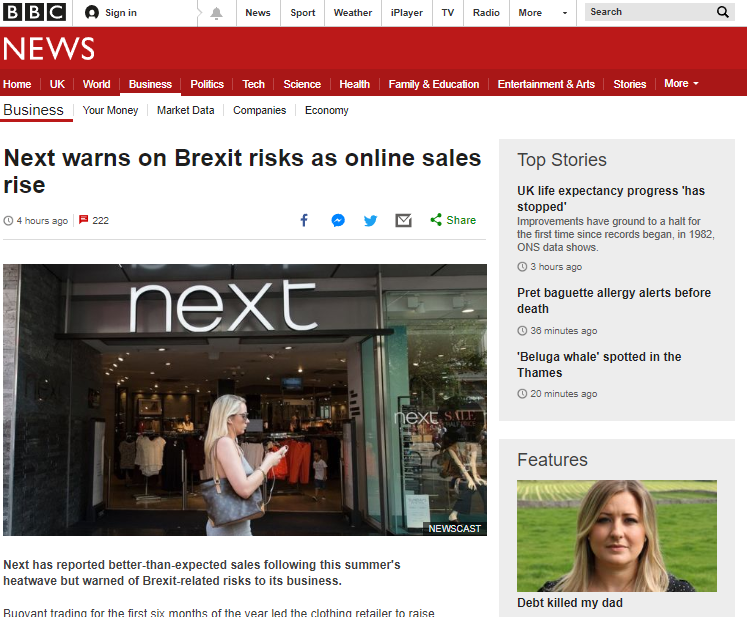 Of course the UK outside the EU would not have to impose tariffs on imports. Indeed it could scrap the tariffs the EU forces us to have on good imported from outside of the Eurozone. Outside of the evil empire imports could actually be cheaper, it would be our call.
However here is what Next actually said. It note that the risks of a no-deal Brexit do not "pose a material threat to the ongoing operations and profitability of NEXT's business here in the UK or to our £190m turnover business in the EU."
It concluded that "there would be some additional administrative costs but, in the scheme of the Group, these will be de minimis."
In short the BBC coverage was just more fake news from the remoaning metropolitan liberal elite.
If you enjoyed reading this article from Tom Winnifrith, why not help us cover our running costs with a donation?