After a meal at what was Miranda's (19.5 Euro for a salad and two meat dishes plus half a litre of rosé), we headed to Eleni's Kourounis taverna for Joshua's treat of some ice cream. It has become a daily treat and is one of the reasons he loves being in Greece. But he also loves watermelon and so to try and wean him off the ice cream we bought the smallest one on sale at Eleni's which is, as you can see below, enormous.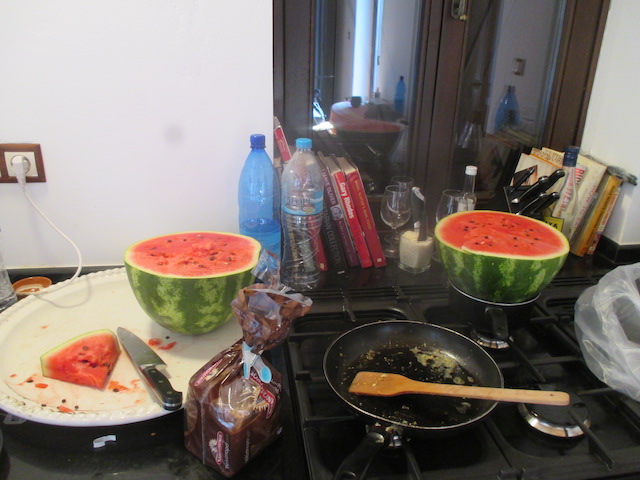 With the addition of a recently arrived guest, Joshua's godfather and the wife's distant cousin J, all four of us are now forced to eat portions for breakfast, lunch and supper in an attempt to finish it before it goes off.
Back to Saturday night… as we wandered from Eleni's back through the square towards the road up to the Church, where our car was parked, Nicho the Communist who was sitting with his wider family tugged at my arm. He has a gravelly voice generated, I suspect, from years of nicotine and alcohol consumption and he always sounds as if he is telling you that the world is about to end, whatever he is saying.  I always pay attention.
"Will you join my group?" he said. We meet from 5 to 9 in the evening in a building near the Town Hall. I have no idea what his group is. Is it the communist party of Kambos? Surely he knows I am not of that ilk? A drinking group? But why the need for a new venue?  I found myself thinking of the episode of Midsomer when the second Barnaby moves in and a fellow from the rugby club pitches up on his door. He has a moustache like Nichos and invites Barnaby to join his group of like-minded chaps for some fun. Eventually, Barnaby asks if he can bring his wife at which point he is told "no it is just chaps who er…like being with other chaps." I put such thoughts to one side for Nicho would be horrified to hear about men with moustaches in Midsomer and what they get up to.
I promise that I will be there at 5 on Monday. I turn up at 5 only to be told by his drinking companion, Vangelis, that the great man is not there but will be back from Kalamata later. Hmmm, reliability is not Nicho's middle name. The building is being restored and has loads of books on shelves. In one room, a group of young lads sit as if they were in detention. The other adults there – like my friend Vangelis – smoke, drink coffee, and speaking no English are unable to explain what is going on. I sense that this is an attempt to try and keep the young lads of Kambos out of trouble.
I try to ask Eleni what is going on. She says repeatedly that Nicho and Vangelis are good men and I agree but the rest seems to be lost in translation. I shall try to pop in again to discover what is going on and what role Nicho sees for me. Meanwhile, time for some more watermelon.
If you enjoyed reading this article from Tom Winnifrith, why not help us cover our running costs with a donation?