Those who have read my musings from the Greek Hovel, since it was purchased six long years ago, will remember that a constant feature is my battle with frigana (the bush which is a cross between an oak and holly and which can grow from an inch to 20 foot high). In my first year, I cut down more than 2,000 square metres of the stuff which had covered an eighth of our land. There were snake encounters, blood, sweat, and eventually tears of joy when the task was completed. It was great for the figure!
But frigana is one of those enemies that just will not go away. One's fight with it will be lifelong and as you go into battle, whether with a cutter or with poison, the metaphors that float through your brain, as you try to tread carefully and keep a watch out for snakes, are military ones.
Following five years of cutting and poisoning since the first great clearance, the great enemy has been left in peace for almost two years and there are worrying signs that it is making a comeback. In half a dozen places across the property, it now grows in great clumps up to ten foot high and a similar measurement in diameter. Elsewhere there are smaller bushes dotted around growing in walls or on the ground. It is most disheartening.
And thus, to celebrate a week at the hovel, I headed off early on Saturday morning to Kambos to buy 5 litres of the strongest poison and a 16 litre sprayer to go on my back. Except I can never work the bloody straps so instead carry it around: 15.5 litres of water mixed with half a litre of poison as recommended at the store. There is a manual pump and one starts spraying. On this first session, when we managed three trips to the snake-fields, I was accompanied by uncle Johnny who, as a trained Shipman, is well versed in administering death to the unexpecting. We took it in turns to pump or spray and I think we have started the fightback.
After Johnny's departure, I did another seven sessions. I cannot say that I sprayed all of the land. In attacking some of the bigger clumps, I sprayed and sprayed dumping the stuff on in the way that in that scene near the end of Oliver Stone's Platoon, Captain Harris orders the USAF to dump everything inside the perimeter and just hopes.  Elsewhere I sprayed individual plants very carefully giving them far more to drink than, I suspect, is needed to ensure the desired result.
At best, I hope to have kept the enemy in check. By the time I return in March, it will have progressed in some places but elsewhere there will be golden brown corpses for me to survey with pride. At that point, battle will recommence and, as you will discover later, I shall not be alone.
Below is a photo of a plant on the wall above the pool that Johnny and I dealt with and one, on the other side of the same wall, which received its drink only after the photo so that you can compare the colours.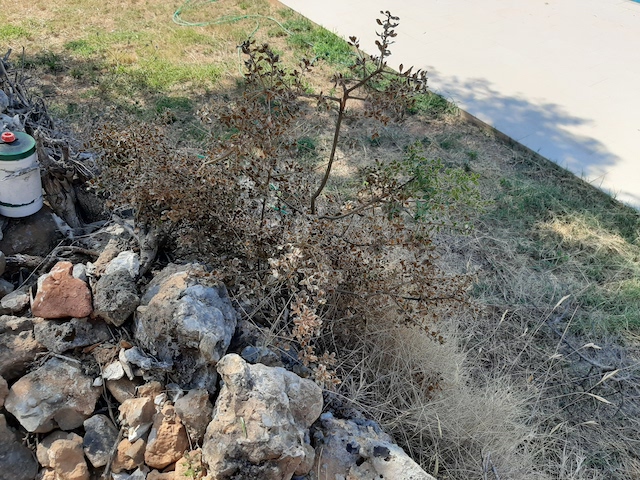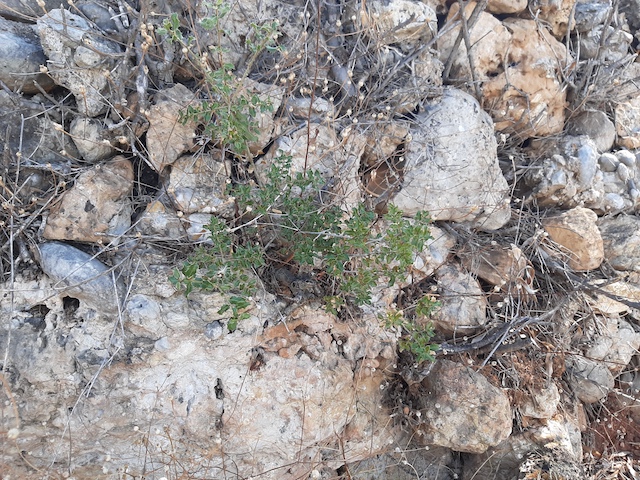 If you enjoyed reading this article from Tom Winnifrith, why not help us cover our running costs with a donation?