I do not like Kardamili. A few hours detention in its Police station thanks to a bent cop and an even more bent hotelier did not cause my dislike but it did not help the cause. Though a pretty town, Kardamili is very expensive and, worse still, it attracts the biggest tossers in Europe, swarms of them. The Mrs, however, quite likes it.
I guess that is because of the nature of the tossers. I am a conservative-minded libertarian who grew up and now lives in the boonies regarding big cities as loathsome and London, in particular, as a nest of lunatics and patronising tossers. I may have, at one time, lived in the epicentre of this lunacy, Islington, but even then I loathed and despised almost all my neighbours.  The Mrs, on the other hand, is a Guardian reader who, until now, has lived in big cities all her life. As such, she is, in animal terms, a zebra to the Islington resident North American mustang, a very distant relative but a relative nonetheless. She is thus more tolerant of the fact that Karadamili is Islington on sea than am I. She tries to see the best in it. I can see only the worst.
But I humoured her and agreed she might have a shop in Karadamili. In the end, she agreed it was overpriced and bought nowt. I bought some armbands for Joshua and the lad and I enjoyed a frozen yoghurt each as car after car drove by. There was almost a traffic jam along the main street. I thought of the hovel where you can avoid human contact all day and thought again how much I loathed Karadamili and vowed never to go there again. After what seemed an eternity, we headed on down the coast and shortly after the right turn down to Paddy Leigh Fermor's house we turned left up into the mountains heading up to the little village of Eksochori.
There we were the only folks having lunch at the Farragi hotel. The woman was masked up and lamented the lack of English guests who come back year after year. Since most of them would be based in Karadamili, I say good riddance, but understood what she meant.
Though it means passing through hell, we will go back as the food was amazing as was the view. For the Farragi is perched on the edge of a huge gorge. As a vertigo sufferer, I made sure our table was away from the edge but I was brave enough to take a few snaps of the view, of a truly amazing salad and of the cracking local beer which made me think longingly of my home brewed nettle beer. 
And, yes, that final photo is of a village perched precariously on the other side of the gorge. To get there one would have to drive back down to the coast and through Karadamili before climbing up a mountain road on the other side, a 15-mile drive for 1 mile as the crow flies.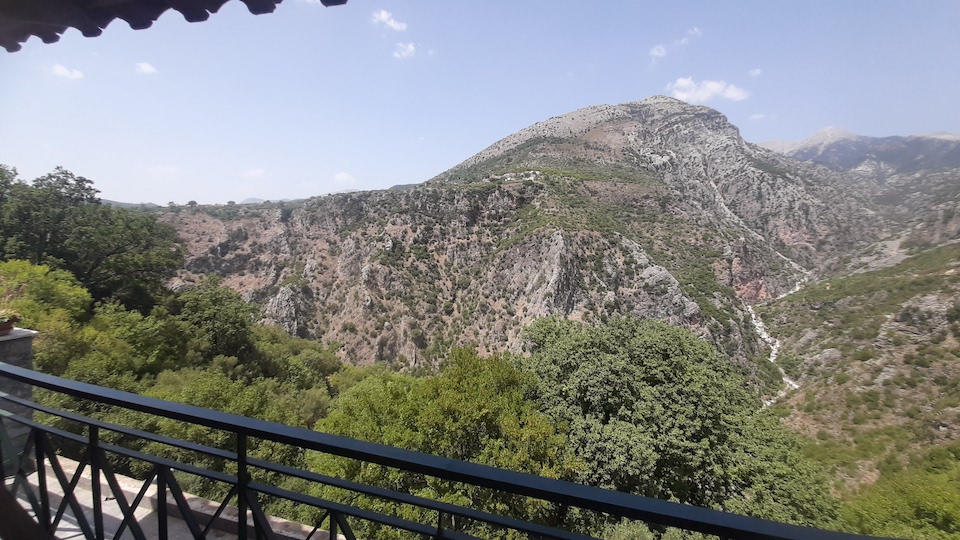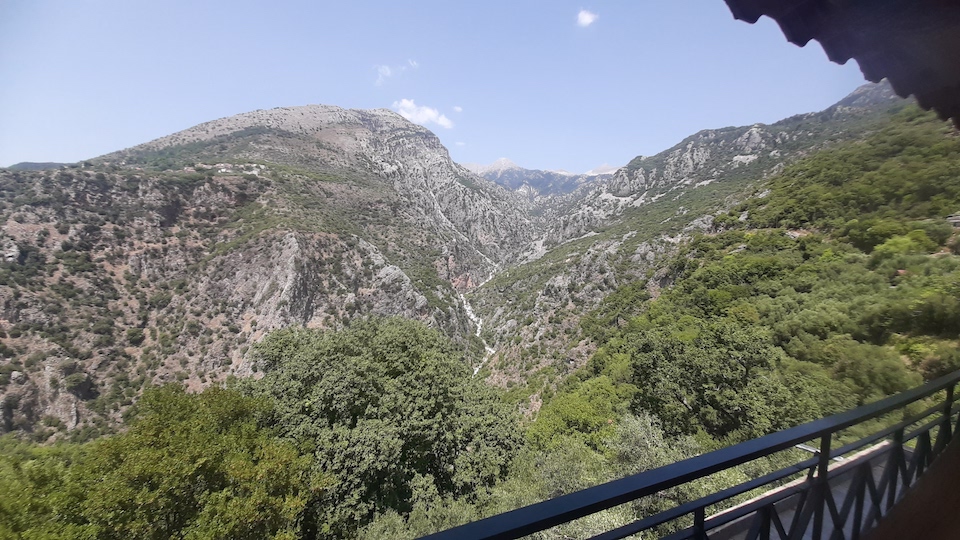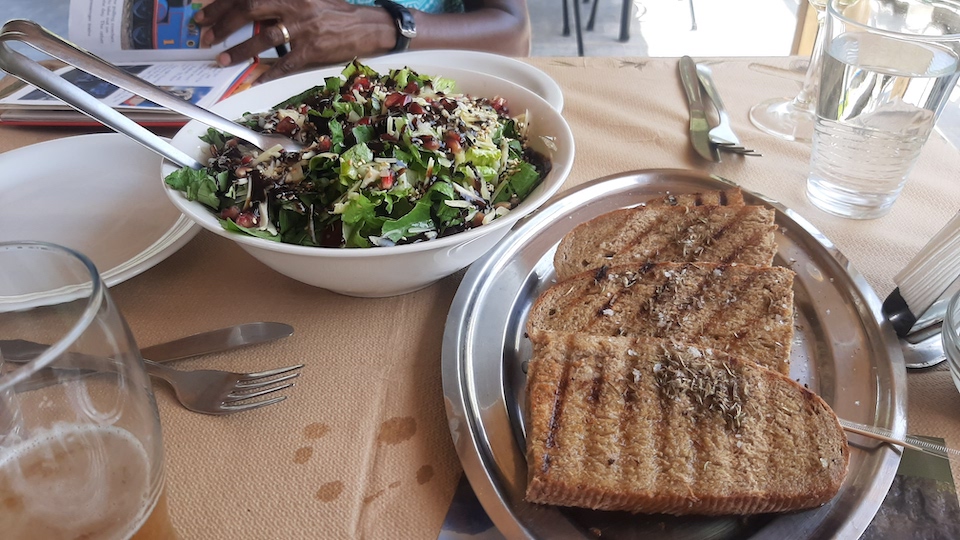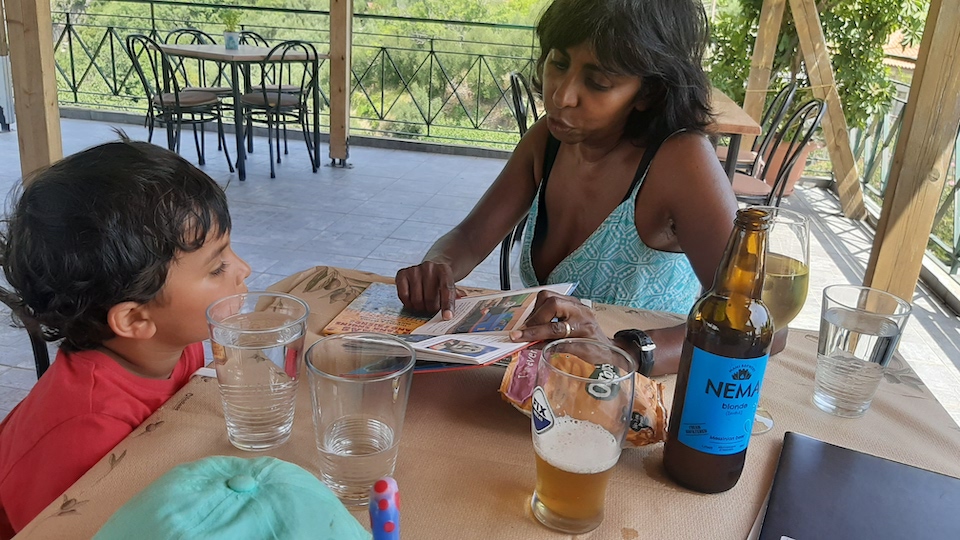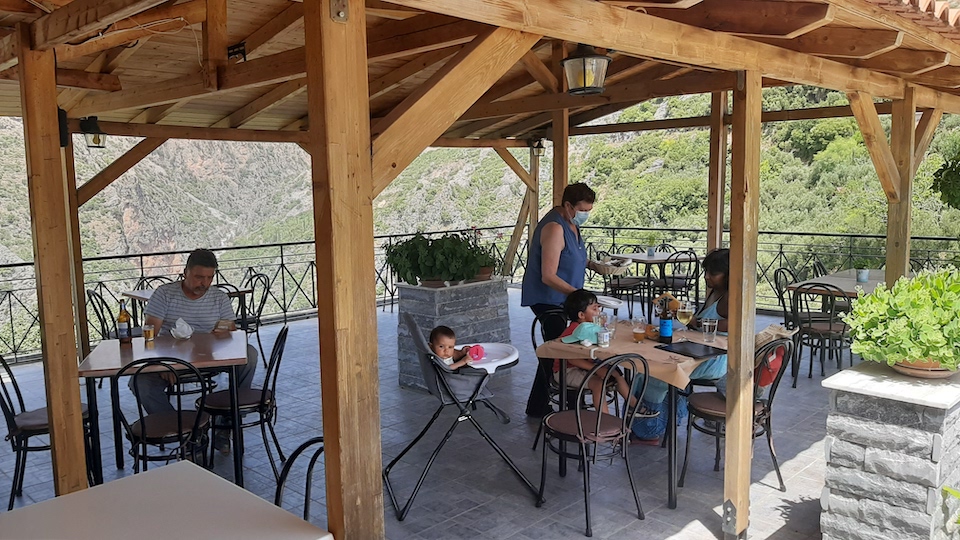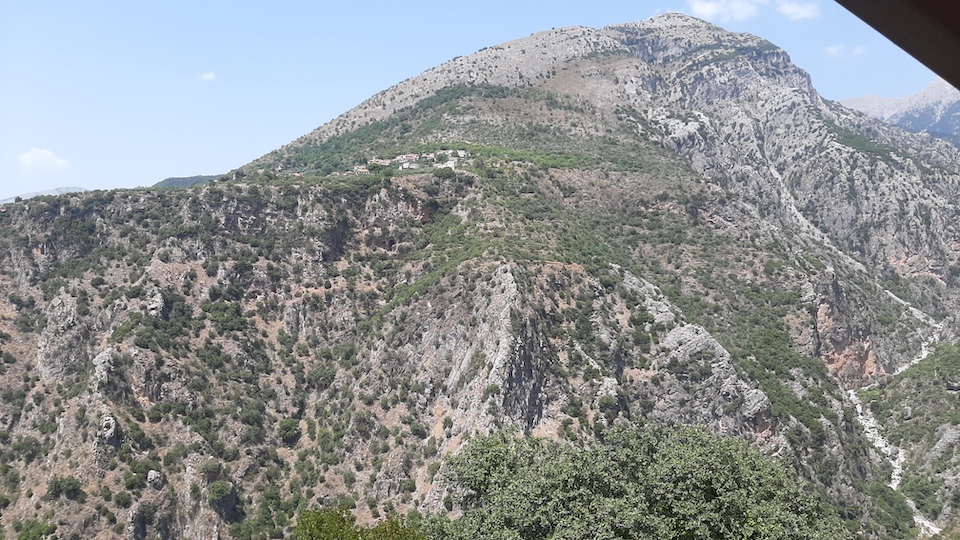 If you enjoyed reading this article from Tom Winnifrith, why not help us cover our running costs with a donation?