Now back in Wales after a two month break from the cultists, I am again running the gauntlet of the mask jihadists as I go about my daily life, heading to the village shop without a face nappy. I cite the Danish study, they insist that nearly all Welsh doctors say masking works. I point out the seven day rolling average deaths in Sweden has been 0 for more than a month, they say you are not a qualified doctor your views do not count. But, of course, my work is all about looking at numbers and data, something the jihadists of Holt cannot hope to understand at a meaningful level. So here is a chart for them to consider and then ignore as they relay instead on the "expert" views of a bloke on the telly.
It shows covid cases in three contiguous US states with similar climate and demographics, etc. I accept that one, Louisiana, has a bigger City than the other two ( New Orleans) and that might skew data a bit but not off the scale. One of those three states, Louisiana, two weeks ago imposed a mask mandate, the other two did not. This is a real live large scale experiment with a double blind study. Fantastic.
The jihadists would have you believe that the non-mask mandate states would see cases surge above the one were wearing face nappies was compulsory. But look at the actual chart. If anything masked up Louisiana is faring worst.  But the overall picture is clear, masks make no difference. And this is not the first such large scale lab trial in this area.
Look back to September last year when Mississippi lifted its mandate while Arkansas and Louisiana kept theirs. Guess what? Cases rose in all three states during the Autumn, pretty much tracking each other. Arkansas fared worst, Louisiana marginally the best  but the "shape" is one of three states all going the same ways at the same time even as one opts for no mask mandates and two opt to "nappy up"  and this pattern is repeated several times.
This is a large-scale trial with double blind checks and if you are rational, not that the Holt cultists are rational, you can only draw one conclusion: masking up is completely pointless.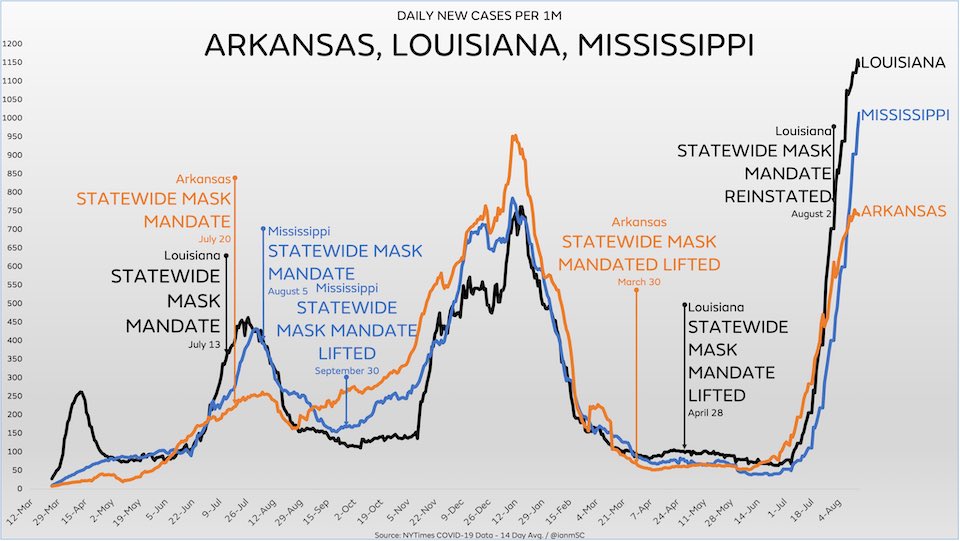 If you enjoyed reading this article from Tom Winnifrith, why not help us cover our running costs with a donation?