Jon Sopel, his former colleagues at the BBC, the Euro loon Femi, the whole of the liberal elite are applauding ghastly Jacinda Ardern for stepping down "on a high" as Prime Minister of New Zealand today. It is almost as "brave" as when Phil Schofield came out as gay just as his 17 year old bunk-up/work junior was going to out him to a tabloid.  The reality is that Ardern's party is now trailing in the polls and its ratings are tanking fast. Defeat in the October Election is inevitable and that is why Ardern is quitting, whatever little Sopel says below. But what of her record on, say, covid where the liberal left applauded her for the most draconian lockdown in the world, bar North Korea.  Here are the facts and they do not make for good reading:


In 2019 there were 1,154 excess deaths compared to the long term trend
In 2020 there were 1,043 fewer excess deaths compared to the long term trend
In 2021 there were 533 excess deaths compared to the long term trend
In 2022 (up to the end of September), there have been 2,684 excess deaths
In other words a policy that has completely destroyed the economy of New Zealand has produced and is still producing material – compared to the population – levels of excess deaths. Just how, overall, is that a success. I put it to you that Ardern not only has covid blood on her hands but also economic blood too.
And of course it is worse than just the damage to the economy or the health of New Zealanders. Ardern also gagged any member of the press who challenged the covid narrative be it on lockdown, mask wearing or vaccines. The media was gagged for saying things that we now know to be true while taxpayers cash was funnelled to media voices who parrotted the Government line which we now know to be untrue and which many of us said was nonsense and not backed by any data at the time.
Of course she is a female leader and so some will give her a pass whatever she does as they do for Jimmy Krankie in Scotland. But objectively, Ardern must go down as an Orwellian, dictatorial failure. The polls suggest that most Kiwis now see it that way. Meanwhile millionaire members of the liberal British media and political classes just think she is wonderful. Across Islington tonight they will raise a glass of red, brought back from Tuscany last summer, to Jacinda's good health and future prosperity.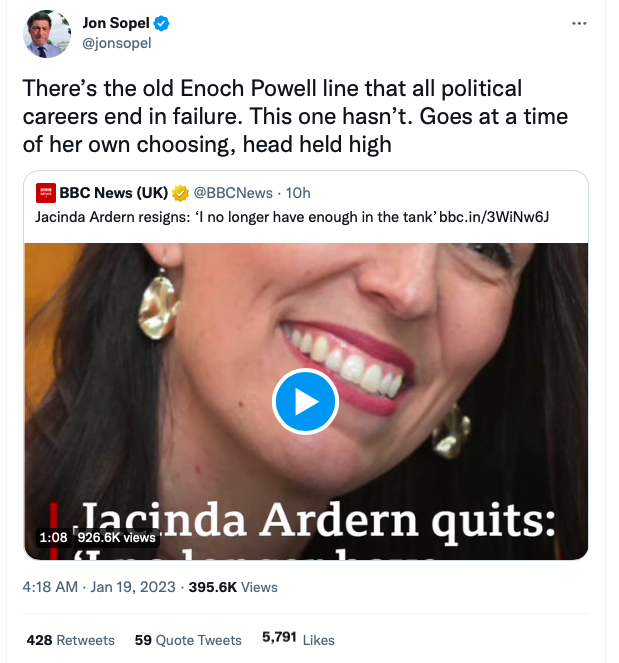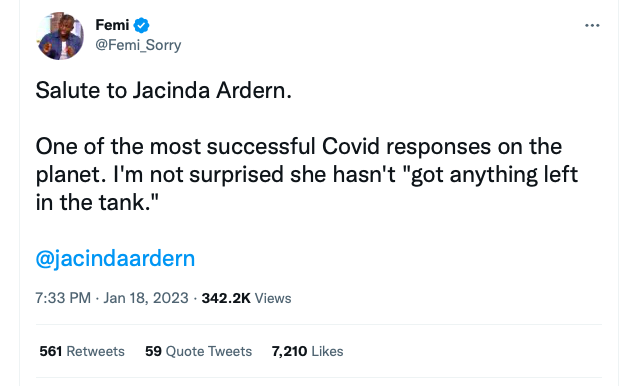 If you enjoyed reading this article from Tom Winnifrith, why not help us cover our running costs with a donation?