Lord (Andrew) Adonis is one of those folks who wants we dumb commoners to keep voting on Brexit until we realise the error of our ways and vote the same way as clever people like him and the man who enobled him, the war criminal Tony Blair. So what is the worst thing about Brexit? His Lordship tweets to enlighten us...
So if the EU impose a sanction on Brits they do impose on, say, Canadians to punish us and that inconveniences Adonis, Polly Toynbee and the rest of the North London elite as they head to Tuscany for a summer vacation that is an "abomination."
Okay I am persuaded. Let's vote again and this time will do what I am told.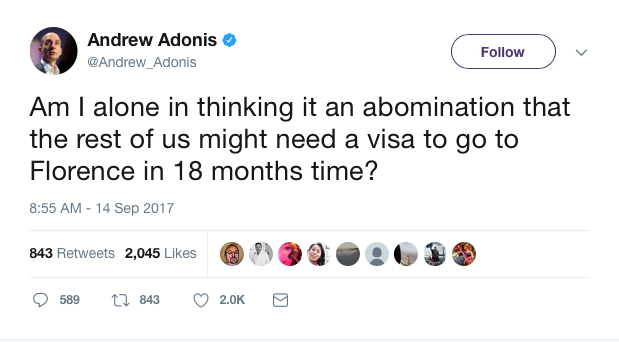 If you enjoyed reading this article from Tom Winnifrith, why not help us cover our running costs with a donation?