During the US election, Facebook and Twitter took it upon themselves not only to restrict what President Trump was able to communicate to electors but also to stop folks discovering about the sordid business deals and sexual antics of Hunter Biden and allegations that his dad Joe was involved in the former.  The new media giants were happy to link to stories about Trump which were palpably untrue and had been proven to be untrue, but Biden allegations which are well sourced were blocked. Twitter and Facebook claimed, without evidence, that they were fake news and folks had to be protected.
Those of us who supported Trump were horrified by this censorship by politically biased big corporations and, to be fair, so too were some liberals and Democrat voters. But most liberals gave Facebook and Twitter a pass, such was their visceral hatred of Donald Trump.
But free speech is like pregnancy – you can't believe in only a bit of it. You either oppose censorship or you support it.
So now we move onto Professor Carl James Heneghan, a medical doctor and director of the University of Oxford's Centre for Evidence Based Medicine. He clearly knows about science, medicine and studies based on data.
Heneghan wrote an article for the Spectator looking at the largest study into whether mask wearing stopped the spread of covid-19. This is a massive study and, not that it shocks me at all in light of CDC reports, it showed that masks made no difference at all to the spread of the virus. This is clearly a massive story which the vicar of my late father and others will want to ignore. Heneghan is an expert and what he reports on is hard data, facts. These are not the projections of what will happen made by Professor Pantsdown of Imperial, which Facebook is happy for us all to read about though they are utterly discredited. This study is of hard facts, things that demonstrably have happened.
But it does not fit in with the narrative of the media and political groupthink so, as you can see below, Facebook has censored the link, claiming that it is "false information" according to its independent fact checkers.  Really? Do some snowflake liberal arts graduates at Facebook or even Nick Clegg really know enough to contradict a full scientific study with hard data and Professor Heneghan? I rather doubt it.
But this is the slippery slope we are now on. Those who thought it was okay to cover up for Hunter and Joe Biden because the Orange man was so bad have unleashed a monster. Facebook now thinks it can decide what we should read about. Welcome to 1984.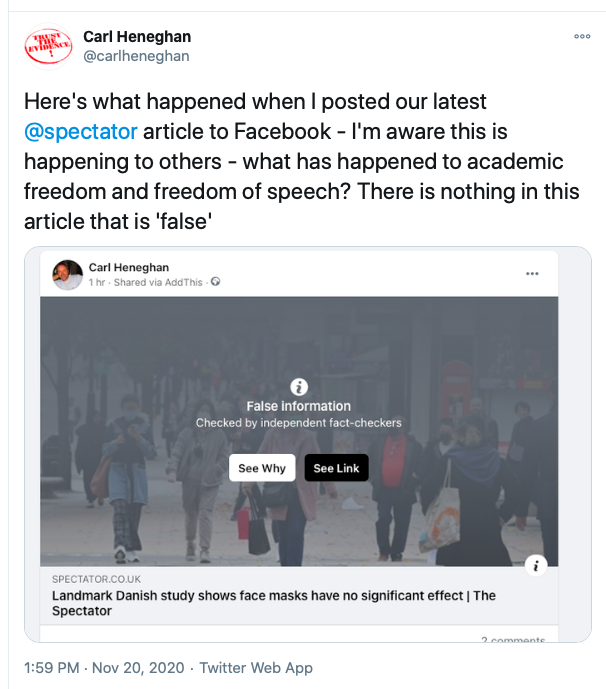 If you enjoyed reading this article from Tom Winnifrith, why not help us cover our running costs with a donation?