Nobody knows how they will react to death or to the possibility that a loved one is slipping away – I did not cry at the funeral of my father or as I sat by his bed as he died. I had shed a few tears a few days earlier as I sat in his room with him, lying there in a sleep which could only end one way. I cried buckets at the funeral of my grandmother and also when my cat Kitosh died suddenly. At the funeral of Uncle Chris Booker I think I had a moist eye, nothing more. Does that mean I loved my cat more than my father? Of course not. Grief and knowing you may be close to losing someone hits us in different ways and it is, or should be, a private matter. That brings us to, arguably, the most poisonous woman in Britain today.
Journalist Yasmin Alibhai-Brown promised to leave Britain if we voted for Brexit and, again, for Boris. That may well have swung both contests but sadly she did not stick to her pledge. Like me she is a Republican although that did not stop her accepting an MBE before deciding to very publicly send it back two years later. Her hypocrisy was compounded by her rudeness.
And thus she comments below on Prince Charles and the Royal family barging into the private world of grief in a hateful manner. Facing a Twitter backlash she said she was "very sorry" if her hateful tweet upset some people. For on the new illiberal left, upsetting people, not offending them can be a crime so Yasmin has to apologise for that. However, the ghastly woman continued that although her remark was insensitive it was heartfelt. I am sure that many of Hitler's remarks were heartfelt but that is no excuse. In this case it is an admission that she meant what she said, she meant to give her harsh and unpleasant judgement on the private feelings of others, to slam Prince Charles for not offering tears in public for his ex-wife.
Maybe Charles cried for Diana in private. Maybe not. Who is Yasmin to demand that we must show public grief as evidence that we care?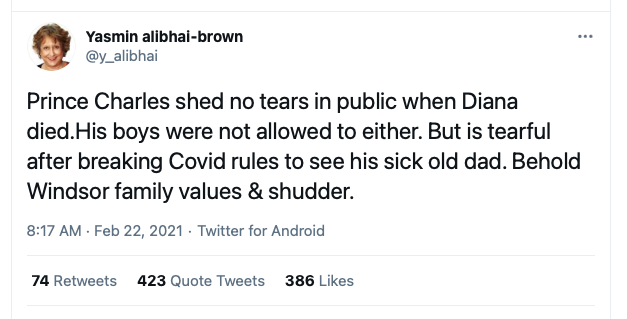 If you enjoyed reading this article from Tom Winnifrith, why not help us cover our running costs with a donation?