The tweet below shows some scousers honouring the 40th anniversary of the death of Bobby Sands, terming him "The People's Own MP." I suggest to you that these Fenian scum, whose souls will surely burn in hell, are rewriting history and also do not speak for the vast majority of Liverpuddlians, most of whom will be horrified by this.
Younger readers may not know who Bobby Sands was. You may be told that somehow, this saintly chap, found himself inside the Maze Prison in Northern Ireland where he led fellow inmates on a dirty protest, smearing their cells with their own shit, demanding that they be given special rights and recognised as political prisoners as opposed to what were termed "Ordinary Decent Criminals."  Eventually sands and others went on a Hunger strike and during that time he was elected as an MP in a by-election, shortly after which he died.
What Sinn Fein/IRA apologists such as Owen Jones or Joe Biden or almost the entire teaching and lecturing professions fail to discuss is why this fine upstanding fellow was in the Maze in the first place. Sands was part of the attempt to blow up a Balmoral furniture store. That is not the big attack on a Balmoral store in a Protestant area of Belfast in 1971 which saw four civilians, two of whom were babies, blown to bits. Sands would have heartily approved of killing those Protestants, even the babies.
If you search the internet you can find pictures of the lifeless body of poor little Colin Nichol, just a few months old, being carried from the store. He would have been celebrating his 50th birthday in just a few months time. I wonder how Scouse Sinn Fein/IRA supporters will mark that? Folks like Jeremy Corbyn and other apologists for this evil will say nothing. Will that vile and ungodly bitch Mary Lou McDonald, the leader of Sinn Fein, bring herself to say that blowing up poor wee Colin was an act of evil? Of course she will not.
Sands must have regretted  that when his gang blew up the Balmoral store in Dunmurry, in an attack he planned personally, in October 1976, there were no fatalities. The RUC caught up with the three bombers and Sands was found to be carrying a gun and was sentenced to 14 years. He did not apologise for what he did that day he was proud of it. And as someone entrusted with planning an attack it is almost certain that he planned others and carried out others before being sent to the Maze with the other vile men of terror from both communities. Dunmurry was not Sands' IRA debut. Sands almost certainly had actual blood on his hands but while, shamefully, we spend vast sums on enquiries into the actions of the British Army and RUC during the troubles, history of IRA crimes is rewritten and forgotten. Sands is remembered by the foolish, ignorant and naive here in Britain not as a terrorist and almost certainly a killer but as an MP, almost a Statesman and as a martyr.
I suggest that most Scousers who have not been brainwashed by the teaching profession remember the Warrington bombing. They remember that a good number of the 776 British soldiers killed by the IRA came from Liverpool. They are aware, or should be made aware, that the IRA killed babies, children, priests, nuns and so many other innocents. They know Sinn Fein/IRA scum when they see it and that those folks celebrating the evil Mr Sands do not speak for them.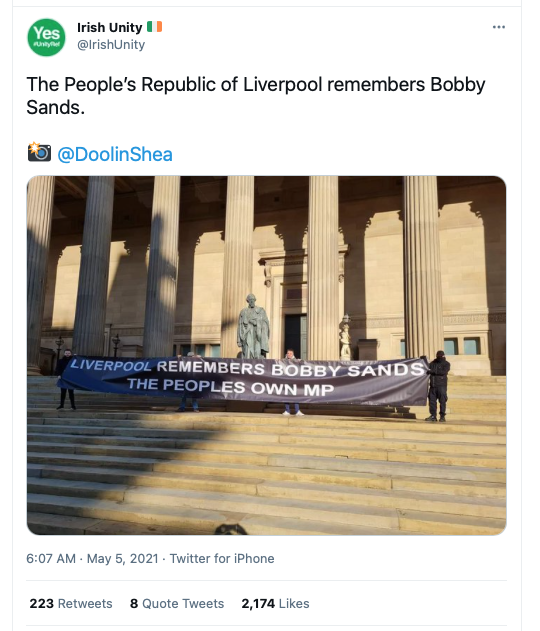 If you enjoyed reading this article from Tom Winnifrith, why not help us cover our running costs with a donation?