IRA
124 days ago
I start with domestic woes and legal opinion on the claims of the IRA man. In the main body of today's podcast I look at Purplebricks (PURP) and the role of Neil Woodford and Link. I cover Microsaic (MSYS), Deepverge (DVRG), Pantheon Resources (PANR), Asimilar (ASLR), Argo Blockchain (ARB) – placing at 6p?. I also relay the thoughts of the world's greatest living expert on musicMagpie (MMAG) and why it is doomed. If you hurry and book a seat at Sharestock – where less than a third of seats are still free - you can meet the expert, who was also a great Quindellologist – on September 23. You can book HERE

124 days ago
I start with my latest run in with my neighbour, the IRA man. Then it is onto Canadian Overseas Petroleum (COPL). I discuss it deceiving investors, how the shares are a 100% slam dunk sell and also a shocking article about it ( see below) on Proactive not, as I said, by my pal Ian Lyall but by another pal Jon Hopkins. Hoppo should be ashamed. Then I look at Anglesey Mining (AYM), Zephyr Energy (ZPHR ) – hard cheese Cliff – Powerhouse Energy (PHE), Boohoo (BOO), where there is no ouzo for Ouzo man, and nanosynth (NNN) which has gone bust so meaning a vindication ouzo for me tonight and more shame on penny share grifter, brown envelope man, Zak Mir.

250 days ago
I explained the other day why Northern Ireland does not have a Catholic majority or a majority who want a United Ireland, whatever the BBC and the rest of the media GroupThink might tell you. The key "swing votes" are those who identify as Northern Irish, largely of a Protestant background but now saying they have no faith, folks we might term Garden Centre Unionists. And this brings us to Bobby Sands.

258 days ago
I refer to another data manipulator, the LGBT campaigner Peter Tatchell HERE. But this is about Ulster and how you are being lied to about Catholic majorities, and the desire for Ulster to be part of a United Ireland if not now then inevitably in the future. I look at the hard data from the 2021 census which the media GroupThink, always sympathetic to the Republican cause, manipulate to post a false narrative. I also discuss the true history of the IRA and the Troubles and what are kids are not being taught as they are encouraged to romanticise evil. Maybe those of us who back Ulster might need to start explaining the real history and facts of "the troubles." 

315 days ago
With neither of the two Irish sides in Qatar for the World Cup it must be hard for blood soaked IRA, oops sorry Sinn Fein, celebrity Gerry Adams to know who to support. But maybe not as the old bastard has taken to twitter to give us all a clue as you can see below.

353 days ago
As a progressive sort of chap, the second team I support in International soccer is, after Northern Ireland, our friends across the border in the Republic. But the Irish girls team don't seem to like folks like me very much.

454 days ago
I start with explosions here at the Hovel in Wales and how Bearcast listener G cannot assist. Talking of explosions I comment on IRA loving cottage burners in a Welsh independence march I went on yesterday with the kids HERE. With hindsight I'd rather have attended the Pride March. Well maybe not. It is a marginal call. Then it is onto SPACs and the schoolboy error of Wildcat Petroleum (WCAT). Finally AO World (AO) which looks screwed. I describe how rational behaviour by four groups of stakeholders will ensure a cash struggling company goes down.]

455 days ago
I wore an Irish rugby shirt, in case they thought I was English. Their xenophobia was matched only by their economic illiteracy, as we were graced with a video message from blood-soaked IRA Sinn Fein. Those at the March have passion on their side, but few fact-based arguments – however much they pretend otherwise. The march, and my two Welsh kids, are pictured below. (For the record, I still want Welsh independence).

468 days ago
I am more panicked by the IRA man objecting to my bonfire. Heck, it is not as if it were the 12th July, and I were wearing my bowler hat with an orange sash, is it? In today's podcast, I look at Skinbiotherapeutics (SBTX); Eurasia (EUA) and a Kraut moron; Supply@ME Capital (SYME); and Argo Blockchain (ARB). 

494 days ago
How many of those Diane Abbott represents were murdered by the IRA? She does not care, as the tweet below shows.

511 days ago
That is what the media and the liberal elitists wish to tell you but it is a a lie. Shame on them all for parroting Sinn Fein/IRA. Parties supporting a United Ireland actually lost seats on Thursday.  I explain the media's disdain for Unionism, what actually happened and why there should, therefore under the terms of the Good Friday Agrement, be no poll on a United Ireland whatever IRA/Sinn Fein and their ignorant apologists such as Piers Morgan and the BBC suggest. 

712 days ago
Today we learn the sad news that Dennis Hutchings has died aged 80. Mr Hutchings served this country for 26 years as a soldier but the "peace process" in Northern Ireland meant that he was pushed into an early grave by this wretched faux Tory Government.

776 days ago
Next time you get some bleating Guardian-reading apologist for the Republican cause, such as Owen Jones or more or less anyone in the BBC Newsroom, yakking on about the evil of loyalist bonfires during the Marching season, ask him to consider this photo below. It is of a bonfire erected in the Bogside area of Londonderry over the weekend.

824 days ago
Though he boasts of his East End heritage, my friend Lucian sometimes says, in his very posh English accent, that he is Scottish as his family has some estates up there funded, one suspects, from the slum housing they once owned in the West Ham heartlands. Lucian is about as Scottish as Rod Stewart or the late Duke of Edinburgh. But tonight he will be filming with a German TV crew in Glasgow.

878 days ago
The tweet below shows some scousers honouring the 40th anniversary of the death of Bobby Sands, terming him "The People's Own MP." I suggest to you that these Fenian scum, whose souls will surely burn in hell, are rewriting history and also do not speak for the vast majority of Liverpuddlians, most of whom will be horrified by this.

891 days ago
There will be those who believe that Sinn Fein, always the political wing of the blood soaked IRA, is somehow not toxic, that it is a respectable political party. Regrettably more folks either side of the border which separates God's chosen land of Ulster from the Republic of Ireland seem to think that Sinn Fein are not bad folks. Oh Gerry Adams (who led Sinn Fein while sitting on the top table of the IRA) just send out more Easter Eggs you sweet old man. Think again folks, as you watch this sickening interview from this week with Sinn Fein leader Mary Lou McDonald.

921 days ago
Máiría Cahill waived anonymity to expose her sexual abuse at the hands of the IRA. She is a brave person unlike Easter Egg distributor Gerry Adams and his utterly unlamented late partner in crime Martin McGuinness. The "Peace Foundation" honouring the Butcher of Londonderry, who almost certainly did personally kill people for the IRA, is running a poetry contest. Sentimental fools such as Joe Biden or Owen Jones who like to romanticise the evil Fenian bastards should read Cahill's entry which, oddly, has won no prize. The BBC which frequently rewrites history so that our kids can be taught a false narrative should broadcast this poem. Everyone should read this poem.

924 days ago
Indeed it is and on that note I encourage you to view the best twitter put down in history as it concerns Mr Adams. That was 2016. This is now.

978 days ago
Well not even the loathsome BBC has gone that far yet. I think it might just use the word terrorist for an old, long time, ISIS butcher who had passed away. But it seems that for another organisation that blew up and shot men, women, children, a 6 month old baby, priests, nuns, housewives, mothers, fathers, grandmothers and grandfathers and which committed ethnic cleansing, its old fighters should be described in the same way as a hero of the Normandy beaches. I refer of course to the IRA. The article below speaks for itself. That i should be forced, under threat of jail, to pay for this vile garbage makes me unspeakably angry. Almost as angry as when smug self entitled BBC staffers try to justify this extortion with lies.

980 days ago
Where my DNA comes from Sinn Fein and the IRA are seen as one and the same so he is known in this household as my pal in the IRA. Certainly he is proud of its actions – he celebrates the killing of British soldiers, something his forebears took part in. But, given the timing of the arrival of my family in his home county of Donegal (the 1650s), we know not to go chat about such matters. He knows that I wear an Ulster rugby shirt and we have much else to discuss anyway. Yesterday, he called to tease me about problems with Brexit, kicking off with Dutch customs officials seizing the ham sandwiches of British lorry drivers.

1180 days ago
The army is there so that if our nation is threatened, they can go and kill the bad guys. I don't care who is in the army, just so long as they are folks who I can rely on to go and kill bad people. That is why we have an army. It is not there as a decorative force to mirror society. Only fruitcakes on the left worry about quotas. Do we really need 0.2% of soldiers to be transgender and 2% to be LGBT? Or do the gays not matter in this game and we should only focus on women soldiers and those from ethnic minority backgrounds?  And why pick on the army and not other public sector bodies? Surely we have a right to know how many gay and lesbian dustbin operatives there are? From what I gather, that sector is mostly entirely male. Why is that? Where is the gender equality in dustbins?

1227 days ago
I start with Monkey defending the whore blogger Malcolm Graham Wood. With reference to today's disastrous news from Hurricane Energy (HUR) and the fraud Frontera (FRR) I discuss why he is so wrong to do so. Then I look at Open Orphan (ORPH) and today's fund raise and what to make of it all. Finally, after a few jokes about an IRA man at the garden centre, I move onto the final demise of InternetQ/Akazoo. This weekend sees the first long training walk as a lone rogue blogger for Woodlarks. I am now at 25% of the target to raise, please help me get to 33% by Sunday by donating HERE. 

1265 days ago
As you can see below, the Fenian scum are today celebrating their murder of an innocent man 99 years ago. He is a man I feel some bonds with. For the Fenians of IRA/Sinn Fein I feel a mixture of revulsion and pity. How can one glory in such an act?

1368 days ago
For the second time this season Stoke and Ireland player James McClean has got a match halted after what he claimed was racist chanting aimed at him, that is to say Huddersfield supporters chanting "Fuck the IRA". The FA says that it is now investigating this racism. But so woke is the FA that it sniffs our racism even where it does not exist, as in this case, and in the process insults – with a racist slur – the vast majority of folks of Irish descent.

1433 days ago
Yes that Martin McGuinness, a man who murdered people. A man who was a senior commander in the IRA which killed folks ranging from a 6 month old baby to numerous grandmothers and grandfathers, nurses, teachers, folks with no connection to the RUC or British Army, an organisation that engaged in systematic ethnic cleansing of Ulster Protestants. That Martin McGuinness.

1472 days ago
Another day, another reason to wonder why on earth I have to pay a license fee to fund the BBC. This time the subject is the terror threat. Read the headline below "fastest-growing UK terror threat is from far right" and you would think that the streets are crawling with Nazis wanting to blow us up. Well er…not exactly, as the text of the article makes clear.

1643 days ago
Anyone who follows me on twitter knows my feelings about the vermin of the IRA but I have a daily chat these days with my pal the IRA man about Brexit. I discuss its effect on shares and suggest that a far bigger political threat is really not priced in. I explain why I know Yourgene (YGEN) is having a trading statement on Monday and what makes good journalism. I look in detail at Mobile Streams (MOS), insolvency law and the nature of trade receivables and at Gear4Music (G4M) and its latest warning which is enough to turn a man to drink, the shares remain a stonking sell. Finally. get your wallets out!

1665 days ago
The City Hall in San Francisco is a bastion of political correctness, backing every "woke" cause going  Whatever… it is the taxes of San Franciscans which pays for it all so not my battle. But its latest initiative is just so utterly offensive, it is a step too far.

1682 days ago
Oh dear. The Police in Northern Ireland still hate Catholics 20 years after the post Good Friday Police Reforms. So implies ITV/UTV correspondent Sharon O'Neill in the tweet below, dutifully retweeted by Fenians across the six counties and beyond. But of course there are lies, damned lies and statistics used by innumerate journalists.

1748 days ago
Regular readers know that I view Sinn Fein/IRA and Hamas with almost equal disgust. But I see that the Fenians had a Christmas party for their jew hating pals from the Middle East. What followed, as you can see below, is twitter at its best.

1775 days ago
Steyn is a genius and he sums up the difference between the UK's worst ever Prime Minister and the worst ever leader of the opposition superbly over at www.SteynOnline.com . The great man writes:

1775 days ago
On this day we should remember the anniversaries of 25 folks murdered by the IRA. They were civilians, largely in Birmingham. There were two 17 year olds with their lives ahead of them, numerous other young folks on a night out in a pub, a man away from his pregnant wife who never got to see her give birth or his kid grow up, a factory worker, a railwayman, the list goes on and on.

1786 days ago
The main item on the shopping list yesterday as Joshua and I headed into Clifton was a new Jeremy Corbyn, Strong & Stable, mug for the Mrs to replace the one Joshua had smashed, in an early sign of his sound gut political instinct. That mission was accomplished. Jeremy Corbyn is already making me poorer and the Sinn Fein/IRA loving old bastard is not even in power yet.

1788 days ago
World War One ended 100 years ago this week and so, quite rightly, the media is giving wall to wall coverage to ceremionies and other tributes. It was a ghastly and pointless conflict but we should honour the fallen in that conflict and others and show our respect. Of course some Cambridge students and pampered Serbian soccer players at Manchester United will not. That is a sad reflection on them. But there is one Rememberance day event the liberal elites, the BBC and  its sister paper the Guardian will do their best to ignore. They want you to forget.

1815 days ago
Forgive a brief historic digression at the start of this podcast but I start with a history lesson for those misguided souls who think that SinnFein/IRA brought peace and happiness to Ireland. Then I look at some other tossers from Ulster, First Derivatives (FDP) and the 3Xs. I comment briefly on Purplebricks (PURP) and Versarien (VRS) then move via BCA Marketplace (BCA) to Neil Woodford. Then it is onto MySquar (MYSQ), Symphony Environmental (SYM) and on to UK Oil & Gas (UKOG) with a few words for Dominic Frisby on the nature of bitcoin and its bubble ahead of our bust up next week in London.

1888 days ago
There are some who try to suggest that former IRA members like Gerry Adams or the late Martin McGuinness should be remembered for bringing peace to Ulster. There are those who say that talking to such men was a heroic act by Jeremy Corbyn.  Those folks probably cannot remember "the troubles" or if they have heard about it it is with a false narrative of one sided British brutality. On this day I ask you to remember the small town of Claudy and what happened there 46 years ago as you watch and listen to the ballad of Claudy.

1899 days ago
Yesterday we quite rightly celebrated the 100th anniversary of the birth of Nelson Mandela. There was a man only to wiling to accept his own failings but who brought his country together after a bitter conflict through reconciliation. Past sins, by all sides were to be forgotten. The future is what mattered. That was the clearest demonstration of the genius and the humanity of a great man like Mandela. Today is the anniversary of the Hyde  & Regents Park bombings in which eleven British ceremonial soldiers and horses were butchered and countless tourists injured by the IRA.

1929 days ago
I was flamed on twitter by a cluster of IRA apologist Republicans yesterday for suggesting that their approach to reconciliation and bringing communities in Ireland together was somewhat lopsided. 

1996 days ago
For as long as I can remember Saint Gerry of West Belfast has insisted that he was a peace loving politician leading up Sinn Fein. You and I have known that this was a lie and that the blood soaked old murderer was also in the IRA. The liberal British and American media, and the Republican movement, has been complicity in allowing the bearded monster to pedal the man of peace lie. But a fellow high profile Fenian has let the cat out of the bag and now provided proof that Adams was indeed an IRA man.

2022 days ago
What do the following have in common: right wing Sunday Times polemicist Rod Liddle, Conservative Sunday Telegraph columnist Chris Booker, right wing blogger Tom Winnifrith and his (closet) reactionary father of the same name and Right wing polemicist Peter Hitchens of the Mail on Sunday? When it comes to Jeremy Corbyn quite a lot...

2052 days ago
If you are my age then you look at the photo below and are forced to admit that it is a jolly good joke about Jeremy Corbyn given recent revelations. If you are a snowflake you probably have no idea just how vile the Eastern block was how they oppressed and murdered their own folk and how evil their spies were. You were not born then. For the same reason, you probably also have no idea what bastards the IRA were and how they brought carnage to the streets not only of Northern Ireland but of Britain too. And so you still think that Comrade Corbyn is a nice old man. More fool you.

2250 days ago
I have written before about how I do not celebrate the death of anyone, not even a bloody murderer like the IRA's Martin McGuinness. But are there some folk whose demise really should be celebrated. I think of Sally Jones, a graduate of SOAS who lived her entire life on benefits in Britain before marrying a home grown jihadi and eloping to Raqqa where she has been a key recruiter for ISIS.

2279 days ago
In 2013, Sally Jones a, then, 45 year old former punk rocker who has never worked in her whole life moved to Raqqa to join ISIS with her younger husband. happily he was wiped out by a US drone strike but living off his widow's pension Sally, or Umm Hussain al-Britani as she would rather be known, has continued to fight the good fight. Until now.

Her young son was shown on video being taught how to behead infidels. She ranted on line about wanting to behead Christians with a blunt knife and to kill Jews. She and her late lamented husband were shown to have been involved in more than a dozen attempted terror attacks in the West. Working for ISIS in Raqqa she is believed to have recruited dozens of other Western women to the cause, persuading them to also flee to Raqqa.

But now Sally has let it be known that she wants to come "home".

2304 days ago
It has started already. The DUP, from God's chosen land of Ulster, will back the Tories and we might just have stable Government for a while. The liberal media elite who are reporting Jeremy Corbyn's "victory speech ( hint Labour lost) is enraged. The knives are out for the DUP for they stand for everything that London millionaires despise.

2309 days ago
Until yesterday the one thing we could all agree on was that Jeremy Corbyn was a man of principle. Okay he was on the wrong side almost always but the bearded old loon stuck to his guns. But it seems that with the election four days away he has announced a big U Turn. I can't think why. Oh yes, the General Election is four days away...

2381 days ago
As they prepared to lay the coffin containing the remains of the murderer Martin McGuinness into the ground in a place which the craven liberal British media termed Derry but which we know as Londonderry, the old killer's comrade in arms Gerry Adams screamed to the crowd "Martin McGuinness was not a terrorist". They howled their appreciation. Adams continued "Martin McGuinness was a freedom fighter". The fenians howled some more. But of course Adam was lying - not that the liberal British media dared to flag that up.

2381 days ago
And so Martin McGuinness is dead. I welcome no death - as I explained here with reference to this unrepentant murderer of many - but equally I would agree with Norman Tebbit that old Martin is right now suffering agony in a particular part of hell reserved for the truly wicked. Martin's crime, in the eyes of St Peter and indeed many on this earth, is not so much the killing many innocent folks but a failure to accept that this was a sin, that he had sinned and to show remorse. For that McGuinness can only be viewed as evil and damned to burn in hell for eternity.

2399 days ago
It appears that the health of Martin McGuinness, the former commander of the IRA in Londonderry or, as he prefers to be known, former deputy first minister of Northern Ireland, is deteriorating fast. His date with the grim reaper is almost upon him. Can I honestly say that i am sorry about this?

2549 days ago
Why is the FTSE 100 going up? Ask my friend the IRA man about his new mountain jacket. Elsewhere I look at Tern (TERN) and make a general point or two, at Iofina (IOF), Progility (PGY) and at Sports Direct (SPD). Capitalism is always the most efficient regulator not the State.

2612 days ago
My father's family, in England at least, were a small c Conservative - if often hard left politically - lot. They still are on both counts. As such I guess I am a bit of a black sheep and so look to our American cousins, that is to say my grandather's young sister Joan Winnifrith and her family as being just that bit different. My grandfather, Sir John, was a respectable senior civil servant and after retirement head of the National Trust and War Graves Commission. His little sister was far less respectable. Google knows her as the actress Anna Lee.

2619 days ago
A 65 year old retired British soldier Para C faces the possibility that he will be prosecuted for the killing of an IRA leader Joe McCann who was guilty of what were almost certainly war crimes. Meanwhile folks who we know have blood on their hands - notably Gerry Adams and Martin McGuinness, today politicians, but back in the 70s IRA bigwigs, know they can never be prosecuted under a deal agreed with their fellow war criminal Tony Blair. I discuss what happened back in 1972 and the nature of reconciliation and what Adams and McGuinness should do now if they really believe in peace.

2787 days ago
The Ulster Herald reports that local politicians, including Sinn Fein and the Greens, will now "vigorously oppose" Dalradian's plans for a gold processing plant at its large Curraghinalt gold project in Northern Ireland, owing to its proposed used of cyanide. A question has been put to the Minister of the Environment by the West Tyrone MLA and will be discussed in the Stormont assembly on Monday.

Hmmmmm... now I know that the IRA/Sinn Fein

2879 days ago
Don't misunderstand me: Jihadi John, the Brit who cut folk's heads off for ISIS was a bad man. The world is no worse off for his death. He will now be discovering that there are no 72 virgins and I rather hope that he is burning in a Judeo-Christian hell for eternity. Having said all of that… 
The man was executed without trial. The US – our ally in our idiotic Middle Eastern meddling – targeted him and executed him from the air without trial, no doubt with the blessing of the British Government. Should we really be celebrating the fact that State can execute its own citizens and is doing so repeatedly without trial?

Does this not set a rather dangerous precedent? I shed no tears for Jihadi John. But state organised extra judicial executions are bad things.  They were bad things when we executed Irishmen in Gibraltar thirty years ago. Yes those Irishmen were members of the loathsome IRA but as British citizens they deserved a trial. 
We should not be celebrating

3440 days ago
Personally I would have hoped that for Northern Ireland to have moved on, there should have been a universal amnesty for ALL deaths that occurred during the troubles. However, folks like Gerry Adams and the Butcher of Londonderry Martin McGuinness insisted on the hugely costly Bloody Sunday enquiry and want former British soldiers prosecuted. Ok you murdering bastards so be it.
Gerry Adams who was actively involved with the IRA whilst also fronting up its political wing Sinn Fein is today in prison facing questions about the brital murder of Jean McConville in 1972. The IRA thought she was an informant so they dragged her away from in front of her screaming kids in Belfast took her over the border, murdered her and hid the body. They told the kids she had gone away to England.
As it happens Mrs McConville was not an informer. Certain former IRA men have come forward to say that Adams organised death squads to deal with informers and one claims that Adams order the killing of Mrs McConville.
What is sauce for the goose Mr Adams…let us hope that justice is done.

4109 days ago
I am asked by one reader to explain my nasty comments about the IRA yesterday given that one of my blog heroes is Michael Collins. Another reader suggests that I run a caption competition with the picture below. Okay. Here we go.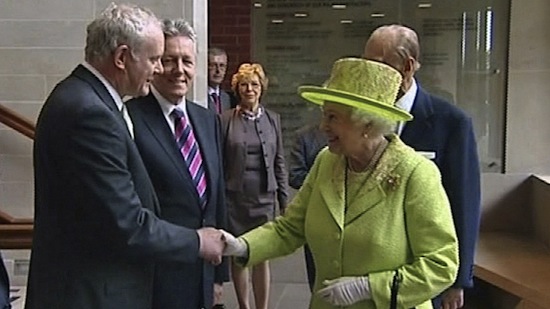 Lets start with the caption competition which is open ONLY to those who follow me on Twitter. Send your entries by Twitter with a deadline of 4 PM Monday. The prize is a meal for two including a bottle of (Chapel Down English) wine at Real Man Pizza Company. It will be the funniest entry that wins and complete lack of taste is no bar to winning the prize. To set a benchmark the butcher says to Her Maj "If you follow me I have for you a pair of your late Uncle's deckshoes I kept as a souvenir." Bad taste is no bar to winning. Tweet your attempts to @TomWinnifrith