I gather that in England drought orders are set to remain in 2023 but here in North Wales there is no shortage of water. As you might gather from the picture below, the River Dee is rising and the rain is still beating down. There is now a small stream running down the lane to the hovel and through the farmyard towards the river. It is my apple orchard, the older of the two, which sits on the river bank and will be the first to be flooded if the water rises by another five foot or so which it might well do.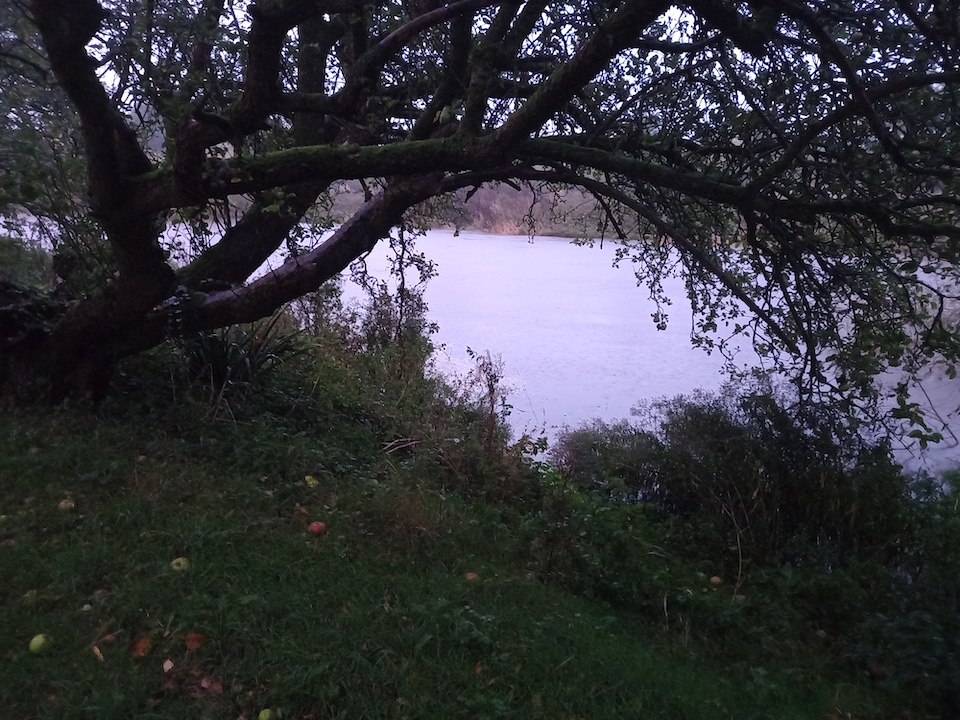 As such, I am harvesting while I can, both apples still hanging on in the trees but also those which have fallen to the floor and are without rot. I was out just now in what is rather unpleasant rain and wind. Two of my four 25 litre brewing buckets are needed for scratting and pressing apple juice and the other two sit in the porch full of apples picked on Monday and Tuesday for pressing tonight and tomorrow. As such I took my trug into the growing darkness to scrounge another load from the floor.
Now and again, you see some movement in the grass. But at this time of year, it could not be an adder or a grass snake, it will be a frog hopping away from you. Other than that it is just me, the apples and the rain. Those apples without any rot go in my basket those with rot are chucked in the river, quickly carried away by an ever faster current, to be swept rapidly towards Chester.
Tonight's basket will partly be stewed to g on my porridge or yoghurt on non dog's arse days. The rest will go in the next run of apple juice. Though we have drunk vast amounts of the stuff, there are now 17 bottles in my larder. One 25 litre bucket plus half the basket will take that to 23 bottles. If the rising waters hold off long enough I should gather another bucket of apples tomorrow and maybe one more by the weekend. That would leave me with 35-41 bottles sitting in the larder.
I might even make it closer to fifty if I can get some help from the family. Okay, let's call it 41. There is also the distraction of November 5. I need to make a bonfire for Saturday and to prepare the food and drink for our guests, including decanting the first of the fruit vodkas and gins and turning the fruit from them into a crumble. So maybe tomorrow morning will be the last harvest if the orchard is not already underwater.
But what we have pressed already or will do this week, when added to the 100 eating apples in my apple rack and the several jars of stewed apple, is a pretty good harvest for the winter. I laos have bags of preserved damsons, blackberries and – as of this week – all of the rhubarb to use over the next few months.
What is below is not the sort of bottle I store which are old wine bottles or the odd 1 litre gin bottle scrounged from the village bistro. This is just an old 200 ml lavender cordial bottle used if there is a small surplus on any pressing run. With some water to dilute ( 2/3 juice, 1/3 water) this small bottle would be enouh to fill two tumblers, a supper drink for me and the Mrs.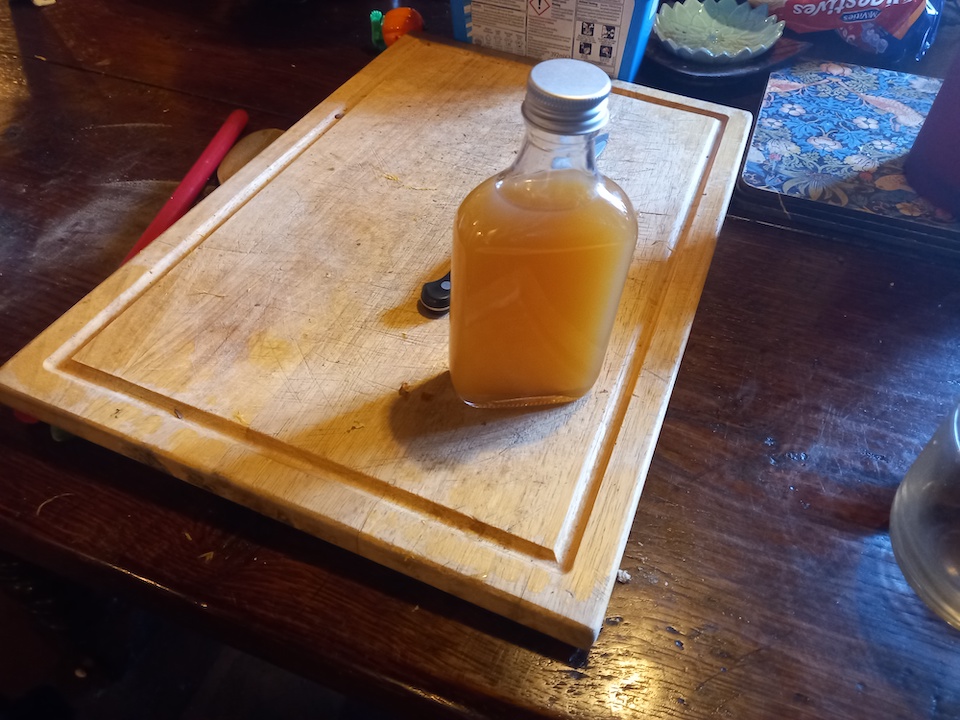 If you enjoyed reading this article from Tom Winnifrith, why not help us cover our running costs with a donation?