It looks increasingly grim on the Albanian front so harvester T and I soldier on. It is hard work and by the end of every day my bones ache and I long for bed.
But we managed 15 trees. Now you may say that this is less than the 20 on day two but a) we are a bit further from the house and b) the yield per tree on that 15 was much better than on the earlier 20. So it was a good day. Our sacks (Englishman's sack (30-35kg)  and and English Gentleman's sack which is only just over half full) are mounting up. We have to use the English Gentleman's sacks as the grill has moved further down our land so dragging back even a smaller sack is a bind. Fear not, there will be a decanting exercise well Tuesday night when mad lefty L cames to help us create 50 kg sacks and tie them up. We need to decant as almost 20 of my 24 sacks now contain olives.
We may do a bit more harvesting on Wednesday morning but I reckon two clear days and what we manage today, Sunday, where the weather is appalling should see us largely done.
T is an expert on many things including toadstools and he spotted the gem below, a Panther Cap toadstool. Apparently they are delicious but two days after eating just one you feel very ill. Then you recover for a day before you die. So it is more poisonous than any snake you would find up at the hovel. We have grubbed it out but I am on the alert for its cousins reappearing when I return. 
As we drove back up from Kambos last night both our phones made a horrible squawk. It was a severe weather warning. Thunder, lightening, wind and rain. I was in bed and asleep before the football kicked off but was woken by the thunder and saw lightening clearly almost on top of us during the night. So a late start and rain, vreki, has stopped play several times so far today. If we manage ten trees i'd be surprised.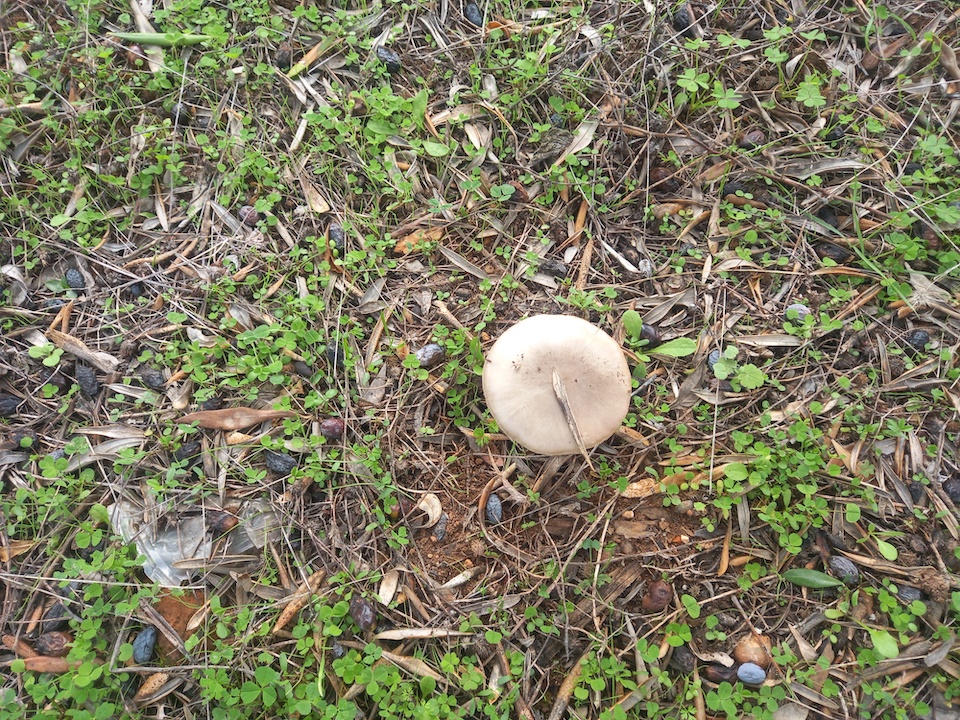 If you enjoyed reading this article from Tom Winnifrith, why not help us cover our running costs with a donation?