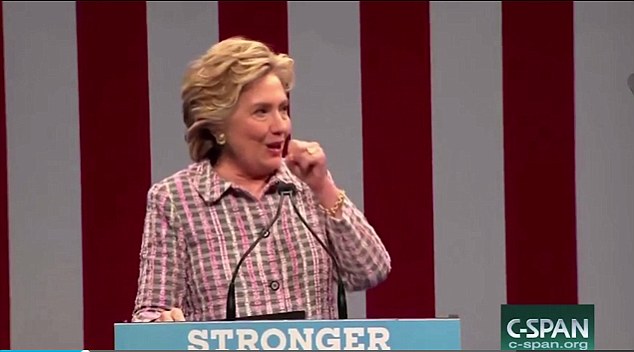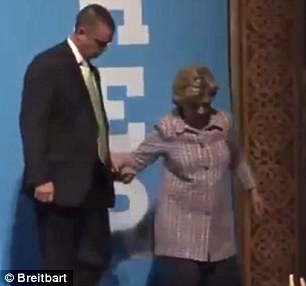 As I noted earlier Donald Trump is going to win on November 8 and one reason is that Hillary Clinton is a proven liar on a monumental scale and America just does not trust her. Like America I don't really care that her health is patently poor it is the cover up that shows that this woman is not fit to run a dog pound let alone be POTUS. Crooked Hillary has had another fit...

In the debate Monday Hillary made a point of not drinking anything. And she made it through for 95 minutes without collapsing or coughing. But as she flew with reporters on Tuesday there were a few coughs.

Last night in Florida she had a major coughing fit and had to be helped off stage by a burly secret service agent. This is almost embarrassing. On 9/11 she collapsed then eschewed Hospital and two hours later said she was fine only for her doctor to say two hours later that he had mild pneumonia.

Here we are, 19 days later and what are we told now? Nothing. The Democrat machine is in lockdown because there is nothing it can say. The more it lies to cover up what is going on the more it looks like the lies will catch up with it. The mainstream media will of course do its best to ignore this and protect its liberal buddy Hillary. But the photos and clips have gone viral. That 1-3 point lead Hillary had post debate...its disappearing faster than you can say "hold my arm quickly before I collapse Mr Special Agent."

It is not the fact that this sick old lady is not up to the job of POTUS it is the fact that she is doing what the Clinton's have always done to try to avoid bad issues, they just lie their way out of it. But after thirty years of such lies American is not buying it any more.
The eight reasons why Trump will win - other than Clinton's health and the cover up. Penned before 9/11, find out why the Donald can't lose HERE
If you enjoyed reading this article from Tom Winnifrith, why not help us cover our running costs with a donation?