foreign aid
1933 days ago
One of the joy's of being in Shipston with my father is getting to answer the phone for him. "Is that Tom Winnifrith?" says someone from the numerous virtue signalling charities run by legions of grossly overpaid Guardian readers, who he supports with his cash. Truthfully I answer "yes." I am then treated to a long spiel about all the valuable work they are doing out in bongo bongo land followed by an appeal for an increased monthly donation.

3455 days ago
My fave libertarian Tory blogger Charlotte Argyle is in fine form once again. The child of Thatcher rightly points out that capitalism not aid is what is needed for both donors and recipients. Over to the pin up girl of Tory blogging:
 
It starts with a chap called Mr O, an Ethiopian Farmer who claims that the £1.3Bn the UK has sent to Ethiopian in the last 5 years has done nothing more than fund a despotic government which has enacted great atrocities on his family and livelihood by using brutal force to annex land and property from hundreds of native villagers to sell off to foreign investors or add to its own little stash of Government chattels. Just to put our 'good deed' into context Ethiopia is among the biggest recipients of British aid receiving £38 million in July 2011 alone.

This simply serves to exposure the huge lack of accountability and traceability on the behalf of the do-gooders at DFID when it comes to ensuring that OUR money goes to the right source. It also magnifies the dangers around minimal foreign intervention without a serious approach to risk. To prove my point, imagine the blushing faces last year as DFID had to admit to the National Audit Office that it did not know in which country £530 million of aid was spent nor why a country like Nigeria, which is flourishing into an emerging economy – with the second highest national income of all African countries still receives £275 million from the UK in 2013 and will receive a further £250 million until 2015.  .
So now we have Mr O set to sue the UK Government for hundreds of thousands of pounds – taxpayers pounds, in the name of DFID breaching the Department for International Development's (DfID) human rights rules (yep breaching their own rules). But here is the best bit, some kind London lawyers (Leigh Day to be precise) have decided to help Mr O taking on the case on his behalf and have already served papers on DFID .
As they feel it is necessary to point out - Mr O is not seeking compensation but challenging the Government's approach to aid – Well thanks Mr O but I think that slimming down of our ever gout-ridden state letting more people keep more of their own money may have the same effect. One has to wonder how much Leigh Day are set to make on this little case though. Imagine the headline "Ethiopian gets legal aid from UK - to sue the UK for giving aid to... Ethiopia"
DFID's complete lack of action

3507 days ago
I have noted before that Oxfam is a charity not fit for purpose – it really does spout nonsense on a monumental scale. The latest clanger came on BBC Radio Oxford earlier this week – the link is here and the outbursts start at about even minutes in.
The Oxfam spokeswoman was one with two very stupid women – one from UKIP and a Lib Dem. Needless to say the Lib Dem woman agreed meekly with everything the Oxfam loony said. The UKIP old bag was again saying that the UK foreign aid budget should be diverted to help deal with UK floods. I have note before (HERE) how this is errant wolf-whistling economic claptrap. But her idiocy was easily surpassed by the Oxfam old trout.
She started by saying that the UK had plenty of cash to spend on the floods, after all Call Me Dave says "money is no object." When a country has a deficit of £100 billion that is patently not true but if our PM (who is meant to be a conservative) is a Money Tree believer one cannot really be surprised that the deluded lefties of Oxfam are also Money Tree worshippers.
But then it got worse. Oxfam says that since 2008 UK bankers have received bonuses of £70 billion which is about £10 billion more than we have spent on foreign aid) so the UK bankers can afford to pay. Where to start

3517 days ago
I noted yesterday that if life on the Somerset Levels was not unpleasant enough right now, the poor bastards were faced not only with water up to their wastes but with a plague of politicians arriving to promise the earth and do nothing. The flood sound bites yesterday plunged new depths with Farage (UKIP) vs. Pickles (Con).
First up was the UKIP Fuhrer who demanded that the UK stop spending £11 billion a year on foreign aid and divert the cash to fighting the floods. One thing you may notice about UKIP is that whenever there is a problem that foreign aid cash is the answer. Want more hospitals? Axe foreign aid. Want more money for the armed forces? Axe foreign aid. Want to cut the deficit? Axe foreign aid. And so with floods in the news naturally UKIP thinks we should stop sending our cash off to Johnny Foreigner in Bongo Bongo land and look after folks back in Somerset.
As it happens I too would scrap foreign aid too

3789 days ago
As of now there are two weekly video postcards. Over on www.shareprophets.com my financial postcard went live yesterday. It covers the markets, investor delusion and Quindell.
Here on TomWinnifrith.com there is the non financial video postcard which covers the EU, Call Me Dave but focusses in on why cutting foreign aid to Somalia ( not increasing it) would be good news for most Somalis and all Britains. Why foreign aid helps no-one bar criminals and guilty liberal elites.



3791 days ago
It is not just the UK foreign aid budget that is a joke. Under the auspices of the vile Clinton woman US foreign aid spending clearly also out of control. One of the war criminal Blair's charities picked up £550,000 in 2011 but in 2012 it was the Wicked Witch herself who trousered it big time picking up a donation of £405,000 from the grateful US taxpayer for one of her charities.
Accounts for the year to Oct 31 2012 show that the Cherie Blair Foundation for Women enjoyed an income of £1.8million, and almost doubled its staff in 12 months, from six to 11.
The charity has cash in the bank of almost £1.5 million. Its wage bill rose from just over £258,000 in 2011 to £437,000 in 2012. But bear in mind that staff numbers rose during 2012 and thus the total wage bill is now likely to be running at an annualised rate of at last £500,000. Chuck in employers NI and we are heading towards £575,000. The firm uses Farrar's (the most expensive law firm in London) to do its legal work and it has luxury offices overlooking Hyde Park. How much is spent on marketing? How much on other admin expenses?
The Wicked Witch boasts that it is helping women entrepreneurs out in Africa. Sure. But I wonder what percentage of every £1 the US taxpayer and other mugs send in how much actually goes to help female entrepreneurs out in bongo bongo land? 50%? I doubt it.
The reality

3800 days ago
David Cameron: an out of touch, principle free, liar – a Godsend to UKIP
147 net gains for UKIP on Thursday was a political earthquake. The political classes are scared. They do not like it up 'em.
Like most folks I was first attracted to UKIP over the EU. It wants out of the Evil Empire and so do I. Does it have any other policies? Yes. Do I agree with all of them? No. But where we disagree on matters like immigration UKIP at least accepts that the current system (easy entry + free welfare) is a joke and unworkable.  UKIP would make entry impossible & keep welfare, I would make it automatic but scrap the welfare.
My point is that UKIP is instinctively right in that it sees – as do – most folks in Britain – that there is a vast problem. In its DNA UKIP is on the right track. The established parties have – for years – made it clear that the immigration system needed minor adjustments. They have lied about the scale of immigration, tarred anyone who questioned the system as a racist and then occasionally made tiny changes which stop skilled workers coming here ( who we want) in order to win grubby votes and Daily Mail headlines.
And so when David Cameron or Ken Clarke or any of the other mainstream politicos of all three parties tarred UKIP as racist in the past they meant it. That is what they actually believed. When they now say they are "listening" and must "connect with the views of those who voted UKIP" it is just another big fat lie. It is a lie born out of desperation.
And that brings us to David Cameron

3873 days ago
The email below arrived yesterday offering me the chance to pick up $11.5 million. And no, it was not the latest channel partner offering from an unscrupulous financial website group although it is of a similar investment grade to some of theirs.
I just wonder, is anyone on this planet stupid enough to fall for this sort of thing? I guess so otherwise a whole con industry would not be operating. It is a familiar sort of tale and such an obvious con. Indeed just two days ago another chap from Burkina Faso ( Ben Kute) emailed me about another sum of $8 million I could get my hands on.
Clearly money grows on trees in Bukina Faso – no need for us to send any foreign aid there then. Perhaps they could send some to Bankrupt Britain to pay for stabling costs for the horses of the Heather Frost and the other rural jobless in England.
The email is below:
Attn: Please,
This Message Might Meet You In Utmost Surprise. However, It's Just My Urgent Need For Foreign Partner That Made Me To Contact You For This Transaction. I Got Your Contact From Burkina Faso Chambers Of Commerce While I Was Searching For A Foreign Partner. I Assured Of Your Capability And Reliability To Champion This Business Opportunity When I Prayed To God Or Allah About You.

3889 days ago
The EU has announced that it is to spend £2 million "monitoring" twitter and other new media outlets in the run up to the 2014 European elections. Of this around 40% will not come from existing budgets in the Evil Empire's Ministry of Truth but is new cash, part of the EU budget increase. The aim of this is explicitly to counteract Euroscepticism. In other words the EU is pissing away your cash to monitor folks like me who write and tweet stuff pointing out what an inefficient, misguided crook factory this edifice is. The stated aim is in persuading voters not to listen (and I presume vote UKIP or for other sceptical parties in Europe) but to "see the light" and vote for Eurofanatics (i.e. Labour, Lib Dems or Call Me Dave's Tory party).
I quote from a document produced by the Evil Empire:
"Particular attention needs to be paid to the countries that have experienced a surge in Euroscepticism…Parliament's institutional communicators must have the ability to monitor public conversation and sentiment on the ground and in real time, to understand 'trending topics' and have the capacity to react quickly, in a targeted and relevant manner, to join in and influence the conversation, for example, by providing facts and figures to deconstructing myths."
But what is a myth? The EU tried to tell us that the bent banana directive was a myth until it was shown to be true. Would it say that my statement "The EU is the world's largest donor of foreign aid and much of this cash is wasted or stolen" is a myth?

3920 days ago
I would scrap all Foreign Aid tomorrow as most of the cash is wasted, few poor folks benefit and Bankrupt Britain cannot afford to piss away £11 billion a year. In the greater scheme of pissing away cash £27 million is not a lot but to hand that money to the frigging Argies who are demanding that we hand over British Land lived in by British Citizens (viz the Falklands) just fills me with the despair.
Of the £27 million, £20 million is our slug of a£450 million loan from the IMF. That the Argies need an IMF bailout at tall shows why its demented President Fernandez is sabre rattling: because under her stewardship the economy has gone down the pan. But why Bankrupt Britain should have to bail the old trout out is beyond me. But it gets worse.

3921 days ago
In case you missed it, yesterday was the 40th Birthday Party of what we used to know as the European Economic Community (EEC) but is now simply known as the Evil Empire. No doubt in the slums of Athens and Madrid as youth unemployment hits 60% they were having a party to celebrate. Back here in the UK our political and media elite were strangely quiet on the matter because they are – for the most part – supporters of the EU in one form or another but aware that the plebs feel rather differently.
In years gone by, we Europsceptics were a minority. Our predictions that the Euro would be a disaster on economic grounds and that the Evil Empire would seize powers from Britain were dismissed by the bien pensants as the rantings of a crazed Xenophobic, little Englander, sort of racist minority. Yet sadly for Lords Howe, Hurd, Pantsdown, Mandelson, etc and for Tony Blair himself we sceptics have been proved 100% accurate in our predictions. And consequently popular opinion among those who pay for this folly (the pleb, taxpaying class) has moved strongly our way. As such the "guilty men" can no longer equate euroscepticsm with racism etc as they know they are insulting well over half the electorate.
The debate among the political/media classes in the UK

3921 days ago
I have consistently advocated that the UK scrap its entire foreign aid budget on dual grounds. Firstly Britain is almost bankrupt and we cannot afford to be generous. And secondly foreign aid never helps those it is meant to help, it is merely a transfer of wealth from poor folks in rich countries to (the Swiss bank accounts of) rich people in poor countries. You can check out a couple of my pieces on this matter HERE. and HERE. to show that I am not exactly new to this subject. But today comes a damning report on this matter from the think tank Civitas. It is not the conclusions which are worth noting (they are hardly surprising) but what it says about the gaping gap between our political and media elite and the rest of us. You and I. The plebs.
The Civitas study shows that our foreign aid budget which is set to increase by 30% this year as spending on so much else is pared back, does not actually help poor people on the ground. That is damning. But more damning

3934 days ago
This article first appeared in my Tomogrraph Newsletter a couple of weeks ago but prompted my an angry response or two to my article of yesterday (Being on Welfare is NOT a Job) I am goaded into republishing the piece to a wider audience. One chap thinks I am " bitter and twisted" and a "sad man" for arguing that taxpayers have no obligation to support a life of Sky, fags and booze on welfare. Whatever…folks need to face up to the problem.
This piece deals with those deficit deniers who cannot accept that Britain is heading for bankruptcy and offers up a 13 point plan to deal with the issue – needless to say I do not expect the cowardly Conservatives to adopt even one of my suggestions.
The Autumn statement came and went. George Osborne laughed and smiled. Ed Balls stammered. The left bleated on about wicked Tories and even more wicked cuts. The Tories claimed to be satisfied with the job being in hand. But we are as a nation kidding ourselves. We are all deficit deniers.
Two and a half years into this Parliament, Osborne has missed his forecasts again. Government spending has, in absolute terms risen year on year since the election.

3948 days ago
Before he gets paranoid and I get a snotty letter from Kerman's this is not a story about the life of Dick Gill. Nor is it about life on this blog where we seem to have more and more readers. Unlike certain places I could mention. But it is a true story from the world of academia and Bristol University.
I spent a happy Sunday afternoon in a Bristol pub last week celebrating West Ham's triumph over Chelski and met two academics who had been encouraged by the University to write a joint blog article for an in-house blog. That they had done and seemed to have enjoyed the exercise. So, er how many folks will read the piece I asked?
Easy, they replied. We can track it. Our article has been read by one person.

3949 days ago
My Guardian reading father is an incredibly generous contributor to Christian Aid. But still they want more. It is after all better to give than to receive and they are just helping to save his soul. And so once a week he gets a call asking him to up his contribution. Bad luck Christian aid. My father is at a funeral and so when you called today and asked for Mr T Winnifrith I replied truthfully that they were speaking to Mr T Winnifrith and…

3958 days ago
It was not UKIP that called for a pact but a Tory MP who wears the silliest syrup on this planet – Michael Fabricant. But Downing Street has today ruled out a pact between the Tories and UKIP.
That is good news for UKIP. I took me about one minute to think of 10 very good reasons why I'd be less likely to vote UKIP if they aligned themselves with the Conservative Party.
Before I start, if anyone in Islington Social Services is reading this, I am not a UKIP member or even a loyal supporter so there is no need to deny me access to my daughter on the grounds that she is half Welsh and so may be damaged by my views.
Ten Good Reasons

3964 days ago
The Daily Mail has its knickers in a twist about how £230 million of taxpayers cash is being pissed away by DfiD on an education programme in Nigeria. The Mail is wrong. What needs to be asked is why we are giving cash at all to the world's 8th largest exporter of crude oil.
But to humour the Mail it is perhaps noting the report of The Independent Commission on Aid Impact. The UK has poured £102million into education in ten of Nigeria's 36 states during the last seven years, and is due to spend a further £126million by 2019. But the report found that a third of the eligible children – an estimated 3.7million – were still not in school, while those that were received little by way of education.

3968 days ago
This week it emerged that Robert Mugabe, Africa's Hitler, had stolen $2 billion worth of diamonds from the poor people of Zimbabwe. But still the UK hands over £80 million a year directly in aid and a lot more via the Evil Empire.
And so in honour of the old Devil this week's caption contest is an Uncle Bob special. Let's see if the UK's wittiest accountant Jon Pickles can somehow get Prince Harry into his entry for this week.
Please post your captions in the comments boxes below. The winner gets a Piss off Argentina T-shirt which, of course, you can always buy here.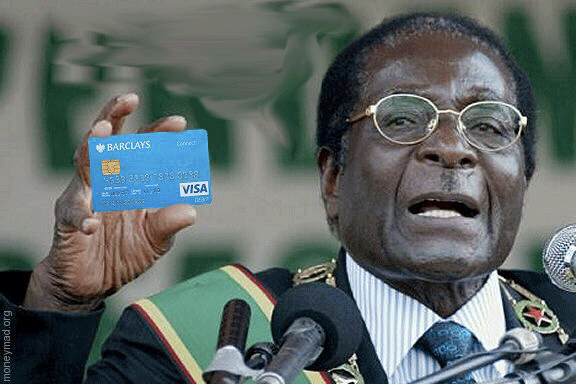 3972 days ago
We all know that the UK foreign aid budget is a costly disgrace this country cannot afford. Across Africa our money is allowing tyrants to rob their people with the aid we pump in a real disincentive to reform. We help no-one with our efforts but Call Me Dave is so desperate to be seen as "nice" that he keeps on writing cheques. Well Mr Cameron please explain Zimbabwe to me.
A report out today from Partnership Africa Canada, a member of the Kimberley Process, the world regulatory body on the diamond trade, says that Mugabe and his cronies have stolen $2 billion from the Marange diamond fields which lie within his country. That $2 billion has been looted over a period of six years so let's call that $330 million a year. Funds from diamond sales of that order should have shown up in the State Treasury but have not. They have, of course, headed off to Switzerland. Mugabe says that the report is false. The authors of the report say that the $2 billion number is a "conservative estimate" and it appears that Hitler's own finance minister Tendai Biti backs up the claims from PAC.
Now what does this tell us? Well first a quick word about Hollywood, deluded lefty celebs and the film Blood Diamond starring Leonardo di Caprio.

3985 days ago
You could not make this up. Just how stupid are the men and women who run the UK and Ireland? The Irish have just suspended its aid to Uganda after a £10 million package from the Irish, Norway, Sweden and Denmark meant to help the poor and needy somehow ended up in the personal bank account of Ugandan Prime Minister Patrick Amama Mbabazi.
No British cash was nicked by just as a precaution the £4 million in aid we already give to Mr Mbabazi's office has been suspended. However other aid programmes (another £94 million) will continue. Where does one start?
Let us start in Ireland. In case whichever midget is running Eire today has not noticed your country is frigging bankrupt.

4019 days ago
The Daily Mail today has a real go at Call Me Dave for boasting to the UN about how the UK is spending ever more cash on International aid. This will play well with its readers but misses the point. There are folks out there who reckon that scrapping the £11 billion or so we piss away on foreign aid each year will make a difference. It will not really.
Do not get me wrong. I do not think that the £11 billion the Department for International Development (DFID) spends, no wastes, each year can be justified. 40% of Africa's military spending is effectively funded by aid programmes. The poor in Africa see very little benefit, the elites in some pretty vile regimes line their pockets and our cash goes to prop up these regimes. Just as I do not believe in military intervention to affect regime change in the Middle East (waste of money and it just makes them hate the West even more), I do not believe in financial intervention via aid to Africa as that inevitably stops regime change. In the end aid is always a transfer of wealth from poor people in rich countries to rich people in poor countries.
But where the Mail goes horribly wrong is by pretending that were we to abolish DFID tomorrow we could stop cuts in public spending elsewhere. It goes into tedious detail about how many regiments could be saved, nurses not fired

4045 days ago
In 2011 Britain ponied up £70 million in international aid to Uganda. Via the Evil Empire we handed over another £57 million. In the same year Uganda's charming President Yoweri Museveni bought himself a top-of-the-range Gulfstream G550 private plane for £30 million. I am sure that you can see the irony here and the description of international aid as the "transfer of wealth from poor people in rich countries to rich people in poor countries" seems apt.
Of course Uganda is still poor and starving. The aid makes no difference to that. But it is good to see that the country can still afford a National Theatre. This comes to my attention thanks to news that the UNT has decided not to stage a play, The River and The Mountain, written by the British playwright Beau Hopkins, which is a sympathetic portrayal of a corporate businessman coming to terms with his sexual identity in a climate of oppressive homophobia. I cannot say that I would travel to Kampala to see this production or even to Camden but you may wonder why this play should not be staged other than the fact that it sounds like a rather tedious piece of politically correct non-drama?

4107 days ago
I have noted on this blog on a previous occassion that there is a Polly Toynbee rule. Without exception, any cause or policy that the dreadful Harridan supports is one that any right thinking person would oppose. Toynbee is a great way to check your sanity. Just use google to search out her views on any matter and if you disagree 100% with what the old trout says then you know that you still have your marbles. Irish rock singer Bono is another person happy to express his strong views on all matters of global importance, or that he deems to be of global importance. To be fair to Bono he is not wrong about everything. Just almost everything. Why anyone should listen to the man just becuase he wrote a few great songs a long time ago is not exactly clear to me but he appears to have the ear of those in power. We live in a strange world.
It should be clear by now that I think Bono is a prize git.