Back in July polls showed that most folks supported Black Lives Matter. The few of us who pointed out that an organisation that wanted to defund Britain's (unarmed) Police, end capitalism and the nuclear family and shut down jails while boycotting Israel was somewhat questionable, were dismissed by the liberal media elites as racist. They did not challenge the facts they simply smeared the sceptics. Those who dared to suggest that the late George Floyd was not exactly the heir to Mother Theresa were clearly alt-right freaks. The Premier League, BBC Presenters, Basketball England as well as the Metropolitan Police of Cressida Dick determined that we should all take a knee.  But times have changed.
I suspect that at Britain's Marxist Madrassas, institutions once termed Universities, guilty middle class white liberals are still supportive of BLM. My BAME wife will still sit through Union meetings where her colleagues are paying homage to BLM, where white folks tell her what steps must be taken so that folks like her are not offended.
But in the real world, gradually more and more commentators dared to publicise the facts about the BLM agenda which the media classes had been all too aware of but had denied in an Orwellian fashion. Meanwhile BLM leaders such as Sasha Johnson, emboldened by the MSM love-in, revealed their true divisive agenda. And then there was the violence on both sides of the Atlantic.
There is a new survey out which the Guardian reports as you can see below. But it twists the data horribly to hide the true extent of how opinion has changed.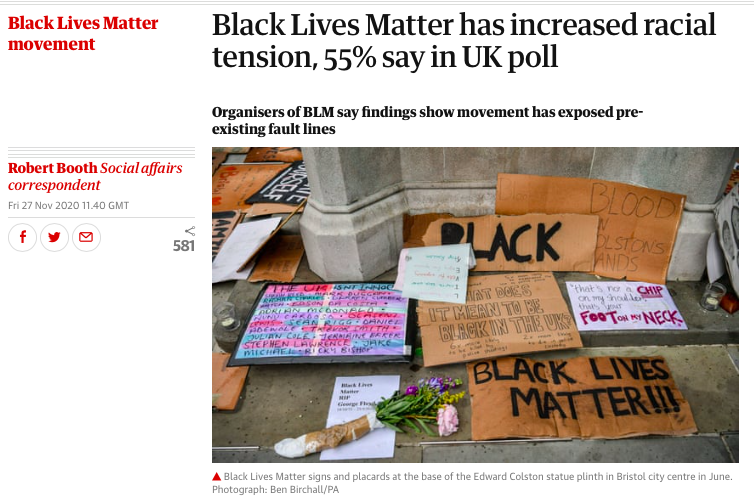 Yes, it admits that 55% of the population and 44% of black folks now think that BLM increases racial division. What it fails to say is how many disagree with that statement, the numbers are, in fact, just 17% for the whole population and 22% for BAME folks. In other words, of those expressing a view, c77% of the whole population and 66% of BAME folks think that the BLM movement actually increases racial division.
This is damning and a clear verdict, but it is no wonder that a paper that has done so much to promote BLM is rather embarrassed about the survey and so reports the data in such a dishonest manner.
So where does this leave our sporting leaders? Basketball England is still considering whether to "allow "13 year old girls, to encourage 13 year old girls, to take a knee in solidarity with BLM and is still  pushing its clubs to promote BLM posters and wristbands to the kids. It has yet to retract its fake take a knee history ahead of a "consultation" on the matter. But can it really now argue that an express support for BLM is a good move?
As for Professional soccer it must now be aware that crowds who will be returning, albeit in limited numbers, very soon will profoundly disagree with players taking a knee before matches. The clubs are leagues are making noises about how masked-up supporters in the ground should not sing or shout or sing as this may spread Covid. But where does this leave booing? The clubs and players must by now be acutely aware that supporters may well show their anger and hostility not to anti-racist initiatives such as Kick It Out which they should, and probably do, support but to BLM. Will there be a ban, under the pretence that it is an anti Covid measure, on booing?  I suspect that this is the plan.
Once upon a time I attended an FA Cup semi-final between West Ham and Middlesborough. The week before, the legendary West Ham manager John Lyall had died and the crowd was asked to start a minute's silence. The ground (Villa Park) fell silent. Then after a few seconds someone chanted "Johnny Lyall's claret and blue army." For a split second there was silence as folks wondered about the horror of breaking the "organised and official" show of respect but then Villa Park resounded to a whole minute of deafening chants of "Johnny Lyall's claret and blue army". It was the most incredible start to any game I have ever watched. It was the sort of moment that binds you to a club for life, however much they piss you off with inflated ticket prices, dismal performances and pointless virtue signalling. and you know John Lyall would have been deeply moved by this act of rebellion by the fans.
Who will be the brave soul who is first to boo as the players take a knee? Will others follow or will that soul be isolated? If the whole ground (remember it will be home supporters only) starts to boo what sanction will the clubs take? Would they really eject the whole crowd and serve up loyal season ticket holders with life bans en masse claiming that they were racist? What happens if the same thing happens at the next match or at clubs across England and Wales? 
My guess is that the players will pretty soon stop taking a knee because, as this poll shows, they and the clubs are horribly out of touch with how the general population, including most black people, actually thinks. And if there is mass dissent on this issue how will the BBC and the deadwood press report it? I suspect probably by not reporting it at all or by tut tutting their disapproval of the re-emergence of racism in the "beautiful game." How long that line can be maintained is questionable.
Now if the left leaning media, those incredibly well paid folks dwelling in the plushest parts of London had reported the true facts from the start, this embarrassing episode in British history would not have happened.  But as George Orwell noted in the rarely read introduction to Animal Farm, facts are inconvenient items that can be ignored iby small and pwoerful elites who just know better than the plebs, in the pursuit of "higher" goals.
If you enjoyed reading this article from Tom Winnifrith, why not help us cover our running costs with a donation?