This week has seen our beloved Home Secretary Priti Patel do what she does best: annoy folks on the left. And also what she does less well, that is to say remove undesirables from this land. Priti attempted to deport 50 folks who were Jamaican nationals and had been convicted of a range of very serious crimes including rape, murder and child abuse. Who on earth would want a convicted paedophile carrying the passport of another nation hanging around in the UK? Step forward 50 Labour and Lib Dem MPs and an array of celebs. Among them, Lib Dem Daisy Cooper.
In the end, thanks to a band of brave lawyers, 37 of the 50 were hauled off the plane and get to stay in the UK pro tem so racking up even more costs for the grateful taxpayer. The lawyers, Daisy et al phrase this in terms of "human rights" but, as ever with the left, the rights are those of the criminal not the victim. Or, more pertinently, of potential future victims.
Daisy ups the ante by bringing in the Windrush scandal. Of course, the deportation of folks who had arrived in the UK not only legally but because we in Britain wanted them here, pleaded with them to come to fill skills gaps but, in too many cases, failed to issue the right papers to them, was a disgrace. Those folks lead good lives and made Britain a better place and the treatment of them by the Home Office under Amber Rudd and Theresa May was a monumental stain on our national standing. By the way, I had a nightmare a few nights ago that Mrs May had somehow been brought back as Prime Minister. But then as I watched Boris announce more economy wrecking and logically incoherent lockdown measures, I realised that what was a nightmare was in fact a sweet dream.
Outside those MPs and celebs grandstanding, as they stand up for the rights of convicted paedophiles who can live in another country, to be allowed to stay in the UK, I cannot believe that more or less anyone is opposed to the actions of Ms Patel. If I move permanently to Greece at some point and then commit a serious crime I would expect to be deported. This is not about colonialism or racism but is about what you expect when you defecate over the property of your host. To make any comparison with Windrush is tawdry and seeks only to diminish the outrage of what was a real scandal. Shame on you Daisy.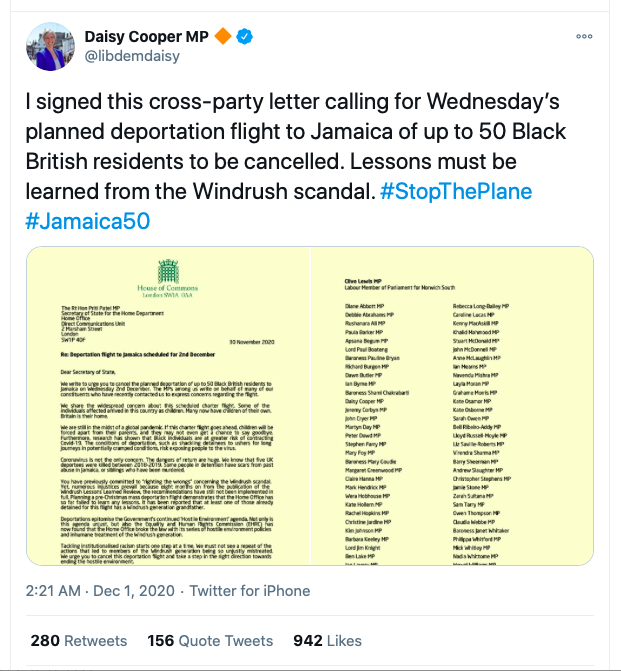 If you enjoyed reading this article from Tom Winnifrith, why not help us cover our running costs with a donation?