The argument for the biggest assault on our civil liberties since World War Two and for actions that are wrecking the economy, causing suicides and job losses to soar and bankrupting businesses across the land is that we must act now to save lives. The monumental folly of this is demonstrated in this one chart below with data sourced from the ONS. Read it and then I challenge any one of you to disagree with me that all those responsible for lockdowns and other measures should be put on trial for their crimes.
I remind you that for those under 70, the survival rate for Covid is 99.97% and that the average age of death is 82, a year older than life expectancy. Just as a pike scours the river looking to polish off old or ailing smaller fish which would have perished very shortly afterwards, Covid has taken the place of flu – which has almost disappeared this year – as the way of speeding up the journey of those in the waiting room to meet St Peter.  And thus in bringing forward deaths by a few months, Covid did cause a big spike in mortality on its arrival in Britain but these things even out over time.
And so to the chart which shows deaths per 100,000 by year in Britain from 1993 to 2020 as up to week 49 of the year. Now if you believe what Little Matt Hancock or Mad Mark Drakeford says about the plague then you would expect 2020 to be at the far right of this chart. But it is not. Now, I accept that life expectancy has increased over the past thirty years as more of us have quit smoking and because of medical advances. My daughter Olaf was born weighing 1lb 4oz at 26 weeks in 2001 and has survived. In 1993 she probably would not have lived. But there was some evidence that increasing obesity and inactivity and the effects of childhoods not spent during rationing and not involving playing sport on the street was starting to end the era of increasing life expectancy, pre Covid.
If you believe the scaremongering of our leaders, 2020 would also be massively more death ridden than recent years but is the gap between this year and, say 2018, really that noticeable? Yes: 2020 is higher and I know that every death is regrettable. But is it so much higher as to justify the policy decisions taken in our name? Surely it is not.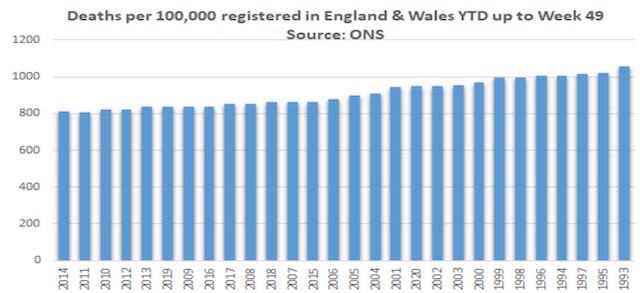 If you enjoyed reading this article from Tom Winnifrith, why not help us cover our running costs with a donation?