I support Northern Ireland so do not give a hoot about the woke prima donnas of the England Football team so as the nation sat glued to the box I carried on working on bringing the lower, old, orchard next to the river back into shape.
Throughout the day before and yesterday I had slashed away with my strimmer cutting back nettles up to six foot high, ferns, long grass and much more. I raked up as much as I could manage and chucked in some of the packing boxes that I have emptied of books from my father's house and as you all watched the footie I lit a bonfire and pondered.
The nettles that lined the bank are hard to retrieve so I have left them to rot but now there is a clear view through to the River Dee which is a treat in itself.
There is little more satisfying in life than watching a good bonfire burn and I did that until well after ten, the smoke keeping the midges away. Today, the superb gardener Paul arrives with his mower to mow the resultant lawn. My machine is not powerful enough for this job although I had a stab. Paul will cut through the stems that are left as if they were butter.
It seems as if the late frosts have been unhelpful and this year's crop of edible apples which I plan to turn into juice as I did last year with my home press will not be a bumper one. But I should still have easily enough for a couple of cases of bottles for the winter.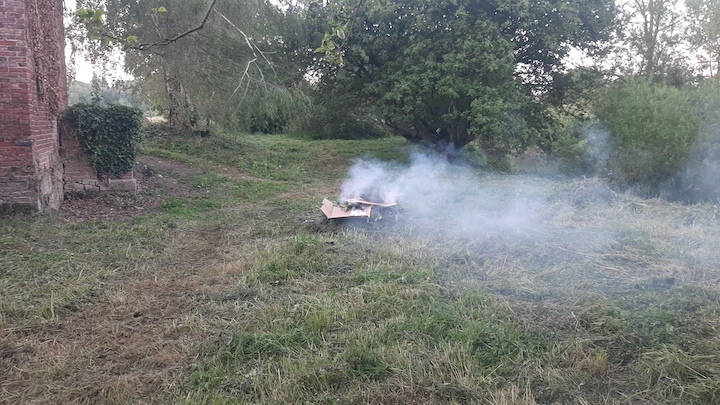 If you enjoyed reading this article from Tom Winnifrith, why not help us cover our running costs with a donation?