banksters
82 days ago
I have many criticisms of Nigel Farage but it seems that he is being persecuted by the banksters. Before you laugh, it could happen to you too. This is not good. I then look at Canadian Overseas Petroleum (COPL) where Gary points out a minor error I have made, Eden Research (EDEN), Echo Energy (ECHO), Premier African (PREM) and Tinybuild (TBLD). I forgot to ask in this podcast how Zeus Capital can be advising both Boohoo.com (BOO) and also Revolution Beauty (REVB) as they engage in such vicious verbals? 

370 days ago
In today's Bearcast, I discuss banksters' bonuses and the evil Tories, Made.com (MADE), Checkit (CKT), musicMagpie (MMAG), Versarien (VRS) and THG (THG).

528 days ago
For Petropavlovsk (POG) – as I warned you all on March 4th, here – things go from bad to worse. Its banker and sole purchaser of gold, GazpromBank, is sanctioned by the UK, so the AIM-listed miner cannot generate any revenues, or even pay interest on its debts. Today, the banksters have thus stated that the company is in default and called in the loans.

1029 days ago
I start with today's Advent window and then turn to the issue of last minute talks with the EU regarding Brexit. As the grandson of a Bennite campaigner against the EU, I will have no Islington based fucktard lecture me about why I voted to leave. But I discuss the dire warnings in today's papers about what may lie ahead. I also look at Novacyt (NCYT) and the pointlessness of debating with those whose starting point is not listening to what I have ever said, or reading what I have ever written, and then attacking me for what I have not said!

1746 days ago
I start by explaining that torture and it involves sociology lecturers. I then move onto explaining why Roland "fatty" Cornish is the utterly unacceptable face of crony capitalism. Then moving from the undeserving rich to the needy,  I ask you to give a few quid to Woodlarks HERE. I then look at Frontera (FRR) where the silence is deafening, Amur (AMC), Audioboom (BUST), Angus Energy (ANGS), UK Oil & Gas (UKOG), F*ck Yu (YU.) and finally at Gulf Marine (GMS) which is about to discover that just because it is Christmas that won't stop the banksters being total bastards. There is no season of goodwill for that profession.

1808 days ago
You may remember that in extending the Greek Hovel I had to move two olive trees. One perished quickly, the other just about survived. But it is a battle. I have done my bit, providing fertiliser in a way that a man finds easier than a woman, one cycling champion excepted, but it looks touch and go as you can see below.

1858 days ago
I start with a rant about Barclays (BARC) banksters and how much I despise and loathe them. I then discuss Anglo African Agriculture (AAAP) a Big Dave Lenigas lobster pot from which I escaped today. I move onto Andalas (ADL) and have a challenge for a sad geek with time on his hands, I nominate Drunken Sailor. I look at Xaar (XAR), Crawshaw (CRAW) and finally at Optibiotix (OPTI). I owe cynical bear a glass of ouzo but drank it myself on his behalf. Warning, this podcast contains bad language throughout.

1885 days ago
You wonder why the Greek economy is such a trainwreck?  Of course there are all sorts of reasons: the scorched earth policies imposed on Greece by Germany, the EU  and IMF banksters; the debt Greece should never have been allowed to take on, the bloated public sector, corruption, they all play a part. But, as I discover again today as I try to rebuild the Greek Hovel, it is the smothering bureaucracy that kills enterprise. Take my marble, stuck at Kalamata.

2244 days ago
Okay so the Sheriff of AIM has got his man. Uzi/Oozi Katz/Cats has gone "temporarily" (my arse, again) from Telit Communications (TCM). So what happens next? I comment about what was NOT said in today's release, try to second guess Uzi (that is the real one not a bogus ballet dancer/statistician/award winning chef) as to his next move. Then I discuss the underlying business and explain why, to me, it has all the makings of a Globo, not a Quindell,. and why that means that its share price collapsersoonie could be sooner than you think, if banksters HSBC are anywhere close to being on the ball. Enjoy.

2355 days ago
On my new machine, the blood sugar reading this morning was 195, up from 146 the prior day. What on earth had I done wrong? I ate sensibly, I took good exercise and I only had one ouzo. It must have been the ouzo. I cursed myself. I reckon that reading is up in the high ten points old scale. Type 2 diabetes is a real bastard,

2359 days ago
I have remarked many times before on Paddy Leigh Fermor's good Greek bad Greek thesis. 99% of Greeks are generous, honest, good folks. The other 1% are such complete and utter bastards that their actions serve as a stark reminder of how incredibly good their fellow countrymen are. The lying traitor of a PM, Alex Tsipras is firmly among the 1%. So too, are more than a few taxi drivers in Athens. 

2398 days ago
The March edition of the UK Investor Show Magazine is live featuring 7 share tips, company profiles, interview with Richard Poulden of PCGE, why we fight fraud & fake news on Channel 4, Donald Trump, Marine Le Pen, a look at the banksters and much more.

2541 days ago
On the BBC today, liberal media establishment poseur Andrew Marr stated that Donald Trump is what everyone is talking about. By that he meant Trump and "pussygate" and by everyone he meant the mainstream press. But is that what most folks are talking about and is that what the mainstream press should be talking about.

2557 days ago
Remember that before the Brexit vote the City warned that if we voted to leave the EU then tens of thousands of well paid bankster jobs across London would be lost. Oddly the Remainers thought that this would drive folks to vote for them because - outside London we really care about ensuring banksters continue to earn megabucks. 

Maybe if Project Fear had announced that if we stayed in the EU all banksters would be lead through the streets in chains and pelted with rotten fruit the result might have been different? As it was, cheered by the thought of thousands of banksters being fired and losing everything, the UK voted to leave. And now the bankster firing fest is underway...but hang on!

2563 days ago
I reflect on how we gym users suffer and on how dealing with Barclays Bank as a customer has made me so angry today. I hate the banksters and make a few unkind comments about the Isle of Man. Then it is onto Feedback (FDBK) and a detailed look at Cyan (CYN) and an awful broker note you can read HERE from Beaufort which I tear apart. I really despair at how bent AIM has become. What is the point of being honest anymore? 

2589 days ago
Author Jim Rickards recently did an interview with Sprott in which he opined that there will be a war, by the Central Banksters and big Western Governments on gold. It is fascinating stuff. Over to Sprott:

2594 days ago
You would have thought that leaders of the failing Evil Empire would have reacted to Brexit and the surge in support for anti EU parties across the continent by at least pretending to listen to the people of Europe. Surely a few cliches about "we must listen" would have been standard spin. But the EU really does not care.

2619 days ago
On 28th July Lloyds Bank (LLOY) published decent enough interim results, hiked its payout by 13%, and announced that it was closing an additional 200 branches and firing 3000 banksters by the end of 2017. Naturally the BBC led the media in blaming Brexit for the job losses even though that was not what Lloyds stated at all. This is quite remarkable spin and lies from the left wing press and BBC. I see that, in some quarters, Lloyds stands accused of using Brexit as an excuse for cost cutting, that is wholly unfair.

2622 days ago
Sky News claims to have a source who says that Nomad and broker Cenkos (CNKS) is to be fined £700,000 by the FCA for its lamentable failings in the Quindell (QPP) fraud - Cenkos has now admiited that a probe is underway. Whilst I see this as another moment of vindication for my work in exposing that fraud it is simply not enough. The FCA is telling the City's banksters that turning a blind eye to white collar crime does pay. Its coke and hookers all round if this is the best that the FCA can do.

2647 days ago
As the earnest young people, mostly loathsome students, gather in London today they claim that they march for Europe. it sounds good to be an internationalist showing solidarity with a whole continent. MarchfortheEU does not sound quite so good. The EU is after all, as even its supporters in the remain campaign admitted, inefficient, corrupt and far from perfect. Moreover it is loathed across the continent.

Switzerland has just withdrawn its application to join. In France, Austria, Greece, Italy, Holland, Sweden and Denmark there are growing calls for their own referendum and signs that in many of those countries folks will vote to leave. For what these young people fail to see is that across Europe there is a widespread feeling that the EU serves an business, bankster, media and political establishment very well but for the ordinary Joe, for the 99% it sucks.

Here in Greece, youth unemployment is 60%. It would be far higher

2653 days ago
No lightning strikes today, thank God. What was he punishing me for? I start by discussing Richard Poulden's excellent letter on why folks are so angry so backed Brexit, but it is a wider issue as you can read here. Then I discuss liquidity in an investment company's portfolio, ref Teathers Financial (TEA) and finally I challenge the banks to make good their Brexit threat to fire investment banksters. I will pay for a ticket to watch but I explain why it was always a spoof. It won't happen.

2712 days ago
I shall endeavour, as the owner of two shares, to gain admittance to the AGM of the London Stock Exchange tomorrow morning. Im coming up from Bristol so may be a few minutes late but I trust that Lucian will be there for the 10 AM kick off at the Banksters Hall but it seems that only 11% of you reckon that the crony capitalists will take my questions on AIM fraud. We asked how the LSE would treat me - having barred my last year as its press office lied: You said:

2755 days ago
Sam Antar's interview was the highlight of Gold & Bears. The guy is a comedy genius as well as a fraudster genius as you can see here. Today he is having a go at listed timeshare companies which are being touted by banksters at a JP Morgan conference as a new hot thing. Sam vs the banksters: I know who I'd back. As ever the man is a bit of a wit. Sam starts with this tweet:

2787 days ago
I start with an analysis of how David Lenigas and his gophers Hamish Harris and Donnie Strang have managed to spunk £1.4 million of the £1.55 million they had to play with at Polemos (PLMO) in three and a bit years and why after today's placing this is still a POS with the toxix Jabba The Hutt odour all around it. Then it is onto LGO Energy (TOAST) and its latest disaster. Then I move onto Leed Resources (LDP), Motive TV (MTV), Golden Saint Resources (GSR) and Canaccord (CF). One suspects the great analyst Saint Kevin of Ashton loved its disastrous numbers today as the banksters had a hot date with karma. This podcast contains strong language. Lenigas is one four letter word but there are many others.

2996 days ago
Of course this blog supports  Jeremy #Corbyn4leader - it would make Labour unelectable which is a good thing. The danger is that it would make the Tories feel utterly unchecked and recent news on FOI, Syria and banksters getting an even softer touch from the FCA make me worry that this is already happening to some extent.

2998 days ago
Martin Wheatley, the head of the FCA is to leave his job in September after the twat George Osborne refused to extend his contract. Wheatley is being shown the door and the spin is that he is being given the bullet because he was too tough on the banksters and on the financial services industry. George, pal, you are 'avin a bubble.
The FCA is not fit for purpose

3004 days ago
In the Greek Parliament the MPs are - as at 7.45 - still debating the proposal of Alex Tsipras to betray his people by suggesting a deal with the banksters that is worse than the one 61% voted Oxi to last week. As I noted earlier, the communist KKE party warned that Tsipras would sell out if he got an Oxi vote, I agreed with its analysis and it looks as if we will be vindicated. And so beneath Syntagma Square the commies are starting to gather.

3014 days ago
Stocks are soaring across Europe on reports that Greek Prime Minister Alex Tsipras has blinked, has caved and surrendered to the banksters. Is his name indeed set to join those on Traitors Wall that starts with Ephialtes and includes most thieves, sorry Greek politicians, of the past forty years? The FT reports this morning that Tsipras has written to the banksters agreeing, essentially, to all their demands in return for more money which can then be used to repay existing debts as they fall due. This, if true, is madness and treachery.

3015 days ago
A people cannot enjoy true liberty if they are crushed by a debt they cannot service let alone repay. If they are, in addition, forced to cut financial support for health, education and assisting the old and truly needed they are little more than slaves. Such is the condition of Greece today.

3018 days ago
High drama tonight as Greek PM Alex Tspiras has called a referendum for July 5: should Greece accept the misery of the latest proposals from the banksters or go bust? Events will move rapidly during the next eight days - we may well see the banks shut down as soon as Monday. Already there are long lines outside ATMs in Athens. Is Tsipras right to call a vote? Yes. What should my neighbours in Greece vote? No! They should vote for default and I hope that Tsipras will lead a campaign for such a vote. July 5th could be freedom day, independence day, a glorious day for the Hellenic Republic. It is time for Greece  to tell the EU and the banksters where to stick it.

3021 days ago
The IMF banksters have made new demands of Greece which are just not acceptable. Will PM Tsipras finally show some spine and tell the banksters where to get off, default and offer hope and a future for a post bankrupt Greece. Or will he once again be a traitor to his nation and his people and cave? This is now getting very interesting. Once again I suggest Tsipras reads the great Lord Byron (HERE) and thinks about what could be for a Greece freed from the debt and the banksters.

3023 days ago
Once again we are told that it is 1 minute to midnight for Greece. Where have we heard that before? So who blinks? It seems to be Greek PM Alex Tsipras who is set to cave into the banksters and impose even more misery on the poor folk of Greece.

3029 days ago
What would the good Lord Byron - a man who died in Greece during the war of Independence -  say of Greece today, a country once again not its own master? To walk away from the Euro and to simply default on its debts, to stand on its own two feet and build again with pride? Or to accept further shame and humiliation and the impoverishment of its people in return for taking on yet more debts to enslave the children and grandchildren of todays Greeks?
Greece should default and walk away from the banksters of the EU and IMF with pride leaving its unpaid debts as their problem not ours.

3032 days ago
A pot pouri of a podcast today starting with the pronounciation pedant, the great Paul Scott. Then onto a cracking Zero Hedge article on how we should have treated the banksters in 2008 - we should have followed Iceland. Then on to Greece, Octagonal, Trap Oil, Nyota, Sefton, Afren, Alba Minerals, Monitise, Power Capital Global and Windar Photonics.

3145 days ago
Hats off to Morgan Stanley which has made a quick £2 million plus killing in four working days. It correctly identified Quindell (QPP) shareholders as being among the stupidest people on this planet and it has played them like a kipper. It is all perfectly legal and for this Robin Hood in reverse raid on the lobotomy and strong brigade, hats off to the banksters.
On Friday of last week Morgan Stanley picked up a 4.9% stake from Tosca at c61p. It bought a few shares in the market at the same time and so went over 3%, 4% and 5% at a stroke and told Quindell first thing Monday morning.

Quindell rushed out that news at 2.43 PM on Monday, keen

3151 days ago
Individuals commit fraud not companies. We have lost that understanding over the past 30 years and that is the great failure of regulation for the banksters and the AIM casino. I discuss this concept and then go on to call for suspensions of individuals as well as trading in the shares for four companies: Quindell, Tern, Alpha Returns and Worthington.

3757 days ago
This article appeared on Shareprophets yesterday and rather reinforces a lot of what I have written. As such I flag it up here.

The Government pretends that it is forcing banks to lend to the UK's small businesses (SMEs). It is a lie. The money the Government has pushed to the banks is being used to inflate a housing bubble not to help SME's grow, creating real sustainable jobs. A new study has confirmed just how, and by how much, the banksters are screwing UK small businesses.

3760 days ago
Jonathon Straight is CEO of AIM listed Straight PLC (STT). He is a reader of this blog, a good man and the owner of the most amazing moustache.  He wrote about how the banks and the big 4 accountancy firms have done their utmost to roger his firm on his personal blog a week or so ago. That post has now disappeared. Odd that. His tale is shocking and shows that all the Government huff and puff about forcing the banksters to lend to small businesses (SMEs) is sheer poppycock.  Jonathon writes:
I haven't posted anything to this site for almost a year. The truth is I haven't felt much like writing. I have been dealing with a problem for the past 18 months or so which has taken all of my time and energy. At times I have not believed what I have been seeing or hearing. It feels like a bad dream that I have just woken up from. The way that our bankers and their advisors have behaved has left me dumbfounded.
None of us in business has any protection from this coterie and it is high time that effective regulation was applied and that the cosy relationship between the big four audit firms and the big banks was properly dealt with.

3980 days ago
Well I told you so. My heart in the end went, marginally, for Romney and as I see deluded lefties across the media world delighting in another four years of hopey change I feel Romney's pain. But my head told me Obama would win and so I have called it as an Obama victory from the moment it became clear he was going to face Mitt. I never flinched in that – whilst other conservative writers claimed Mitt had momentum and would inch it, this pundit got it 100% right. I shall cover the political and coverage aspects later but starting with the economy. Obama's victory is not very good news for the USA.

4077 days ago
Knight Capital (KCG) is a US market maker. If it is lucky it might still be in a few weeks. The odds are it is bust (though it denies it) after it lost $440 million after an in-house trading software programme (an algo) went bonkers and made a stupendous number of mad trades which were bound to lose money (buying on the offer and selling on the bid at the same time). Some trades have been unwound. Others cannot be and Knight Capital must pick up the tab. Heck they are only market makers do we have any sympathy? Er…no.
The left will blather on about a failure of regulation, evil casino banking blah blah blah. They rather miss the point, as ever. What Knight Capital did in using an ago to trade was legal and all the regulation in the world and having the late Mother Theresa brought in as COO to instil a new corporate culture could not stop a programme messing up. Knight Capital should shoot its IT department, if it could afford any bullets. It is as simple as that.
As it happens I think the use of algos is a pointless exercise.

4097 days ago
The biggest driver of traffic here this week was the article discussing the views of the late Ayatollah Khomeni on bestiality. But it is hard to think of a suitable caption competition which might not offend just too many people. And so, with regret we return to dumb and dumber, drug obsessed and uber-authoritarian, MP Louise Mensch. The picture is below and always tweet your entries to @tomwinnifrith by 4 PM Monday to win one of our Piss off Argentina mugs.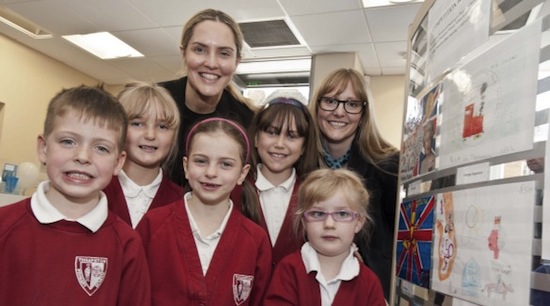 My entry: Kid One: "So where did you put the dope then?" Kid Two – "she's standing at the back"
Last week's I asked for a caption for this photo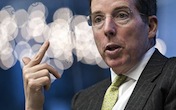 Our Judge, a man who is shown to have excellent judgement because he says I "look good" decided that the wittiest entry was Yes, I did say that Barclays was number one for fixed rates, which came from your very own travelling correspondent in the Balkans. And so no prize awarded.
Better luck to you all this week

4105 days ago
I am not sure which is more hapless and hopeless, the ECB or the Bank of England. It is a close run thing and today's actions by the pair did nothing to clarify the situation.
The Bank of England announced £50 billion more Quantitative Easing. Ok, so QE has not worked to date so let's try it again but only a small dose. If you think that QE is the answer to the UK's ills (and for what it is worth I do not) then force the patient to drink gallons of medicine. The strategy seems to be a big gulp, then another big gulp and because that has not worked another sip or two. This latest QE will be regarded as either: another dollop of the wrong medicine (by sceptics like myself) or too little medicine to make a change and thus a counterproductive confidence destroyer (that is the "believer's view). Either way this is another day in which the Old lady of Threadneedle Street achieves nothing much.

4113 days ago
The banksters at Barclays have today been found guilty of  what is, in effect, market abuse. They deliberately worked systematically to manipulate the LIBOR rate and so screwed millions of customers out of millions of pounds.  This is just dreadful and Barclays shareholders will now pick up a bill of £290 million to clear up the mess. The scumbag who runs Barclays, Bob Diamond, and a few senior colleagues have agreed to forego their bonuses this year as part of the mea culpa. But that is not enough. Diamond should go.