He was made a Lord by Tony Blair but is one of the few Jew haters with whom Labour has actually parted company. He is not actually a member of the house of Lords any more having been booted out of the chamber last month because of a spot of bother with rape and sexual assault allegations. There are also a couple of child rape charges outstanding.  He has form as a Jew hater claiming that when he was convicted of killing someone by dangerous driving in 2013 that was just a Jewish conspiracy. Today he has sent the tweet below which, as I write has been retweeted 253 times and liked 412 times. It is fake news with fake pictures and a blood libel against the Jews.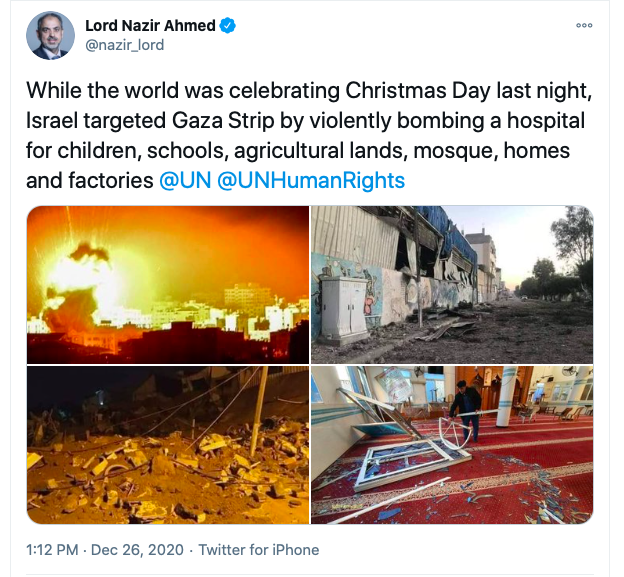 What actually happened on Christmas Day was that missiles were fired from Gaza towards the Israeli City of Ashkelon. They were not targetting any military sites they were just sent to kill Jews. Any Jews. It did not really matter as long as Jews died. Luckily the Israelis shot the missiles down.
The Israeli Air Force then sent planes to bomb specific military targets in Gaza, a rocket manufacturing facility and a couple of Hamas military posts. According to the authorities in Gaza windows were blown out but there were no casualties.
Now look at the tweet of Lord Ahmed. He claims that the wicked Jews targeted vulnerable civilians ( which they did not) , makes no mention of why the wicked Jews sent planes in the first place and shows pictures which imply mass destruction and so are, almost certainly, fake.
This is a blood libel against the Jews. And, sadly, there seem all too many prepared to believe it.  The Police must have an address for Ahmed, they really should be paying him a visit. Meanwhile, while twitter seems happy to block a Newspaper reporting what we now know to be facts about Hunter Biden, it is not only happy to see journalists and their families harassed but also to provide a platform for this sort of anti-semitic filth. You will note that Lord Ahmed has a blue tick of approval on his account.
What an evil world it is in which we live.
If you enjoyed reading this article from Tom Winnifrith, why not help us cover our running costs with a donation?