Gaza
226 days ago
As the great twitter commentator @BurnsidenotTosh recently noted, it has been announced that 15th March 2025 will be official "not pride day" with pride month resuming on 16th for the next 23 years. In that vein I bring you a tweet from Brighton where it is Pride Month, thirteen months a year.

503 days ago
Just as the clocks chimed 13 the Israeli ambassador to London, Tzipi Hotolevy, pulled up at the London School of Economics to give a speech. A rabble of students waving Palestinian flags greeted her. Abuse was hurled at her in volleys like the volleys of rockets fired from others who wave the Palestinian flag in Gaza, targetting not military targets but just trying to kill Jews. Any Jews will do.  But for those indoctrinated in one of the Marxist Madrassas that we used to call Universities here in Britain there is only one side in the Middle East that commits evil, that causes global warming, and whose spokesman must be silenced because free speech does not apply to them. Tzipi gave her speech but thanks to the JC, watch the video below as she left and be ashamed of what our country has become.  

645 days ago
Guardian columnist Owen Jones has written a detailed piece on why Labour may lose the Batley & Spen by-election. Not only is its white working-class vote deserting it but so too, it seems, are the Muslims. Around 86% of Britain's 3 million Muslims voted Labour in 2019 and in Batley 20% of the electorate is Muslim and they are not happy. Jones explains why but fails to mention one gigantic elephant in the room.

645 days ago
I bring you below some placards for a march next week in Chicago. I am not sure if this is a march for Pride or for Palestine, it matters little, but I suggest that those taking part may want to take my 3 part quiz for the woke community about Pride in the Middle East.

662 days ago
On campuses across the UK, the woke mobs are still chanting "Free Palestine". The BBC still employs Tala Halawa, a woman who think Hitler got it right with regard to the Jews, on its Middle East team. For the snowflake generation, the two great demons remain Israel and those who do not celebrate all things diverse with regard to the LGBT Community. So for the woke generation, here is a three-part quiz on Pride Month in the Middle East?

679 days ago
The BBC, Jeremy Corbyn, Keir Starmer and idiots across the land talk of the conflict in Gaza and Israel as if the two sides were morally equivalent and indeed, in many cases, suggest that Israel is the real villain. Israel is, of course, targeting only military installations to defend its citizens from attack. Hamas opts to site its military in civilian areas to use its civilians as a human shield and to score PR goals if they are killed by an Israeli bomb. Hamas just wants to kill Jews. Any Jew. Just as many as possible. You will not see this sort of material on the BBC or on any British University campus but if you doubt what I say about Hamas then watch this video below to hear and see what it really thinks. And then ask yourself which side in this conflict wants genocide and is driven by pure evil and which side is just trying to save its men, women and children from a second holocaust in 100 years.

685 days ago
In a grotesque error of judgement, I found myself listening to Radio 4's Today programme at 8.30 this morning for its BBC news bulletin. I expected #fakenews but was shocked by what I heard as the state broadcaster turned to events in Israel.

686 days ago
Kier Starmer is acting to purge some of the more extreme anti-semites from the Corbyn era from the Labour Party and that must be applauded. However, in his comments on events in Israel this week he sends out a clear dog whistle call to folks who hate Israel, many of whom do so because they hate the Jews. And that is one reason why, for many of us, Labour, a party where many of its foot soldiers snigger about those who respect the Union flag but put a Palestinian flag on their twitter account, remains beyond the pale.

821 days ago
He was made a Lord by Tony Blair but is one of the few Jew haters with whom Labour has actually parted company. He is not actually a member of the house of Lords any more having been booted out of the chamber last month because of a spot of bother with rape and sexual assault allegations. There are also a couple of child rape charges outstanding.  He has form as a Jew hater claiming that when he was convicted of killing someone by dangerous driving in 2013 that was just a Jewish conspiracy. Today he has sent the tweet below which, as I write has been retweeted 253 times and liked 412 times. It is fake news with fake pictures and a blood libel against the Jews.

1009 days ago
The latest series of the right-wing Israeli satirical show, Latma, has just drawn to a close and an email on that matter reminds me of the show's greatest video: We Con the World, a parody of the US famine relief video dealing with "aid" ships heading to Gaza from Turkey. If you are reading this on a British University campus and want to avoid being no-platformed by the tolerant left, I'd switch the volume off now.

1317 days ago
On the left wing madrassas that are the Universities of the West and in other epicentres of liberal and progressive thought support for Palestine and opposition to Israel, ranging for demands to boycott it, the drumming out of Israeli lecturers and calls for a Palestinian state "from sea to sea", i.e the destruction of Israel are mainstream. Anyone opposing this virtue signalling will soon discover, as did uber-liberal US chat show host Bill Maher last week, that they are soon lumped in with the wicked Jews amid calls for their career destruction.

1814 days ago
Hamas, the rulers of Gaza whose leaders still openly talk of driving the evil Jews into the sea and who happily fly Nazi flags alongside their own as you can see below, continues to organise protests on the Israeli border. Thanks to the liberal media's hatred of Israel it has been a PR triumph. But the truth...

1930 days ago
The first footage on the State funded broadcaster Pravda was of Palestinians throwing stones and other missiles at Israeli troops on the West Bank. The Troops responded with tear gas. The voice-over then talked of Israeli retaliation which saw two dead in Gaza after air strikes.

2082 days ago
As the flagship fake news liberal elitist broadcaster in London it is no surprise that Channel 4 hates the State of Israel with a passion. And to that end the channel that just loves its fake news had a field day yesterday as three Palestinians opened fire on security guards at the sacred Islamic site, the old Temple. The terrorists were shot and killed but not before they had killed two Israeli guards.

2089 days ago
It is really simple being a lefty. You have to be dogmatic and have a set world view. Otherwise you may be suspect in your liberalism. As such certain things are beyond doubt. LGBT and abortion issues are important above all else - these are the number 1 concerns of "real people", or at least of real people among the Metropolitan elites, not thick working class people or evil Christians because they don't matter. The USA is wrong on everything and Donald Trump is stupid and satanic. Israel is also wrong on everything. The EU is right on everything, The Daily Mail should be shut down to protect free speech. The Palestinians are always right. The BBC is a vicious right wing tool of the enemy but we'd all love to work there. You get the drift. 

2109 days ago
Yesterday I noted the obsene deception practised by the taxpayer funded BBC as part of its institutionalised hatred of the State of Israel. Not to my great surprise folks came back not only to defend the BBC but to abuse words such as genocide in relation to Israel's action. The abuse of language, the distortion of data and the outright lies used by the haters of the Jewish state is appalling and in relation to Gaza I expose their fiction for that is what it is. What drives these folks? Is it hatred of Jews or something else.If you want facts not spin for Hamas this is the podcast for you.

2574 days ago
It is Tuesday night in London and the News at Ten from the biased BBC reports on the stabba from Jaffa. Fiona Bruce lets us know that ten folks were stabbed including an American tourist in Israel but the identity of the assaillant is not known. Frigging hell it was a bad night for the wicked Jews - including as it happens a heavily pregnant woman - was it not and they still have no idea who did it?

Perhaps the BBC could have put this in context. There were three stabbing incidents in Israel on Tuesday. There are several each week. Without exception the assailant is from Gaza and the victim a wicked bloody Jew. And without exception the terrorist filth of Hamas will praise the attack and claim it as one of its.
Oooops did I say terrorist filth? How remiss. Perhaps I should desceribe Hamas as the BBC does "The legitimate Government of Gaza which execute opponents without trial and kills homosexuals but we dont mention the last two matters as it is a bit embarrassing. Anyhow they get vast amounts of EU aid so they must be good fellows."
Indeed the BBC could have gone one better for by 10 PM GMT the suspect had already been detained for several hours. Israel being Israel the cops had not killed him on sight or - as they do in Gaza

2690 days ago
And so I am back in Shipston with the deluded lefties, my father and step mother. On Syria, Jihadi John, supermarket waste we, rather alarmingly, find ourselves in agreement. But then they produce the Amnesty Christmas catalogue. My heart sinks.
Amnesty thinks the US is evil for executing its own citizens. The Saudis can do no wrong even though on a per capita basis they are top of the execution pops. Amnesty loves the Palestinians and loathes the Israelis. I ask where is the tea towel celebrating Gaza gay pride? My step mother is not impressed.

My father has marked me down for a book called something like

3149 days ago
What is it about the intolerance of the liberal left/Islamofascist alliance when it comes to free speech? I do not deny anyone the right to say that they support Hamas and why, that is their call. They are on the side of terror, of homophobes of folks whose desire is genocide but they have the right to be heard. And that is pretty much the view of all Israel supporters we believe in a free world where folks can say or do what they wish.
In Israel one can dissent, one can speak out against the Government, one can pursue a career if female and you can sleep with whom you want. In Gaza life is very different and it is shameful that in the UK supporters of the organisation whose charter commits itself to wiping Israel off the map appear to be adopting a similar attitude to free speech.
My pal, Mr Frog (not his real name) works for a FTSE 100 listed marketing and communications group. He is a vocal supporter of Israel and of her right to defend herself. He does not celebrate the death of any innocent in his tweets or Facebook pages but he is clearly partial. And this has come to the attention of certain Islamofascists in the UK who have now swamped his employer with emails accusing Mr Fish of "racism" and "supporting child killing."
This is clearly bogus but such is the fear

3172 days ago
The abuse storm on twitter continues. The kids in Gaza are being used by Hamas as human shields for the rockets which at this very monent are landing in Tel Aviv aimed not at military targets just at indiscriminantly killing Jews.  The West continues to fall for the Hamas lies hook line and sinker. Why will it not accept a ceasefire? I am not budging an inch in my views and bring you once again the excellent "We Con the world" video from the uber-wonderful Caroline Glick and her team at (the late) Latma TV. Enjoy.



 

3173 days ago
My views on the situation in Gaza are pretty clear but are summed up in my weekly video postcard HERE.
I have been subjected to a hailstorm of abuse on twitter. One fellow said Israel should show moral superiority by defending itself without attacking rocket sites in Gaza. Hmmm think about that one. He was one of the more reasonable fellows.
Meanwhile Social Media is flooded with pics from Gaza supplied by Hamas and dutifully carried without verification by Israel haters such as the BBC. In that vein I invited you to play "spot the difference" on one picture currently doing the rounds to show how wicked the frigging Jews are. This is an alternative to the caption contest.

Entries in the comments section below
For what it is worth my entry is: "If the BBC says it was the wicked Jews who killed those kids both times surely we must believe it."

3174 days ago
Greetings from Greece. As you can see I am now feeling a bit more relaxed in the Greek Hovel. I seem to have curbed the wildlife diversity (touch wood) and explain why I can now wander around barefoot.
A lot has been achieved whatever comrade Dan Levi might suggest on twitter. But there is a lot of work still to do so a summer of sweat and graft still lies ahead.
Moving on from the hovel I turn to Gaza, You know where I stand - #IstandwithIsrael – but I explain again why Israel and Hamas

3174 days ago
I noted the other day that there is no moral equivalence between Hamas and Israel. Hamas fires rockets to kill Jews. It does not target it just wishes to kill Jews. Israel sends in planes to target rockets. The fact that Hamas puts its rickets in schools, hospitals and residential areas means that Israel kills civilians. Hamas uses its own people as a human shield. Hamas seeks civilian death, Israel seeks merely to prevent civilian death.
Yet still folks here in Britain line up to defend Hamas and attack Israel. Have they watched the latest Hamas video posted on YouTube (now removed) in Hebrew? It is a war song including the line:

3180 days ago
Mistakenly I replied to a Jew hater on twitter today who was accusing the Israelis of "carpet bombing" Gaza. At once I was accused of not caring, supporting murder etc. by a collection of folk who just cannot see the facts.
Fact 1. Israel is not the aggressor. It bombs Gaza to take out rocket launchers which rain death down on Israel.

Fact 2. Those firing the rockets do not care who they kill. The rockets land randomly and could kill men, women or children. These rockets are not targeted at military sites just at Jews.

Fact 3. Israel only bombs Gaza when it is seeking to take out rockets not just to kill Arabs. Unlike Hamas it is specifically targeting military sites, i.e. rockets.

Fact 4. 

3446 days ago
I should not have risen to the bait and commented on the video which tried to smear the entire Israeli state and people as racist. I was goaded into it on twitter and responded with a detailed critique showing why and how the video was at best crap journalism and at worst crude propaganda.
The argument I outlined is full and detailed and can be found here.

What happened then? I have now received a stream of abuse and hostile comments on twitter. Not one of the folks care to answer questions about why Israel HAS to observe higher standards than the EU on illegal immigrants if it is not to be racist. Not one cares to comment on the Falashas. Not one cares to comment on the Israeli Supreme Court banning camps which are deemed kosher across the EU and in Australia. No one. There is not one answer on those matters.

Instead there are comments of two types. 

There is abuse. One Russian Jew hater says I should compare the actions of the Israelis to Sudanese people with those of the Nazis to the Jews.  Anyone who makes that sort of comment is patently a Jew hating bigot beneath contempt. 
Others choose not to discuss the FACTS as outlined in full but just hit back with other questions.  Surely Israel is racist because it does not:

3473 days ago
There are many reasons why I cannot give blank cheque support to UKIP although I am a profound Eurosceptic but here's one for starters: the abject failure of Nigel Farage to purge his party of some pretty obvious Jew hating scumbags. I refer to the UKIP Friends of Palestine, a group with only 30 members but whose pronouncements are just shocking.
This bunch of scumbags last week announced
"The genocide of the Palestinian people by the current Israeli government is no different to the genocide of the Jewish people by Nazi Germany."
On Facebook the Jew haters state:

3576 days ago
Trying to find out how much money the EU has given to Gaza in aid is almost impossible but you will be delighted to know that we are the biggest backers of this regime. And so just what sort of regime are we shovelling cash to? In that vein I read press reports this week where senior court official Khaled el-Batash argued that Gaza courts should have their own police, who would implement court rulings by publicly executing condemned criminals.

Public executions would serve to deter Gaza residents from serious crime, he argued. The Hamas regime has already reintroduced the death penalty for a number of crimes, among them murder, rape, drug dealing, and - the most heinous of all, "collaborating" with Israel. That charge is appled to those who who provide information on terrorist activity that is used to assassinate terrorists or otherwise thwart attacks. In other words if I report a potential suicide bomber or the site of an illegal rocket launcher to the wicked Jews I can be executed.
Some of these executions have indeed occurred without a formal trial and in public but it seems now that the "moderates" are on the back foot and that there is a push for more public executions. And this from a regime that is only solvent because of EU aid. It is always good to know that my taxes are going to such good causes.

3714 days ago
Apparently David Ward is a Lib Dem MP for some GNSH. I had never heard of this prize shit until today when he opined that Israel's actions in Gaza could somehow be compared to the holocaust. It is a free country and this nonentity of an MP can say what he wants but coming two days before world Holocaust day this is offensive and factually just plain wrong. Actually it would be offensive and plain wrong at any time.
In the holocaust more than 75% of European Jews were rounded up and systematically murdered in Death camps. Gassed, shot, burned, often used for medical experiments, European Jewry was almost annihilated. That is a holocaust.
Israel operates no death camps in Gaza. It does not attack Gaza just because it hates Arabs. It seeks to take out military targets which folks, who do openly boast of their desire to inflict another holocaust on the Jewish people, deliberately locate in residential areas. Israel attacks military targets deliberately sites in residential areas because Hamas attacks civilians in Israel because it wants to kill Jews. Any Jew will do.

3772 days ago
Thanks to my pin up girl Melanie Phillips for the lead on this. This is for those who argue that either Hamas wants peace or that it and Israel are morally equivalent. The truth is that Hamas wants a one state solution, a final solution. It wishes to destroy Israel which is why ship loads of rockets are currently on their way to Gaza from the Islamofascist Republic of Iran.
The last ceasefire started in January 2009, it took three years and thousands of rocket attacks on Israel before she retaliated.
Hamas are Jew haters bent on genocide. Watch top of the pops from the Hamas TV station Aqsa TV and please explain why I am wrong?
First up ( from before the ceasefire) is that little ditty:
'Killing Jews is worship that draws us close to Allah'.

3777 days ago
I have rather lost track on how Abu Qatada's claim for a far bigger council house and £10 million compensation is going. But the Islamofascist lover of terrorism continues to enjoy liberty and a lavish lifestyle in a country he despises thanks to its taxpayers. Even Call Me Dave seems to think that there is something not quite right about all of this. But meanwhile we must not infringe the human rights of this repellent human being. That is Al Qatada not call Me Dave.
And so without infringing the human rights of the bearded nutter (since the Kent Police will probably arrest you for it) I ask you for suitable captions to this picture (and I challenge Jon Pickles to get Prince Harry in here).
The winner will receive a Piss off Argentina T-Shirt which of course you can buy exclusively here.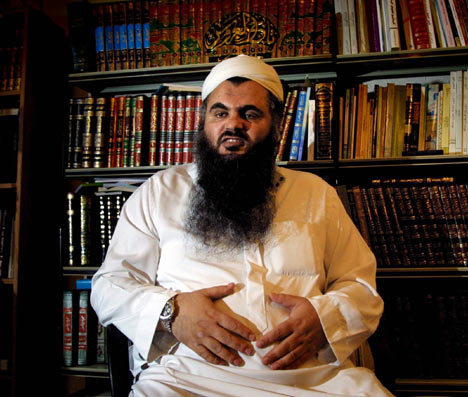 My entry is: "The BBC's new Middle East correspondent gives his balanced opinion on the state of play in Gaza"

3777 days ago
Radio Four's Today programme reported on Thursday morning that the "ceasefire in Gaza had largely held overnight." Well what does it actually mean by that? On the Israeli side not a single shot was fired. Back in the Islamofascist state of Gaza the first rocket heading towards Israel went off exactly 34 minutes AFTER the breakout of peace in our time. By the time Radio 4 broadcast this canard, 15 rockets had landed on Israel. So by "largely held" what the biased BBC actually means is that the Israelis kept to their word but the Gazans fired only 15 rockets whereas they normally average about double that overnight."
Just imagine how the BBC would have reported it had Hamas not fired any rockets but the Israelis had dropped a couple of bombs. Would it have been "largely held" or a rant about how the fucking Jews were war mongering bastards whose word could not be trusted and had no desire for peace? Next stop for Bibi Netanyahu a war crimes tribunal in the Hague. What do you think?

3779 days ago
The Pallywood lies get better by the second. For today, lets go to Canada where the "Palestinian Association of Hamilton" (Ontario) held a rally to protest against the vile Israeli violence rained down on the peace loving people of Gaza. In order to attract supporters they sent out a flyer showing a picture of an innocent little Gazan kid covered in blood after the fucking Jews bombed his family home. You could cry. It was so touching.
The blurb on the flyer stated " Israel has launched another offensive against the people of Gaza. In 2009 during "Operation Cast Lead" the Israelis killed more than 1400 Palestinian civilians of which a third were children. They appear determined on replicating that brutality."
Naturally the deluded lefties of the Western press gave the rally widespread coverage buying the line about a one sided conflict.
Unfortunately, it has now emerged that "the innocent Palestinian baby" in is fact an innocent Israeli baby bloodily injured by Palestinian rockets in the Hamas attack on Kiryat Malachi.
Whoops a daisy. No apologies from the media that covered this lie. But it gets better still. Far, far better.

3782 days ago
On this website some posters who I respect greatly have suggested that Hamas and Israel are morally equivalent. That is, I think naive. Others like the BBC pretend that Israel is the "guilty party" which is just wicked. Let us be clear about is there are a number of clear differences between the actions and motives of the two sides.
1. Israel is committed to a two state solution. Hamas is committed to a final solution. A one state solution not involving Israel. Its charter states as much. Its leaders talk openly of sweeping the pesky Jews into the sea.
2. Israel fires rockets from clearly identified and isolated military positions (usually the sky) targeting military figures in order to protect its civilians. Hamas fires rockets targeting, in an utterly indiscriminant sense, Israeli civilians and using its own civilians as military shields.

3786 days ago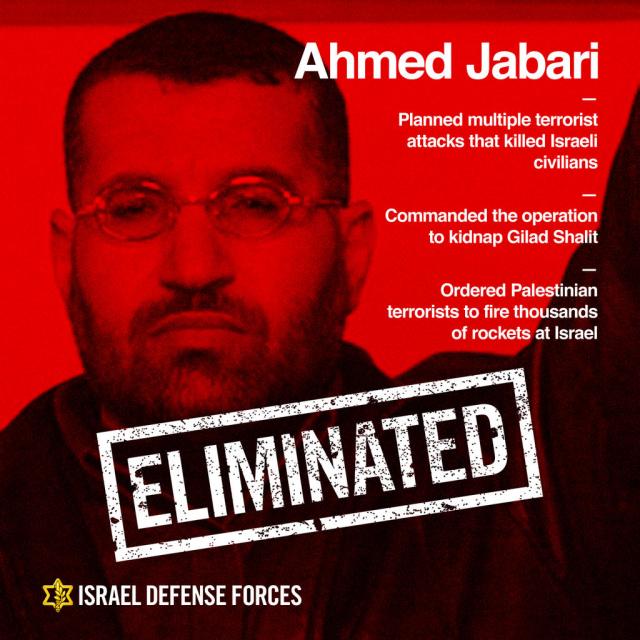 Whatever the BBC says, the World is a better place today thanks to the IDF.

3786 days ago
For once the BBC and the Guardian do not stand in the dock alone. It seems as if the entire Western liberal elite and press corps are united in condemning the wicked Jews, oops they meant to say Israel, for taking out Ahmed Said Khalil al-Jabari today. Old Said was the head of the military wing of the Islamofascist Hamas organisation that runs the Gaza strip today and thanks to a precise strike from the Israeli Defence Forces he is now on a one way ticket to hell.
I support the brave IDF 100% and am this evening celebrating the death of this bigoted murderer. It seems that deluded lefties across the planet have a different view.
The BBC coverage stands out for its extreme bias. No surprises there. On its website today the lead story reports:

3864 days ago
A court in Israel has today rejected a claim brought against the Israeli state by the parents of "peace activist" Rachel Corrie who died while protesting on Gaza ten years ago. She died crushed by an Israeli army bulldozer. It must have been a horrible death. But this photogenic girl was no saint. She was just misguided and silly and was not murdered.
In the West, Rachel has been almost beatified by the liberal elite. Alan Rickman wrote a play about her life. There have been numerous songs written and the narrative is clear: "she was entirely innocent and the Israelis deliberately killed her as she did nothing wrong."
That is simply not true.

3920 days ago
On June 30th 2012 the Israeli Defence Forces (aka, according to the biased BBC and liberal Western media, child eating monsters) delivered 6,950 tonnes of aid to Gaza – that is food medicine, building materials, auto parts – everything. This was not a one off gesture to celebrate my daughter's birthday the day before. 6 days a week the IDF delivers aid to Gaza – on average circa 170,000 tonnes a month. That is a lot for a small place like Gaza. So what does Gaza send back in return?