How many unsolved robberies, murders and rapes were there in God's chosen county of Essex last year? I don't know the answer but it is good that the Essex cops can take time off from tackling actual crimes to send out their tweets regarding Trans Day of Remembrance (#TDOR), one of the 109 special days for the 2.7% of the population who are LGBTQA+.Not only are the fuzz wasting resource with this pointless virtue signalling but the useless rozzers can't even get their facts correct as one respondent to the idiotic tweet points out, as you can see below.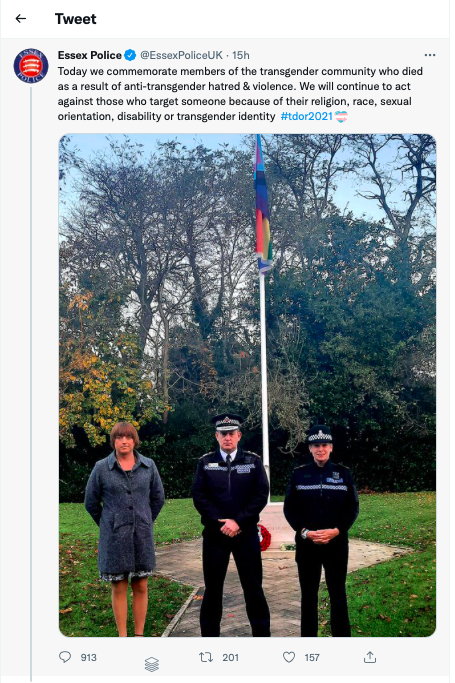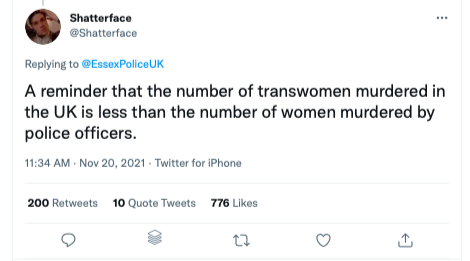 So how many trans folks are murdered each year and are they so vulnerable that they merit a special day of remembrance. Amazingly it is Channel 4 fake News and its fact check service which served up an answer three years ago. I quote:
This Tuesday was the international Transgender Day of Remembrance, which exists in part to commemorate transgender murder victims around the world. Some commentators have described an "epidemic of violence against trans people". Let's take a look at the statistics.
How many trans people are there in the UK?
The latest government publication on the topic (acknowledging there is no robust data) "tentatively" estimates that there are between 200,000 and 500,000 trans people in the UK. That includes the 4,910 people who have been given legal recognition of their change of sex in the form of a Gender Recognition Certificate as well as those who self-identify as transgender.
Using the government's figures, we estimate that trans people make up between 0.3 per cent and 0.75 per cent of the UK population.
How many trans people are murdered in the UK?
The Office for National Statistics (ONS) confirmed to FactCheck that "it is not possible to identify transgender victims in current homicide statistics" and "the sex of a homicide victim is determined by the police force that records the crime". In other words, there is not yet an official, standardised method for recording the deaths of trans people across the UK. The ONS told FactCheck they are working across government to "develop clear harmonised standards" for collecting data on sex and gender.
But for now, we'll have to use unofficial figures. For the purposes of this article, we're going to use stats from the trans rights organisation, Transrespect Versus Transphobia Worldwide. This is the source of figures often cited by trans campaigners.
So what does that data tell us?
The latest Transrespect report says there were 369 "reported murders of trans and gender-diverse people between 1 October 2017 and 30 September 2018" around the world. Nearly half of those (167) took place in Brazil, and a further 28 were recorded in the United States. According to these figures, there was one trans person murdered in the UK in that time, and a total of nine trans people were murdered in the UK between 2008 and 2017. That's an average rate of one victim per year.
A back-of-envelope calculation based on this data would suggest that the average trans person has a one-in-200,000 to one-in-500,000 chance of being murdered in the UK over the course of a year.
How does that compare to the wider population?
Figures from the ONS for 2008 to 2017 show that the average adult in England and Wales has a one-in-100,000 chance of being murdered in a given year. The limited data we're working with suggests that in the UK at least, a trans person is less likely to be murdered than the average person. The limited data we're working with suggests that in the UK at least, the "trans murder rate" is lower than the UK average.
Ends
Of course things may change. And with such small samples were the trans murder rate to go up to say three deaths in a year then trans folk would be as likely as the rest of us to get murdered. But is that hapening? Er no … the big growth area in murders, especially in places such as Essex, is gang related and knife crime often linked to drugs.
And there is another matter. There seems no evidence that the few trans folk who were killed were killed becuase they were targetted as trans. It is highly probable that, at least some, were killed as a result of domestic disputes or other non bigot-related reasons. In other words, in many years it is ossible that no trans folk at all, are killed for being trans, something the Essex rozzers seem to think is a major issue.
But hell: why let the data get in the way of some good virtue signalling by our increasingly institutionally useless coppers. 
If you enjoyed reading this article from Tom Winnifrith, why not help us cover our running costs with a donation?