In any study, you need a control group. When it came to train-wrecking your economy, driving folks to suicide and causing untold misery through mask-wearing, social-distancing, and staying away from dying relatives, the European control group was Sweden. The MSM did the bidding of the experts and a united political class, warning that Sweden would see mass deaths and that the streets of Malmo and Stockholm would be piled high with bodies. Well, not quite, but the language was apocalyptic. Ultimately, we dissenters were wrong, and citizens should only ever "follow the science". Or else, it would end badly for us all back in Airstrip One.
The vicar of Shipston bullied those of us at my father's funeral, if we dared question why she was being such a Good German and doing what the wretched Church of England instructed.
So, for all those mask fascists in my home village, for all in the failing Church of England, including the vicar of Shipston, for the propagandists at the BBC and purveyors of fake news at the FT, here is a graph to explain away. If you were all right, and if folks like me were wrong, Sweden would have far more covid deaths per million than any other European country. In fact, it is bottom of the table, which suggests that lockdown was pointless, and all that collateral damage cannot, in any way, be justified.
Yes, my joining the choir and singing at my father's funeral would not have put anyone in danger. Who would have guessed?
Folks like Whitty and Van Tam stand utterly discredited for imposing policies upon us, which have caused untold misery. They should lose their knighthoods and then their liberty. The entire political and media class conspired in this and, even as the hard data racked up during the scamdemic, showing the folly of what they were doing, they ignored that data and told us to "follow the science." After this monstrous lie, and after the Hunter Biden cover-up which saw an election stolen, do the political and media classes wonder why we plebs view them with unbridled contempt?
As for the mask jihadists of my home village, Holt: perhaps you all owe me an apology for being so hostile to anyone challenging the GroupThink?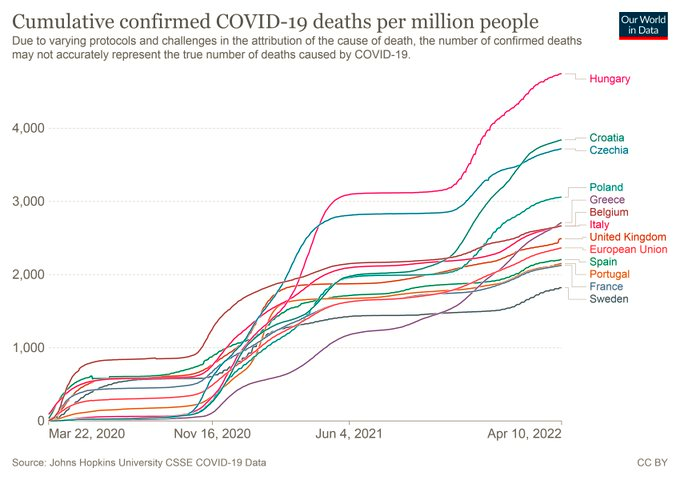 If you enjoyed reading this article from Tom Winnifrith, why not help us cover our running costs with a donation?