tax
38 days ago
The River Dee which flows at the edge of my fields is meant to be a clean home to salmon and trout. Its banks should be home to a range of wildlife including Kingfishers, I saw one a few weeks ago, and a rare sort of dragonfly. My, now water-logged, fields are home to frogs, toads, snakes, aquatic birdlife and much more. This morning, as you can see below, there is a large compostable toilet stuck on the English side of the river, leaking shit.  The story of that loo and its shit is one which leaves me in despair at a broken Britain with a Police and local council ( Chester and Cheshire West) who are not underfunded but are just useless, protecting those who break the law and telling we honest taxpayers to go fuck ourselves.

157 days ago
I can show that there is in individual running two operations here on the Welsh English border who has all the hallmarks of someone dodging large amounts of tax. There is no company behind either site and, posing as a potential customer, I was offered the option of paying a basic fee in either cash or a bank transfer to the individual's account. All ancillary goods or services are bought on site for cash. Workers appear to be paid in cash. It strikes me that with UK taxes at 70 year highs, going after those avoiding corporation tax, payroll taxes, enabling staff to avoid income tax, etc would be something the Government would want to do.

196 days ago
UK Government borrowings are now at almost 100% of GDP. That should be a sort of ceiling if we do not want to go down the Greek path to bankruptcy. So if the state wants to spend more it must raise taxes which are already at a 70 year high. One group of public sector workers who think they should earn more, paid for by folks who – on a mean average basis – earn far less than them paying more tax, are the junior Shipmans. Meet James who is 28 and explains his financial woes to this week's Investor's Chronicle as you can see below.

255 days ago
Just for a hoot I visited the Supply@ME Capital (SYME) thread on ADVFN (AFN). You should try it, it really is a laugh, rarely have I encountered such moronic fantasists. There is almost no discussion of fundamental analysis of Supply yet still plenty of dreamers wondering what colour Ferrari they will buy when it all comes good. That the shares are down by almost 50% over the past year and by almost 90% since peak ramp is, according to many posters, down to one thing:

279 days ago
I have commented HERE on the scandal of the £216 Lush blow up involving Andrew Monk's VSA Capital (VSA). That is the VSA which is happy to act for the crooked insider dealing market abusers at Caracal Gold (GCAT).as it finds itself under a full blown FCA Enquiry. So who better to lecture, in the tweet below, the ethical chaps at Lush on corporate ethics than Mr Monk? What next? Nadhim Zahawi lecturing us all on why we should pay more tax? Matt Hancock on the sanctity of marriage? David Moyes on how to manage a football club? 

602 days ago
Fear not,no waffle, this is not bad.  I start with Rishi Sunak, his Mrs and tax non-payment. Then I look at Canadian Overseas Petroleum (COPL), caught telling another monster porky today, Vast Resources (VAST), Omega Diagnostics (ODX), Victoria Plumbing (VIP), Arden Partners (ARDN), Ince (INCE) and a new uber dog on the Standard List, Ajax Resources (AJAX), another overvalued POS example of crony capitalism.

783 days ago
I am no fan of Tony Blair. I view him as a war criminal and believe that what he did as Prime Minister in the Cool Britannia era was largely a disaster. His business dealings stink, all in all, he is a total rotter as is his utterly ghastly wife, the Wicked Witch. However, folks like Andrew Pierce of the Daily Mail are harassing the old scumbag today on grounds that are simply wrong.

800 days ago
It is your money that is being pissed away by the State and with the tax burden at record highs the Taxpayers' Alliance served up two examples of rank hypocrisy and incompetence that will leave you fuming.  First up is the greed and hypocrisy of TUC leaders and, yes you are paying to support this rotten system for these days most Union bosses represent workers in the public sector.  Next up is the shocking amount local councils have recklessly speculated on commercial property as they "knew better" than Mr. Market as prices tumbled. Of course they did.

815 days ago
In their 2019 manifesto, the Tories said they would not hike Income Tax or National Insurance. Today we learn that an NI hike of 1-1.25% is planned to help shorten NHS waiting lists and to pay for care for the elderly. So the Tories lied. But it is worse than that. What is proposed is manifestly unjust, it is the transfer of wealth from those without to those with it.

870 days ago
Always spotless, green and neat, The smoothest woke spin gets them. I misquote, of course. But I am sure that the lead singer of the Undertones, who produced the classic My perfect cousin, now that we have a CD machine here, often playing this year at the Greek Hovel, will not object. These days Feargal spends his time campaigning on river quality. What else would an ageing punk do? The tweet below demonstrates the hypocrisy of big finance on ESG matters.

894 days ago
On an almost daily basis, some woke dullard makes the claim that we wicked Brits all benefitted from the slave trade and need to cough up. Invariably, the same sort of folks say we should forgive and forget events of eight years ago in Europe, most Germans were not Nazis they say. The only problem apart from the logistics of reparations – who gets the moolah – is that both statements are not true although in 2021 I am probably not allowed to say that. Here goes anyway… let's start with the Hun.

909 days ago
Okay, tomorrow is the big day. If you are yet to donate please do so HERE as the Rogue Bloggers are now just over £2,000 off target. In today's podcast, I discuss at length issues arising from the Skinbiotherapeutics (SBTX) and Optibiotix (OPTI) issue where Steve O'Hara says a man who took a company to the Isle of Man knows nothing about tax! Then onto the fraud Zoetic (ZOE), company specific issues and the wider one, raised by promoter David Lenigas today, of the increased risk caused by margin buying of small caps.

946 days ago
The photos later (not of underpants), the walk is done but I paid the penalty of ignoring dan's golden rule. We have now raised more than £14,000 and as you think of my pain today will the 96% of bearcast listeners who have yet to donate please do so here. Otherwise I will talk about Dan's underpants again. In the rest of the podcast I take issue with ex soccer player Andrew Johnson on tax and then look in detail at the claims made by Versarien (VRS) about its graphene enhanced face nappies and why they do not stack up at two levels and, as such, why there really should be a UK product recall.

999 days ago
The Tories have been cutting taxes to help their rich pals while screwing the poor! I am sure I have heard that on the BBC about once a day for the past decade and it is what our schools and universities teach their kids. But oh no, the truth is very different. As Rishi Sunak prepares for more tax hikes in his budget, the Taxpayers Alliance has published new research showing what a Con the Tories have been while claiming to be a low tax party. It is shocking.

1054 days ago
I start with Tesla (TSLA) and a mad broker target. I discuss why it is mad and look back to ARM in the year 2000. Then it is onto plans to allow companies to delay results even more. Mentioned en passant here are Pires Holdings (PIRI) and Inspirit (INSP). Finally I turn to the idea of allowing folks to delay filing tax returns and paying tax.

1360 days ago
In a just world Dev Clever (DEV) boss Chris Jeffries would be in jail for selling shares while sitting on undisclosed adverse financial news.  But while he still enjoys his liiberty he has announced the purchase of a crap company from some tax dodgers. Will he inform HMRC of the deal so ensuring the matter is dealt with?  he is clearly an honourable man….

1516 days ago
Almost but not yet. Pro tem I look at the ethics and tax affairs of soon to float AirNb and then at this week's utterly dishonest journalism in the Sunday Times, Burford (BUR) and the issue of revenue recognition.

1954 days ago
I have today written to the HMRC as it appears that Julie "Lingerie on expenses" Meyer MBE may owe it around £200,000 in unpaid tax. I say "may", I hope – given the parlous state of the UK's finances – that it checks this out to see if it indeed this is money owing. It is all to do with her apartment in London.
Of course, Ms sex toys on expenses, already has unpaid tax due

1956 days ago
More money for the NHS promises wretched Theresa May, citing a bogus Brexit dividend then 'fessing up that taxes will have to go up too. And now it seems that bone idle and overpaid teachers are going to get even more money too.  But it is not as if taxes are, whatever dumb snowflakes and dumber politicians claim, too low. Au contraire.

1995 days ago
One of the joy's of being in Shipston with my father is getting to answer the phone for him. "Is that Tom Winnifrith?" says someone from the numerous virtue signalling charities run by legions of grossly overpaid Guardian readers, who he supports with his cash. Truthfully I answer "yes." I am then treated to a long spiel about all the valuable work they are doing out in bongo bongo land followed by an appeal for an increased monthly donation.

2018 days ago
As we saw earlier Julie Meyer MBE appears to have forgotten to pay any tax on the Capital Gain she enjoyed when selling First Tuesday 18 years ago. Sadly for her the US tax authorities at the IRS have caught up with the devoutly christian tax avoider but are not demanding all their cash at once because it appears that poor Julie really is flat broke. Thanks to Winnileaks I bring you a filing Julie made to the IRS.

2018 days ago
Oh dear, oh dear, another day and another set of documents arrives at Winnileaks. Yesterday we showed how devout Christian Julie "more lingerie on expenses" Meyer MBE was in deep merde with the US taxman, the IRS and had also committed a criminal offence in lying to the IRS by not declaring a source of income. Today we expose Ms Meyer's equally worrying problems with the British taxman. She may have a letter from the Queen and an MBE but she has been depriving Her Majesty's Revenue and Customs of money that is rightfully its. Naughty, naughty.

2074 days ago
What is it with small and mid caps on the London market and their inability to budget for tax bills? I start to wondser how many FD's out there received their training in such matters from the late Sir Ken Dodd or from Lester Piggott. Following on from the debacle at Conviviality (CVR) next up is Nature Group (NGR).

2188 days ago
I start with a look at whether some current assets are really current assets, taking my inspiration from my earlier analysis of Jim Mellon's flagship dog Regent Pacific. I explain why getting this right is so important in endeavouring proper company analysis. Then it is onto Friday's market sell off caused by what even ABC now admits was 100% fake news about Donald Trump. I look at the tax plans of POTUS which are inspirational and compare them with the rhetoric coming out of Jeremy Corbyn's Labour Party. I increasingly think Corbyn will win the next election and explain why that would be such a disaster. Tomorrow there may be no bearcast as I am travelling but I plan to do a double video share tip for paying subscribers only

2215 days ago
I start with the latest offshore revelations from the Paradise Papers. Tune into BBC 1 tonight at 9 for more fun. I delight in Margaret Hodge the Labour MP being exposed as an A grade hypocrite on this matter and then point out how it is impossible to stop folks going offshore - the answer is not to deter them with punitive UK tax. I look at Concepta (CPT) - which we own - after today's statement, Purplebricks (PURP)  and shamed FinnCap's latest tech disaster Intercede (IGP) where its certainly placing ahoy. Then I cover the issues of ramping, de-ramping and stock promotion.

2299 days ago
Okay I have called the top before but the house price crash is underway. I explain why and it involves cutting off the supply of dodgy foreign buyers in London, changes in Buy to Let Tax and new costs for landlords, it involves external shocks and an over-borrowed British consumer. It is already underway and this crash will be brutal. I look at what to invest in and what to short. I do a short section on Purplebricks (PURP) which is one of THE top stocks to short in the UK.

2373 days ago
I would like to see a low tax small state Britain. Sadly that dream is not shared by any of the money tree worshipping political parties but I can still hope. Instinctively that makes me view HMRC as the pantomime villain, a body to be hissed and booed whenever it comes on stage to try and get more cash out of hard working folks. But in the case of HMRC vs Gary Lineker, the jug eared virtue signalling poseur, I will not be warning Mr Walker's Crisps that "he's behind you", I cheer on the taxman at every turn.

2381 days ago
Arron Banks is a big UKIP backer as is his pal Jim Mellon, although the old asset stripper of Uramin infamy is not actually allowed to vote in the UK as he lives offshore in the Isle of Man. Private Eye this week looks at how the two men have not exactly prospered by backing the underperforming, sub scale, IOM-based, AIM-listed, bank Manx Financial (MFX). It also questions whether Banks is as rich as he claims. Enjoy...

2572 days ago
I thought last week's odd one out contest was a piece of cake but no-one got it right although one person was getting there. Okay: it is all about tax if you think about the four images below.

2647 days ago
So the Evil Empire is forcing Eire to claim back £11 billion of back taxes from Apple and nearly all conservative commentators say the EU is 100% wrong. At one level it is and I hope that Ireland invokes the spirit of Easter 100 years ago, tells the EU to feck off and goes for Irexit. But this will shock you, in a sense there is a valid moral point that the EU is making. Gosh much though I loathe and destest the EU I offer it some praise in this podcast. There is a first time for everything.

2681 days ago
Every morning at around 6 AM I hear a sound at the front door, here at my father's house in Shipston, as a little man pushes a copy of the Guardian through the letter box. My father can hear the same sound from upstairs and emits a grunt of approval and prepares to start his day with a mug of coffee prepared by me and a dose of poisonous lies from Polly Toynbee and her mates. The paper is written by middle class lefties who are filled with hate for so many things but mainly the value set of the working classes a group they claim to support but clearly despise and just never meet. Each day there is stiff competition for the nastiest and most inaccurate article. Monday's winner on both counts was a classic from Joris Luyendijk "After Brexit, a game plan for the EU, unleash Project Pain"

Joris wants the EU to be as horrible to Britain as possible, 

2710 days ago
Recently listed Papillon Holdings (PPHP) is - as Cynical Bear pointed out here - clearly an overvalued rum and coke. But in its brief existence it has at least achieved something: helping the FD slash his tax bill. Oh what jolly good news for the crony capitalists, coke and hookers all round.

2712 days ago
The UK Investor speaker, Moneyweek columnist and gold guru and professional comedian Dominic Frisby sends me a flyer for his gigs at the Edinburgh Festival. Unlike some want to be writers, such as Ben Turney who are accidental comedians in that we just laugh at them, Dominic really is a professional comedian and is very funny so if you are in Edinburgh this year go see him. His main gig is Tax!

2790 days ago
In order to persuade us all that he has done nothing wrong David Cameron has published his tax papers going back to 2009. The only problem is that they demonstrate explicitly that he avoided paying tax ( £70,000of tax) by a legal sleight of hand. You and I would not only have not known about that trick but also not been in line to inherit the sort of vast sums that Cameron and his sisters inherited. We are the little people. We pay taxes at normal rates.

Cameron's old man left him £300,000 direct. That woukd be £300,000 of money from the Blairmore Trust where returns were increased by not having to pay tax becuase it was based offshore. And that money went to Call Me Dave tax free. 
Most of Cameron's old man's cash went to Cameron's mum ( that would also be offshore cash as per the Panama Papers). 

A few months after CMD picked up the £300,000 ( tax free because it was under the £325,000 IHT exemption limit), Mrs Cameron senior handed CMD

2792 days ago
Finally at the fifth attempt David Cameron says that he has come clean about the offshore Blairmore Trust set up by his late father and exposed in the Panama Papers. Or has he come clean?

2793 days ago
David Cameron's late dad set up offshore trusts to avoid tax. It was legal but in the view of many of us a tad seedy. Did Call Me Dave or his family benefit personally? Cameron has now issued four statements but not answered the critical frigging questions.

In statement one Cameron said it was none of our business, in statement two he said he owned no shares or offshore Trusts, statement three saw CMD saying his family and he were not benefitting from the trusts and statement four said they will not benefit from them.
But the specific questions we really need to have answered are:

2798 days ago
It is the birthday of the Mrs tomorrow and so tonight we entertain 20 of her mad lefty friends and no prizes for guessing who is doing all the cooking. It is her birthday but to have to cook then be nice to her mad friends as well is surely a cruel and unusual punishment for me. In this podcast I discuss a raft of tax issues including the Corbett question. Then it is a preview of "how not to be a bulletin board moron"

2893 days ago
Libertarian Mark Littlewood of the IEA is a Question Time Regular and came along to Gold & Bears to give a compelling presentation on the mess we are all in. Debt is toxic and the answer is not more tax but less.

3080 days ago
The vast amounts of tax the Government imposes on those of us considerate enough to avoid the NHS having to treating us for Alzheimers and other diseases associated with longevity, means that 1 in 5 packets of fags bought in the UK are now smuggled. Here in Clerkenwell I have a dilemma.
My retailer of choice knows me well and when I enter and point below the counter I am usually offered a packet of finest Polish or Vietnamese Marlboro Light at £6.50 a pop. But occassionally the under the counter stocks run out and after a shake of the head I am offered legit fags at £9.69.
At that point I am too embarrassed to say

3085 days ago
There is no austerity in Britain under the "wicked Tories". Since 2010 Government spending and the national debt has risen year on year. The burden our children will inherit as a result of this profligacy mounts daily.

Yet today in London a couple of hundred thousand folks - c0.36% of the population to be exact - have gathered to protest against "austerity". Why do they want exactly? They want the Government to create a bigger debt which will have to be serviced and paid off one day, by spending more. These folks do not appear to realise that the Money Tree really does not exist.

The money will be spent on more pay for public sector workers who already earn more than their peers in the private (wealth creating) sector yet have more job security, throw more sickies, get longer holidays and get cushier pensions. The money will be spent on bloating a welfare system that is already out of control, not a safety net but - for many - a lifestyle choice which includes booze, fags, SkyTV and playing the lottery.

Among the headline speakers are millionaires

3210 days ago
Here we are. My 100th postcard on this website and I am again off to Greece in a few days from where many of these postcards have been recorded. In this issue I look at how the West acts in a way that bolsters ISIS recruitment every time we react to the latest savagery. I also look at the muddle and hypocrisy in the Labour party on the matter of tax evasion and the gutless reaction of the Conservatives to the Labour blather.

3218 days ago
The local Tory candidate for the Bristol East Seat, Theo Clarke has just stuffed a flyer through our letterbox. The Mrs, being a deluded lefty, saw the flyer from Theo – who seems like a nice young lady – and noting the party said "it's for you."
Hmmm. I was hoping to see that Ms Clarke wants to slash welfare spending, introduce huge tax cuts for lower paid workers, and tackle the grotesque waste in the NHS and other branches of Government as she reduced the size of our bloated - and totally unaffordable – state. Maybe she might believe in other Tory policies like law and order or lifting the red tape and regulatory burden on small businesses? Er no….
Her priorities are: 

3279 days ago
I posted videos earlier showing the dreadful weather here in Kambos. That delayed the completion of the olive harvest as did the very Greek way we settle up accounts and so my return from the Greek hovel to England has been postponed. I should now be flying first thing Wednesday which means leaving Kambos tomorrow. Taking a bus from Kalamata to Athens and sleeping at a hotel by the airport for a crack of dawn flight.
I will leave Kambos with a cheque for 1779 Euro in my pocket thanks to the olive harvest. Obtaining the cheque was a bit of a kerfuffle. I fished out my Greek tax number – I am a loyal supporter of the Greek state in its hour of need – and wandered into the olive factory. Easy…
Hmmm. 

3300 days ago
In this podcast I explain why companies that engage in fraud are happy to pay tax from the reporting of bogus profits. It sounds insane but that is the way frauds operate. My hero Sam Antar of Crazy Eddies infamy explians it suoerbly on his website and I discuss both Sam and also Quenron and what is going on here. I also try to explain how tax losses are used and applicable and will not be there to save Quindell

3418 days ago
I am trying to buy a motor in Greece. I think that I have found a second hand jeep which can handle to road up to the Greek Hovel as well as taking me on longer trips. Sadly it's not open top but it has plenty of space n the back for taking junk away. All I need now is the documents that allow me to buy in Greece.
First stop is getting a tax number. I have no intention of paying tax here. You know, when in Rome etc. etc. Well actually I am not going to be channelling any income out here as the tax rates are a joke. Lessons for lefties: if you have high tax rates people cheat the system and the take goes down.
So I took my documents to an accountant. Sadly because my Wedding Certificate is not translated she said "So you are not married in the eyes of Greece and the tax man". Great: "what are you doing this evening I asked her?" She pretended not to understand and we tootled off to the tax office which was – oddly enough – not crowded. I counted about ten staff and three folks trying to pay tax. I think you can say that sums up Greek Government finances in a nutshell.
After a bit of chit chat I now have a tax number. Now I need a residency permit which involves a trip to see the Old Bill in Kardamili tomorrow and I am off. Mr Toad on the Road in his jeep. Toot Toot.

3421 days ago
One of George Orwell's amazing predictions back in 1948 – when he wrote 1984 – is how the plebs would be kept in a state of ignorant servility by pleasures such as the lottery. Malcolm Stacey described it yesterday HERE as a "voluntary tax." Yes but it is a bad one none the less. 
Malcolm is not a normal lottery player. He is intelligent and middle class with an above average income. Your average lottery player is less intelligent than the mean, working or benefits class and on a below average income. 
Poor and stupid people volunteer to pay this tax.

3523 days ago
For various reasons it will be my wife not me making an EIS investment for this year and we will be going for a private company which offers the usual tax breaks, a credible possibility of a tax free capital gain and also a bit of fun. My record of backing wine companies to date is 100% (Chapel Down) and here's hoping it stays that way with Chateau Civrac. 

3543 days ago
The spin doctors of Chancellor George Osborne had leaked much of what he said so it is not as if anyone was waiting with baited breath. What he did serve up was a combination of political posturing and timidity. It is not a conservative budget and it does little for Britain. 
Posturing? The Welfare cap of £119 billion. Hmmmm. I am capped in my size 34 trousers but will binge and booze and then buy a pair of 36 inch trousers. Parliament can vote to lift this inflation adjusted cap and will do so.'
£119 billion is a lot of money. A brave Conservative chancellor would be tackling a system where folks like the vile fat slob and, now patron Saint of scroungers, White Dee can pick up £200 a week tax free and regard welfare as a lifestyle option. Forget setting caps that can be lifted. Start tackling welfare abuse. Cut payments. That is what a country running an unsustainable budget deficit needs.
What about the poor? Osborne has lifted the personal tax allowance by a few hundred quid to £10,500. That is simply not enough. It means that folks earning less than £1000 a month are paying tax. The incentive for those living on welfare need to take a low paid job is not just a stick (which Osborne declines to use) but also a carrot – that is to say to lift the tax threshold to £20,000. 

What about creating jobs? 

3546 days ago
In a secret meeting George Osborne apparently stated that more folks paying 40% tax is good news. They feel happier because they feel like they are successful and have joined the middle classes and so will share Tory values and vote for his party. At every level these claims are stupendously stupid.
As a Conservative I believe that folks should pay as little tax as possible – I have always thought that this was a core conservative belief. We believe in a small state and a society where one is encouraged to work harder to earn and keep more money, not just to pay more in tax for an ever bigger Government to piss away.  And I always thought that George Osborne was meant to be a Conservative. Have I missed something? Has he joined the Lib Dems?

If folks are mad enough to want to pay more tax then they always have the right to send a cheque off to the Treasury and make a voluntary donation. But it should be their call. Not that of a patronising dicked like George Osborne.

As to the idea that if the State steals more of my money then I am likely to reward the party in power? This is sheer folly.

Osborne like most of the out of touch upper class twits who dominate the Conservative Party these days has no idea how the aspirational working and middle classes think. They come from the classes who believe, to quote Leona Helmsley, that tax is for little people." They come from families who have never had to juggle bills and dip into overdraft to pay the mortgage or to pay for Christmas. They simply have no idea how ordinary folks live and struggle.
It is inconceivable that anyone in the Conservative party of Thatcher, Tebbit and Joseph would have spouted such nonsense. But then they were not patrician fools like the current Tory elite.

3562 days ago
UKIP supporters are frothing madly at data showing that 600,000 EU citizens are living in the UK claiming welfare – the answer according to the fruitcakes is to stop them coming here. It is a populist line but a nasty one.  On twitter I am lambasted: "You diss non-working Brits and ex-pats, but then defend benefit claiming EU folks." Of course I do nothing of the sort. It is just that I am not an economic illiterate.
Do I enjoy EU citizens turning up her to claim benefits? Of course not. But I am minded that there are many British ex-pats living in the EU enjoying a range of state benefits paid for by the taxpayers of France, Spain, etc. This is not a one way matter as UKIP tries to pretend.

But there is a bigger issue. I am equally disgusted by our home grown welfare bums on Benefits Street. Frankly I "diss" all welfare bums equally wherever they were born. The way to deal with all welfare bums living in the UK is to drastically scale back the level of largesse of the British welfare state – reinvesting the savings in increase sing the thresh-hold at which all workers pay tax.
The answer is not as UKIP pretends simply to stop other EU citizens claiming welfare payments and State benefits (such as the NHS) here. Aside from the problems that would cause our ex-pats when other countries showed reciprocity, it would deter those from outside the UK who wish to come here to work but might take a few weeks to find work.
For the reality is that British workers simply refuse to take low paid jobs. Those jobs are filled by migrant workers from the rest of the EU. Adopt UKIP policies and British businesses would not be able to employ workers who would allow them to remain profitable. We would all be worse off – something Nigel Farage has admitted.
Showing real compassion to those who wish to work (by arguing for tax cuts for them), but also a grasp of basic economics (I'd like British businesses to thrive) I find myself concluding that UKIP is increasingly a party of populists, economic illiterates and frankly just very nasty people.

3565 days ago
The Winter Olympics is being heralded as a triumph for Team GB and if only we spend even more we are promised even greater glory in 2018 in Korea. Yeah…bollocks.
The claim is that with four medals these were the most successful games for us Brits since the first Winter Olympics in Chamonix in 1924. Er…meet medal inflation.
In 1924 there were 16 events and with one join bronze awarded the UK picked up 4 medals out of a total of 49 medals awarded. That works out at roughly 1 in 12 medals going back to Blighty.
In 2014 there were 98 events (12 more than in 2010) which makes 296 medals awarded so team GB in fact picked up one in 74 medals. As in the book by the Great Melanie Phillips, "All Must have Prizes," Team GB was six times less successful in 2014 than we were in 1924. Keep on adding the events and Team GB might win 5 next time. How about that new winter sport: The 100 metre swim through icy sewerage to reach the village store? I gather that the Somerset County squad is pretty experienced.

The problem Team GB will have is that we do not get much snow in the UK so for most winter sports the only kids growing up to play will be the offspring of the very rich who spent the winter in the folk's chalet in Chamonix. And then there is also curling which rivals whingeing about English oppression and trying to die as young as possible by gorging on Deep Fried mars Bars, pints of Heavy and Benson & Hedges as the national sports of Scotland. A post-independence GB

3567 days ago
I pondered at the end of January the mystery of who had filled in my tax return? Who was my angel? At long last it emerges who was the angel. It was my father. But Dad was not quite as helpful as it might seem.
We were both registered at the same address. He is Thomas John and I am Thomas John Zacchaeus. And so helpfully used my unique tax number to fill in his return. Thanks to the generosity of the Universities final salary pension scheme and to a few other little income streams the old man actually owes HMRC a few bob – I know because he has sent me his return to prove it.

I am actually owed money and so was quite keen to fill in my return but the HMRC started by insisting that I had done so already. When they called my father to clarify the matter he refused to hand over my phone number and berated them for their incompetence. For once I actually feel sorry for the Tax Man as it was not his error.
Finally all is sorted and I have just got a letter saying that the person who was squatting on my unique tax number has been shuffled on and I can file away. If there is any justice the file for late filing will be allocated to the TJ Winnifrith who owes HMRC money rather than to his son, the victim of this whole episode with his tax refund delayed.

3574 days ago
A few days ago I praised Nigel Farage for contemplating what most politicians do not dare – an acceptance that prohibition does not work, the legalisation of drugs. I am now hauled up with the question of taxation as a form of quasi-prohibition. I refer of course to cigarettes.
My local tobacconist in London offers me a choice of regular Marlboro Lights at £8.50 or what he terms "under the counter" Marlboro Lights from Vietnam at £5. I much prefer the Vietnamese Heath Warnings, although I am sure that the smoker depicted is Gollum and I much prefer paying £5 rather than £8.50 and so I buy "Under the Counter".
It is estimated by the Government that 10% of fags sold in the UK are "under the counter." I rather suspect that the real number is far higher. Why is this? Because when I pay £8.50 for a legit pack of fags £6.50 goes to the Government in tax.  That leaves c£1.40 for the manufacturer and 60p for the newsagent. The "alternative arrangement sees the manufacturer get his £1.40 with the criminal smuggler and the retailer sharing the remaining £3.60. The retailer is far better off and as long as he is not caught had probably trebled his profit margin and the criminal smuggler coins it in. You will have noticed that the big loser is the Government whose take falls from £6.50 to nil.

The point is that so great are the rewards 

3607 days ago
The Scots it would appear have negotiated the deal of the Century with England for post-independence financial Armageddon. They get the freedom. The English get to pick up the tab.
The Scots would be able to set their own budgets, their own tax rates and spend as much as they want yet the English taxpayer c/o the Britsh ( or post independence English) Treasury has agreed to underwrite its debt. This is sheer insanity.
87% of Scots take from the State (in terms of services, welfare, etc.) more than they give. And thus Scotland has found itself with an electorate which things that austerity means deep fried mars bars all round on the State being cut back to only 6 days a week.  Or only giving free cigarettes to Primary School Children only on alternate days.
Given that you have more chance of finding a heterosexual non child molester presenting a Top of the Pops edition from 1977 than you have of finding a Tory voter in Scotland, its three political parties that matter ( Labour, The Nationalist loons and the Lib Dems) are all committed to more spending and more tax but the ultimate funder is always seen as the great Money Tree.
Scottish economic policy and the prevailing ethos of a land that once gave us Adam Smith is akin only to Greece. Edinburgh is the Athens of the North.

And so post-independence

3608 days ago
I am always happy to give a platform to my fave Tory blogger Charlotte Argyle as her views are - as far as I know - 100% bang on the money. And so over to Charlotte.
 
As of December 2012, the average London worker can expect to enjoy a wage of £33,816 compared to that of their Northern neighbour, where in Manchester for example the average is £26,242.
If you go on to look at the median hourly rate for London, it is £10.13 and further investigation shows that if you take the median hourly rate by years experience, you would need 5-9 more years within that sector to reach anywhere close to the proposed £8.55 'living wage' figure.
At a time of reported low growth, the living wage can be described as nothing more than another bureaucratic bid to stifle SMEs and start-up growth.

3609 days ago
Self-appointed leader of the angry young left Owen Jones reckons that we need to build a million new homes in the next few years to solve a housing crisis. By "we" Owen – as ever means The Money Tree/the ever grateful taxpayer. Heck you pay for your own house so why not pay to build one for someone on Benefits Street as well? Bargain. Except that Owen is 100% wrong on this. To be fair so are most of the political classes – there is no need to build a single new home. 
My starting point is the Empty homes statistics for 2012 (the most recent currently available). These showed 920,000 empty homes across the UK. This excludes those unfit for habitation, due for demolition and – critically – an estimated 300,000 empty homes above shops. So the real number is c1.2 million homes.

But how, I can hear Owen whining, do you propose getting those homes back into use? Actually it is very simple. Even a deluded lefty with a tenuous grasp of economics should be able to understand the solutions.

3641 days ago
This is a great piece by my pal Dominic Frisby. It is bang on the money:
Our tax code is 11,000 pages long. That is too long. By about 10,990 pages I'd say. Its size and complexity make blunders and fraud inevitable. 
But it's worse than that.  Our system of tax is immoral, it is inconsistent and it creates inequality. 
So I am simplifying it. Here's how. 
Why should the individual worker pay more tax than the company? Why should the multi-national corporation with an army of accountants employed solely to deal with the taxman receive better treatment than the local small businessman? Why should any group receive special favour? That is not capitalism, that is not socialism, it is not social democracy - it is crony capitalism. 

3641 days ago
Outgoing Domino's Pizza boss Lance Batchelor is being attacked from all sides for saying that the UK needs to relax immigration rules so he can find suitable staff. Ex M&S and now Ocado boss Sir Stuart Rose said the same thing. They are spot on and "fake Tory" immigration minister Mark Harper is taking prize bollocks for attacking the pizza fellow.
Batchelor says that Domino's could hire another 1.000 drivers and pizza toppers tomorrow but native Brits won't take the jobs and tighter immigration rules mean there are fewer foreigners ( who will take them) around.
Harper, who after Oxford went to work for big 4 accountants KPMG before meeting up with his old Uni pal Call Me Dave and becoming a Southern England MP, disagrees with the analysis of the real life businessmen who have actually run businesses creating thousands of jobs. So who do you believe?
Being a fake Tory Harper says Batchelor should see that "market forces" are telling him that he has to up his pay rates. You will note the use of the word market forces – that is to make you and I think Harper is really a Tory.

3668 days ago
Brooks Newmark Is a Tory MP and even more embarrassingly a supporter of Newcastle United. And he is terribly excited that the Sun Newspaper is backing his "big idea" to cut employers NI contributions when a firm takes on someone under 25. Oh please. Brooks try to think this through logically. I know you are an MP but can you try?
You appear to accept that employers NI is a tax on jobs. That is a really good start.  Albeit, not facing much competition, that marks you out as one of our smarter MPs.
But if you accept that principle

3732 days ago
Anthony manages the restaurant in the uber posh hotel in which we are staying. He is a nice guy and last night, off his own bat, drive us to a superb seaside tavern so we could eat out. As he drove he told us his story…
When he was a boy in the 70s he moved to Germany with his parents who were Gasterbeiten – Greece was poor then, that is what folks did. Hence he speaks fluent German as well as Greek and very decent English.
As a teenager the whole family moved back to Crete as Greece won the Euro lottery and times improved. He now lives in a local town with his wife and two daughters. Aged 23 and 25 they live at home because, despite being well educated, there are just no jobs. 65% of Greeks their age are on the dole. Antony knows that they will soon have to leave Greece for good on a one way ticket to join family in the US, Canada or Australia or perhaps to London.
A noticeably old country will get older still. And his daughters will no doubt marry and stay abroad. Their kids will grow up Greek Americans/Australians/Canadians. Greece will get older still.
Meanwhile 

3763 days ago
In the 1950s the Tory Party had 3 million members. When Call Me Dave was elected leader it had 258,000 members. These days the Tories won't say how many members they have but it seems that the number is sub 100,000. And with an average age of almost 70 and each year seeing Councillors (the main local recruiters) lose seats won during the hated Labour Government that number will carry on falling.
Some blame call Me Dave for pissing off traditional Tories

3803 days ago
Go back to bed and take an aspirin, I fear that I find myself agreeing 100% with Nick Clegg who for once shows himself as a true liberal. Meanwhile the Tory party nauseates me. The issue is tax breaks for married couples.
Call Me Dave has already pledged to hand out £150 a year in tax breaks to folks who opt to get married. But some of his more reactionary colleagues in Westminster (step forward Tim Loughton MP and Peter Bone) want the number to be £2,000. The Tory party is split on how much should be handed out to one section of society who have made a lifestyle choice of which they approve but they wish to use money paid for by every sort of taxpayer to fund those who follow this moral path.
Clegg may support Secret Courts, gagging the press and various other appallingly illiberal measures but on this one he is bang on the money. Government should never seek to use money taken from all sections of society to bribe people to follow one lifestyle course of which they approve purely on moral grounds.
If I suggested that there should be tax breaks for those men who frequented gay bathhouses to have sex with complete strangers you would think me mad.

3814 days ago
It emerges today that Nigel Farage the leader of UIKIP set up an Isle of Man Trust to try to reduce his tax bill. As it happens he never used it back in 2003 and it seems to have cost him a few quid. Farage is being panned as a tax dodger, albeit of the failed variety. Wrong.
Farage was using a perfectly legitimate avenue to minimise his tax bill. He is a minimiser not a dodger. Other folks use ISAs as a perfectly legal way to reduce the tax they pay.  They too are minimisers not dodgers. There is no moral code that says you have to pay as much tax as possible. It seems perfectly legitimate to me to pay as little as possible without breaking the law. And that is all that Farage tried to do.
That he cocked it up and so in fact did not use the Trust is irrelevant. From a PR perspective this is clearly not helpful but Farage should be honest and say that the reason folks use IOM Trusts, ISAs etc. is that UK tax is so high. If it was less onerous then the whole industry of tax minimisation would die at once.

3825 days ago
Filmed in Spitalfields on Monday morning I guess I feel strongly about three issues covered.

1. Tax, prohibition, smoking and what we put into our bodies
2. The corruption of the political class
3. My hero of the year - the PRISM whistleblower Edward Snowden and civil liberties

3826 days ago
My partner is in London and so for a laugh we are staying in a hotel just off Brick Lane in Spitalfields. Needing some of my poison of choice I wandered to a small store opposite the hotel last night and asked for 20 Marlboro Light. £8.50 I was told. Sure.
A pack of 20 cigarettes costs anywhere between £8 and £9.50 if you are mad enough to use WH Smith on Network Rail.

As I fumbled for a tenner the chap said, want a cheaper pack? £5. Yup, I slurred, having had a few drinks with my partner and colourful James earlier. And so from under the counter I was offered 20 Marlboro Light from Russia as you can see in the picture below.




When I pay £8.50 normally, around £7.65 goes to the UK Government. The rest is shares between Marlboro, its distribution company and the retailer. Under this revised arrangement Marlboro probably still gets 50p. The Russian taxman gets another 50p ( or perhaps nothing) and the criminal gangs who import this stuff ( I read today that this is how many of St Gerry's former comrads in the IRA are now employed) and retailer share between £4 and £4.50. The UK taxman gets nothing.

The huge profits you can make from flogging illegal fags means that crime DOES pay. The greed of the UK Government which knows that smokers fund not only the costs of treating them on the NHS but far more besides but are an easy target as one is supposedly "taxing for a moral purpose" means that it has created an opportunity for crime.  Punitive taxation like prohibition is not only regressive taxation but also a real crime generator.

So what should I do? Should I go to the police and tip them off? I do not agree with crime and suppose I should. But crime is inevitable as things stand. I guess I shall buy one more back before I do anything.

3868 days ago
On our last night we stayed in a hotel in a village near the airport on Zakynthos. Also staying in the hotel was a group of two teachers and 11 students who were studying for a Btec in Tourism and Leisure. I shall not name where they study as they were a really nice bunch and are, as it happens on the same plan as us heading back to the UK and as I am writing this I'd rather not cross them. Anyway a Btec is a vocational equivalent of an A-level. And as part of this course the students have to arrange, plan and book a holiday. And they go on it with their teachers. And everyone goes out and gets pissed for four nights and then goes home. And then you get a credit for having achieved this daunting feat.
It strikes me that this is not a terribly good use of taxpayer's money.  And that the group of eleven students might just be better of going straight into the jobs market. This course seems to me to be merely delaying hard work, having to do a real course to get A-levels so you can go to University or unemployment. Because I actually liked the teachers I asked if they track what their students go on to do. If 50% go on to have meaningful careers in tourism and leisure (and that does not been trolley dolly or working in a bar at Lagunas Beach) then I was prepared to eat my words.
But no, there is no tracking. And so the grateful taxpayer continues to fund courses where being able to get on the right aeroplane earns you a credit with zero evidence that it delivers any economic gain at all. Another "I give up" moment.

3879 days ago
It is 3.38 AM and I am still tapping away producing high quality material for five different websites ahead of a 5.30 AM stroll to bag a place on the Strand. Mrs Thatcher surely you would admire such entrepreneurial spirit. And the phone rings at Real Man Pizza Company? Feck is it a neighbour complaining that the music is on at full blast. Maybe "watching the Detectives" by Elvis Costello is not his cup of tea? Or perhaps it was me singing along to Marianne faithful's Ruby Tuesday?

Or maybe one of our neighbours is a deluded leftie and objects to me singing along loud to the Kinks anthem which explains why the UK was such a basket case before Thatcher came to power: Sunny Afternoon.
The tax mans taken all my dough,

3891 days ago
Maguire is a senior journalist with the Daily Mirror and a professional Northern class warrior. He was born in South Shields and has made a point of not losing his Geordie accent - indeed it has got more pronounced over the years - despite him being a full time member of the political media elite of London. I imagine that he lives in a plush part of North London. But he is oh so very working class (with an A pronounced the right way).
And so he wades into the debate on child killing welfare junkie Mick Philpott by suggesting on twitter
The issue of "funding lifestyles" should begin with George Osborne's family trust fund and the knighthood Sir George inherits
What a tool. Osborne will one day become Sir George as he inherits a baronetcy. This is the same reason Sir George Young is a Sir – he is a baronet. It is not a knighthood. It is a hereditary title and brings you zero money just a silly title. It funds no lifestyle.
And yes Osborne's family is rich and the chancellor has enjoyed the benefits of that and will inherit wealth. So frigging what. Does Maguire think that no-one should inherit wealth? The Osborne cash has been around for a couple of generations. What about the Miliband cash – both of those boys inherited a good amount from their Marxist Dad. Does Maguire think that is wrong? Will his three offspring inherit anything from the money Maguire and his partner (Cambridge educated novelist and Guardian writer Emma Burstall) have made over the years from the lefty media circus? Go on Maguire: who are you leaving your cash to?
As it happens it is none of my business who leaves their cash to whom. The point is that it is the fruit of their labour (or perhaps that of their parents or grandparents) and individuals should have every right to decide where cash they earn goes to. That is rather different to Mick Philpott who acquired income and wealth with money taken from folks who worked to fund his lifestyle and his asset accretion (the snooker tables etc.) via Britain's utterly crocked welfare system and onerous tax regime. We as taxpayers had no say in the matter we just ponied up involuntarily to give Mick an easy life.
You have to be a bitter and stupid deluded leftie not to appreciate the difference between the funded lifestyle of Mick Philpott and that of George Osborne. Step forward Kevin Maguire.

3892 days ago
Child killer Mick Philpott "earned" the equivalent of £100,000 a year milking the benefits system. He could afford booze, drugs, a snooker room extension, SkyTV and much, much more and never did a day's work. It was a broken benefits system that allowed him to lead such a life, that incentivised him NOT to work and which caused him to lose any sort of moral compass. For this dirtbag life was about rights and self-gratification and not about obligations and responsibilities.
Anyone who makes this point, be it the Daily Mail, myself or George Osborne is now abused by the left as heartless in that we ignore the human tragedy of six dead kids or of using one human tragedy to bash all on welfare.  The left – as ever – misses the point.
There are countless Philpott's out there. Only a few go around murdering children in order to obtain more benefits. But vast numbers now regard benefits as a lifestyle and an entitlement. Keep the system as it is and this underclass will slip further and further into depravity. It is bankrupting Britain financially and it is morally bankrupting those who now have no concept of the idea that with rights come obligations and responsibilities. Deluded lefties seem unable to see this. In some cases it is because their Parliamentary seats or worthless taxpayer-funded jobs depend on keeping a client state poor. For others there cannot be the excuse of self-interest, those folk are just deluded.
But the way that the entire left tries to drown out rational debate on the UK's broken system with smears and attack is Fascism. Why is the left afraid to debate the real issues? What is so wrong with saying that a subscription to SkyTV should not be part of the standard benefits lifestyle?

3893 days ago
Mick Philpott is clearly a loathsome man. He killed six of his 17 kids by setting fire to a house in order to frame one of his ex-partners. He is off to prison. The true victims of this awful crime are the six children who died. But Philpott is also a victim of the bleeding heart liberals who try to defend a welfare state that is a cancer at the heart of Britain.
Philpott used women to breed 17 children and then milked them all for benefits. He was trousering £60,000 a year in benefits tax free. That would you require you to earn c£100,000 a year. And that enabled him to lead a life fuelled by drink, drugs and doing no work at all. The lefties would tell you that all the children (and Philpott) were living in poverty. But it is a poverty which saw all the kids housed, fed and clothed and Sky TV in all the homes with Philpott still able to fork out vast amounts on drugs and booze (and I bet lottery tickets as well).
The left will defend this system by saying

3895 days ago
I just give up. What on earth is the point in working and paying taxes? Because I have to I guess. But some folks have an easier life. Davodreza Asasbahi-Gotti is a 37 year old Iranian who came to Britain in 2002. He lives on benefits and has his housing bills paid for via benefits. And he has now committed 40 crimes in the UK including theft and assaulting a police officer. He was set to be thrown out in 2009 but claimed it was (you guessed) a breach of his human rights … it "would breach his right for respect to private and family life." But then it turned out that he did not – as he claimed – have a wife and two kids living here at all. That was a lie.
And so now his lawyers (paid for on legal aid 'natch) are claiming that it is a breach of his human rights to stay here as he is a drug addict and suffers from depression as a result of "developed adjustment disorder" – whatever that is.
So to summarise. He arrived in the UK illegally. He has lived off your taxes for more than a decade. He has repeatedly lied to stay in the UK. He has committed 40 crimes and been convicted. He has never worked and is a drug addict. And yet…
He remains in the UK costing taxpayers tens of thousands of pounds via benefits, legal aid and by committing crimes. He contributes nothing to the UK and we still cannot throw him out. As you go to work tomorrow just remember that more than a third of your pay packet is going to fund this sort of nonsense.
And this sort of nonsense

And this sort of nonsense

But according to those who oppose welfare reform, these are just the odd "one-off case" and the system is fine. Right...

3909 days ago
Dear Mr Osborne.

You are in a mess. The left attacks you for wicked cuts. Those with half a brain know that you are not cutting at all. Your budget this week is your last chance and so I offer you a radical set of suggestions to sort out Britain's ills once and for all. And unlike anything from Vince Cable my ideas stack up.
Your three priorities are:

1. To slash the £100 billion plus budget deficit
2. To encourage those on welfare to take low paid jobs
3. To encourage employers in the private sector to hire aggressively.

As such my first two proposals will initially increase the deficit. To deal with point two you should, at once, declare that all annual incomes under £20,000 should be tax free. Thereafter you pay the standard rate (30%) up to £30,000 and then a higher rate of 50%. National Insurance is not a hypothecated tax and should therefore be scrapped and included in income tax – let us make the system simple and open. This would be tax cuts for all, a huge admin saving by abolishing NI and the tax cuts would be targeted at the lowest paid.

3911 days ago
I was walking a deluded lefty to Highbury tube station this morning but as we approached we encountered the assembly the start of a "demo" against wicked Tory cuts. The victim in this case is the world's third largest employer (viz the NHS) but the moaning and wailing from the crowd was against cuts in general. Yes, I know Government spending is in fact increasing but that does not fit in with the narrative of the left. Tories = cuts = wicked.
And so as we approached the tube one lardbucket who looked as if he had not encountered a bath in quite some time tried to thrust a pamphlet into my hand "stop the cuts" he said. I could not be bothered to point out that Government spending was in fact increasing. So I just said "No, I want more cuts, in welfare payments, in Government spending and in taxes for lower paid workers." I am not sure that the protester (whose life is, I bet you, funded by the State) was expecting such a response in Islington and he looked a bit baffled as if I had said "the moon is made from cheese."
Before had time to think of a response I was hustled swiftly on and reprimanded for being a) too right win and b) confrontational. When is the great demo protesting about how this hopeless Government is not cutting enough/at all planned for? I am happy to attend with my placard "Cut taxes for the poor workers," "Heather Frost welfarism isn't working,"  "No more cash for kleptocrats."I'll be there.

3914 days ago
Last week was International wimmins day, next week is International smelly, bearded, jobless and selfish cyclists day and today is National No Smoking Day. The common thread: it is the State (or State's getting together) telling you what to do and who to idolise and who to demonise. I regard the whole exercise as a costly piece of thought control and would scrap all these days. If we have to have them how about "Hard working taxpayer's day," "International never claimed a cent in welfare day", "National entrepreneurs, job and wealth creators day."
Sorry big brother you were right all along. I will learn what I should put into my body and shall lambast myself for being a heterosexual, hard working, tax paying and generating white male. I am ashamed of all of the above.
Smoking is a filthy habit. I will quit one day. But I shall do so when I want to not when a state that discourages me only slightly from drinking does not discourage me at all from smoking pot, runs limited campaigns pointing out the dire health implications of having unprotected anal sex in bathhouses bashes me yet again ( with taxpayers cash) about the fact that I smoke cigarettes. This is the one day of the year that you can guarantee that I shall not quit smoking.
In solidarity, all non-smokers should scrounge a fag off a smoker today to have just one drag. It won't kill you but it is the suitable two fingers to nanny state. I could go on but I am off for a cigarette.

3925 days ago
It was hectic Friday evening at Real Man Pizza Company. I served up a couple of Linguine Manx dishes which I was really proud of and I left happy, but utterly shattered, after putting in 90 hours in five days. I just managed to catch the 11.30 from Paddington. Of course 30 of those 90 hours I was working for the taxman. That sort of work ethic and work rate just to pay the bills is something the political elite who run all three parties just do not understand and cannot comprehend.
I enjoy my work so do not take this as a grumble. And I am delighted that RMPC is doing well enough that we will hire another member of staff next week. That is another person to generate tax income for our elite to waste. I mean spend.
I know that some folks, notably those employed by a company that failed to make Real Man profitable, laugh at me for running and working in a restaurant but Real Man will, by April, have taken on a net four new employees and two contractors in the first four months of 2013. I regard creating jobs and so generating wealth for the UK and tax revenue for the Government as an honourable thing to do. To be lambasted by wage slaves for having the nerve to risk my capital to do that says more about them and also about the decline of Britain in terms of our attitude to entrepreneurs than it does about me.
Back to the train. I prepared to fall asleep but within five minutes I was roused by the sound of the woman in front of me vomiting copiously in her seat. So drunk was she that she could not make the toilet. She just vomited on herself, the seat in front and the floor and sat there grinning. What are you going to do about it said her grin? I moved again as did other, clearly tired, passengers and tried to sleep.
I awoke suddenly at Bath as a crowd of 40 students joined the train after a night out. That they want to have fun is great but, with no consideration for others, the last fifteen minutes of my journey was to the backdrop of singing, shouting, swearing and just noise. The student opposite slouched so that his legs dug into mine but, after ten pints of Fosters, he did not give a damn.
That I am subsidising the students does not bother me. As a student I was subsidized by others. What goes around comes around. But the utter lack of consideration and manners shown by all sorts of folks today leaves me feeling like Bankrupt Britain is not a land that I want to live in. The 11.30 from Paddington was Hogarth's Gin Alley.
Of course First Class, where our leaders travel at our expense, was quiet and pleasant. And the idea they they would be on the 11.30 is ludicrous. For the 140 days a year they do "work" the hours are civilised. They have no exposure to hard work or to the stench of vomit and the rudeness of so many of our fellow citizens. They do not create jobs or wealth, they just suck money away from those who do. As an elite as they become ever more cushioned from reality, I become ever more alienated from them.
At 2 PM I finally made it to bed. Today and tomorrow will be light days. Perhaps just five hours work. And on Monday at the crack of dawn the whole circus starts again. That the Westminster elite think that by "presenting policies better" they will "connect with voters" like me is laughable. They are on another planet and Marie Antoinette had more chance of "connecting" with the Parisian mob of 1789 than those in the Westminster bubble have of understanding how real life is for those they are meant to serve.

3931 days ago
I have relayed to you in detail the scandal of how Heather Frost who has never worked in her life is to be given a £400,000 eco mansion for her and her eleven kids but says that if it is not good enough she will demand a bigger home ( see here ) – that was nauseating. Then came the news HERE that this welfare parasite could afford to buy a horse and stable it for £200 a month.
But brace yourself… it now emerges that she has also paid for flying lessons for her 57 year old (current) partner and to top it all that she spent hundreds of pounds last year hiring a fairground carousel to entertain her kids for a birthday party.
And we are paying for this with our taxes!
I offer a prize of a free meal at Real Man Pizza worth 30% of the monthly stabling costs of Heather's horse for any deluded lefty who can explain in the comments section below why Heather Frost shows that the benefits system is fair, is working and makes society a better place.
Post away.

3931 days ago
This article first appeared in my bi-weekly free Tomograph newsletter. I guess it now merits a wider audience. If you would like more of the same sent to you by email (including a free share tip in the midweek issue) sign up HERE. In the old days when the Conservative party was led by a proper Tory ( i.e. Margaret Thatcher) it used to believe that the individual should be given the freedom to take responsibility for himself or herself. That meant the State not relieving you of too much money but also not being expected to cosset you, but providing a safety net for those who genuinely needed it. Those days are gone.
We saw this in dramatic form this week as Call Me Dave scrapped plans to increase the IHT threshold but at the same time caved in on giving more state funding for residential care for the elderly. He was wrong ( as per usual) on both counts, pandering to the electorate and in so trashing further any idea that he is a man of true conservative principle.

3936 days ago
Just a reminder that my Tomograph Newsletter goes out bi-weekly and the Wednesday shares edition containing that free share tip.
It will be out by 4 PM on Wednesday and will also include an article on the tipping point when tax evasion will be seen as morally acceptable. Ref Heather Frost.
Want that free share tip plus an Editor's Choice of the best of the past week plus this exlusive article? There won't be a link on the site!
The only way to get all of that is to
REGISTER HERE
Planned delivery time on Wednesday is 4 PM.
Tom

3936 days ago
I wrote earlier today about the jobless mum of 11 who lives on benefits and is getting a £400,000 eco mansion built for her by the local Council but says if she does not like it she will demand something better. That piece is HERE.
It now emerges that last year this loathsome woman bought a horse ( she tried to buy three but the deal collapsed) and now spends £200 a month caring for it.
Benefits are meant to be a safety net. There are millions of people working in the UK and paying taxes to fund this woman's eco mansion, her frigging horse and god knows what else and all she can do is sit around on her arse. She had children through choice and expects others to fund her and the consequences of her actions and luxuries like owning a bloody horse.
I have just put in two sixteen hour days on the trot and work a 6 and a half day week providing employment for nine peiople who, in turn, all pay taxes. Why the hell I am bothering to work so hard to pay taxes to fund this monster? When I hear stories like this I question the morality of tax evasion. I cannot imagine that anyone in the UK supports the welfare state as it is other than parasites like Heather Frost. Yet our useless, sleazy and idle MPs do nothing about it. Some posture but nothing ever changes.
No taxation without representation was the cry of the colonists in 1776. As a hard working taxpayer I feel totally unrepresented.
I am now off to the Cinema to watch a film about an out of touch elite being overthrown by over-taxed plebs who had just had anough – I cannot be arsed to write another article today knowing that 31% of the proceeds will go on crap like this. This is unbearable.

3936 days ago
Every day another story emerges which show how the welfare state is just out of control. Heather Frost has 11 kids and no job. She currently lives in two council houses knocked into one. But her local council has managed to do a deal with a developer to sell it land cheaply so that it will build a new six bedroom eco mansion with a 355 square foot kitchen just for Heather. But the ungrateful bitch has today said "It's being built especially for me. If I go there and I say to them I don't like it or it's too small, then they will just have to build me a bigger one, won't they."
Why the hell should they? This 36 year old woman opted to breed like a rabbit,

3938 days ago
I am not a UKIP member nor can my support be taken for granted – generally I despise all politicians and which they would just stop introducing laws and go away. And with that caveat I approach the looming by –election in Eastleigh with the conclusion that the ONLY sane and the ONLY honest vote is for UKIP.
The election is caused by liar and criminal Chris Huhne (Lib Dem) having to stand down because he is almost certainly heading for prison. In terms of Government and policy it will change nothing. We will still be ruled by this wretched Tory Lib Dem coalition and Labour will still be offering a principle free crackpot populist opposition. And as such an Eastleigh resident can vote with a clear conscience and on principle.
I start with why each of the candidates from the main three parties does not deserve to win a single vote before turning to UKIP.

3952 days ago
Nick de Bois is a Conservative MP who I had never heard of until he popped up on my TV screen yesterday expressing his disappointment that there were to be no additional tax breaks handed out to married couples as a trade off for the Tories allowing gay marriage. His argument was that tax breaks should be given "to those who really need it" – married couples. What a loathsome bigot.
The State should not be in the business of using the taxes paid by all of us (whatever our personal state of affairs), to reward those whose lifestyles it approves off (i.e. married folk rather than those who opt to remain single or co-habit). There should be no financial bonuses for following one moral code rather than another.
Moreover it is patently NOT married couples who most need tax breaks. Those who most need tax breaks (in fact taking out of the tax system altogether) are low earners as that makes work rather than welfare a more attractive option. Increasing the gap between those who opt to work on low incomes rather than living off the state should be the focus of change in the tax system. Whether low earners are married or not is irrelevant. And why should high earners get a break just because they follow a lifestyle approved by moral gauleiters such as Nick de Bois MP?
That this horrible little man thinks that concessions need to be handed out to get him to support gay marriage says it all, about him. As long as it effects no third party in an adverse fashion folks should be allowed to do what they want and in terms of sexuality that means that gays should be allowed to get married, go to bathhouses or whatever. It does not float my boat but it should not be up to me, the State or the loathsome de Bois to dictate acts of personal choice.
Nick de Bois MP you are a loathsome bigot. And an economic illiterate to boot.

3966 days ago
Comrade Mick Kipper, a good man albeit a deluded Lefty from the grim North asks me for my views on Inheritance Tax. No problems Mick: it should be abolished at once. Trust that is okay with you? Nope you wish me to explain? No problems.
First up this is a taxed on already taxed income. Somewhere along the line the capital one bequeaths was earned and tax was paid on it. Thus this is a double tax. Now Mick will no doubt raise the example of the Duke & Duchess of Snootyland whose family have not done an honest day's work in hundreds of years. Such folk are a tiny minority of those who pay IHT but the left like to paint them as typical taxpayers. Moreover the landed gentry have been crucified by IHT for several generations so levying another round is, in this case, even more unfair than usual- this is income that is taxed many times over.
IHT means that if I earn a pound and spend in on hookers I am taxed once.

4013 days ago
The Guardian has announced that it is to sell the 50% of AutoTrader that it does not own for £600 million. This is the part of the group where revenues are growing, which makes profits, which people want to read and which could be described as the "family silver" as opposed to the newspaper itself where sales are falling , losses are made, where Polly Toynbee et al produce unreadable piffle and which can be described as "offensive crap."
The Guardian is, as you know, very keen on evil capitalists, scumbag rich people, Tories and other untermenschen paying more and more tax. It also takes great steps to ensure that it pays as little tax as possible. So on this windfall gain of £600 million what rate of tax do you reckon the Grauniad will pay?

4014 days ago
The political class is today delighted as Starbucks appears to be caving in and agreeing to pay more tax. No doubt Amazon and Google will follow suit. My warning here is that what is going on will cost British jobs and it stinks of high hypocrisy. And yes Margaret Hodge MP I am talking about you.
I start with Hodge who has appointed herself as witchfinder general sniffing out big American companies who pay tax rates of as little as 1% in the UK. You may remember that this was the vile woman who ran Islington Council at a time when an institutionalised paedophile ring operated in its care home system. When this started to be exposed she attacked those doing the exposing as homophobes. Her reward for allowing little kids to get buggered by council employed nonces was to be made Children's Minister by Tony Blair. You could not make it up.

4014 days ago
Memo to Ed Balls & George Osborne: watch and listen to this inspiring video of Margaret Thatcher at the 1983 Conservative Conference: "Someone has to add up the figures, every business has to do it, every housewife has to do it, every Government should do it and this one will."
"There is no such thing as public money. There is only taxpayers money"
Sadly a lesson lost on Balls & Osborne.
"The state has no other source of money other than money that people earn themselves"
"Prosperity won't come by inventing more and more lavish public expenditure programmes"
"You don't grow richer by ordering another chequebook from the Bank"

4039 days ago
A decent man asks me why I do not focus on cutting tax evasion to slash the deficit and save the UK from bankruptcy? Fair point. But I am afraid that the sums do not add up. If only life was that simple. Deluded lefties often confuse tax evasion with tax minimization and that is the problem. The former means breaking the law. It is wrong. The latter means using the system to your maximum advantage in order to pay as little tax as possible and it is neither illegal nor wrong. Why should you pay more tax than you should on money you earn?

4051 days ago
The Daily Mail carries a rather typical scare story today about how the UK will have 80 million residents by 2050. I am not sure that given my health profile I shall be one of them. In fact I know that I shall not be, I am determined to end my years in a rather warmer climate. But the Mail, needless to say, gets its assumptions wrong in a rather desperate attempt to cosy up to its Middle England readership.

4054 days ago
Child Benefit should be scrapped altogether. It is costly, a bureaucratic mess and misguided. I say this as the Daily mail bleats about £36.6 million a year being sent as child benefit to kids living abroad and as chancellor Osborne plans to scrap the benefit for those earning £50,000 a year or more. This is all tinkering.
Let's start with basic principles. The world is overpopulated. We keep on going on about how folks in the third world should have fewer kids yet across the EU we provide economic incentives (in countries like Spain they are vast) to have more kids.

4062 days ago
Forgive me Dear Lord, for I am about to defend call Me Dave Cameron against the charge that he sounds like a Conservative. I know that he is not and that he will not do what he says but, and I cannot believe that I am writing this, he is attacked unfairly.
Call Me Dave apparently says that he plans to cut certain benefits as part of his valiant attempt to cut the deficit to prevent Britain going bankrupt. Blah, blah, blah.

4067 days ago
Facebook (FB) is under attack today for paying just £238,000 in corporation tax last year. I am the last person to want to defend Mark Zuckerburg's enterprise. The shares are grossly overvalued even after almost halving from May's $38 IPO. I still reckon they will more than halve again. But on this occasion it is the left (MPs, the Independent, the BBC – and its sister publication the Guardian) that just does not get it.

4078 days ago
In the US the sheer horror of the Student Loan scheme is becoming apparent – it will be the next subprime crises claims Zero Hedge. In the UK we are merely starting the sleepwalk into disaster. It may take 30 years but this is how the disaster will unfold.
Universities used to be for an elite. In a stroke of madness the major parties (and it was John Major's Tories who were most culpable) decided that 50% of 18 year olds needed to go to Uni. A stack of sub-prime Polytechnics and other colleges were then made Unis. Belatedly the Government realised that this was all jolly expensive. And so after much huffing and puffing we introduced the idea of fees. It was thought that Oxford, Cambridge, etc might charge the maximum (£9,000 a year) and that other Universities would charge less, according to their status. But in fact all Unis decided to go for £9,000. So a degree in media studies at whatever Derby Polytechnic is now called is on a par with pure maths at Oxford? Yeah right.

4082 days ago
Life is pretty grim when Nick Clegg is the party leader who is closest to getting it right on benefits. But well done to him for saying that rich pensioners should not get free TV licenses, bus passes and winter fuel allowances. Of course he does not go far enough but it is a start.
Just a reminder. The UK will have the biggest budget deficit in the EU next year. For all the talk of wicked Tory cuts we are hurtling towards a situation where our state finances are in a worse state than those of Spain, France, Italy etc.

4084 days ago
I am sure that Gladstone and John Stuart Mill would be terribly impressed at the dynamic policy initiatives dreamt up this week by the Lib Dems. Actually I have not watched any of the Lib Dem conference and I suspect that neither has anyone else. A party that faces electoral obliteration discussing dull as ditchwater policies that will never be implemented cannot hope to compete in terms of TV time with catching up on missed episodes of the new series of Dallas. Nick Clegg you are no Bobby Ewing although I hear that after lunch Charles Kennedy can do a good impression of Digger Barnes.
I have, however, picked up on the news that the Lib Dems plan to reconnect with the public with dynamic policy initiatives to impose taxes on plastic bags and fizzy drinks. Heck, I bet that's got Ed Milliband running scared. While it is easy to dismiss these plans as irrelevant I fear that they are not as they are exactly the sort of things that all three of the mainstream parties (plus the Greens) agree on and as such are bound to become law. The problem in both cases is that such laws are regressive (i.e. they stuff the poor) and also illiberal.

4084 days ago
Veteran Guardian journalist David Leigh has penned a piece that will make your blood boil. I shall not provide a link as I refuse to direct traffic to this despicable publication. But you need to know what these (already) state subsidised scroungers think. Leigh wants to tax each broadband user in the UK £2 a month. The £500 million raised will be doled out to all publications classed as newspapers in 1994 to allow them to support "high quality journalism".
This cash is needed because their current business models do not work. The Guardian would trouser c£100 million a year from this plan which would be handy as it currently loses £76 million a year despite getting a vast subsidy from the taxpayer advertising public sector non-jobs (something that could be done in-house and online at a fraction of the cost). The whole proposal stinks as does the tone of the piece from this wretched old dinosaur.

4110 days ago
Nick Clegg, the leader of the Lib Dems and Deputy PM yesterday called for a new "Wealth Tax" so that wicked rich people could "make an extra contribution" during the economic downturn. In an interview with the Guardian, he links his call with the word "fair." Hmmm. Mad, innumerate or just desperate?
I note that Clegg has not actually put forward a concrete proposal just a general idea. As such it can be dismissed as pre-conference grandstanding and the chances of anything actually happening are pretty much zero. But hypothetically let us humour the guy and assume that it did. Would it a) assist the economy, b) strengthen Government finances or c) be fair? The answer is no on all three counts. As such Clegg is at best economically illiterate and at worst just plain mad. Or perhaps this is a desperate gambit to win back lost voters?
To the economy first. Folks acquire wealth by various means.

4128 days ago
Tory Euro MEP and obsessive tweeter Dan Hannan is normally bang on the money. He wants Britain out of the EU, a smaller state, lower taxes, more civil liberties. Whilst he shares David Cameron's deluded love-in with the Olympics, on almost every other matter his assessment is a) correct and b) invariably different to that of the Prime Minister. I still cannot figure out what he is doing in the Conservatives.
His latest run in with the left is on the issue of poverty. Hannan, rightly, regards poverty in absolute terms. The left regard it (wrongly) as relative. Thus Hannan has been slated all over twitter as some sort of wicked capitalist who wants to make poor people poorer and the rich richer. In a sense he does. If one defines poverty in relative terms then the least redistributive system of taxation will increase poverty. Conversely the most redistributive will reduce it.

4136 days ago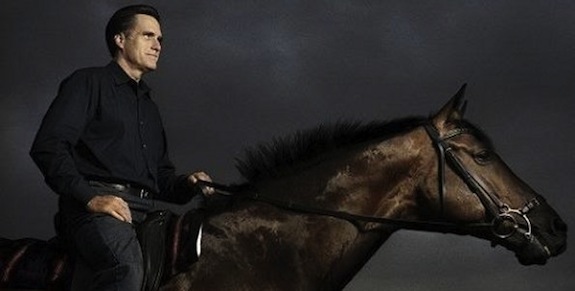 Mitt Romney made no gaffes while in London. But has his horse gaffed? You know the one competing in the Olympics dressage (ballet dancing for gee gees) for the USA. I neither know not care. But if I was an American voter I would be pretty riled that Romney claimed $77,000 in tax deductions for keeping his pony. But as I suggested earlier this week, this could be the least of Romney's tax worries – for more read here.
And so in honour of the great tax minimiser this week's caption contest features a pampered dumb animal with no idea on how to fix America and also Mitt Romney's horse.
My caption entry is:
Nag: "Mitt have you put on weight or have you got one of your Swiss bank accounts with you?"
Mitt: "Shut up or I shall outsource your job to a Mexican pony and send you to a Bain glue factory for asset stripping."
I was trying to work out something involving Mitt boasting that unlike Clinton

4145 days ago
I see there is a bit of a stir back in blighty about folks paying tradesmen in cash. No questions answered. Nudge, nudge wink, wink. We have all done it. I admit to it. The bill is £100 + VAT. I get my cheque book out and the chap says "tell you what, let's call it £100 in cash." Since I cannot personally reclaim VAT I am £20 better off. The chap can of course reclaim VAT but if he is generating more VAT-able revenues than he has VAT-able costs all he is doing is acting as an unpaid tax collector for the Government.
Of course there is the suspicion that he may not declare all of that £100 for tax purposes and so we who play the game are perhaps abetting him in that matter.
The controversy came about after David Gauke MP, a junior Treasury minister, said that paying in this way was "morally" wrong. This echoes Call Me Dave saying that Jimmy Carr's 100% legal tax reduction schemes were "morally wrong." As I noted at the time Cameron was a fool for trying to bring morality into politics. I do not like his moral code when it comes to telling barefaced lies (we are tackling the deficit, bringing peace to Afghanistan, etc, etc) but it is not for me, him or anyone to impose my moral values on anyone else via legislation. That is a very slippery slope.

4163 days ago
I am urged by a thoroughly delightful reader from Bristol to check out a book published two years ago called The Spirit Level, the central thesis of which is that the greater inequality of wealth within any given society, the greater the chronic health and social problems caused to both rich and poor within that society. And Britain, the book claims, is suffering from this problem badly. Apparently Call Me Dave and Ed Milliband think it is a great book and have said so publicly. I am not sure what Bono thinks but my guess is that he thinks its fab. And Polly Toynbee? The Old harridan cannot get enough of it – she misquotes it liberally to further her own hyprocital and misguided agenda. So using the Toynbee test the book must be a load of twaddle. It is.

4170 days ago
I have noted on this blog on a previous occassion that there is a Polly Toynbee rule. Without exception, any cause or policy that the dreadful Harridan supports is one that any right thinking person would oppose. Toynbee is a great way to check your sanity. Just use google to search out her views on any matter and if you disagree 100% with what the old trout says then you know that you still have your marbles. Irish rock singer Bono is another person happy to express his strong views on all matters of global importance, or that he deems to be of global importance. To be fair to Bono he is not wrong about everything. Just almost everything. Why anyone should listen to the man just becuase he wrote a few great songs a long time ago is not exactly clear to me but he appears to have the ear of those in power. We live in a strange world.
It should be clear by now that I think Bono is a prize git.

4179 days ago
David Cameron says that Jimmy Carr's tax avoidance scheme is morally wrong. But he admits that it is not illegal. And so he says that he is looking at new legislation (general tax avoidance rules) to make it illegal. David Cameron is a prize git and with this attention seeking outburst he shows it once again.

4180 days ago
If you had asked me to put a face to the name Jimmy Carr two days ago I would have failed miserably. But now, at last I know, what that annoyingly smug man who is always on the telly is called. I have learned something new and completely not worth learning. I have also learned that Mr Carr tells jokes about bankers avoiding paying tax whilst at the same time uses clever accountants to avoid paying tax himself. I have also learned that Mr Gary Barlow (hitherto regarded as some sort of saint in celeb land) plays the same game.
As far as I know Mr Barlow has never offered his views on ones fiscal duties and so he is no hypocrite. For Mr Carr I think that the case on hypocrisy is pretty much a slam dunk. But so what? I find it amazing that someone as annoying and not that funny earns as much as he appears to do but given my belief in market forces who am I to argue?