wine
22 days ago
I start with culinary triumphs notably the nettle beer I bottled today. Then it is Avacta (AVCT), Regtech Open (RTOP) and Naked Wines (WINE)

149 days ago
Yes she is back from her conference and stops recording. Before that I talk about Nigel Farage and Coutts and the sex education talk at Joshua's school yesterday. Then it is onto Naked Wine (WINE), MGC Pharmaceuticals (MXC), Eden Research (EDEN) and trakM8 (TRAK).

311 days ago
Naked Wines (WINE) today boasts that its EBIT ( fairly made up earnings) for the year to almost the end of March 2023 will be higher than expected. But there is a warning about 2024 and absolutely no guidance about the real elephant in the room, the ghastly balance sheet. That 2024 warning and the lack of transparency about what really matters are what stink.

414 days ago
I started with Ms Truss and how it is not her fault that the UK is in the mess that it is in. The entire media and political class is to blame. The it is onto Naked Wines (WINE), why action MUST be taken at the fraud Verditek (VDTK) and finally a long look at Amaroq Minerals (AMRQ) and a sort of look across at Kefi (KEFI) which also had news today.

440 days ago
The first big call on Naked Wines (WINE) was 18 days ago HERE. Then there was a big follow up article on September 6 HERE. After 2 announcements at no-one is watching O'Clock last night the shares have crashed by 40% today. I discuss where next as I ponder Evil Banksta's generous gifts on Saturday.

447 days ago
Based on its published financial results Naked Wines (WINE) appears to be a low margin business generating £2,873,000 of profit before tax on revenue of £350,263,000 a margin of under 1%.  In the annual report Naked repeatedly stresses that this is because it effectively heavily discounts its offering to recruit new customers and Angels to fund its business model. Existing customers are anticipated to become profitable over time. Cheryl Cole is anticipated to head up to Wrexham for you know what.

465 days ago
Congratulations to those remembering Steve Holdsworth with a pint at 10 AM today. That is more than I could manage. Staying with the booze theme I discuss why Naked Wines (WINE) may run out of cash and how bad it is and could be. Then it is onto the housebuilders: is the bad news priced in with sub double figure PEs?  Sharestock is now 14 days away. To get your seat book HERE 

529 days ago
But instead, I left a birthday party to record this. Such dedication. I start on why Nigel's Barkby (BARK) piece was wrong.  Then, I look at Shield Therapeutics (STX), Kefi Gold & Copper (KEFI), Naked Wine (WINE), Nostra Terra Oil & Gas (NTOG) and Trainline (TRN).

1049 days ago
Wine Merchants across the UK are, according to the EU's fave PR mouthpiece the Financial Times, having to add £1.50 to each bottle of wine imported from the EU as a result of Brexit. Natch the poodles on the pink paper tell their rapidly declining number of readers that this is another disaster caused by Brexit. That fecker Farage and we dirty 17.4 million dirty, smelly, stupid xenophobes in the sticks have another crime to account for. But hang on?

1719 days ago
In today's bearcast I look at Minoan (MIN) as Richard Jennings of Align threatens to call an EGM, at RockRose Energy (RRE) and Independent Oil & Gas (IOG), RedT Energy (RED), SpaceandPeople (SAL), Majestic Wine (WINE) and at Motif Bio (MTFB).  If you enjoyed this, almost 100% profanity free, bearcast, follow a bloke from the Grim North who donated enough to buy a whole house in the welfare safari and support the Rogue Bloggers for Woodlarks HERE.

1887 days ago
You may remember that my coach for my Woodlarks walk was 75 year old Fleet Street legend Brian Basham who himself completed the London marathon last year. My coach was in town yesterday and we met up for lunch. Uh Oh!

1920 days ago
This is just to make my pal Evil Knievil jealous. I found myself in Kardamili, Islington on Sea, to use an ATM and to buy Evil a very superior bottle of Greek red wine, to show the old wine snob that not everything produced here tastes of mouth-wash. far from it.

1920 days ago
George Cawkwell is the greatest living scholar on the subject of ancient Greece. His son, my friend, the philistine Simon, aka Evil Knievil. refuses to come to the Hellenic Republic on the grounds that the wine is all awful. He is wrong and I intend to prove it to him and lure him out here to open up his mind. My father attended George's lectures I must educate Simon.

1998 days ago
Though he is an on-off smoker and a man not averse to a bottle or three of wine at lunchtime, my friend the bear raider Lucian Miers, the Bard of the Boleyn, is becoming a bit of a health freak these days. "I can't file Friday as I am on a three day walk across the downs". That is his catchphrase these days. And to think that it used to be "get another bottle in, I'm just nipping outside for a fag."

2373 days ago
Amid a general feeling of despondenc and uncertainty, the one constant joy is my blood sugar levels as I tackle type 2 diabetes. It is eleven days since I got back to Greece and I continue my regime of moderate exercise and avoiding booze and carbohydrates at all cost. Well almost.

2520 days ago
Oft accused by folks who do not like what I write of being an alcoholic, the sad truth is that these days my poison of choice is ginger beer and I drink almost nothing. When in Greece I might have an ouzo at the end of a hard day, here in the UK I drink almost nothing. 

2523 days ago
The Mrs has a new best friend, the Greek consul in Birmingham. Once again she is trekking her way up to the frozen grim Northern post industrial wastelands in order to get more official forms stamped. Such is life in Greece. There are rules governing everything and always forms to fill in. Native bubbles rarely bother with many of them but some, such as this latest one which allows us to submit a building permit for the Greek Hovel cannot be avoided. Hence the trip to Birmingham.

3320 days ago
One of the attractions of the house the Mrs bought in a Bristol suburb last Christmas is its almost Mediterranean – if small – garden. It sits wedged between the house and my office, aka a large abandoned garage which is now starting to get a bit nippy. On that matter, I remind my rentier landlord (aka the Mrs) that she has yet to provide her exploited tenant (me) with the heating she promised. Truly, the deluded lefty has become a wicked capitalist exploiter. I digress.
The garden came with a lovely rhubarb plant, a fig tree but its main produce is grapes from the vines that snakes around the edge and onto anything it can find to climb along.  And so the grapes were, some weeks, ago harvested by myself the Mrs and some of her deluded lefty mates.
How many deluded lefties does it take to harvest a vine? Five (plus myself who was let off grape picking as I was chief cook for the evening.). Of the five, that would be one to play the guitar, two to complain about Thatcher and austerity and the other two to pick the grapes.
The grapes were crushed (not with bare feet it is too bloody cold for that) and left to ferment ad then strained and now sit in two demi-johns. You will note that they are marginally different colours. I cannot remember which is which but one is the top liquid, the second was liquid plus a lot of strained grape material. It matters little. The initial tasting was "interesting". Bottling takes place shortly and Chateau Brislington should – in theory – be drinkable by next spring. In practise…I have my doubts.

3437 days ago
One of the attractions of the house that the Mrs bought in Bristol last December was a vine that is now threatening to take over the back garden. We have hacked it back a bit but it is unstoppable and bunches of what are very clearly grapes are now clearly visible everywhere.
I have no idea how to nurture this plant but it seems to do very well by itself. I also have no idea of how to turn grapes into wine but it cannot be that hard surely?
Rooting around in the garage, aka my office, the other day I stumbled across a bottle of rose wine left by the former owners from the 2013 vintage. It was marked clearly "drink in the summer of 2014." The Mrs and I are dutiful folks so obeyed the instructions and much to our surprise it was quite drinkable. A bit on the strong side but who are we to complain.
The 2014 harvest takes place on my return to the UK in the first week of October. Apparently our vine can produce up to 16 bottles a year of Chateau Brislington. That then is the Christmas presents sorted…

3478 days ago
You may have noticed that the number of typos in my articles has increased in recent months. I am not a touch typist but have learned how to bang the keys hard and fast – having to knock out 350 words in ten minutes with a sub-editor screaming at you to hit an Evening Standard deadline was a great instructor.
The problem with this is that after about a year the letters on my keypad start to disappear. And so on my laptop there was often some confusion between o, I, u, p and m and n. Those letters – as well as r, t, a, w, k and l are now all missing. Spellcheck does not always pick these matters up. And it can be hard to sub your own articles particularly after a hard day.
But salvation is at hand.

3532 days ago
For various reasons it will be my wife not me making an EIS investment for this year and we will be going for a private company which offers the usual tax breaks, a credible possibility of a tax free capital gain and also a bit of fun. My record of backing wine companies to date is 100% (Chapel Down) and here's hoping it stays that way with Chateau Civrac. 

3681 days ago
They ordered two main courses and a large glass of red wine. The young couple guzzled the red wine greedily before the food arrived they just did a runner, paying nothing. Bastards. But hey ho there is a God…
In their haste to commit theft, the bird left her expensive handbag behind. It is now sitting safely locked away with her diary inside. Hey ho. Over to you folks.
They can either come in and pay for the WHOLE meal and get the expensive handbag + diary etc back. Or they can come in and try to haggle in which case we will bring the police in as "doing a runner" is theft. Or the bird can avoid a bill of £23 and go buy a new handbag for a multiple of that.

Frankly I do not care what they do. The bastards have got their just deserts already. Imagine how they felt as they strolled off laughing at how easy crime is to commit, when she suddenly remembered "where's my handbag?" 
If you are reading this you thieving scumbags you know where we are…

3937 days ago
You thought that this was my only blog? Noooooooh. I have started another one. Usually it is just one post a day but I hope to do more – it is my Real Man Blog! Today's article is below – I tend to use photos for this blog and and am working on trying to get some video content in. The subject is normally food or drink – there are no wild political rants on this blog – that stays here.
What appears below is today's entry – you can find the whole blog here.
What is Linguine Manx?
It is a recipe pretty much unique to Real Man Pizza Company – it was created by head waiter Aldo (who is actually a trained chef and a great cook) and by owner Tom Winnifrith and it tastes amazing. If you are in Clerkenwell you have to pop in and try it at our quirky Celtic Italian Restaurant..
Linguine – it is a bit like spaghetti but just a tad thicker. The Manx side? The dish contains Queenies, scallops from the Isle of Man. The Queenies are accompanies by crab meat, and also chilli, garlic, lashings of freshly chopped parsley and a backing of our tomato sauce. There is also a dash of Manx vodka just before the tomato goes in.. And then there is a bit more parsley added on top once the linguine is folded into its dressing. Salivating yet? You should be.
And hey presto a Manx Linguine as you can see below.
One of our lunch guests very wisely went for the Linguine Manx yesterday. His co-diner opted for Penne Carbonara ( penne folded into cream based sauce with bacon and freshly chopped mushrooms – once again freshly chopped parsley on top). The two dishes stand side by side below.
Suggested Italian wine for this combination: Tosca Bianco Villa Lucia, described as a fresh and vibrant white wine, medium bodied with aromas of orchard fruit and peaches and zesty lemon on the palate. Or perhaps if you want something a bit special a Riva Leone Gavi ( a delicate white with intense fruity and lemony notes)?
We do not just do pizza at Real Man but as with our pizzas, our pasta dishes use all fresh ingredients and combine the traditional with our own specially created and unique dishes.

3949 days ago
Big excitement – the new website is live. Rather belatedly it can now be accessed from a mobile device and features Manannan mac Lir staring out at you. Okay, you do not give two hoots but we have been working at this for a good while and we are excited. The new website also features the new wine menu ( goes live in our Clerkenwell restaurant on Monday) and the upgraded take-away and in-house food menus.
In case you did not know, Manannan is the sea God who protects the Isle of Man with his cloak, that is to say the fog.
You can view the new site at www.therealmanpizzacompany.com

4032 days ago
EU Leaders held a crisis summit last week to try to agree a budget. Our own David Cameron was told that there was no way that the Evil Empire can save money. We all know that this is utter bollocks. It is the little things that give it away.
At the summit the leaders were offered as a drink Chateau Angelus Premier Grand Cru. It is red Bordeaux and a bottle of 1992 (not the greatest year) costs £120 a pop. The Evil Empire is no doubt congratulating itself on its restraint in not serving the 1982 vintage which costs £220 a pop.
With waste it is the little things that give away the attitude of the wider organisation. Does a CEO doodle on used envelopes or on expensive embossed headed notepaper? One shows a keen respect for cost, the other shows that someone cares not a jot about spending other folks cash. The EU wine menu says it all. I would recommended a nice ChapelDown Pinot Noir from Kent which can be bought at a trade price of sub £10 a bottle for the next summit.
That the world's largest donor of foreign aid, an employer of 40,000 people in Brussels, an organisation that spends 60 billion a year subsiding uneconomic lifestyle farmers in a continent with too much food thinks it needs to spend more is patently ludicrous. The decadence of the crisis summit says it all.

4141 days ago
If that headline does not a) generate a retweet from Frazer Thompson, CEO of the excellent Chapel Down vineyard and b) attract some new first time visitors from google searches (scroll down to the bottom gents), I shall be disappointed.
I have finally made it to Zitsa. Here Byron penned verse while sheltering from a thunderstorm on the plain below. His friend Hobhouse commented on the excellent local white wine. But this place is famous not for its white but for its sparkling red, pictured below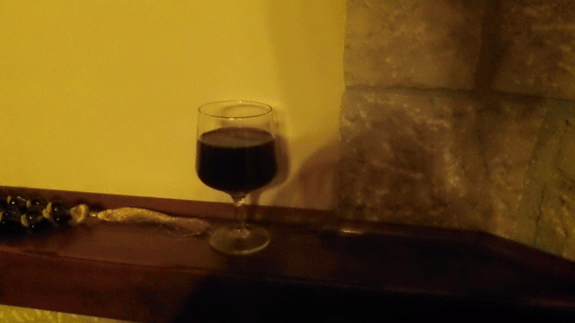 It is not fizzy like champagne but it sparkles and has a bite. It is a curious brew. I cannot quite describe it. It is dry and slightly acidic. But I have just ordered a second glass. I think it is probably an acquired taste and so I shall do my best to acquire it.