I am almost longing for those heady days in July when the daftest thing the Police did was to take a knee to an organisation that wanted to er…defund the Police. At least, at that point, Plod just looked ridiculous. Now Forces across the country compete to use new Covid powers in the most authoritarian and pointless way and they look sinister and frightening. We had thought that the force that was most authoritarian was that of Northants leading the fight against eating Big Macs, before Derbyshire served up a storming entry with its designation of drinking a cup of coffee as having a, now, illegal picnic. But in the race to hand out £200 fines, we have a new winner of today's most Orwellian force in Britain award.
Broseley & Wenlock Safer Neighbourhood Team is part of the West Mercia force and operates in Shropshire, a few miles from the town of Telford. You know the place don't you? It was where, over a period of 30 years, around 1,000 underage, working-class girls were sexually groomed with the Old Bill doing absolutely nothing to protect the white trash. But lest you think that the West Mercia force is totally useless you will be delighted by the tweet below, showing that when it comes to really serious crime it is keeping its eye on the ball. 
After all, we are all aware that chucking a snowball at someone many yards away is a Covid super spreader event, aren't we?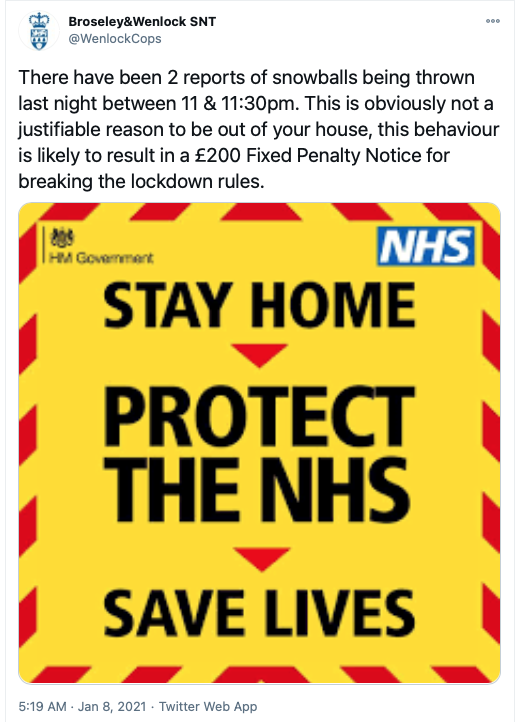 If you enjoyed reading this article from Tom Winnifrith, why not help us cover our running costs with a donation?