Having voted Tory in 2019 – for which I apologise, yet again – there are so many reasons to despise the party. But its approach to Covid rule-breaking, as demonstrated by Sajid Javid, is yet another one. I think of my father's funeral, as only 30 could attend.
The numerous rules introduced by the Tories – as well as the SNP and Labour devolved administrations – were, as I said at the time, insane. They did nothing to alter eventual outcomes.  Perhaps, that is why Boris et al broke them so flagrantly, with numerous parties in Downing Street. Meanwhile, we had to bury my father. Only 30 were in the church, and, at the graveside, just 15 could attend. I got my lawyer involved and indemnified the wretched vicar of Shipston so we could go ahead as planned. Had we been quaffing champagne while shooting grouse, there would have been no issue.
The laws made no sense at all. Remember the filth arresting snowballers, or even solo coffee drinkers, for breaking Covid laws? When Sajid requests that we move on and forgive Boris Johnson, it is hard to do so when I recall how "little people" were treated. That is why, for many folks, this is about far more than "poor behaviour" by those in power. But the likes of Sajid Javid are just too thick skinned and removed from the reality of everyday life, to understand that.
I do not want Boris to resign for breaking his own silly laws, or even for lying to Parliament over it. I don't really care. His betrayal of his voters over, for instance, the green energy con, is far more serious. But when I see Sajid's tweet, I am reminded of why the whole Tory party is so despicable.  They can change leaders as often as they want; it is now the whole party, the whole job lot of them, whom so many former supporters openly despise.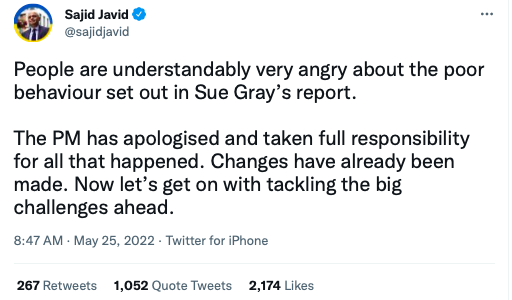 If you enjoyed reading this article from Tom Winnifrith, why not help us cover our running costs with a donation?