Piers Morgan
60 days ago
That is what the media and the liberal elitists wish to tell you but it is a a lie. Shame on them all for parroting Sinn Fein/IRA. Parties supporting a United Ireland actually lost seats on Thursday.  I explain the media's disdain for Unionism, what actually happened and why there should, therefore under the terms of the Good Friday Agrement, be no poll on a United Ireland whatever IRA/Sinn Fein and their ignorant apologists such as Piers Morgan and the BBC suggest. 

304 days ago
This morning, OFCOM has ruled that the remarks made by Piers Morgan on GMB about the ghastly Princess Meghan were all perfectly fair. I should say so. What he said is what most of us felt about this narcissistic fantasist and her dope of a husband. OFCOM says Morgan is entitled to an opinion and that the programme showed full balance. On all the complaints made against him by some 57,000 souls, including Meghan herself, he was cleared. So where does this leave Carolyn McColl, ITV's CEO?

483 days ago
In my world of investigating white collar crime, there is a Eureka movement when you can prove that a company has told one slam dunk lie. It does not matter how small the lie, it is the act of lying that matters And that brings me to Meghan Markle. We can dissect her interview in detail as I started to do HERE but let us focus on what is the most glaring and obvious and serious lie she told.

526 days ago
The BBC and the mainstream media are not reporting it but today the Information Commissioner gave testimony to the House of Commons DCMS Select Committee which demonstrates the true degradation of British Journalism. This reminds me of a talk last Autumn at, my alma mater, Hertford College Oxford.

536 days ago
We lockdown sceptics are, increasingly, accused by the mainstream media and our political leaders of having "blood on our hands." By lockdown sceptics, I refer not to lunatics such as Piers Corbyn who claim that Covid does not exist, but those of us who ask questions about government policies which are illogical and, in many cases, do more harm than good. Demonstrably, some aspects of lockdown mean that government ministers like Matt Hancock, egged on by the entire political and almost all of the media class, do, quite literally, have blood on their hands. Take the case of 23-year-old Kimberley Eccles.

554 days ago
Death, like taxation and the sheer awfulness of Mrs Brown's Boys, is something that cannot be avoided or denied and must be confronted by all of us in the end. When you bring a child into this world, you know that one dreadful day you will have to explain to it that he or she will in the end die. It is awful and unavoidable. We all die in the end.

562 days ago
I ask you not as an expert virologist, like Piers Morgan or Christopher Biggins, but as one who spends his working days looking at numbers and who has a simple question for the real experts.

574 days ago
The Government is rolling out a list of celebs who are prepared to have the covid vaccine and then urge we plebs to follow suit. Because, as we all know from all those luvvies who lined up to get us to vote for Labour, the Lib Dems and against Brexit, we dirty oiks like nothing better than being lectured by millionaire celebs about why we are stupid and should change our minds.

805 days ago
We were told by ALL the politicians, nearly all the media, by many scientists, including the world famous virologist Piers Morgan, that we had no choice but to respond to Coronavirus with a draconian lockdown that has smashed our civil liberties and hurled us into the worst recession since the 1930s. Sweden is the one Western country to have gone down a different route despite immense media pressure and threats from the World Health Organisation. But the bodies are not piling up in mass graves in Malmo, they are not running out of death carts in Stockholm or Gothenburg. And that exposes the GroupThink driven calamity we are now all suffering for what it is. The media still thinks the scandal is that we did not lockdown earlier or provide enough PPE. But data analysis or logic is not something anyone at the BBC seems to understand – they don't teach that sort of thing on liberal arts courses at Oxbridge. The real scandal is that we have blundered into a policy which will, in the end, show that the "cure" was not a cure at all but was in fact worse than the ailment. Time once again for our leaders to read the last work by my late uncle, Christopher Booker, on GroupThink (available here).

827 days ago
Laughably, the BBC is trumpeting an opinion poll showing how its reportage of the Coronavirus "pandemic" is the most trusted among TV stations. When this is all over, we will laugh at just how the entire Mainstream Media failed us, wallowed in GroupThink and failed to challenge our blundering and lying leaders. You can see this for yourself with an easy test…

3041 days ago
Shadow Chancellor Ed Balls has once again shown himself an utter moron with his plan to levy an extra tax on bankers' bonuses and curb tax relief on pensions for higher earners to "end youth unemployment." He is a moron because his plans will not work but he is at least playing well to the crowd.
In today's Britain bankers are hated. So saying that you will tax them more heavily will win votes. Balls should go further and announce plans for windfall taxes on other groups who are almost universally despised, such as paedophiles, Piers Morgan or members of the Liberal Democrat Parliamentary party. It would win votes but like his bankers tax plan such schemes would not work.
Why will it not work? Firstly bankers will find ways around it to move either their bonuses or indeed themselves offshore.  If a Government interferes with market forces by penalising one section of society of whom it disapproves what next? A super-tax on accountants or lawyers working for Pinsent Masons (I quite like that one)? Mess with market forces and in a mobile global market you will lose out. Just look at what has happened in France
So the take on that will be less than Balls expects

3053 days ago
For years, the cheers emanating from Manchester United's tribal heartlands of Surry and the New Forrest have been deafening. The Red Devils won everything and the rest of us had to suffer the delight of a legion of fair-weather supporters. The boot is now on the other foot.
A few years ago an away leg at Greek Champions Olympiacos would have been a stroll in the park. But tonight United played as badly in Europe as they have at home and have been kebabbed 2-0. As a Hellenophile I take a double delight in this result. Mighty Hellas has put the men of Moyes to the sword.
No European football next year will put a real strain on the finances of Manchester United Inc, the NASDAQ listed company. And that could prove really entertaining as the budget to replace some of its ageing team is curbed. Oh happy days.
On twitter it is being suggested that United should sack manager David Moyes and replace him with newly unemployed Piers Morgan…he couldn't do any worse could he?

3460 days ago
I have written a number of times about how UK websites you are meant to trust like MoneyAM and UK-Analyst (and now Digital Look has also trundled along the walk of shame) have been accepting money to send their loyal readers a promotion for US OTC stock Harmonic Energy (OTC:ASUV) stating "This is the one stock you must buy now" and suggesting that gains of 3,200% are possible. In very small print on these promotions it is admitted that they are paid for by a shareholder who wants to sell shares. In other words this is a pump and dump operation. And in the latest SEC Filing of 14th December we discover that Harmonic has almost no cash, no revenues and is burning cash – it should be clean out of money within a couple of weeks. The auditors flag this as a going concern issue. Er…just a bit. At 95 cents today the company is valued at $59.9 million.
The whole thing is total joke as I described on the largest US website Seeking Alpha just before Christmas HERE .
US Investors are happily dumping shares and guess which suckers are buying? Er… Yes Limeys it is you thanks to those mailings from websites you thought you trusted. Heck that is the special relationship in action, the yanks get to offload their shit on the Brits and we send them Piers Morgan in return. Unless you were one of the folks suckered this is almost funny.
That supposedly respectable UK websites take cash to pump out this crap is a total disgrace but the story of this mega stock promotion for a total nothing company gets funnier still as I am sent the latest release from Harmonic with blockbusting news

3467 days ago
The gun rights activist might seem like a bit of a paranoid loon (okay he is a loon) but a) he is one of the folks organising the deport Piers petition and b) his debate is against a man who is not exactly a towering intellect, viz Piers Moron.
The loon just takes Moron apart, before at the end exposing himself as a prixe loon. It is a shame that the ratings for the show make the Jimmy Savile fan club look like a mass membership organisation and that the destruction of the great phone hacker was therefore watched by so few. Join them. It is a delight.
Final scores: Loon 1 (og Moron): Phone Hacker 0.

3470 days ago
If there are any readers of the tax dodging, paedophilia endorsing, Argie loving Guardian reading this blog they may enter this week's caption contest if they wish. But I warn them now that entries such as "brave anti imperialist campaigner President Fernandez is awarded a prize for delivering economic success by following the teachings of Ed Balls" will not win.
I am sure that regular readings can come up with better captions to the picture below. The most apt caption will win a Piss off Argentina T-shirt.
I know that two readers (Jon and Chris) were wearing their shirts with pride today as was I. If you wish to buy your own T-shirt ( or mug) you can do so at my online store here.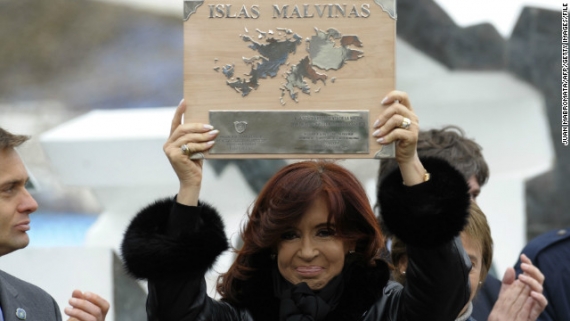 For what it is worth my entry is: " Following her successful implementation of an economic policy devised by the Greek Government Argentine President Fernandez is handed a one way plane ticket to a destination selected by her adoring public back home."
I am sure you can do better. Post your entries in the comments section below.
Last week I asked you for suitable captions to a picture containing a photo of Britain's two least wanted men.

3478 days ago
The special relationship between Britain and America is under its most severe threat in decades. Stateside, a petition calling for Piers Moron to be deported has garnered enough signatures for President Obama to have to consider it. The world's most hopeless chat show host, self-confessed phone hacker and "lucky" share punter during the City Slickers affair points out that 99% of Americans have not signed the petition. Alan Sugar responded on twitter by saying that those were the people who had not heard of Morgan.
But as this petition grows in size daily, other petitions are springing up demanding that he not be allowed back into Britain. The grounds seem unclear other than the fact that he is a loathsome human being and we would be better off without him.
I would just about consider an Abu Qatada Piers Morgan a good deal for Britain but it is pretty marginal. Perhaps if America agreed to take Russell Brand as well?
In order to win an "It's Time to Leave" T-shirt I offer this picture of two grinning gentlemen. On is a proven loser with no friends very occassionally seen in the House of Commons. And so is the other.
Please post your entries in the comments section below.
You can of course buy your very own "It's Time to Leave T-shirts, hoodies, sweatshirts, coffee mugs and Thermos flogs in my online store here.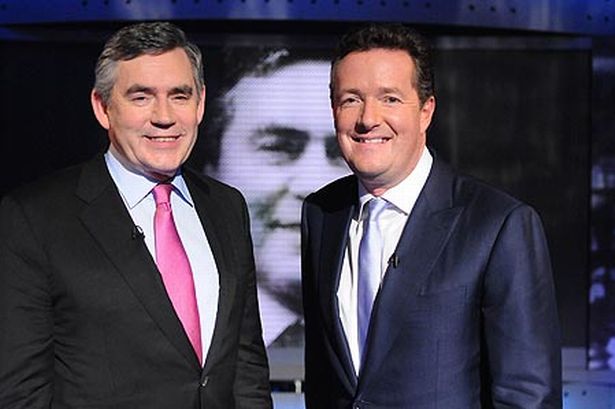 For what it's worth my entry is:
Brown: " I'd like to replace the £9 billion I lost on bullion sales and you say you know Britain's best gold digger – can you get Ms Mills' telephone number for me?"
Last week I asked you for captions to this picture:

3535 days ago
Sir George Young is the new Government chief whip. As it happens I know a bit about him as he is also my second cousin once removed and, rather more importantly, brother of my step mother Helen. And I see that he is now a founder member of a new group of Tory MPs which wants to "reach out" to "blue collar" Tories. The sort of people Young's predecessor Andrew Mitchell might have described as "plebs." Young's qualifications?
Born in a stately home at Cookham, like his grandfather, father and brother he went to Eton then

3537 days ago
Most stuff on twitter is pretty dire but, as I have noted before, there are rare gems. And so from the carnage of Hurricane Sandy I bring you this offering for those of you (99% of sentient human beings) who cannot abhor Piers Morgan and who cannot wait for him to be done for phone hacking:
#Sandy: America do us all a favour and get CNN to send Piers Morgan out to do the weather report.
Not the funniest tweet in history but it brought a smile to my face.