deluded lefties
39 days ago
In that category I refer mainly to our friends here, the Guardian reading maskers (still) L&G. A Trump MAGA cap and a a Defund the BBC T-shirt is what the right thinking individual is wearing abroad this year. This is me snoozing on the balcony overlooking the pool.

1014 days ago
We started this tale with my wife suggesting that we buy a cat basket for Sian & Quincey our rescue cats from the grim North, that is to say Liverpool. "Oh no" I objected on their behalf, "cat baskets are for soft southerners, when we were young we lived in cardboard boxes". I put two out and the cats dreamed of sleeping in cardboard boxes. "In the old days in the North we were poor but we were happy" they said, as in the Monty Python sketch.

2624 days ago
Having done their best to cover up the gang rapes and sex attacks in Cologne on New Year's Eve, I cannot see why anyone believes a word the German rozzers have to say on anything. After Ansbach I am going to double up on that assertion. One thing the German Plod is good at is ordering us not to speculate. It sends out tweets after each atrocity ordering us not to be so reckless. Good Germans obey orders, but the Police are keen to do the opposite and speculate about anything other than what we all knew to be the truth in the first place.

3173 days ago
As you know I have guided West Ham to the brink of Champions League football by studiously paying no attention to every game played and avoiding going anywhere near a match or even watching on TV. When I have weakened and thought about attending a game, suddenly The Irons stop playing like Brazil and start playing like a Hackney Marshes side. I must warn you that with the Hammers travelling to my home City of Bristol this Sunday for an FA Cup game, my resolve weakened.
My daughter is in town and I tried to buy a pair of tickets off an online site. Luckily www.ticketbis.net offers the most useless service on this planet and treats potential customers like shite. I was promised calls back, I harried, a bloke called me asking for my business and said right now go buy tickets online only to find there were none. This company is run by a bunch of total wankers from Liverpool.  The sooner the welfare safari that is scouseland is towed off into the Irish Sea and sunk the better. I heartily advise that you never use this company ever, not even to buy a stolen hub cap.
So no tickets. That prevents an almost certain cup upset. However I should warn you

3269 days ago
I went to Nadine's Birthday party yesterday. She was also celebrating 10 years in the UK with a British party. Since she is a friend of the Mrs and so it goes without saying that the place was packed with deluded lefties.
I therefore discuss the politics of food in relation to Britain's poor but also the idea of taking responsibility for one's own actions.  I then move on to reclaiming the flag, the idea of Britishness and the whole immigration debate based as it is on lies and a fail to tackle the real issue of welfare abuse.
My financial video postcard looks at buying opportunities and earnings visibility for UK shares and can be watched HERE

3378 days ago
The steam is rising gently off the green fields of Oxfordshire and Berkshire as the 4.47 AM from Bristol speeds from Didcot and onto Reading. But for once I am not alone in my carriage and there is a strange smell.
I know that at Reading we will be joined by throngs of City folk heading into London. I will have to move my bags currently sprawled over three seats and the carriage will be filled with tap tap tap tap sounds as irrelevant messages are sent by one and all via blackberry and iPhone. For now I stare out of the window in relative peace, wondering why this land is so beautiful.

3586 days ago
I regard the late Nelson Mandela as a hero but the media coverage of his sad demise is somewhere between OTT and nauseating.
Why is he a hero? Apartheid was an evil regime and he played his part in its overthrow. He wasted the best part of his life in prison for the cause but the same could be said for many who stand up to evil. For me his heroism was in his actions post-Apartheid. 
I could understand had he been bitter but if he was he hid it well. The way he showed forgiveness, compassion and was reconciliation embodied, was truly heroic. Moreover – in stark contrast to those now running the ANC – when gaining power he did not plunder the State's coffers for personal gain as he could have done. 

For anyone of my age Mandela truly was a hero of our era.

However, as the UK suffers the worst storms in living memory and one or two other things happen which might not please the BBC (the most upbeat Autumn statement in years), the wall to wall coverage on Mandela's demise at the expense of all other news is OTT. Having listened to the same soundbites about ten times today I gave up on the news and will only start watching it again in a few days when the Mandela-fest has eased.

But the worst part of it is the excuse it has given the BBC and other twisted and deluded lefties to rewrite history and bash the Tories, notably Margaret Thatcher.

3696 days ago
My immediate family, bar uber-enlightened step sister Flea, are all deluded lefties and thus take the view that if Uncle Chris (Chris Booker) holds one view they should naturally take the opposite line. I tend to take an alternative view. Other than his one little blind spot (a failure to support the only democracy in the Middle East), Booker's judgement is never wrong. On issues such as the global warming scandal, the EU and inner City development he has for decades been way ahead of the curve.
Today my mother's brother writes in his Sunday Telegraph column about the West's failure to appreciate the Islamofascist threat from Iran. Again he is bang on the money. Perhaps we should all have listened to the Israelis a bit more?
But he also picks up on my piece last week about the National Trust and how it is losing the plot. In that snippet he observes correctly why my father's father, Sir John Winnifrith, would today have been disqualified from being head of the National Trust. It is a good and fair comment which my immediate family will find it hard to disagree with. But on (misguided) principle they probably will do so anyway.
To read my piece on the National Trust's failure click here
To read Christopher's column today click here

3702 days ago
It seems that the Argies are not the only Spanish speaking folks with a train wreck of an economy who don't give a flying wotsit about self-determination. This may not play well with any Spanish readers of this website but the folks in Gibraltar are British and want to stay British and so they should stay British.
I explained my anger at both the Spanish and the home grown deluded lefties who wish to betray our countrymen in a video postcard this weekend which you can watch here.
Now I have launched my brand new T-shirt, mug and hoodie range: Sod Off Spain! With the logo you can see below



You can order your merchandise in my online store here
What better outfit could you sport if you are heading off to the Cost del Crime for a summer break?
The Sod off Spain range is in ideal compliment to the Piss off Argentina range which sports the logo below


You can order both Piss off Argentina and Sod off Spain goods only in my online store HERE

3722 days ago
And so the royal baby is born and I wonder do I really care? Do I understand the hysteria? I have to admit that I just cannot make up my mind on the monarchy although I respect the Old Queen greatly. But more on Peter Tatchell later.
As a meritocrat I can see no earthly reason why I should believe in monarchy. It is an anachronism. However when I consider who we would have had as a head of state had there been no monarch I quickly get out the bunting and start singing God Save The Queen. President Heath? President Kinnock? President Wicked Witch? I will stick with the current set up thank you.
If I am in any doubt as to where I stand I simply look at the terrible deluded and embittered lefties wheeled out by the BBC and The Guardian to celebrate the Royal Birth by saying we should abolish the monarchy. If Polly Toynbee

3769 days ago
Teachers earn way over the national average wage. They have cushy pensions (paid for by grateful taxpayers). They get 75 days holiday a year while we all struggle by on 20-25. And in absolute terms standards of educational achievement have never been lower. Being deluded lefties they bleat on about bankers being rewarded for failure but are teachers ever punished for failure?

It seems that it is impossible to sack a teacher. I read with interest about Geoffrey Bettley a teacher of Religious Education who was done by the Old Bill for possessing kiddy porn. His school in West Yorkshire fired him but a professional conduct panel has now ruled the teacher does not "represent a risk to children or young people".
The National College of Teaching and Leadership panel said the images viewed by Mr Bettley were "not at the most serious end" of the scale used to categorise the severity of images of child sex abuse. His behaviour did not show a "deep-seated attitude which leads to harmful behaviour", it ruled.
The nonce is now on the Sex Offenders Register but the school, it appears, was wrong to sack him. Jeepers.  So it is now okay to be so stupid that you have to get your end of term reports rewritten by outside consultants, it is okay to demand lessons to be in walking not maths or basic English, and it is now okay to be a pervert and carry on teaching.
Now then , now then, now then, you want to earn £45, 000 a year, have 75 days holiday a year, not be judged on end results and get to gawp at young boys and girls in short trousers and skirts? You don't need to ask Uncle Jim just go become an RE teacher in Yorkshire. Have a cigar.
Just what exactly do you have to be found guilty of to actually get fired as a teacher? Voting UKIP? Telling the kids that it is okay to work in a bank when you grow up?  Get caught with online images from the Daily Mail website? I despair.

3772 days ago
It seems as if Sunday 2nd June 2013 was the busiest day in the history of this blog – a happy first anniversary. More than 42,000 page impressions in one day is about the same as I enjoyed in the whole of the first eight weeks of this site.  Of course I know that it is nothing to do with this being my first anniversary and all to do with those magic words #DowningStreetAffair.
Right now I sit onboard the 21.42 from Paddington heading for a few days with my father and step mother, the arch deluded lefties of Shipston on Stour. I appeared to be in everyone's good books for volunteering to baby sit for step sister Flea on Wednesday.  As an added benefit, by the time I had volunteered she already had another offer and so I am off the hook.
However I now appear to have regained evil son status by suggesting that my Step Mother phones her brother Sir George Young asking him for his take on the Downing Street affair. Apparently this was not considered funny – I was only kidding.
Apparently I am still suspected of selling some story about "wicked Uncle George" (being a Tory he is naturally considered wicked in my family) to Private Eye about 20 years ago. On that occasion I was blameless. But I suspect folks are right not to bank on my discretion were Sir George to spill the beans. Not that most of us won't already know all by the morning as twitter and the foreign press force Call Me Dave to come clean.

3785 days ago
You know who Abu Qatada is. He reckons that there is something wrong with the UK's welfare system. We agree on that. Abu's specific complaint is that the five bedroom house that the taxpayer provides him with is not big enough. He needs more storage space.  Saints preserve us.  Now meet John Thuo
Back in in his native Kenya he killed between 100 and 400 people using a machete. Policemen, innocent civilians, members of other criminal gangs – he butchered the lot. He also undertook female circumcision. In 2003 he came here as an illegal immigrant and has lived in taxpayer funded accommodation and on benefits ever since.
The Home Office tried to boot him out but failed because it would infringe his Human Rights. You see, he might get murdered by his old gang back in Kenya. Apparently Thuo also has mental health problems and says he might top himself if we boot him out.
Of course if I say that these cases shows our immigration and welfare system is flawed, the deluded lefties and liberal elite respond in three ways:

1. Anyone who says the immigration system is flawed must be a racist.
2. These are exceptional cases and very rare – most of the time our system works fine.
3. The Daily Mail has reported these cases and so this is just right wing scaremongering, gosh we hate the Daily Mail, let's talk about what an awful paper it is.

Whatever. The UK has a £100 billion budget deficit. We are going bust. These gents add to that deficit. They contribute nothing to our society. They will not seek work.

I fail to understand why anyone who has never worked should get any benefits at all. Whether the scrounger is an  Islamofacist hate preacher/probably terrorist, a Kenyan mass murderer or a white chav from some Grim Northern Shot Hole appearing on the Jeremy Kyle show.

In the case of Mr Thuo I cannot see why we are protecting him from justice in Kenya. Why cannot we hand him over to the Kenyan Police? If his gang manage to get at him or he tops himself do I really care? Do you?

3796 days ago
And so it is off to see the deluded lefties of Sheep Street, my family in Shipston, Warwickshire. It should be an easy enough trip from Paddington to Moreton in the Marsh on the 7.22. But that assumes that First Great Western are remotely competent. Oh no.
At 7.15 we were warned of 20 minutes delays due to "a failure of railside equipment" at Hayes. At 8 PM it was 35 minutes. And so on. It is now 9.24 PM and at least I am now on the train but I doubt, if my taxi driver is still awake at Moreton that I will make it to Sheep Street before midnight. First Great Western I detest you.
And so how to kill almost three hours at Paddington? I have written a couple of pieces which, like this, I shall load on Friday. But by chance I bumped into a well-known bear (who else would you meet at Paddington) and so we enjoyed a drink and a discussion about Quindell (QPP) and Cupid (CUP). I sense things are moving apace on both stocks, both of which – as it happens are represented by foxy PR bird Rebecca S-H. She does know how to pick 'em.
More on both of those fine upstanding members of the AIM cesspit community to follow.

3808 days ago
I gather that the local elections loom. My deluded lefty parents are keenly watching the contest in Shipston on Stour where they have a choice of 5 candidates: Labour, Lib Dem, Tory, Green and UKIP. My father tells me that the pro-supermarket protest vote for Labour last time will not carry and so that the nice lady from the Co-Op who flies the red flag will be battling it out for fifth place with the smelly eco-warrior. As such it is a three horse race between the Liberal and two parties which my deluded lefty family would not support under any circumstances: wicked UKIP and the even more wicked Tories.
My father has thus asked little Step-sister Flea to put up a Liberal poster. Since her young man would rather drink his own urine than vote Liberal since he believes in low taxes for those who work, hard work, etc, etc Flea is dithering. But Flea too believes in hard work and low taxes so, having admitted this to the deluded lefty collective that is my family, I'll urge her to stand her ground publically.
Flea, just remember that the Lib Dems are blocking moves to allow for the deportation of terrorist loving Abu Qatada who costs this nation £400,000 a year and who would like to see you blown up. And it is the taxes from your hard work that go to pay his bills.  As you go to work tomorrow, dear  Flea think about where your taxes are going, that bloke outside the school gates who would rather "go fishing" than get a job. Think hard. On that basis: Flea I urge you to stand fast and vote with your conscience on May 2nd.
No go on. Go the whole hog. I do not care two hoots who you vote for in a secret ballot but why not annoy every single relative (including wicked Uncle George). A UKIP poster would look great in your front window.

3820 days ago
I had planned to leave London on Sunday but that all changed. I will be heading down to the Strand to mark my respects to Britain's greatest ever Prime Minister – a woman who saved this country. A woman of principle. I am not sure how many folks will line the route nor if it will be disrupted by unkempt lefties, ignorant young people or worse but I shall be there anyway.
Lucian Miers is trekking up from the boonies to join me. I guess the crowds will build early so I shall work late at Real Man and then head off well before the crack of dawn to bag a place for Lucian and myself.
Uncle Chris (Booker) says that his wife queued to pay her respects at Churchill's coffin and so this time I am there for the Booker's who cannot make it. My own family of deluded lefties have rather different feelings but I guess I am also there for little step sister Flea who, to her credit, is a true child of Thatcher.
Afterwards I shall return to Real Man, feeling – I suspect – rather tired so it may be a light blogging day ahead.

3828 days ago
There will no doubt be wild celebrations in parts of Islington, Bristol and bastions of the Guardian reading Middle Classes tonight.  After a long illness. Margaret Thatcher has died of a stroke today. This death will divide the nation.
I am watching the BBC's coverage and it ignores her achievements totally. It is spiteful and worthless reporting.  The left will blame her for all sorts of matters and will delight in her demise. Already I see tweets saying "the witch is dead." Expect a torrent of tasteless and unpleasant comments and myth perpetuation over the coming days. Thatcher had that effect – she polarized opinion.
That the left hated her with such a passion was down to the fact that she delivered so much of what the left claims as its own ground. And so the left claims to represent "women" but Thatcher showed that a woman could rise to the top based on ability and without positive discrimination. The left claims to look after the poor. But whereas Milliband, Brown, Blair etc are all solidly working class, it is the Tories who have delivered the leaders from truly humble origins (Heath, Major and above all Thatcher).
The left keeps its client state poor. Thatcher gave opportunity to that client state to get a better life: to earn more based on work and ,merit by breaking Union power and abolishing collective bargaining; to own their own home via council house sales, to save more by cutting taxes. That was revolutionary and Britain needed a revolution because in 1979 after the Winter of Discontent, Margaret Thatcher took control of a country on its knees: bankrupt and with no sense of national pride. Thatcher faced opposition from a left determined to keep the poor poor and from patrician Tories who did not wish to upset the status quo. Bravely she drove through change in society by ensuring that the State did less not more.
She was not always right. In her early career it was she who did away with large numbers of grammar schools. I suspect she regretted that. She did not stand up to Mugabe in his early years when the mad old kook could have been stopped. Again, I sense that she regretted that. But on the big calls Maggie was right and that is why the Left cannot abide her.
All those Guardian readers celebrating today were, if my age or older, proudly wearing CND badges and trooping off to Greenham during the cold war. Folks like Tony Blair, Paddy Pantsdown and Baroness Ashton may pretend otherwise but the lefties were wrong about how to win the Cold War while Maggie Thatcher and Ronald Regan were right. Many of those same lefties would have caved into the Argies in 1982. Thatcher stood firm, although some of those around her wobbled. For her it was a matter of principle. Thatcher was right about the ERM and the Euro. She was branded an out of touch nationalist for her views but her views were based on pure economics and she was once again right. She was right. The deluded lefties were wrong. History is on squarely her side.
In parts of the North they say that they cannot forgive her for closing the coal mines and other State subsidised rust belt industries. But the same folk lambast today's politicians for bailing out the banks. Thatcher understood that there is no such thing as the Government's cash. There is money paid over by the taxpayer and that cash cannot be wasted. Subsidising an industry which just cannot make a profit, whatever the industry is waste. It is taking money from those who are creating wealth and paying it to others who are not. Whether the recipients are bankers or miners Thatcher understood that such an action was wrong.
Today's conservatives do not dare cut Government spending or taxes or foreign aid because they are afraid of being confrontational. They have forgotten what principle means. Thatcher never forgot principle and based every decision about it.
Margaret Thatcher was without doubt the bravest politician of the 20th century. She was without doubt the most principled politician of our lifetime. She was a truly amazing woman. And she was right about almost everything.
To celebrate any death shows that you have no heart.  We should pity those who celebrate the passing of Margaret Thatcher. This woman shaped the lives of a generation. She saved the UK from the bankruptcy and humiliation of the 1970s. She engineered a renaissance of Britain which all of her successors have done their best to dissipate.
Our greatest leader, Margaret Thatcher 1925-2013 RIP

3832 days ago
Child killer Mick Philpott "earned" the equivalent of £100,000 a year milking the benefits system. He could afford booze, drugs, a snooker room extension, SkyTV and much, much more and never did a day's work. It was a broken benefits system that allowed him to lead such a life, that incentivised him NOT to work and which caused him to lose any sort of moral compass. For this dirtbag life was about rights and self-gratification and not about obligations and responsibilities.
Anyone who makes this point, be it the Daily Mail, myself or George Osborne is now abused by the left as heartless in that we ignore the human tragedy of six dead kids or of using one human tragedy to bash all on welfare.  The left – as ever – misses the point.
There are countless Philpott's out there. Only a few go around murdering children in order to obtain more benefits. But vast numbers now regard benefits as a lifestyle and an entitlement. Keep the system as it is and this underclass will slip further and further into depravity. It is bankrupting Britain financially and it is morally bankrupting those who now have no concept of the idea that with rights come obligations and responsibilities. Deluded lefties seem unable to see this. In some cases it is because their Parliamentary seats or worthless taxpayer-funded jobs depend on keeping a client state poor. For others there cannot be the excuse of self-interest, those folk are just deluded.
But the way that the entire left tries to drown out rational debate on the UK's broken system with smears and attack is Fascism. Why is the left afraid to debate the real issues? What is so wrong with saying that a subscription to SkyTV should not be part of the standard benefits lifestyle?

3835 days ago
I am not sure how I stumbled across this but it is a very funny political comedy video from the US. And most of it applies very much to the UK as well. If you have ever had an argument with a Guardian reader you will know what I mean

3838 days ago
UKIP is running a poster at the moment "End EU Open Door Migration." I disagree almost entirely with UKIP immigration policy as prohibition does not work and for many reasons I have explained numerous times. But the party has a right to express its view.
Deluded lefties always blather on about free speech and human rights to be heard, blah, blah, blah. Except when they disagree with what is being said. And so some deluded lefty tweeting as @binthecondems started complaining to the poster company - and getting others to do so – that the poster was racist.
The poster company is a giant enterprise but the bigger the corporation the more terror it has of being tarred as racist and so the lerfties claim that the poster has been pulled. @binthecondems is delighted and happily tweeting out about how UKIP is full of "bigots" "racists" and "Nazis." The poster company says it may pull the poster, it is reviewing it.
This will be interesting.
Of course UKIP does not want this tweeter banned from expressing that (factually incorrect) view because it believes in free speech – that is the right of EVERYONE to be heard not just folks with whom you happen to agree. That more limited definition of free speech belongs firmly to the left.

3841 days ago
It is normally crackpot lefties who bleat on about the short termist approach of some businesses which undermines capitalism, and so I venture into an area where I might find myself in the same ideological bed as gold grade loons like Polly Toynbee. Whatever… The old trout has – like the proverbial broken clock – got to be right now and again.  My mind wanders into this area thanks to two companies on AIM: CPP (which is perhaps days away from going down the plughole) and Cupid which is not near the plughole. Yet.
CPP provided financial services support for big companies. The problem was that some of the services it provided were not just crap they were an outright scam. It was hugely profitable for CPP but in the end you cannot go around ripping off your customers forever because they walk. As it happens it did not get to that stage with CPP because the FSA stepped in, shut down a large part of the operation and slapped a huge fine on CPP.

3841 days ago
The Daily Mail & General Trust (DMGT) has a place in my heart. I used to work for it ( on the Evening Standard), as a freelancer the Mail on Sunday allowed me to destroy a biotech company many years ago when other papers were not so brave and, above all, my family of deluded lefties hate it with a passion. And so it has to be worth supporting. But do the maths stack up from an investment rather than an emotional case? The company has today issued a trading statement covering the five months to the end of February. I think the word that I would use to describe it was "reassuring."

3843 days ago
And so I found my way to Oxford on Saturday to a party at the house of my sister Naomi to celebrate the 25th Wedding Anniversary of my father and step mother and also my father's 75th birthday next week. My father and step mother are actually second cousins and eons ago when she was an undergraduate at Oxford and he a post graduate he took her to the Opera as a cousin-friendly gesture. 26 years ago they met for the first time in 20 years at the wedding of another mutual cousin. He took her to the opera again and within nine months they were getting married in Malmesbury, Wiltshire.
It was a lovely sunny and warm March day. Ireland won a six nations match that day and I mentioned that in my best man's speech. After 25 years of global warming we gathered to celebrate that day as the snow fell heavily in Oxford. It was my father and Helen's oldest friends (a group he refers to as the Coffin Dodgers) plus my sisters (and husbands) and my step sisters and brother, young Tom. I am middle Tom. My father is big Tom.
I was banned from mentioning certain subjects in a gathering where I suspect myself and step sister Flea (pictured below) were the only non-Guardian readers.
It was a deluded lefty hothouse. And so I bit my lip and did not say to everyone how many inches of global warming was falling in the garden or raise any other controversial issues like, er… everything I believe in. And so conversation

3851 days ago
I was walking a deluded lefty to Highbury tube station this morning but as we approached we encountered the assembly the start of a "demo" against wicked Tory cuts. The victim in this case is the world's third largest employer (viz the NHS) but the moaning and wailing from the crowd was against cuts in general. Yes, I know Government spending is in fact increasing but that does not fit in with the narrative of the left. Tories = cuts = wicked.
And so as we approached the tube one lardbucket who looked as if he had not encountered a bath in quite some time tried to thrust a pamphlet into my hand "stop the cuts" he said. I could not be bothered to point out that Government spending was in fact increasing. So I just said "No, I want more cuts, in welfare payments, in Government spending and in taxes for lower paid workers." I am not sure that the protester (whose life is, I bet you, funded by the State) was expecting such a response in Islington and he looked a bit baffled as if I had said "the moon is made from cheese."
Before had time to think of a response I was hustled swiftly on and reprimanded for being a) too right win and b) confrontational. When is the great demo protesting about how this hopeless Government is not cutting enough/at all planned for? I am happy to attend with my placard "Cut taxes for the poor workers," "Heather Frost welfarism isn't working,"  "No more cash for kleptocrats."I'll be there.

3852 days ago
In 2009 Lord Ahmed, a Labour peer was sent to prison for just 12 weeks ( but served just 16 days) after he smashed into a stationary car, having sent a series of text messages while driving his Jaguar on the M1 at 70mph. The other driver died.  Personally I regard that sentence as a joke. 16 days for killing someone because you were driving recklessly? I would have been thinking in terms of years.
But Lord Ahmed thinks that he was hard done by. In an interview given a year ago on Pakistani TV, which cropped up this week the total shit said that he was given a harsh sentence  only because of a conspiracy by Jews  "who own newspapers and TV channels". The judge, he added, had been specially chosen because the Jews wanted to punish him for supporting the Palestinian cause.
This murder trots out the sort of nonsense you might expect in the Protocols of Zion, he pedals lies in a way aimed at inciting hatred against Jews and the Labour party is okay with that? To be fair it has suspended him but if he did indeed say this then Labour must either boot him out or it too is signing up to what is just unacceptable.
The problem is that in deluded lefty circles anti-Semitism is cool. Not the sort that denies the holocaust. It is not yet acceptable to pretend that Auschwitz did not happen when munching your bruschetta in Islington. But David Ward MP (Lib Dem) is still a member of that party despite saying that the holocaust was comparable to the situation in Gaza. As I have noted before that trivialises the greatest act of genocide of the 20th Century (if not all time) and is just abhorrent.
The left collectively has a choice. Either it decides that it is fine to bait the wicked Jews, incorporates the Protocols of Zion into 2015 manifestos and states that trivialising the murder of 6 million men, women and children is fine. Or, it shows a genuine commitment to an equality and nondiscriminatory agenda and tells folks like Ward and Ahmed that with their views they have no place in British politics.
They will not. The Lib Dems and Labour will fudge the issue. Too many of their core supporters loathe Israel with a passion. And too many of that number extrapolate that into a loathing of with wicked Jews which involves spouting conspiracy theories and hatred as if they were discussing the weather or whether West Ham will defeat Chelski this weekend.

3855 days ago
The grades achieved in GCSE's have been rising steadily ever since these Mickey Mouse exams were introduced. If anyone says that is because they have got easier they are attacked by the usual bunch of deluded lefties for being brutal and unfair to hard working teachers and students alike. On the grounds that most teachers are probably ardent cyclists here goes – today comes evidence that your exams are a total joke and do not stack up as academic yardsticks of anything.
The pass rate for GCSE maths is c60%. It is one of the, ahem, harder GCSEs to pass.
A survey conducted for Bae today showed that 35% of our fellow citizens need to use a calculator when doing a piece of basic addition where the answer is more than 100. The survey found that 19% of adults could not complete the eleven times table.  One despairs.
The really interesting statistic was that of the over 55s (most of whom will not have passed even CSE maths) only one in ten struggled with these rather basic questions. Guess which age group did the worst? Yup it is the 18-35s, the GCSE generation whose hard work and talented teachers has led them to all get such cracking grades.
Now a bit of maths from me. 35% of all respondents cannot, for instance, tell you that 61 + 72 = 133. But in the over 55s (a bigger age group than that 18-35s) that number falls to 10%. Yet only 40% of the 18-35s have failed GSCE Maths (for 1 in 3 of the UK population I reach that number by subtracting 60 from 100).  And that means that it is perfectly possible to pass GCSE Maths without being able to add 84 to 27 (111). Words almost fail me.
The war criminal Blair blathered on about education, education, education. The amount spent on teaching our kids has soared in real terms, teachers are paid ever more and the result is this. Something does not add up.

3866 days ago
There is only one story this week: when did Nick Clegg know that his leading party official not only looked like Jabba The Hut but, allegedly, shared his views on career advancement for women.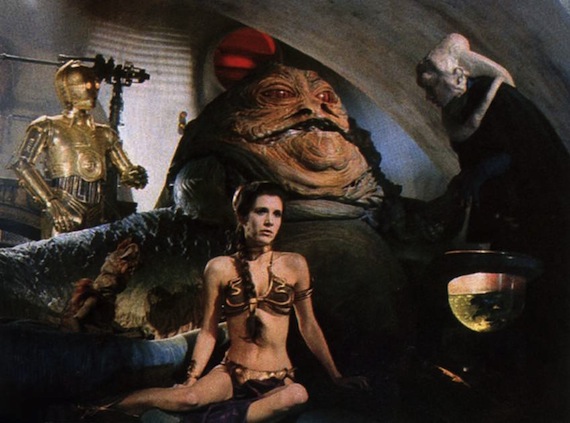 My caption for this one is: So Princess Leia how would you like to be a Lib Dem MP?
And so in honour of this episode and to win a Chris Huhne Liar! Criminal! T-shirt I ask you for captions to the picture below.
Remember that you can also buy the Chris Huhne special T-shirt as well as a "Justice 4 the Sefton 2" T-shirt, mug or hoodie exclusively at our online store.
For what it is worth my caption is
"Salesman: Sir, If you want to fit in the entire Parliamentary Lib Dem party after 2015 you will need to buy the 4 seat model"
Or alternatively:
"Chris wanted you to look after his car whilst he is off the road and says do not worry about speed cameras he knows a sure fire way to get around the system""
If you can do better post your entries in the comments section below.
Last week I asked you for captions for this picture of the Horse belonging to queen welfare scrounger Heather Frost .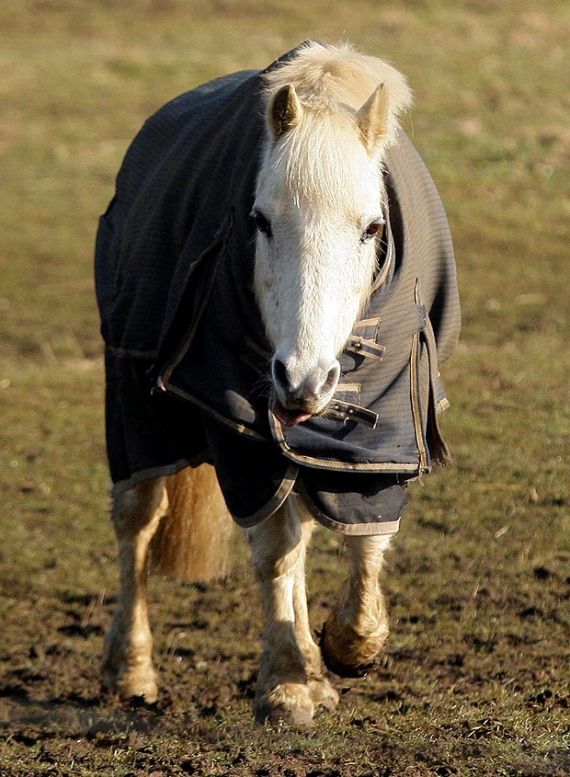 3882 days ago
According to my deluded lefty step mother Michael Gove is a wicked and useless man for trying (and failing) to change the exam system. The lefty belief is that there has been enough tampering and teachers and schoolchildren should just be left with some stability and to get on with it. Underpinning this is the assumption that ever improving A level and GSCE grades reflect the efforts of hard working teachers and students. If grades do not improve in any year it is a scandal, the exam boards must be investigated and it is remarks all round. It is hard to know where to start with this grade bubble.

3883 days ago
My attention is drawn to a new website designed to assist those who read The Guardian and are stuck for suitable comments to post in its online section. This is obviously not a problem I'd ever face for two reasons but for the deluded middle class lefties in my family ( ie everyone bar myself and little step sister Kitty, I mean Flea) it could be invaluable. I offer you the first three random generated comments I got as a taster of what is on offer:
My holiday home in Provence is hardly a luxury! Why are the cis-sexual backlash movement intent on oppressing my right to fair-trade cocoa? Free Gaza now!
I was just the other day updating my blogroll on my iPad 4 when I realised. I would rather vote for the BNP than let my three year old eat anything sold in Asda! Unless we send out a clear message to the Bob Diamonds and Howard Schultz's of this world they will never learn.
We were chatting over a coffee, simple filter, not Nescafe (baby-killers) and started to think out loud. The salt-of-the-earth type jobs some of my primary school classmates ended up in just don't exist any more. It's time for the working class to fight back
Try it for yourself HERE

3889 days ago
I do not really like Starbucks coffee. However, when the deluded lefties started boycotting the firm on the grounds that its directors were committing the heinous offence of fulfilling their fiduciary duties perfectly in ensuring that the company paid as little tax as legally possible, I felt a moral duty to show solidarity and drink its plastic offerings. Then Starbucks caved into the lefies and offered up a voluntary tax "donation." My boycott started.
But where now? The company is showing some spine and warning Call Me Dave (and the lefties) that if it is forced to pay more tax than it legally has to it will – as I warned it would do – curtail UK investment. The political classes who bayed for blood will have their reward: fewer jobs and less PAYE/NI/VAT receipts all round. Such is the sort of victory the lefties have won for Britain.
Pro tem let's see if Starbucks stands its ground. This may be bluster. The lefties are using its stores again. So for now my boycott continues. If it shows real spine and so triggers another lefty boycott it will at that stage be able to count on at least one new customer. Me.

3889 days ago
Just a reminder that my Tomograph Newsletter goes out bi-weekly and the Wednesday shares edition containing that free share tip.
It will be out by 8 PM today and will also include an article on why Polly Toynbee and other deluded lefties MUST make you less happy plus a free share tip. Sorry for delay – doing an emergency shift in the kirchen at Real Man.
Want that free share tip plus an Editor's Choice of the best of the past week plus these two exlusive articles? There won't be a link on the site!
The only way to get all of that is to
REGISTER HERE
Planned delivery time on Wednesday is 8 PM.
Tom

3898 days ago
The Sunday Times has a feature this week on the top ten towns in Britain to live in because that they still have a thriving Town Centre having battled off the wicked supermarkets. Put another way: the top ten twee towns for the Middle Classes to live in nice houses and who cares about the jobless plebs who can't get cheap food anyway. Naturally, following last week, Shipston in Warwickshire is in there. And as a bonus…
Perhaps as a reward for the leading role played by my step mother in the screw the plebs and Tesco campaign, Sheep Street where my father and step mother own a house is the most desirable street in Shipston. Naturally as a wicked right winger, I note the looming property bubble, I have put my father's house up for sale without telling him. I will break the good news to him later.
NB. If comrade Kenner, Shipston labour councillor or any other dumb leftie is reading this, that last line was a joke. Following Brother Kenner's last contribution here, I feel the need to point that out, patronising though it may seem.

3901 days ago
I am not sure if this story is sponsored by the Shipston Middle classes who wish to deprive the Shipston plebs of affordable housing, cheap Turkey twizzlers and above all jobs, or by the coalition as we enter a triple dip recession.
On balance, having put Shipston on the map this one is in honour of the unholy alliance of deluded middle class lefties and Tory Toffs in Warwickshire who stopped Tesco from opening a store in the town where my father and step mother (deluded lefties) live.
I write about this here about 24 hours ago.
To win a "It's Time to Leave" T-shirt which in this period of intense global warming will be extremely useful, simply post your entries to the picture below.
You can, of course, buy your own It's Time to Leave T-shirt, sweatshirt, hoodie, mug or thermos flask in my online store here.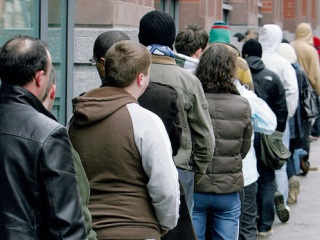 My entry is: "Someone spreads a vicous rumour on the Council Estates that the Shipston venison and pheasant shop is selling turkey twizzlers at half price in the name of diversity and choice"
Last week I asked you for your captions to this picture.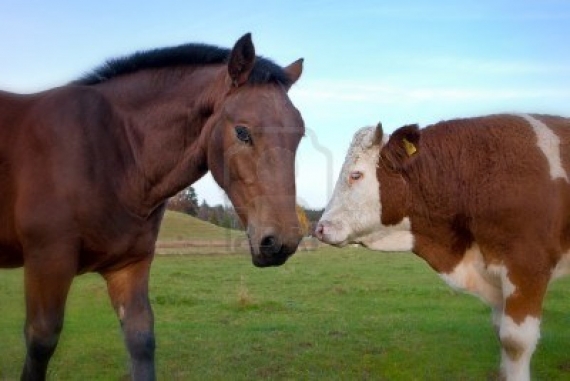 3901 days ago
An excited email arrives from my deluded lefty step mother Helen (sister of Tory Toff Sir George Young) – Stratford Council in Warwickshire has tonight thrown out plans for a big Tesco on the edge of Shipston-on-Stour. The unholy alliance of deluded Middle class lefties and the Tory Toffs has won.
And so there will no new jobs created for the plebs on the council estates. The residents of Shipston will continue to be served by two Co-ops that are not that cheap and have a limited choice as well as by the two butchers where the Tory Toffs and my dad can buy pheasant, quail, expensive lamb and pork and not care about paying over the odds because they can afford it. The plebs who were hoping for a place to get a wide choice of cheap Turkey twizzlers will be disappointed.
So no jobs and no choice of cheap turkey twizzlers for the plebs. No planning gain which would have created some affordable and rented housing for the plebs. The articulate middle class lefties and Tory Toffs have won the debate and can still choose which butcher to buy their quail from and life goes on. The Tory Toffs are naturally wicked and hate the poor. We all know that. The deluded Middle class lefties are tonight celebrating preserving the "community" and "diversity" of this small market town. But it is a community that many folks are financially excluded from. It is a diversity the plebs cannot afford to enjoy.
It has made my step mother very happy. That makes me happy. But it was the wrong result for those at the bottom of the heap. Capitalism could have assisted them. When capitalism is blocked to preserve the vested interests of those who are affluent it always makes the poor poorer.
As a non Guardian reader I am not meant to care about the plebs. That is meant to be the preserve of deluded middle class lefties. But in reality….

3920 days ago
Every time I write about welfare scroungers or fraud I am accused of being a heartless, pampered Tory boy by a range of deluded lefties. I just do not understand this. For starters I am not a Tory. When they stopped believing in low taxes, a small state and started cowering to every EU diktat I gave up on them. Secondly I have worked for everything I have, I am not a beneficiary of inherited wealth. And thirdly if being heartless means objecting to those who work hard having to support either thieves or those who opt not to work hard, sure I am heartless. I believe in a welfare system that acts as a safety net but not in one that becomes a lifestyle choice. To me it is heartless to take away money in tax from those on low incomes to redistribute it to criminals or those who opt for idleness. Het I am not Scrooge but equally I do not see why all those who have been naughty should get Christmas presents paid for by those who have been god. Do you?
There was a damning statistic or two out this week. Firstly we learned that one third of the money collected in income tax is spent on welfare payments. That is an extraordinarily high number. And it is calculated that c 7% or 8% of those payments are made to fraudulent claimants. More damning still was that 43% of those claiming benefits and not working had in fact never worked in their lives. They are on a career of welfare dependency.

3923 days ago
The Argentine economy is going down the toilet. Inflation is 25%, growth is slowing fast and workers are protesting on the streets. In large part this is down to the misguided policies of the Botox-loving President Fernandez. In order to deflect attention from her own incompetence the silly cow is once again stoking up a row over the ownership of the Falkland Islands where a plebiscite this year will show that 99% of the sheep shaggers wish to stay British.
Her latest ruse is to waste Argie Government cash by taking out an advert in a British paper which makes huge operating losses from spouting piffle for its dwindling readership of ageing deluded lefties and whose (profitable) parent company is one of the smartest tax dodgers going. I refer, of course, to the Guardian. Both Argentina and the Guardian can piss right off.
Britons settled in the Falklands when they were deserted since the European political elite who rule the artificially created country that is Argentina were, at that time, too busy exterminating native Indians

3924 days ago
Iain Duncan Smith has claimed that the bloated UK welfare budget of £150 billion a year is bloated in part by around £10 billion a year being claimed in benefits as a result of quite deliberate fraud, often by international syndicates targeting bankrupt Britain. For this he has been vilified by Deluded Lefties elsewhere for "picking on the poor" for "ignoring the real target, tax dodging multinationals" etc. What a bunch of tossers.
In terms of the multinationals, they are not actually breaking the law. If they use Britain's tax regulations as they stand to pay a low rate of tax it is because their officers have a fiduciary duty to investors to pay as little tax as is legally possible. If the Government wishes to change the tax rules it can do so. But as things stand, the "wicked corporations" are actually doing nothing wrong. They are stealing from no-one.
Those commit deliberate benefits fraud are, on the other hand, stealing from the British taxpayer. It is you and I who will pick up the tab for this theft either now or (as it adds to Government debt) later. It is criminal. I cannot see how anyone could possibly oppose the idea of IDS that we should stamp it out. And in stamping it out IDS is not targeting the poor he is targeting criminals. Who, in the right mind, could argue with that? Even some deluded lefties must admit that there is some merit in stopping handing taxpayers cash to criminals. Yet IDS has been described as creep of the year and lambasted by many of the usual suspects. Tossers.

3926 days ago
And so I found myself in the grim North this morning and being just down the road from Grantham thought that I would pay a visit to the birthplace of Britain's greatest Prime Minister. I cannot say that I see much to take me back to Grantham. Baroness Thatcher was born above the corner store owned by her father Alderman Roberts. It is a couple of hundred yards away from the town centre but not on the posher side.
These days the store sells holistic nonsense as you can see in the photo below. What strikes me is just how small it is. Thatcher was a leader born in truly humble surroundings. A small room, above a small shop, in a "secondary" part of a small town. When she suggested that others pull themselves up by their bootstraps she knew what that meant as that is exactly what she (and I imagine her father) did themselves. Her background made her the great leader she was. Just like Call Me Dave's background made him, er……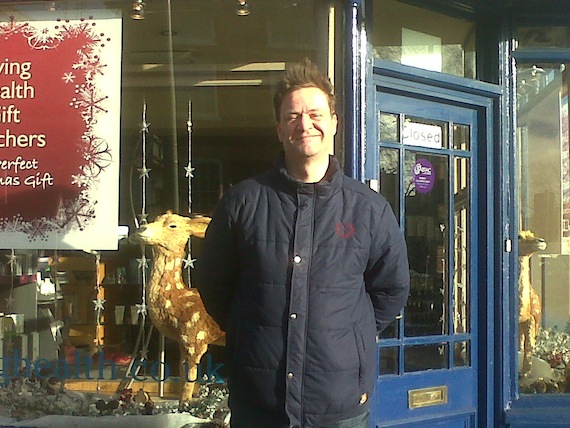 The fact that the person who not only became our first female PM but was without doubt the dominant figure post WW2 in British Politics was born in this town is almost unmentioned. That is to the eternal shame of whichever tossers are in charge of the town. All one can see

3934 days ago
Well I have started. I shall have to do a bit of real work in a second but for now, pronounce RSPCA quickly the first time and here is a Carol for the organisation that thinks that foxy woxy is one of Britain's most popular mammals.
Noting that the North Wiltshire RSPCA is now following me on twitter, this is especially for you folks and any other deluded lefties out there…
The RSPCA Christmas Carol
Away in a manger, the livestock were dead
From TB from badgers, or killed while in bed
By a cute little fox, that the RSPCA
had protected from toffs. hunting that day
Back in North London, where the TB disease
Means warmongering Prime Ministers, not badgers that sneeze
We love cute foxy, and his friendly way
He's veggie like us, and very pro gay
Hands in the pocket, RSPCA
Welfare for foxes, its right that we pay
Kill all rich farmers, they are all to blame
They are Tory scum, with no bloody shame

3938 days ago
And so it is suggested by some in the Tories that those on welfare should not get cash but a card which would allow them to buy anything they wanted except booze, cigarettes and Sky TV. Deluded lefties are bleating that this is demeaning for hardworking folks who are just temporarily out of work and that the Tories thus hate the working class. Bollocks.
If you are temporarily out of work you will get another job. You then get off welfare and then start paying taxes. At which point you will resent that cash going to folk on welfare who spend it on luxuries. Welfare is meant to be a safety net not a way of life. It is not a job.
If you plan on being unemployed for a long time or forever that is fine. Well it is not actually. But I cannot see why

3938 days ago
Just a reminder that my Tomograph Newsletter goes out bi-weekly with its Wednesday shares edition complementing the longer more general weekend edition.
And of course the Wednesday edition is the only way to get an alert to my free share tip of the week.
Want that free share tip plus an Editor's Choice of the best of the past week plus a more general investment piece? There won't be a link on the site!
The only way to get all of that is to
REGISTER HERE
Planned delivery time on Wednesday is 3 PM.
This week's issue also contains a piece on the deluded lefties at the RSPCA plus notes on a chat with the legendary Mark Slater.
Tom

3942 days ago
The shock revelation that my deluded lefty sister Naomi is to give her poor husband Labour Party membership for Christmas naturally begs the question what do I get the rest of my family ( all deluded lefties) for Christmas, or Winterval as they would have it. And so my Saturday musical medley starts with a classic from the Right Brothers "
That is a pretty American list. Maybe for the UK my family and other deluded lefties might start with "Letters from the Chestnut Tree cafe" available at just £5 HERE. or perhaps with a selection of "It's Time to Leave" T-shirts, sweatshirts and coffee mugs? Perhaps for folks who talk about the Malvinas (Naomi) a "Piss off Argentina T-shirt? The mugs and T-shirts are all available HERE.
Back to the music. A couple of other offerings from the Right Brothers who seem like a sensible bunch of chaps. I shall skip over "Bush was Right" and start with "Stop Global Whining" which is pretty self explanatory but does highlight the inconvenient truth of the medieval warm period pretty brilliantly.
Next up is one for the teaching profession: "Shut up and teach."

3950 days ago
Amongst too many young folks, the Guardian/BBC liberal elite and the "occupy" movement and its supporter's Western companies operating factories in the third world are villains. They pay folks "peanuts" to produce IPods that the workers cannot themselves afford to buy. How terrible.

3953 days ago
The Guardian has announced that it is to sell the 50% of AutoTrader that it does not own for £600 million. This is the part of the group where revenues are growing, which makes profits, which people want to read and which could be described as the "family silver" as opposed to the newspaper itself where sales are falling , losses are made, where Polly Toynbee et al produce unreadable piffle and which can be described as "offensive crap."
The Guardian is, as you know, very keen on evil capitalists, scumbag rich people, Tories and other untermenschen paying more and more tax. It also takes great steps to ensure that it pays as little tax as possible. So on this windfall gain of £600 million what rate of tax do you reckon the Grauniad will pay?

3955 days ago
Most teachers are good and capable. These days there are also very well paid. And they get annual leave some of us can only dream of. I am prepared to believe that many social workers are also good folks. I do not actually have any evidence for this but I am a charitable fellow so will give these Guardian reading losers the benefit of the doubt. But it is clear that in both professions there are a good number who are what one might term "underachievers." Perhaps one could go further and argue that some in both professions are just downright incompetent and also misguided deluded lefties who put political dogma ahead of the needs of the kids they are meant to look after.

3959 days ago
Bloody hell these inconvenient truths keep on coming. Having spent gazillions tackling the threat of global warming based on computer models which used false data, it just keeps on getting worse for the global warming nutters.
Firstly we learned from the Met Office that the world had, in fact, cooled marginally during the past 16 years.
Then, having been warned a few years ago that the droughts that swept the UK were a presage of global warming we suffer our wettest year in decades.
And now, snow is falling in the Pennines

3965 days ago
Remember a few years ago when the BBC and the newspapers were full of pictures of dry riverbeds across England? It was all down to global warming and was a foretaste of what was to come. Yup. Having come up to Warwickshire on unexpected family business I was this morning keen to make my escape to Bristol by train. But arriving at Moreton in the Marsh station I was told that flooding meant there were no trains from Worcester to Bristol or Swindon to Bristol.

3966 days ago
I am staying with my father for a few days looking after him as my step mother is off in London to see wicked Uncle George. As I have noted before my family (little step sister Flea excluded) are a bunch of deluded lefties and so the paper delivered here every day is The Guardian. Imagine my horror at seeing Polly Toynbee's face staring at me across the breakfast table in the morning.

3973 days ago
For once the BBC and the Guardian do not stand in the dock alone. It seems as if the entire Western liberal elite and press corps are united in condemning the wicked Jews, oops they meant to say Israel, for taking out Ahmed Said Khalil al-Jabari today. Old Said was the head of the military wing of the Islamofascist Hamas organisation that runs the Gaza strip today and thanks to a precise strike from the Israeli Defence Forces he is now on a one way ticket to hell.
I support the brave IDF 100% and am this evening celebrating the death of this bigoted murderer. It seems that deluded lefties across the planet have a different view.
The BBC coverage stands out for its extreme bias. No surprises there. On its website today the lead story reports:

3975 days ago
We all know that the UK foreign aid budget is a costly disgrace this country cannot afford. Across Africa our money is allowing tyrants to rob their people with the aid we pump in a real disincentive to reform. We help no-one with our efforts but Call Me Dave is so desperate to be seen as "nice" that he keeps on writing cheques. Well Mr Cameron please explain Zimbabwe to me.
A report out today from Partnership Africa Canada, a member of the Kimberley Process, the world regulatory body on the diamond trade, says that Mugabe and his cronies have stolen $2 billion from the Marange diamond fields which lie within his country. That $2 billion has been looted over a period of six years so let's call that $330 million a year. Funds from diamond sales of that order should have shown up in the State Treasury but have not. They have, of course, headed off to Switzerland. Mugabe says that the report is false. The authors of the report say that the $2 billion number is a "conservative estimate" and it appears that Hitler's own finance minister Tendai Biti backs up the claims from PAC.
Now what does this tell us? Well first a quick word about Hollywood, deluded lefty celebs and the film Blood Diamond starring Leonardo di Caprio.

3981 days ago
Britain is one of the four largest contributors to the European Investment Bank, a bank owned by the EU itself which lends money to promote jobs and growth in EU countries and, bizarrely, to those just outside the EU borders as well. Those who think that increasing the amount the UK hands over to the Evil Empire each year need to read on as this tale is a disgrace.

3982 days ago
I strode in, and as I suspected, amongst the middle class lefties present at this bonfire night I was the only poppy wearer I could see. One nil to me. It was a good bonfire and some of fireworks zipped away as they would in a Harry Potter film. There was a chair on top of the bonfire but no effigy. I assume the deluded lefties did not wish to offend catholics or any other minority present. I was mildly surprised that Call Me Dave was not burned tonight. Perhaps Jimmy Savile could have been sent up in flames. In paedo obsessed Britain surely that would have met with popular acclaim?
I suggested to the various deluded lefties present that next year they might burn an effigy of Polly Toynbee or the Wicked Witch herself. Naturally I was accused of sexism.

3982 days ago
I always buy a poppy. But I do so with slightly mixed feelings. Before you accuse me of not honouring the dead that is not my problem. It is that almost universal accusation that gives me the problem.
I have nothing but admiration for those men and women who are far braver than I will ever be and gave their lives for this country. And that is why each year I wear a poppy. I do respect them.

3982 days ago
Hell's teeth I wave the Irish Tricolour at a sporting event and so I am not sure why it upsets me when folks say that the Union Flag has only recently become acceptable. I think it is a matter of who says it but also that it is so patently wrong. Saturday saw another encounter with folks who are without doubt good people. Nice people. But also, utterly deluded academic lefties. And I lost my temper. The Union Flag has always been "acceptable" to most people in this country. Indeed for most folks it has been – quite rightly – a source of pride.
The thesis of the Guardian reading classes is that somewhere along the line the red, white and blue was high jacked by extreme right wingers of the National Front and BNP and thus became a flag that could not be flown with pride. It was only somewhere between Austin Powers and Cool Britannia (1997) and Mo Farah, the Queen's Jubilee (2012) that it once again became universally acceptable.
On Saturday, the thesis of the left was pushed even further

3982 days ago
Just a brief insight into the mindset of those who will ultimately destroy the West: the publication of a new book "How to Get Fired So You Can Collect Benefits." This book is published by Revolutionary Books the firm that brought you such winners as A Pig Named Wall Street, and Confessions of an alcoholic who put down the bottle for revolution – a book that apparently contains the confessions of a citizen who overcame their alcoholism for the sake of the community, the people, the Revolution. If you are looking for further reading…
How about, The Anti Upper Class Fact Book. Apparently this book features 500 facts about the upper class. These facts will show the moral and psychological corruption of the wealthy.

3993 days ago
Hell's teeth. By accident I find myself listening to the BBC for 30 minutes and I already deeply regret it. It was a mistake that I shall not repeat. My encounter is with the Today programme and first up was the Reverend John Bell from the Iona community who is just absolutely ghastly. He makes me dream once again of Scottish independence in the hope that this dreadful man would not then pollute the airwaves of a free Britain. Scottish independence or shutting down the BBC. Bell needs to come off air.