Auschwitz
53 days ago
On Holocaust Memorial Day, expert after expert went onto the airwaves to insist that what happened to the Jews started with the "othering" of them as a minority by the Nazis. Othering is a ghastly world created by Guardian reading sociologists, like my wife, but essentially it means depicting as distinct as a precursor to demonisation.

59 days ago
On Holocaust Memorial Day I found myself driving through West Yorkshire listening to kids doing a Q&A with teachers and local councillors in Bradford regarding the holocaust: what caused it, what will stop another one and "other holocausts".  Natch the panel, playing to a local audience, utterly rewrote history as they downplayed what happened to the Jews, equating it to the "holocaust at Srebrenica" where the victims were all Muslims. Rewriting history is the order of the day as I noted earlier.

59 days ago
Its 2023 so everything has to be a political statement about what is happening now, even when it is remembering events of 78 years ago, the liberation of Auschwitz. And so, on Holocaust Remembrance day we all look back and remember.

122 days ago
In these days when every comment about Ukraine can see one black-listed by someone, I find myself having to preface this article by saying that I am no apologist for either President Putin or for Joe Stalin. However, having tried for the past year to re-write the present with the ghost of Kiev, the Auschwitz style gold teeth and other spoofs, Ukraine is now trying the most monstrous rewrite of history, a claim that the Holodomor was an act of Russian genocide.  The clear implication is that Russians like genocide against Ukrainians. The tweet below sets the case.

144 days ago
As always in commenting on events in Ukraine I have to flag up at the start that Russia was wrong to invade since in the current febrile atmosphere not doing so sees one branded a Putin apologist. And that means that you are questioned if you dare to challenge what is almost certainly fake news and, on this conflict, in Briitain, the Daily Mail is the biggest villain on that score.

169 days ago
I can never understand when folks cheer on the untimely death of their fellow man. But day after day we are treated by the Western media to videos of Russian tanks being blown up and articles delighting in how many Russian dead now lie on the fields of Ukraine. I am in no doubt that some of those soldiers dying horrible deaths were bad men who did very bad things. But many, probably the vast majority, were just young men fighting what they were told (wrongly) was a just war and fighting by Geneva rules. Why should we celebrate their deaths?

419 days ago
Actress and TV host Whoopi Goldberg piped up yesterday to say that the Nazis did not kill six million Jews because of racism but just because man can be evil and inhumane to other men. You see, according to Whoopi, most Jews and most Nazis were white so it can't be racist can it? This is so blindingly obviously wrong at every level. Jews were killed because they were Jews. It was racism. And downplaying that, or pretending the holocaust was not, as we say today, a "racially motivated crime" is racist. But then in liberal circles in the West, anti-semitism and holocaust denial is not really considered proper racism any more, after all the Israelis are mainly Jews and, everyone in Islington, Hollywood or on most campuses agrees that the Israelis are ghastly fascists. Whoopi then doubled down!

579 days ago
I follow the account @AuschwitzMuseum on twitter. Each day, in fact several times a day, it sends out the bare details of someone sent to Auschwitz, usually accompanied by a photo. When they arrived and what was their fate. Say what you like about the Germans, they were damn good at record keeping so in most cases we do know the exact fate. Each day you see the smiling faces of little boys and girls in happier times. Most of those were sent straight to the gas chambers. It is an upsetting twitter account to folow but an unpleasant reminder that one's daily upsets are really trivial, they mean nothing at all. Today's tweet is below.

624 days ago
We can talk of awful fouls and the penalty curse but should not deny that Italy played better football and deserved to win the European Championship. No doubt many of us are still in denial on that matter today but the statistics do not lie. I say this as someone who came into the tournament not supporting England for a range of reasons but who was won over by the charm of the young squad and of the manager and by the way it seemed to unite and give joy to the whole country. All of those involved in England did their country proud. I shall now go back to supporting Northern Ireland, but in this tournament the match against the Hun was the key turning point for me.

633 days ago
I have written before about Olaf's godfather Joe. In his mother's stomach, he left Corfu just in time in 1941 when the Italians were in charge, heading to Egypt and then to Israel before washing up in England. Those Jews who did not get out in time were shipped out by the Germans en masse, when the Hun took over from the Italians, first to Piraeus then, by train, to Auschwitz.

790 days ago
In case you missed it, today is the 76th anniversary of the liberation of Auschwitz and thus it is Holocaust Memorial Day. At 8 PM tonight we will light a candle at the Welsh Hovel as I hope that you all will wherever you are. It is important that we remind the younger generation of the sheer horrors of what went on, so that man's inhumanity to man cannot be expressed in such a vile way again. The problem is that people are forgetting or perhaps just don't know at all.

794 days ago
He's the one who, though a multi-millionaire, stiffed the taxpayer with a bill for mucking out his stables. Yes, the MP for Stratford upon Avon really is a self-entitled smug bastard. He is also thick. There is a limit to how quickly we can vaccinate folks so why waste resources for that is exactly what Nadhim proposes as you can see below. A 96-year-old who had survived both Auschwitz and Covid will already have antibodies (from the latter not the former).

1012 days ago
Yes that George Washington. The man who lead the US to Independence from Britain in 1776, a founding father, a chap who most folks admire as doing more good than evil. Yet on his statue in Portland Oregon they inscribed the words genocide and fascist. The goons at ANTIFA need to spend a few days at Auschwitz to discover what a real fascist looks like.

1022 days ago
Poor old Titania Mcgrath suffered another temporary twitter ban this week. Dare to suggest on this platform that there are 2 not 108 genders, that you have reservations about your teenage daughter sharing a changing room with a bearded "woman" with a penis, or that Israel might be allowed to defend itself and you get banned. Twitter only seems to believe in free speech if you say the correct things. Take this little gem below. Ali Abunimah has a blue tick so does twitter condemn his absurd Jew hatred which sees him accuse a Jewish activist, David Harris, of "holocaust revisionism" as he defends the desecration of Churchill's statue in London by Black Lives Matter activists?

1156 days ago
I wonder if, in places like bourgeois East Oxford where at least one house in every street flies a Palestinian flag all year round, how many candles are burning this Holocaust Memorial Day. I suspect rather more will be burning on Friday as the chattering classes mourn our exit from the European Superstate founded a few years after the last failed attempt at European unification.

1520 days ago
As each anniversary of the liberation of Auschwitz, Holocaust Memorial Day, comes about I find it more and more depressing and painful. I think of the relatives of two of the godparents of my daughter Olaf.

1827 days ago
Aged nine, Mirielle Knoll somehow managed to evade the SS and their, depressingly enthusiastic, French collaborators as they rounded up 13,000 Parisian Jews and took them to the Vel' d'Hiv cycling track from where they were sent on a one way trip to Auschwitz. Mirielle survived the war. 

2050 days ago
When Donald Trump spoke to the USA about his priorities for America, folks outside the liberal metropolitan hotpots of the coasts loved it. Crooked Hillary's waffle and re-hashing of ideas that have failed ordinary Americans did not wash and so Trump won. The liberal elites of the media still cannot accept it and so now simply content themselves with smearing POTUS at every opportunity. The more the Russia smears fail the more desperate they become and the more real Americans see through them. As the MSM tries to label Trump a Nazi, those of us who supported him in November look forward to an inevitable win in four years time. Truly the liberal left is pathetic. I start with the State funded UK broadcaster the BBC.

2251 days ago
I once dated a woman who, it turned out, was a holocaust denier. That is to say she started to argue that the numbers had been greatly exaggerated. I ended that relationship on the spot. The problem is that you cannot argue with a denier.

What is a fact? 

2305 days ago
Many on the left are, these days, prone to label any populist right wing leader as a fascist. Or when that loses its meaning since it now covers so many folks they use the term Nazi instead. There is no evidence that Donald Trump or Nigel Farage or the editor of the Daily Mail want to gas the Jews or invade Albania and Ethiopia but hell why not lump them with those right wingers of old. And thus we are today being warned that Austria might elect Europe's first fascist leader since Franco in the shape of Norbert Hofer.

2400 days ago
As the world seems to becomes a more beastly place by the day I somehow thought that I should be becoming more resilient to scenes of man's inhumanity to his fellow man. ISIS atrocities which a few years ago would have seemed too much to stomach are now somehow just routine. Yeah so what if the kids cutting heads of prisoners were only 11 or were 75, nothing is new, nothing can shock.

But then I saw Schindler's list was on TV

2562 days ago
Let's widen the scope of the Bulletin Board Moron of the week contest this time to include the most ludicrous claims made by those in Project Fear, the campaign against Brexit. Yesterday Lord Browne of BP infamy claimed that leaving the EU meant that we might see another Auschwitz (see HERE) - can you trump that for scaremongering? Or do you just want to settle for nominating a common or garden Bulletin Board Moron who did not stiff shareholders with a bill for his rentboy? Whatever..please post all entries in the comments section below. Last week's contest...

2564 days ago
Project Fear becomes even more desperate in its attempts to scare us into staying in the EU. Today's "you couldn't make it up but we will anyway" comes from Lord Browne, the former boss of BP.

2982 days ago
There is a candle burning in my house today as we think about what World Holocaust Day means to us. For today is the 70th anniversary of the liberation of Auschwitz. I spent some of the weekend discussing what happened there with my daughter and the issues it raises for all of us today as we confront an alarming increase in anti-semitism but also the demonization of those following another religion, Islam.

2984 days ago
70 years ago next week Auschwitz was liberated by the Red Army. For two of my daughter's godparents - Iska Alter and Joe Levy - that has special meaning. I reflect on the lessons we should learn for Jews, Muslims and how we treat our fellow man. What does "never again" mean to you?

3179 days ago
I snuck out last night to watch the World Cup. The longer it lasted the more I could put off driving back along the long and windy road in the dark to the Greek Hovel. And even worse, to getting out of the car, walking ten yards through the grass to the Greek Hovel wondering what wildlife was lurking in the grass or inside the hovel. As it happens it was a wildlife free experience. Even Mr Rat seems to have "taken his medicine" and disappeared.
The taverna was packed and it soon became clear that I was the only person not supporting the Argies. As the Argies "scored" the taverna rose as one. As the linesman raised his flag for offside one fist punched the air. It was then that the dirty looks started.
How I wished I spoke Greek and could have explained that I too loathe the krauts but that the Argies are for Falkland's related reasons even worse. But I spoke no Greek and so the loud cheers and increasingly timid punches from me continued. And then the Belgrano moment…The Argies sunk by a sub.  The Taverna was not happy. I was rather hoping that it would go to penalties so postponing my encounter with wildlife diversity back at the hovel but on balance was delighted.
Watching Germans celebrate and Angela Merkel smile and clap with joy caused me no great pleasure but 

3347 days ago
On this day in 1945 the Red Army entered Auschwitz to encounter industrial scale horrors. Hence today is World Holocaust Day, 24 hours to reflect and ponder. In this household, as in homes across the world, we are burning a candle as a sign that we will not forget.
It is important to make a positive effort not to forget when one faces a daily barrage from those who either deny the holocaust, those who seek to diminish its importance by claiming that numbers were inflated or, worst of all, those who trivialise it by describing any event as a holocaust.

There are places in the world where deaths occur driven by hatred, intolerance and anger. But perhaps only in Cambodia and Ruanda have we seen anything on the scale of the holocaust where genocide was committed against an entire race on an industrial scale with the intent of wiping out that race. Those who use the term holocaust liberally to describe any death seek to trivialise true evil.  In doing so they become apologists for evil. And yes folks like David Ward MP, Baroness Tongue and others I am talki9ng about you.

In not forgetting

3665 days ago
In 2009 Lord Ahmed, a Labour peer was sent to prison for just 12 weeks ( but served just 16 days) after he smashed into a stationary car, having sent a series of text messages while driving his Jaguar on the M1 at 70mph. The other driver died.  Personally I regard that sentence as a joke. 16 days for killing someone because you were driving recklessly? I would have been thinking in terms of years.
But Lord Ahmed thinks that he was hard done by. In an interview given a year ago on Pakistani TV, which cropped up this week the total shit said that he was given a harsh sentence  only because of a conspiracy by Jews  "who own newspapers and TV channels". The judge, he added, had been specially chosen because the Jews wanted to punish him for supporting the Palestinian cause.
This murder trots out the sort of nonsense you might expect in the Protocols of Zion, he pedals lies in a way aimed at inciting hatred against Jews and the Labour party is okay with that? To be fair it has suspended him but if he did indeed say this then Labour must either boot him out or it too is signing up to what is just unacceptable.
The problem is that in deluded lefty circles anti-Semitism is cool. Not the sort that denies the holocaust. It is not yet acceptable to pretend that Auschwitz did not happen when munching your bruschetta in Islington. But David Ward MP (Lib Dem) is still a member of that party despite saying that the holocaust was comparable to the situation in Gaza. As I have noted before that trivialises the greatest act of genocide of the 20th Century (if not all time) and is just abhorrent.
The left collectively has a choice. Either it decides that it is fine to bait the wicked Jews, incorporates the Protocols of Zion into 2015 manifestos and states that trivialising the murder of 6 million men, women and children is fine. Or, it shows a genuine commitment to an equality and nondiscriminatory agenda and tells folks like Ward and Ahmed that with their views they have no place in British politics.
They will not. The Lib Dems and Labour will fudge the issue. Too many of their core supporters loathe Israel with a passion. And too many of that number extrapolate that into a loathing of with wicked Jews which involves spouting conspiracy theories and hatred as if they were discussing the weather or whether West Ham will defeat Chelski this weekend.

3690 days ago
A twitpic is being sent out this morning by these wankers of the left @occupylocalgovernment – " Poundland macht frei"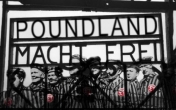 Arbeit macht frei was the sign above the doors of Auschwitz. More than a million Jews, gays and lefties were sent there either to be killed or to work as slaves until they died.
Poundland is a reference to Caitt Reilly, the geology student who thinks she has a right to sit on her fat arse on benefits until she finds a job of choice. The Government thought it better she work for benefits ( at Poundland) as this was a) fair and b) made her more her more employable ( she now has a job at Morrison's. She was no slave, She did not face death. She was not persecuted on grounds of beliefs, sexual orientation or religion.
That @occupylocalgovernment believes that lardarses can sit on welfare declining jobs they do not like is their call. I disagree but believe in free speech. But to trivialise what happened at Auschwitz in this way is beneath contempt and show these folks for what they are: Vile loathsome bigots of the left.
If a Tory or UKIP official used Auschwitz imagery to make a political point the Guardian, the BBC and the left would be baying for blood. But for deluded lefties this is just seen by the bien pensants as clever artwork. I see it as the loathsome and offensive work of bigots with time on their hands.

3899 days ago
I have written before about Joe Levy, godfather to Olivia and my very good friend. We met when he was the handyman who looked after – among other things – a house in Swiss Cottage converted into six flats where I lived with Olivia's mother. The two houses I bought/co-bought after that were redesigned by me and Joe put my ideas into practice. He is truly a faultless human being, bar his support for Chelsea. He was born here in Corfu and is, as you may have guessed, Jewish.
Yesterday I followed the sign to the "Jewish Quarter." There is no real quarter just a synagogue which is in impeccable condition, is fully renovated and was being cared for by a rather fat old lady who was talking animatedly in Hebrew to some Israeli visitors. Needless to say she also spoke perfect English. The building is more than 400 years old. And in 1940 there were around 2000 Jews living on the Island – among them Joe Levy then still wearing nappies.