Clerkenwell
2043 days ago
As part of my life as an evil capitalist I risked my capital to buy a failing restaurant, worked 70 hour weeks, turned it round so saved a number of jobs. What a fucking bastard I am. How fucking selfish can you be? That restaurant was in Clerkenwell and every May Day the annual Workers March would pass by my front window leaving me gawping in amazement. For starters there were almost no members of the indigenous working class present. Instead the ranks of Kurdish Communists and the oppressed of sun Saharan Africa were swollen by thousands of members of the middle classes. 

2453 days ago
I find myself back in London ahead of a big event tonight as I explain HERE. So I am working at the pizza place now known as Wedge Issue and run by hipster Pizza Hardman Darren Atwater. It is most excellent and I commend it to you all if you are in Clerkenwell, although I am not sure I get this hipster business at all. I'm getting old. In the main podcast I look at why the LSE Asylum just does not work. In terms of stocks I cover Independent Resources (IRG), Nyota (NYO), FastForward (FFWD),Challenger (CHAL), the joke regulation one sees on the Standard List, Regency Mines (RGM) and some coal assets some folks think will go into the joke that is "New Worthington". 

2732 days ago
Our Bothan spies have again risked life and liberty to bring hot news from the Evil Empire to rebel outposts in Clerkenwell and Greece. It appears that all is not well at the Death Star. Having promised that it had "sold" 10,000 tickets to its Master Investor conference - though the venue had a capacity of fewer than 3,000 - our spies brought you photos of plenty of empty seats. Following on from that horrendeous PR and trading disaster, we now hear that freelance stormtroopers have been told they are to get pay cuts of up to 60%. Ouch. We guess that will mean only 12 pieces of silver for some folk.

2787 days ago
It was 3PM and no articles had appeared on either site. last week I think I was averaging eight or nine a day and, so having filed only a handful yesterday, the complete lack of material was startting to ring alarm bells back in Clerkenwell. But Darren's texts went unanswered.

I truly feel rotten.

2875 days ago
I had not planned on visiting London until late April and I certainly had not planned on doing any seminars but an unlimited supply of ouzo sees me change my mind so if you are free on January 26th from 6 PM...I will be doing two presentations in Clerkenwell.

3001 days ago
Naturally I shall be speaking for the motion. The debate takes place at Free Speech & Liberty Pizza House at 91-95 Clerkenwell Road at 6.30 PM on Monday 28 September. I very much hope that some ShareProphets readers turn up to support the poor and cheer me on.  It is also...

3007 days ago
It is 9/11 and I look back 14 years. I also reflect on the Orwellian way we all viewed Syria earlier this week. Looking forward, we have sold 90% of the restaurant in Clerkenwell to the pizza hardman Darren Atwater. we end up slightly ahead on the deal but I have had enough of running businesses and blame my own old age and the Tories for that. This is the start of my wind-down. On AIM its a cracking day with another China fraud kill, China Chaintek (CTEK) and more fun and games at Mosman Oil & Gas (MSMN), Redhall (RHL), Monitise (MONI), Sefton Resources (SER, Cloudbuy (CBUY) and Golden Saint Resources (GSR). And I am getting into bed with Rob Proctor of Audioboom (BOOM). Not literally but...well I explain in full. in the podcast.

3054 days ago
Saturday nights in Free Speech & Liberty Pizza are fairly quiet – it is that sort of neighbourhood. And so if I am there, as I was yesterday, you can often find yourself having a long chat with your customers. And so yesterday these two "mature" women wandered in. Eight vodkas and two Irish coffees each later they left. It turned out they were sisters, one 93 and the other a bit younger.
They were sharp as nails and certainly not showing their age. The 93 year old put that down to a lot of drink.  They were born in the social housing behind the restaurant and one still lives there. The 93 year old is out in God's chosen county of Essex but had come in to see her last surviving sister, ten other siblings are now in a better place.

Born in 1922 the elder sister served in the WRAF during the war

3062 days ago
The pizza hardman Darren Atwater is still on holiday so I find myself in charge at Free Speech & Liberty pizza in Clerkenwell this fine Saturday and discover that the hardman has added a new flavour to the ice cream range.
We get our ice creams from a small independent and innovative supplier. So while everyone has salted caramel these days we had it two years ago. It is still my fave but to talk to customers you have to know what you are talking about. And so I have just "taken one for the team" and forced myself to sample a scoop.
It tastes just like the home made lemon curd pies my mum used to make when I was a kid. It has me thinking of her small farmhouse kitchen. But its ice cream. So not a warm piece but smooth cold cream. Not bad at all. 

3085 days ago
The vast amounts of tax the Government imposes on those of us considerate enough to avoid the NHS having to treating us for Alzheimers and other diseases associated with longevity, means that 1 in 5 packets of fags bought in the UK are now smuggled. Here in Clerkenwell I have a dilemma.
My retailer of choice knows me well and when I enter and point below the counter I am usually offered a packet of finest Polish or Vietnamese Marlboro Light at £6.50 a pop. But occassionally the under the counter stocks run out and after a shake of the head I am offered legit fags at £9.69.
At that point I am too embarrassed to say

3095 days ago
A free meal for two at Free Speech & Liberty Pizza House in Clerkenwell is the prize in this week's contest. On the 19th the crony capitalists will be celeberating AIM's 20th birthday. How they will celebrate with black tie events, champagne, coke and hookers all paid for you.. the mug punters.

3121 days ago
Fancy free booze and pizza at Free Speech & Liberty Pizza in Clerkenwell? Zak Mir will be offering both as he relaunches ZaksTradersCafe - a new monthly seminar event.  The first gig is on June 1 and to preregister to get advance booking rights sign up HERE.

3138 days ago
Thank god i am not  at Free Speech & Liberty pizza as every commie in London is marching past to celebrate "workers day". When is the day that celebrates the real stars: capitalists? After passing on news of Oakley's health I cover Daniel Stewart, the China frauds including Sorbic and Jiasen, Ascent Resources, Mosman Oil & Gas (joke), Coms, Mopowered, Horse Hill, Berkeley Minerals, Greville Janner, Begbies Traynor, UK house prices and the POS AIM Casino company that has sent me a lawyer's letter.

3158 days ago
There is a catch. You have to do a bit of work in return but if you are bored and have nothing else to do on Wednesday from 6 PM feel free to join myself, pizza hard man Darren Atwater, his Mrs, Maribelle and I don't know who else at Free Speech & Liberty Pizza House, 91-95 Clerkenwell Road, London EC1R 5BX. All you need to help us do is..

3226 days ago
I thought this was a polished effort from Collagen (COS) CEO Stewart White at the ShareProphets seminar on 2nd February at The Free Speech & Liberty Pizza House in Clerkenwell. Sorry to Mr White for asking a hard numbers question on camera! 

3227 days ago
At the ShareProphets seminar on Monday 2nd February in Clerkenwell at The Free Speech & Liberty Pizza House, David Lenigas & the new CEO of UK Oil & Gas (UKOG) Mr Steve Sanderson explained why they thought Horse Hill was not a busted flush but very exciting. The video is below.
Afterwards there were three hours of pizza and the booze flowed freely. To get priority booking for future seminars register HERE

3228 days ago
The jihadists of the QPPSAG and other frauds and morons have waged war against me, this website and especially our cracking Clerkenwell restaurant for 2 years as we expose crime and dishonesty in the City. Today we accelerate the fight back against the free speech deniers as the restaurant gets a makeover.
We all support free speech don't we? But how far will you go in its defence? The staff at this restaurant know that defending free speech with words is easy but when you are in the firing line it can be rather harder.
During the past three years I have received more than 75 lawyers letters from a range of listed companies threatening me for what I have written on this website which I run with veteran Canadian journalist Darren Atwater demanding that I desist.  I have not withdrawn one allegation or article.

In the first month of 2015, three companies that I have attacked have gone bust or seen trading in their shares suspended. Over the past year I have ended the PLC careers of more than half a dozen individuals and there are more to come. Good riddance to the crony capitalists!
Only one company (Sefton, run by JimmyLiar Ellerton) has upped the ante from bullying to taking full legal action. Its chairman was fired in disgrace and it ended up paying us costs.

I have also received three death threats in the past year which you can see on the walls at the Free Speech & Liberty Pizza House ( as well as a selection of letters from bully boy lawyers including Schillings, Pinsent Masons and Memery Crystal) , we have received dog shit in the post and the staff at one City investment bank have publicly threatened to beat me up for what I wrote about the way they ripped off investors by floating fraudulent companies. I responded by going to film a video outside the bank's Christmas party which you can see here.

The most venomous reaction 

3229 days ago
Brokerman Dan has called in from the Manchester Slums to say that he is not earning £1 a month as the saviour of Sefton Resources (SER) but will be the lowest paid executive on AIM earning just £1 a quarter. Even by the standards of the welfare safari park known as Moss Side that seems a trifle low but we at ShareProphets care and so our writers will tomorrow be gathering in Clerkenwell to record our latest Charity Single #FeedTheSlumBoy. All proceeds from the single will be sent direct to the deprived folks on the welfare safari. Once again with apologies to Bob Geldof & Midge Ure:

3233 days ago
Menus..ready, everything else...er not ready. I have done my part in preparing for the big day on Monday with a stack of copywriting. Well my job is almost done. On Sunday morning I shall be treading the streets of Clerkenwell sticking flyers through letterboxes ahead of the big day on Monday. I am getting very excited..I shall tell you more on Monday!

3233 days ago
The ShareProphets Seminars are back. And the next one is on Monday 2nd February from 6 PM at Real Man, 91-95 Clerkenwell Road in London. Heading the bill is Big Dave Lenigas on why Horse Hill is not a duster. I am also speaking, flagging up 10 stocks that are pumping ahead of a discounted placing. And there is more. 
The CEO of the company that is my third largest personal investment is presenting as are two other CEOs. And there is free pizza and booze. There are just five seats left

3241 days ago
Real Man Pizza Company is one of the worst rated Tripadvisor restaurants in London. Over the past year free speech denying shareholders in blinx, Quindell and other POS companies have reacted to my – vindicated – sell calls by posting bogus reviews and boasting about them online. 
Tripadvispor has been shown proof of this but has refused to act. We have not be helped by having only a 1* (on a scale of 0-5) hygiene rating from the Council. That was a result of legacy issues: years of capital under-spend and poor staff training. They knew what to do to follow the rules but could not explain why. 
We have invested heavily in upgrading the place and in our staff and for yonks have been begging for a re-inspection as we have known that we were massively underscored for most of last year. 
The inspector finally arrived last week and gave us 4/5 classification "good". That is a lagging indicator as we have been at that level for ages. All those reviews claiming the place was dirty, etc were just lies. 
Even last week a bloke posted a review claiming the waiter was drunk. Our waiters are female – they are waitresses. Our

3257 days ago
Our staff have been slaving away all weekend and Real Man Pizza in Clerkenwell is thus ready to reopen its doors at 11.30 on Monday 5 January. As ever we are open from 11.30 AM until eleven every night.
If you feel a bit plump after Christmas and cannot face a pizza (heck have you not missed pizza after two weeks away?) we have a full range of salads and lower calorie pasta dishes on offer as well.
Maribel & the team look forward to seeing you again from Monday.

3282 days ago
I am back in Clerkenwell at Real Man Pizza if any Quindell morons or Daniel Stewart employees want to come and "deal with me". On the Bearcast today, Sefton Resources, dead cat bounces, Kenmare Resources, insider dealing, Mwana Africa and of course the fraud Quenron.

3286 days ago
There was a certain confusion about what to do with it. Do I put it in the oven said lovely Eleni? But with help from a truly bilingual member of the community we are underway. One of the Christmas puddings brought from Real Man Pizza in Clerkenwell is now steaming away in the private kitchen of the lovely Eleni at Kourounis taverna. In about an hour it will be ready. I hope. My friend Nikko finished his harvest and pressed his oil today. I now have 2.1 tonnes of olives at the factory. The last bags will come down tomorrow morning and then we press.
I shall take home a couple of cans to rebottle and use as Christmas presents for the chosen few as The Greek Hovel olive oil. The rest we sell and Eleni will pick up the cheque and repay me in the summer. So we celebrate the (almost) end of the harvest with something no-one else here in Kambos has ever tasted before. Fingers crossed.

3287 days ago
On the asylum that is the LSE Quindell Bulletin Board the morons hate me with a passion and revel in posting bogus reviews of the excellent Real Man Pizza Company in Clerkenwell. I guess this poster will not win any friends: 
SammySopwith
Posts: 39
Off Topic
| | |
| --- | --- |
| Opinion: | No Opinion |
| Price: | 55.75 |
Adams
Today 18:35
A mate and his wife went to Real Man for a meal last week. Sadly I'm embarrassed to report that they had "one of the best pizzas they'd ever had"! I guess there's no accounting for taste! Sammy

Ends. 
You can book a table to enjoy excellent pizza at 91-95 Clerkenwell Rd on 0207 242 3246

3288 days ago
When will these thick bastards realise that what happens to my business will not alter the fate of Quenron (QPP)? I keep accusing it of fraud and lying and although it blusters it will not actually sue me for libel because it is a fraud run by liars. And it will go bust. So as the Morons watch their life savings disappear here are a couple of things that they do.
A couple have written to Chapel Down because the maker of fine English Wines is sponsoring the ShareProphets Seminar on Monday 8th so there is free champers on offer as well as myself, Amanda van Dyke and 3 companies presenting. You can book a seat by emailing your name and address to [email protected]. The Morons have told Chapel Down that they do not like its involvement with ourselves and so will sell their Chapel Down shares unless it pulls out.

Hmm.

3291 days ago
It is the official start of Christmas at Real man Pizza in Clerkenwell. The normal menu is still running but as of today we have two Christmas menus which you can see here.
All the traditional fare is included as well as a few of our own house specials including the Real Man
Christmas Pudding Calzone (a folded up pizza). It may sound crazy but with brandy butter it tastes
awesome.
We tend to get rather busy in the run up to Christmas so if you plan a visit it might be worth booking your tables in advance on 020 7242 3246
Merry Christmas from Maribel, Tom, Darren, Aziz, Reda, Victoria et al

3292 days ago
Tomorrow I will be calling rock stars from across the bear community as we need to think of those less fortunate than ourselves. It is time to record our charity single… Feed the Morons. The message has gone out to Gotham City, Evil Knievil, Paul Scott, Lucian Miers, Paddington Bear, Matt Earl, John Hempton of Bronte, Sam Antar, Muddy Waters, Citron Research, Nigel Somerville, A Huntsman, Dan McCrum, Paul Murphy, Pizza hardman Darren Atwater, Cockney Rebel and Kevin Ashton. We gather tomorrow in Clerkenwell to raise money for those facing a bleak Christmas, Quindell staff and shareholders as we record Feed the Morons, Do they know it's Christmas?.
Apologies to Midge & Bob but here we go..

3316 days ago
And it is done. The 2014 Christmas puddings have been prepared and steamed and now sit in a dark room awaiting their fate. It might seem a bit early but while most of these puddings are for the restaurant others have to travel. Three head off to Canada for a family gathering of pizza hardman Darren Atwater, four head off to Greece with me for Susan Shimmin at The Real Mani but also for lovely Eleni at Kourounis tavern, for Foti the Albanian and for my neighbours at the Greek Hovel in Kambos for our post olive harvest meal. A few are earmarked for gifts.
But the rest will be served at Real Man either as Christmas pudding on our Christmas menu HERE or as Christmas pudding Calzone – a festive desert pizza. It sounds odd but it tastes great!
As is now a ritual Darren and I made the puddings and then all staff members on duty had a stir and made a wish – five pictures five wishes: 

3323 days ago
For tomorrow at the Real Man Pizza Company it is not Halloween but Hop-tu-naa, the Celtic New Year which on October 31st is celebrated all over the Isle of Man but also at the Manx restaurant outpost in Clerkenwell, the Real Man Pizza Company.
Back in the Isle of Man the kids will be going round houses asking for sweets but this is not the American import of trick or treat this is a very Manx Tradition. The kids, some of whom might still carry lanterns made of what the Manx call turnips but what you might call a Swede, knock on your door and sing:

3323 days ago
It is another Hop-tu-naa tradition. You really do not want to know what is in Dumb cake or Soddag Valloo, to give it its Manx name. Oh, okay then.
Eggs, egg shells, flour, water, soot and salt. Yum Yum. In olden days just before going to bread on Hop-to-naa folks would divide up the cake, eat in silence (hence dumb), and walk backwards to bed. There young women would see in a dream their future husbands who would bring them a glass of water.

3323 days ago
Before last night's four presentations at the ShareProphets Seminar - videos of which will appear later - I made a few comments about the Westminster Group (WSG) ebola appeal. All this week - Hop-tu-naa week - at Real Man Pizza in Clerkenwell we will be donating 20p per pizza sold to the appeal and I hope that others will chip in. Details of the appeal can be found HERE

3323 days ago
Real Man is not unaware of the Ebola crisis occurring in West Africa. I see that some pompous arses object to my use of the phrase "I'd rather drink a pint of warm Ebola" than (buy Quindell shares etc.) but that is because the English language is a joyful tool allowing such illusions to make a point not the preserve of pompous self-righteous prats (see my tweet hate mail at the weekend). 
As it happens we have a long relationship at the restaurant with our friends at Medicins Sans Frontieres. And as such we are delighted to support an emergency Ebola appeal launched today by Westminster Group (WSG) an AIM listed company operating in the Ebola heartlands.
Real Man Pizza Company in Clerkenwell will donate 20p per pizza sold all week ( ending 1 Nov) at the restaurant to the Westminster appeal.
We hope that you too will donate, and it does not need to be cash.
Full details can be found here.

3331 days ago
Oh dear, even the Insurance Times now scents blood and this week started investigating some of the companies that Quindell (QPP) claims to do business with. No doubt the Insurance Times will be viewd by the Bulletin Board Morons as part of the global shorting conspiracy run by pizza hard man Darren Atwater from Clerkenwell.
Quenron claims to do business with 1000 insurance companies some of them big names. But it appears that some do not actually do business with it any more whilst in other cases the actual business done is trivial. Most appear to be genuine customers but surely Quindell would never over-egg the pudding would it?

3334 days ago
On Monday night I gave a 40 minute presentation in Clerkenwell in which I showed the frauds Quindell (QPP) has perpetrated, demonstrated why - despite what it says - it has never and will never generate cash and so why its shares are worth 0p. I defy anyone to explain any factual errors in this presentation. The video of that presentation is below.
I will be giving another controversial presentation on Monday 27th October also in Clerkenwell. To ensure that you can priority book for what will be another sell out register HERE

3352 days ago
Contrary to suggestions made here and elsewhere by some of my greatest admirers, the first ShareProphets seminar was packed out with just over 50 folks gathering in Clerkenwell on Monday and – I think – having a good time. The next seminar is on Monday October 13 and you can ensure you get priority booking by registering HERE.
The doors opened for free drinks at 6 PM and the first talk was at 6.30 and was by Chris Gilbert of Fox Marble (FOX). Chris explained very clearly what Fox does in Kosovo – mining marble – claiming that there was minimal political risks and going through the maths of mining, polishing and cutting and selling the different types of marble. In a sense this is a bit of a play of global GDP growth but the critical point is that Fox has to produce the stuff, get its factory up and running asap to boost margins and deliver sales contracts.

3352 days ago
As ever, I arrived at Paddington at 10.31 PM. It does not matter what time I leave Real Man in Clerkenwell my taxi always arrives just as the penultimate train of the day pulls out for Bristol Temple Meads. Then there is the dilemma.
I can hang around until 11.30 and catch the last train to Temple Meads. It will be full of English drunks and will stink of fast food. Gradually drunks get off the train but – especially on a Friday – drunks also pile on at Swindon and Bath heading to the bright lights of Bristol to get even more drunk. Does everyone born in Swindon have the intelligence of a 12 year old Orang Utan?  The taxi fare from Temple Meads home is less than a tenner. But Paddington is a ghastly place to spend 45 minutes and the Mrs is not that impressed if I pitch up at 1.45 AM.
And so there is the 10.45 to Bristol Parkway. I get home just before 1 AM, the taxi fare at the other end is c£20 but there is less time to kill at Paddington. The real downside risk is that I fall asleep and this train carries on all the way to Swansea. I have more than once woken up to find myself heading into Newport, a truly dreadful place, and facing a £45 cab ride home. On this train there is also the stench of fast food but most of the drunks are Welsh. As such, while buying a coffee at the bar, I have just listened to three sheep shaggers discussing in a most animated fashion how to say "The toilet is broken" in Welsh.
I guess you learn something new every day.

3354 days ago
There have been posts made on several Quenron (QPP) Bulletin Board threads from folks suggesting that they were planning to attend and disrupt tonight's presentations in Clerkenwell or to have a go at me as I shall be speaking. Just a warning to any morons who are tempted.
You would find my talk education as I am presenting on 10 ways that AIM companies flatter profits to mislead investors and the Quinnovation Group has provided me with valuable source material. However…
To attend you need to have pre-registered. If you have not done so and your name is not on the list you will be thrown out.

3364 days ago
If you want to hear me discuss ten ways that AIM companies overstate profits with real examples ( including Quenron) I will be doing a presentation on this on 29th September in Clerkenwell London – that is on a Monday evening starting at 6 PM.There will also be presentations by the CEOs of: K3 Business Technology – a stock that I have tipped and HAS delivered, Premaitha – a stock I own and am VERY excited about and Anglo African Agriculture – I know nothing but CEO Andrew Monk is a very sharp cookie. And there will be free pizza and drinks until 9 PM that evening.
However places are limited to 50 and as of today 84% of the seats have already been booked. 
To reserve a seat or seats simply email [email protected] stating your name and phone number and how many seats you are reserving.

The event is already 84% booked out so to ensure that you get your seats for a fun packed evening make your reservation now.

I look forward to seeing you on the 29th September at 6 PM at Maribelle's wine bar, 91, 95 Clerkenwell Road London EC1R 5BX.
Best wishes
Tom Winnifrith

PS the event is free and we imagine that the seats will be booked quickly enough so to ensure you get one please email [email protected] stating your name and phone number and how many seats you are reserving as soon as possible.

PPS. To ensure you get priority booking alerts for future events I suggest you register now HERE 


3433 days ago
Stellar Diamonds (STEL) - has become the third company to sign up to present at the new ShareProphets evening seminars. It will be on stage on Monday 13th October, two weeks after  Adam Reynolds from Premaitha (formerly Vialogy) (NIPT) and David Bolton of  K3 Business Technology (KBT) will be on stage. We will start taking bookings for each event when all three CEO speakers & the guest share blogger are confirmed and priority alerts for bookings will go to those registered wth ShareProphets seminars. So TODAY...
Since attence at these events - held at Maribelle's wine bar in Clerkenwell - is limited to 50 to ensure that you get priority booking for the talks, formal and informal Q&As with all speakers plus free pizza and drink register now HERE
Registered users of ShareProphets Seminars will get the first alerts on all vents and so priority booking. Register for free now HERE

3453 days ago
I am afraid that the two free tickets for the AIM Cesspit dinner offered thirty minutes ago have both been snapped up. But you can still buy tickets for the dinner on June 30th in Clerkenwell for just £40. The evening includes a three course meal, half a litre of wine per person and talks by Evil Knievil, Lucian Miers and a few words from me. We will also be handing out the nine AIM Cesspit Trophies.

You can book your ticket and select your menu options HERE
 
And remember to vote in the Cesspit awards – you can do so HERE.
Best wishes
The Sheriff of AIM

3482 days ago
It is time to highlight and celebrate the very worst of AIM with second annual AIM Cesspit awards sponsored by Shareprophets.com. At an awards ceremony and dinner in Clerkenwell on June 30th (Monday) compered by The Sheriff of AIM, real trophies will be presented to those who have helped make AIM the Cesspit it is and we will be entertained by guest speakers Lucian Miers and Evil Knievil. There are seven awards.

Two are objective mathematical awards and the rest are awards where the winners will be decided by the investing public. The Cesspit year runs from May 1st 2013 to May 1st 2014. The awards are:


3499 days ago
There was I sitting in Real Man in Clerkenwell tapping away happily on my PC when I became conscious that there was a man outside staring at me. He seemed rather agitated and was mouthing words at me one of which began with F and rhymed with ducking and the other one rhymed with blunt. Whatever.. 
I carried on tapping away and the man stormed off. He looked 

3538 days ago
Last Thursday Matt Lofgran, the non drinking CEO of Nostra Terra Oil & Gas (NTOG) and Gary his thoroughly decent PR man, who drinks for both of them, hosted a pizza and beer evening at Real Man Pizza in Clerkenwell.  It was fun and being a strictly salad and mineral water man I have a clear memory of what happened.  As I left, Matt & Gary were plying a party of pretty young female students with wine and having a great old time.  So we are all happy. But what to make of Nostra Terra?
I should say that – to declare all interests – Matt handed to the private investors present and to me a copy of a new book called "The Frackers." The Mrs says that I have too many books and is always trying to persuade me to send a few off to Oxfam. Given that her default position on most matters is that of The Guardian I imagine that a history of fracking may well go to top of the Oxfam list. Pro tem, I battle to keep it and all of my other thousands of books.
At a macro level I rather think that the wave on which the cork that is Nostra floats is not heading 

3538 days ago
Every day of the week, anyone with a Student ID can buy a pizza or a pint of beer for just £3 at Real Man Pizza Company in Clerkenwell (and a litre of wine at £10). But as of this weekend we have a bonus Saturday offer for students.

At any time after six just show your student ID and you can enjoy one of ten pasta dishes for just £5. Personally I'd recommend penne e salmon but the gnocchi sorrentino comes a pretty close second.

This bonus student offer starts this Saturday from 6 PM and will run every Saturday thereafter.

3545 days ago
Matt Lofgran, CEO of Nostra Terra Oil & Gas (NTOG) wants to buy you a pizza and a beer on Thursday 27th March and to explain the investment case for his firm. 
If you are free from 6PM on Thursday 27th Matt will be at Real Man Pizza Company, 91-95 Clerkenwell Road London holding forth. I too shall be there  with a few thoughts on life. To give us a rough idea on numbers if you want to pitch up can you drop me an email at [email protected] 
See you on the 27th.

3553 days ago
I was meant to be cooking Fortune Mojapelo, the CEO of AIM Listed Bushveld Minerals (BMN) breakfast at Real Man Pizza Company in Clerkenwell, but the fellow missed out on a cracking omelette as he failed to show. But I tracked him down later and we had a good chat. 
I can forgive him for snubbing my cooking and for the greater sin of having trained as a management consultant, for Fortune seemed a competent and realistic fellow.
Bushveld's share price was smashed in the autumn by two founder shareholders placing out big lines of stock in a cask-handed manner. At 5.45p with a value of £22 million are the shares cheap? 

Hmmmm. There are a number of points here.

3566 days ago
I found this on the internet...maybe if you are not London based it is not quite as funny. Clerkenwell is between "More lawyers" and "Start up Twats" London Underground stations which is about right. Well, at least, I found the map very funny. 

Click for large image in new window

3567 days ago
It is not often someone admits to breaking the law but checking out the latest review of Maribelle's – the new tapas and wine bar situated underneath Real Man Pizza in Clerkenwell, we see such a confession this week.
Our new friend from Spain writes:
I am Spanish and I decided to break the law... Never visit Spanish restaurants abroad! Well, for every law there must be an exception, and I found it in London. Great tapas: chorizo, patatas bravas, mushrooms, meatballs, ... and I found a great Ribera del Duero wine, which is quite unique if you don't really know about Spanish wines. I almost forgot... did I mention the service by two beautiful Spanish girls??? Oh my goodness!

It must be a five stars to me. Will I repeat? sure! next time in London.
Well you cannot say fairer than that. In case you have forgotten our waitresses we attach a reminder.
Maribelle's is open 1 PM to 11 PM Monday to Friday. We hope to see you there soon.

3568 days ago
I have just been interviewed by an MBA student from the local business school here in Clerkenwell. They are doing a project on Real Man Pizza – they are regular customers and love the place but they are coming up with a few ideas to improve it. As part of their project they interviewed me on video.
Wow said the bloke, you have a BBC voice – have you ever done TV? I fessed up to my shameful Show Me The Money Past and wondered whether having a "BBC Voice" was such a good thing these days? It was meant as a compliment and I take it as such. There was no diatribe from me about bias, nonces on TOTP or other matters.

3570 days ago
It is a bit of a long story but our latest pierce of artwork at Maribelle's, our new wine & tapas bar underneath Real Man Pizza in Clerkenwell, comes from Bristol sculptor Sophie Howard. We cannot pretend that there is a Spanish theme but we like Sophie's work and hope to show more of it in future.

3572 days ago
As I contemplate a trip to London on Monday with far too many lunches and evening "sessions" already booked in at The Real Man Pizza Company I am sent a map of London from 1746. I look up Clerkenwell Road and…it does not exist.
But where Real Man is today is very much there on the John Roque map. It is just that our street is known as "LiquorPond Road." How appropriate.

You can see the map here




3582 days ago
Once again the call came in:
"Can you do a delivery for my boyfriend at 12.30 on 14th February?"
Aha – I remember you from last year!
Yes the perfect girlfriend has called again. What more could a man want than for his partner to send him a 12-inch seafood pizza with a bottle of chilled Argentinian lager pinched from our new tapas bar Maribelle's for his Valentine's Day lunch?


The perfect present from a girlfriend who knows how to please!


The full take-away and delivery menu from Clerkenwell's finest pizza joint – Real Man – can be viewed here [PDF]

3582 days ago
Kitosh came to me as a kitten and had a varied life in Islington, Shoreditch, France and finally in the Isle of Man. I remember well the Paris to Douglas train, taxi, train, train, ferry and taxi journey we made together. His sudden death in Douglas a few years ago was a real blow. His ashes have travelled with me since then but have remained for almost two years in a wooden urn hidden at Real Man Pizza in Clerkenwell. Now his final journey begins.
Born on a council estate in Walthamstow he would not have imagined that he would have been so well travelled. But the travelling is now over.
Now that I have a sense of permanence, the Mrs and I have agreed that Kitosh's urn can be buried in our garden underneath the fig tree. We are not sentimental enough to contemplate some grand ceremony. It will just be the Mrs watching as I dig a deep hole and in goes the urn. The tree marks the spot.
During some years of upheaval for me Kitosh was the one constant in my life and a portrait of him already hangs in the new house as a reminder of that. I am not sure the Mrs is that impressed but she has let it go.  So this weekend it is the final farewell, RIP Kitosh my good friend.

3587 days ago
I was sitting in Real Man Pizza Company in Clerkenwell on Friday night before we enjoyed a mid-late evening rush. It really was great seeing nearly every table occupied and Maribelle and her staff coping with it all superbly. But I digress…before the rush.
I was tapping away at a spreadsheet and two ladies were finishing their meal at the next door table. "Are you the owner?" said one. Not sure what she was about to say, I said that I was. You have changed all the staff since I came here two years ago, have you not? Oh no, I feared she was a pal of one of the old codgers we used to employ. Once again: "yes" said I.
"Congratulations" she said and then added that the food was much better than two years ago, the atmosphere, décor, menu had been transformed and that it now looked like a sharp, cleanly designed, great restaurant. And she thought that Maribelle's downstairs looked amazing. "Cripes, what's the but…" I wondered.
The lady said she had to tell me because she was herself a restaurant manager, had been in the trade for 21 years, and she knew what hard work it must have been and she just wanted to say how impressed she was.  What a nice lady.

And so I am sure that if you cannot make it into Clerkenwell but can get only as far as Highbury, you would have a wonderful experience at Il Bacio at 178-184 Blackstock Road, N5 1HA. Its manageress is clearly someone of taste and charm and I cannot believe would put a foot wrong.

3588 days ago
I had great fun choosing the artwork for our new wine and tapas bar Maribelle's at 91-95 Clerkenwell Road. It is all - occassionally at a bit of a tangent - Spanish themed. There is a Monty Pythong Spanish related poster (guess what) and so I picked up this Monty poster as well.
I am sure you remember the sketch but if not I bring it to you below. The one problem is that the chair is very, very relaxing and has become the place for my afternoon siesta. I gather that Darren already has a photo of my asleep underneath the poster. I meanwhile have one of an old Etonian AIM CEO in the same pose!

 

3588 days ago
 I said that some of the artwork at our new wine and tapas bar in Clerkenwell, Maribelle's, was Spanish only on a tangential basis.  And so among the posters is a framed copy of "A Spaniard in the Works" - the poems of John Lennon. More posters to follow.

3593 days ago
We open at 1 PM tomorrow and will be open 1 to 11 Monday to Friday. Located beneath Real Man Pizza in the heart of Clerkenwell is our new venture. Tomorrow sees the launch of Maribelle's a new wine and tapas bar. We also serve some amazing sherries and 14 Spanish speaking beers.

And here is the team that will serve you should you pop along. From left to right: Maribelle (herself), Ana and Viktoria. I hope to see you all from tomorrow...

www.facebook.com/maribelleslondon 

3593 days ago
I lost my voice screaming at Upton Park yesterday so no videos are possible – I sound like I have gargled razor blades. And I am afraid that there is no Tomograph newsletter either. Today I have been flat out at Maribelle's.
And next week I am also more or less on writing holiday. Steve and Ben are in charge, this is Maribelle's week.
The signs went up last week. The carpenters finished this morning and, this afternoon, Darren, myself and Maribelle herself have been flat out unpacking alcohol, setting up the till, printing off menus, moving chairs. The work will continue late into tonight and will start again tomorrow first thing as Darren pucks up some rather unusual artwork which with our new wine & tapas bar will be decorated. We open at 1 PM and close at 11 PM Monday to Friday starting tomorrow.



I
n a brief break Mirabelle and I enjoy a bottle of Estrella Galicia, a Spanish lager which is not half bad… now back to laying out the tables. Naturally I would be delighted to see any blog readers at Maribelle's this week. We are at 91-95 Clerkenwell Road, London EC1R 5BX, underneath the Real Man Pizza Company quirky Italian restaurant, and I am in residence all week.

Oh and here is a view of a well-stocked bar.

3599 days ago
Unlike some we could mention, ShareProphets has never bought twitter followers nor do we follow folk just to get a follow back. @shareprophets follows no-one, not even me - @tomwinnifrith – and yet, in eight months, we appear to have accumulated 1,103 folks who follow us on twitter to keep tabs on what we write. Why not join them and win a prize.
Already six of our followers are down to win a voucher entitling them to a 50% discount on a bill for a party of up to four at our new wine, sherry and tapas bar opening in Clerkenwell on February 3rd – Maribelle's.  Those vouchers will be sent out this week. 
And there are ten more vouchers up for grabs – we will choose at random ten of those who were followers 1,101 to 1,201 and they too will be sent a Maribelle's voucher.

So follow away @shareprophets

3601 days ago
You know I have a hard life. Deciding which 14 bottles of beer to drink is the sort of chore that I have to suffer. I can sense the waves of pity heading my way. Actually it was not quite as it seems.

The countdown to the launch of our new Spanish themed wine bar Maribelle's is accelerating. We go live on Monday February 3rd at 91-95 Clerkenwell Road.  Fear not, Real Man Pizza is not closing – it thrives with its new menu as the quirkiest Italian restaurant in town. It is just that we are opening up our unused basement as Maribelle's. And so last week I worked hard on:

Hiring a new waitress. The first girl to walk in was Ana from Spain. What can I say? Her CV was perfect, she wants to be a journalist but she could be a model. She had the job in 30 seconds. No messing about there. An easy executive decision.

Then the wines – 25 Spanish wines, white, red, rose, Cava. I love a white Rioja. That was fun. Eight Sherries as well. I know I kind of associate sherry with our grandparents, with what my philosophy tutor at Oxford Dr Malpas used to pour before a tutorial or with the 1970s. But white Sherries, chilled, can be fantastic and we have a cracking selection on offer.

Then to the "Spanish speaking beers". This is a bit of a cheat. Of the 14 one is a Spanish cider. And seven come from Spain. The rest are from Argentina, Peru, and Mexico and – as a real cheat since they speak Portuguese there – one is from Brazil. I dithered about the Argie lager but it is just so good.

Then the real treat – the tapas menu. A few heated discussions with Maribelle herself (our chief waitress from Spain who has two degrees in economics and takes her clothes off to campaign for world peace) ensued. But we have agreement now and this week the cooks will be practising hard to get everything just right.

The sign makers are commissioned and new signage goes up this week while the electricians and carpenters are in over this weekend.  This afternoon Darren and I will finalise the artwork (some debate over a brass model of a woman's bottom is still to be concluded – I vote yes, Darren and his Mrs are dithering) and the furniture. And then down to the marketing literature featuring Ana.

All of the team at Real Man is very excited about this new venture. Fingers crossed. I hope to see many blog readers popping into Maribelle's from the third. Hint: Ana works Tuesday to Thursday.

3607 days ago
Okay the time & venue are fixed: 12.30 PM at The Real Man Pizza Company 91-95 Clerkenwell Road, London, EC1R 5BX. Maybe try the new pizza named in David's honour (his suggested recipe). If you want to attend & to give us a help on numbers drop me an email at [email protected]
David will be joined by the CEO of Rare Earth Minerals and I will ensure that he and the Rare Earth chap switch chairs often enough to chat to all. David says he has happy to take questions on any of the companies with which he is involved: Inspirit, AfriAg, Leni Gas & Oil, UK Oil & Gas and I am sure that I have forgotten a few.

3609 days ago
As you may recall David Lenigas, the serial AIM entrepreneur suggested a new pizza recipe to me and as a result we now serve a pizza named in his honour at The Real Man Pizza Company in Clerkenwell. And next Thursday Mr Lenigas is paying us a visit. Fancy joining him?
As an after lunch treat, the bard of the Boleyn Lucian Miers is threatening to join us for "a coffee".

If you fancy popping along please drop me an email ([email protected])so that I can ensure seating is available. It might be just the three of us but David has made this an open invitation via twitter

3612 days ago
Serial entrepreneur David Lenigas is a busy man running a stack of AIM listed companies but he is also a bit of a gourmet (should that be gourmand) and has suggested a new recipe for  our Real Man Pizza company restaurant in Clerkenwell. And so as Real Man launches its enhanced new 2014 menu today… 
We bring you three additional pizza recipes including "David's Thai Prawn Pizza" – king prawns, satay sauce, julienne carrots, fresh coriander, green onion and peanuts on a thing crispy pizza base.  There are two other new pizzas, a smoked salmon pasta dish, three new salads and three new pudding options including Reda's Chocolate Mousse cake which is heavenly.

Roll up, roll up at 91-95 Clerkenwell Road, EC1R 5BX from 12.30 today for a Real Man (or Woman) gourmet experience.
You can see the full starter and main course menu here. [PDF]
You can see the full pudding menu here. [PDF]

3614 days ago
I cannot run with another caption contest based on the idea that some people still believe in David Cameron or global warming or both. So instead I offer you the photos of four well known men and invite you to say without breaking any laws of libel which is the odd one out.
The most entertaining factually correct answer wins a 50% off voucher to the soon to open new Spanish wine & tapas bar in Clerkenwell, Mirabelle's. Prop… you know who. Post your ideas in the comments box below by Friday at noon.
Last week I asked for a caption for this photo.
The winner is Donalgarth for:
Penguin one "No I don't fancy their chances at all, I've heard that FAT Sam's leading the rescue party."

He will be sent his voucher entitling him for 50% off his bill when he visits Mirabelle's.

3622 days ago
Our two week holiday is almost over – and we all needed it after a hectic November & December. Real Man Pizza Company opens its doors in Clerkenwell once again from 12 Noon on Monday 6th.  We wish all of our customers past, present and future a Happy New Year.
The kitchens have been humming in preparation since Friday and we are ready to go for Monday for our quirky Celtic Italian cuisine.

It should be an interesting January as we prepare to launch a new 2014 Menu mid-month and in February…watch this space.

We look forward to seeing old friends and new from Monday.

3622 days ago
I realise this may not win me many friends among the Daily Mail reading classes but I need a new waitress as Real Man Pizza Company in Clerkenwell is opening up a new venture in its basement area from February and if you are reading this in Romania and Bulgaria today feel free to get in touch.

Naturally I shall advertise in the UK as well. £6.50 an hour or whatever the minimum wage is. 30 hours a week. Job waitress and also plongeur. She needs to be presentable. To like very hard work, to be numerate and to speak good English. Notwithstanding the need to be numerate and to speak good English a few products of the UK Comprehensive schooling system will be qualified. 
But will they apply? Like hell they will. You see I have done this before and young Brits would rather live on welfare/go to a crap former poly to study a worthless degree than go get a job which involves hard work and pays the sort of wage an unskilled less than 20 year old can expect to get as a first job. If they work hard they can expect to earn more in due course, I am a fair employer.

But folks. You always start at the bottom.
What the immigration loathing wolf-whistlers of UKIP and the Tory right fail to realise is that the Romanians/Bulgarians are not taking jobs from Brits but are needed to do the jobs Brits refuse to take.
I shall give home grown talent the chance to apply. But since I know from bitter and hard experience that this is doomed I also make this offer to our friends in Transylvania, Sofia and Bucharest. If you want to work hard, improve your English and have the skills I want we want to offer you a job. Can you start February 1?  

3636 days ago
Your favourite Celtic Italian restaurant goes on a two week break as of 11 PM tonight! Whey hey it is holiday time! And to celebrate this – and to clear any surplus food hanging around in the larder – for today only ALL pizzas and all pasta dishes are priced at just £5 each. At the Real Man Pizza Company in Clerkenwell.

Including our world famous chocolate pizza.
We hope to see you at 91-95 Clerkenwell Road, London EC2R 5 BX at some stage today.

3670 days ago
As you can below see the moustache is growing at a reasonable rate. If I did not have (far too many ) flecks of grey it would look even more pronounced but it still looks a bit daft to me. And it itches. I really cannot see why anyone would choose to  wear a moustache. But it is Movember.
To those who have sponsored me in this good cause, thank you. 

If you have not yet sponsored me, feel free to do so here.

Many thanks in advance

And remember that if you are enough of a real man that  you  are growing a tash for Movember you can get 20% off your bill during Movember at Real Man Pizza in Clerkenwell – more details HERE

Tom



3674 days ago
In the rebel alliance HQ in Clerkenwell drinks are flowing freely tonight. 

24 hours after the launch of www.hotstockrockets.com it already has more subscribers than the ailing Empire Death Star www.watsnothotatall.com . In 24 hours www.hotstockrockets.com has taken more revenue than the ailing site will take in one year. Oh Dear. 
Another setback for the Empire. And another day of triumph for the Rebel Alliance.  We offer quality content from the freedom fighters who believe in free speech. Darth offers the dark side of the force and is bleeding cash. And it is no surprise that mid-rank Imperial Commanders continue to dock in at the obscure planet moon EC1 to discuss defection.


The Force is strong..

3677 days ago
Making three Christmas puddings is easy. But scaling up to make 32? It was fun! Pounds and pounds of currants and then pounds and pounds of sultanas, candied peel and a while pot of mixed spice. Fifteen apples, 45 eggs and six lemons gave in to the cause.
But the real joy was the alcohol. It was an opportunity to polish off a bottle of white rum and a bottle of calvados (apple brandy).




And then to pour into a huge mixing container three quarters of a bottle of Italian brandy and the same amount of Masala wine (a drink a bit like sherry). Our Christmas puddings will have a bit of a kick.

As a bonus there are a few of our 32 which post steaming have been left to rest for a few weeks with a healthy dose of Shetland vodka to add to the mix – they will be serving a special purpose.
What do 32 Christmas puddings look like? Well here are 15 so double up and you might imagine.




We will start serving our full Christmas menu at Real Man Pizza, Clerkenwell's finest Italian restaurant, from December 1st.

For details of that full menu & for Christmas bookings (meals or parties) CLICK HERE

Trade is already getting pretty hectic ahead of December so for a meal, normal or Christmas, at Real Man from here on in we would advise making a booking by calling 0207 242 3246 from 10 AM any day.

3677 days ago
A well known businessman hosted a poorly attended soiree last week at which he approached one guest with the opening gambit "I don't like Tom Winnifrith." Had he been speaking to Terry "Junk" Bond of Vialogy or a partner at Pinsent Masons that might have been a winner. But his guest was in fact a godfather of my daughter. Within minutes his words were relayed to the rebel alliance headquarters in Clerkenwell.
Darth, you should know that the rebel alliance has spies everywhere. We know your pitiful plans as well as your social faux-pas and your gaffe spread across the galaxy within minutes. The force is powerful but the Dark Side of merely attacking ones foes and harking back to the past is not as powerful as you might think. The power of the force is to play to your own strengths. If you have them. The rebel alliance understands this. And that is why we continue to grow. Watch this space.
Incidentally the new Star Wars film was auditioning for extras in Bristol yesterday. I was tempted. The Mrs is short enough to be an Ewok.  I'd happily be the bloke who helps Han Solo, who must be at least 104 by now, to climb up the ramp into the Millienium Falcon.

3684 days ago
I think moustaches look ridiculous. I have thus never grown one but here goes as I embrace Movember 2013.
The Mrs has a very good friend Dan who works there and I follow his lead. One should try everything once except incest & folk dancing (actually I have done a bit of folk dancing) and Movember is a good cause and so I shall grow a moustache just this once, this month.

If you care to sponsor me you can do so here

Moreover to support others who are doing the same for the month of November we will offer a 20% discount to any customer of Real Man Pizza in Clerkenwell, who is also taking part in Movember. Real Man would like to support Real Men.

So if you are in the Clerkenwell area and fancy taking some quirky Celtic Italian food and drink and would like to take up this offer we'd love to see you. More details can be found at http://www.therealmanpizzacompany.com/blog/

3688 days ago
Have a piece of Soddag Valloo on Hop-Tu-Naa before going to bed. Eat in silence (hence the English name dumb cake). Have a sip of water. Walk backwards to bed and you will dream of the person you will marry. Sounds great. But there is a drawback.
Soddag Valloo is made from eggs (yolk, white and the shells very finely crushed), salt, flour and er…a sprinkling of soot. Yes, it does not taste great.
However, Reda and I have made some anyway. We are are not going to charge for this but anyone ordering the Hop-Tu-Naa special menu will be offered a small piece on the house anyway. We will not be offended by refusal but we make the offer.The Hop-tu-naa menu goes live from noon Wednesday and lasts until closing time on Hop-Tu-Naa itself (Thursday 31st)
The full menu can be found here.

3688 days ago
Just for Hop-tu-Naa we are tweaking our normal Manx chocolate pizza. Instead of milk chocolate we have a darker thicker chocolate with a seasonal fruit topping. Naturally it tastes awesome.
Leno will be serving both today and on Hop-tu-naa itself (Thursday)
It is one of two dessert course on offer ( the other being Reda's chocolate mousse cake) on our special Hop-tu-naa menu running at Clerkenwell's No 1 Celtic Italian restaurant all day Wednesday and Thursday.
The full menu can be found here.

3688 days ago
That is win for ace superchef Leno a special pizza for Hop-tu-naa with a real Manx twist. Naturally that means you get a good helping of the national dish Queenies (scallops) plus generous amounts of Manx crab.
The base is fresh spinach and for a surf and turf feel there is a dash of Parma ham. All on a traditional cheese and tomato pizza base.
It is the main course on our special Hop-tu-naa menu running at Clerkenwell's No 1 Celtic Italian restaurant all day Wednesday and Thursday.
The full menu can be found here

3689 days ago
That is win for Reda and myself. We tweaked a traditional recipe and have deliver a gently curried creamy crab and swede soup.
It looks fabulous and even ace Number One new cook Leno admitted that it was a triumph. If you are the sort of vegetarian who eats fish it should work for you – it tastes fantastic. What more can I say. 
It is the first course on our special Hop-tu-naa menu running at Clerkenwell's No 1 Celtic Italian restaurant all day Wednesday and Thursday.

 The full Hop-tu-naa menu is almost ready and you can view what is on offer here.

3689 days ago
Taking a brief break from the kitchen where the Manx crab and turnip creamed soup is taking shape and before Reda and I turn our attention to Soddag Valloo (dumb cake) there are a few minutes to raise the Isle of Man flag inside Real Man Pizza in Clerkenwell.
Hop-tu-naa may be the Celtic New Year but it is a uniquely isle of man celebration. And so the flag goes up.
As of tomorrow it will be joined by a few other items. If you are Manx and in London on Wednesday & Thursday and wish to celebrate with us remember that we offer a 20% discount to any customer paying their bill in Manx bank notes.
The full Hop-tu-naa menu is almost ready and you can view what is on offer here.

3689 days ago
Jinnie the Witch and her assistants (ace cooks Reda and Leno) have carved the turnips (Swedes in England) and the lantern army starts to take shape. As of tomorrow it will start to take control of Real Man in the build up to Hop-tu-Naa on Thursday.
But our Hop-tu-Naa menu goes live as of Wednesday 30th for just two days as you can see here



Now to the kitchen to make the Manx crab and swede creamed soup with Reda.

3689 days ago


Hop-tu-Naa (the Isle of Man alternative to Halloween – it is the Celtic New Year) is on Thursday but we will start celebrating at Real Man Pizza, the quirky Manx Italian outpost in Clerkenwell, tomorrow (Wednesday). And so preparations are underway all of tonight.
First up are the turnips (what we might call Swedes in England) which the staff are now carving. As you can see Jinnie the Witch has turned up to assist Leno and Reda our ace cooks.
And so we now have our lanterns. More importantly we also have pounds of swede which Reda and I will start turning into a creamy Manx crab and swede soup which forms part of our Hop-tu-naa special menu available on both Wednesday and Thursday.

The full Menu can be found here.
More to follow...

3694 days ago
In case you had forgotten next week (the 31st) is Hop-tu-Naa. Not Halloween (All souls night) but Hop-tu-naa (the Celtic New Year). We will be celebrating at Real Man Pizza in Clerkenwell on both Wednesday and Thursday.
The turnips (what the Manx call a Swede) have been ordered and will be carved out for lanterns. And the Hop-tu-Naa Special Menu has been finalised:

A Manx crab and turnip ( swede) creamed soup

Followed by

Our Hop-tu-Naa pizza – Crab, Queenies and Olives with a strip of parmesan on a fresh spinach  base

Followed by

Either:

A special dark chocolate Hop-tu-Naa pizza (pictured)

or

Reda's Fames chocolate mousse cake

With all meals a small piece of Soddag Valloo ( you don't want to know) is on the house & Manx Spirit ( again you do not want to know) is only £2 a shot with your meal.

Two courses - £12, Three courses £15.

I cannot imagine any other restaurant in London will be celebrating Hop-tu-Naa next week so if you wish to make an early reservation please call us on 0207 242 3246



3698 days ago
Up in London I will be celebrating Hop-tu-Naa on October 30th and 31st at Real Man Pizza. I am working on the exact pizza to celebrate the Celtic New Year – that is a job for next week. More details of the menu here. 
But back in Bristol it is a weekend to brush off my two pumpkin recipes. I cannot remember when this became part of my annual ritual but it now is. All went well. Normally this is a kid's thing but the Mrs. Has never cooked pumpkin before and so, having done it ever year for longer than I can remember, she got to be the kid this time. Take two medium sized pumpkins…
Take the "hat off" and remove all the pips and the stringy orange stuff and throw it away. This being Bristol I made sure they were thrown away in the correct bin (brown – organic matter) to avoid a Halloween fine from the eco-fascist City Council. Then scrape out as much of the "flesh" as you can with a spoon. Make sure that you do not pierce the outer skin but try to get enough flesh out so that you can see your fingers move through the wall. And you get a pumpkin ready to be a lantern…hey presto.
So we now have two lanterns ready for use next weekend.
You will now have a mound of flesh. Separate into two halves.

Half One – a Creamy pumpkin soup.

Chop two onions finely and stock in a pan with a large knob of butter and cook until soft but not brown (say 5 minutes). Add in the pumpkin flesh

3699 days ago
Back in the Clerkenwell rabbit hole I was sitting with the dormouse. In the corner Lucian Miers was slumped on a chair. Having come up to London to view an exhibition of Japanese pornography he had been on the cheap lagers and had somehow found his way to the rabbit hole. Thank you for the Chianti I said to Lucian but he merely slumbered, mumbling something in his sleep about how it was all art really.
"So it is all over" said I to the dormouse.  He smiled and opened a box marked "direct from Afghanistan" and pulled out two crudely hand rolled cigarettes the size of a cigar. He passed one over and I tried to light it. Damn. My lighter was on the blink again.
The dormouse opened a big box marked "Money" 

3700 days ago
I guess there will not be much writing from me after noon today as we no have 72 seats booked for lunch. 

Just to flag to our regular customers that we have 54 ( no now make that 72) seats booked as of now for lunchtime today. But one large party is seated downstairs and eating early so there are still tables going. Clearly word of the fantastic new head chef Leno is spreading.
If you want to reserve your seat at Clerkenwell's quirkiest Celtic Italian restaurant you can call us at any time on 0207 242 3246 – making an advanced booking for Fridays and Thursdays is a prudent thing to do.

As of now we can probably fit in a couple of tables before 1.15 and from 1.30 we will have nother 20 seats free. 

3706 days ago
First up I met up with Darren to film a comic video at the offices of uber expensive bully boy City lawyers Pinsent Masons. It will go live next week when an agreed statement between myself, Dan and Sefton is published. V is no longer for Vendetta, V is for Victory! I think the video is funny. I am not sure that our pals at Pinsents will be so amused.
Then to Real Man Pizza in Clerkenwell to drop something off before heading off to the Grim North for a weekend with the in-laws. Damn. Super cook Leo was not there and was running very late. And so Maribel and I opened up and pondered whether we would rather have a customer before Leo arrived or not. Shucks a cute young American arrived. We played for time but eventually she summoned me over to order food.

I prayed to God that she wanted pasta which I am pretty damn good at serving up. But maybe he was punishing me for becoming an Islamic spiritual mentor because the bird ordered a pizza. Damn. The chaps have tried to teach me how to make pizza but it is really hard. But I rolled my sleaves up and gave it a go.

I rolled the dough, pushed it out with my fingers and after a while produced a pretty excellent base. I added the toppings and Maribel and I struggled to get it onto the pizza spade and into the oven. "Yes, yeeees, yeeeeeeeeees" gushed Maribel (in a somewhat disturbing manner) as I managed to get the pizza into the oven. Three minutes later it was on the table.

After a while the girl asked for her cheque and said "that was amazing pizza I am so glad that I found you." I 'fessed up that it was my first ever commercial pizza. On that high I now announce my retirement as a pizza chef.
And now off to the Grim North… 

3708 days ago
Life is one long bizarre acid trip. I return to London and our quirky Celtic Italian restaurant in Clerkenwell enjoys its best Wednesday in history. I am sitting here listening to Despina Vandi having just sent colourful James off to bed and am now reflecting on my new role as an Islamic spiritual mentor.

3709 days ago
It is a quiet afternoon at Real Man with a nice couple sitting here having a glass of wine or four… They tell me they have travelled 300 miles to come to Real Man Pizza in Clerkenwell. And who can blame them with our great new cook Leo earning rave reviews. So where are you from? I asked. Stoke on Trent they say.
I say that I have correspondents (Messrs Green & Rowley) who try to educate me to the delights of the Cultural Quarter of lovely Stoke. I say "yes you have some sort of pies don't you." They explain about Wrights pies but say that the famous oat cakes are even better and that Stoke's third culinary delight is a Picklet (pronounced Pike-let) which is a bit like a muffin. Whatever…
I have now learned two new "facts".

1. Stoke is not as I thought in the Grim North. Everything north of the cultural quarter is the North, everything south of it is the south. The cultural quarter is the centre of the universe.

2. If you stick a compass in the cultural quarter and draw a 70 mile radius circle around it you go as far south as Stratford and 70 miles further into the Grim North. Apparently it is a fact that this circle contains the birthplaces or more men and women who changed the world than any other such circle anywhere on the planet.

I sense that correspondents Green & Rowley have been underselling the cultural quarter and I feel like a moth to the flame, increasingly drawn to make a pilgrimage.

3709 days ago
I guess you think that Halloween is what you celebrate on 31st October (All Soul's Night) but long before this tradition got going the Celtics celebrated their New Year on 31st October and in the Isle of Man they still do: welcome to Hop-tu-Naa.

 We may not be in Ellan Vannin this year but at London's quirkiest Celtic Italian restaurant Real Man Pizza in Clerkenwell we will be celebrating anyway. And so the carved swedes (known as turnips on the Island) will go up as lanterns not just on Hop-tu-Naa itself but also the day before. We would encourage you to sing Jinnie the Witch. And we have a special two course menu available for just £10.



3715 days ago
Almost 10,000 words of golden prose has just been completed and is now off for layout – time for a drink or seven. Dedicated to the Mrs (the woman formerly known as the Deluded Lefty) – my "49 Golden Rules for Making Money from Shares" will be priced at £9.99 but I shall have 500 free copies to give away to registered users of www.Shareprophets.com thanks to a kind sponsor. If I say so myself, it is actually rather good and quite well written. I actually enjoyed writing it as a bonus.

More details to follow. Now for another glass of Valpolicella in the Clerkenwell Rabbit Hole.

3720 days ago
This email arrived this afternoon. Can it really be from disgraced ex Sefton boss, the liar and crook JOim Ellerton? The way Sefton emails appear everywhere you just don't know.

 
From: [email protected]
Date: 28 September 2013 09:47:57 BST
To: [email protected]
Subject: Email from website
Reply-To: [email protected]
Form details below.

Name: Jim Ellerton
Number of people: four directors
Email: [email protected]
Telephone: 
Comments: Can we have your old chip fat/oil to mix in with our Tapia oil?
Ends...

Heck, I am always keen to help Sefton boost its production numbers but we don't serve chips at Clerkenwell's finest quirkiest Celtic Italian restaurant, The Real Man Pizza Company. 

3727 days ago
It is a new term and we have just had a call asking if Clerkenwell's finest quirky Celtic Italian restaurant is still running its special student offer. You bet it is.
For any fresher coming to London this week who may not know it is simple. Just show us your student card and a 12 inch pizza (eat in only not take-away) costs just £3. So does a pint of Curious extra strong beer. So too a glad of house wine. A litre of wine is- for you only – just £10.
Monday to Saturday the offer is open all well. See you in Clerkenwell soon.

Dull details are here
PS And yes that includes the chocolate pizza!




3729 days ago
Bad news for Abbe Aronson, the girl who broke my heart in 1985 – she will have to go topless for now. For Abbe requested a "Sefton is fucked T-shirt" which I dutifully ordered for her but had not quite got around to posting. And blow me down but a customer rolled into Real Man Pizza in Clerkenwell today and said he really, really wanted to buy one. The chap is apparently trying to get a mining exploration company in Afghanistan underway. If he ever organises a press trip, I told him he can offer my place to someone back at t1ps who really deserves a week or two in Helmund province.  Don't all say it - I am just too much of a nice guy. 
Anyhow, sorry Abbe. On that holiday you are planning (I really do recommend Albania) you will have to go topless. I shall order another one for you right away.
Of course you can pick up your very own shirt HERE

3732 days ago
Yes it is time to think about Christmas already. We have just had our first big booking – the whole place will be closed for a private party from 3PM on 18th December (until very late). Do you want a private party here? We can offer either the run of restaurant or our basement room, with its own music system and bar.
We have also published our 2013 Christmas menu – in fact two of them if you want to book a Christmas meal at Real Man, the quirkiest Celtic Italian restaurant in Clerkenwell. Whether it is for 1 for 60 we would be happy to oblige.
You can access the Christmas menus here.
We will stay open this year until Saturday 21st December and will re-open on 6th January. So all the time up to and including 21st December we are open for festive bookings.

If you want to discuss bookings feel free to pop in at any time or call us on 020 7242 3246.

Maribel, Darren & Tom

3732 days ago
Maybe it is the name that attracts them? I do not know. But it certainly adds to the joy of working here. First we met up with Pauline Amos, the naked artist as you may remember from this video article here. And now it is senior waitress Maribel who is getting her kit off.
Fear not, it is all in the name of world peace. All 77 pictures of her in the altogether. I kid you not. On her Facebook site (which not surprisingly has almost 4,000 followers) Maribel explains:

To my parents: Father, Mother, you are not going to like this, but it is what I must do.
To my friends: You know me, so you will understand.
The rest of the world: I do this because I must use what power I possess to act out against war and barbarism.
I expose myself to reconcile my body and my soul.
I use my body because all I came into this world with, and all I will go out with, are my body and my soul.
I use my body because I am a woman, and women are the most used, humiliated, the weakest and the strongest of humanity.
We bear the children they send to war, to kill and die.
We are still the temptations, the objects of desire—Eve, the Original sinner—from the East to the West.
I use my body because, at this stage of "civilization", nothing is more revolutionary than to show us as we are—people, human beings, a majority of humanity, who want to live in peace.
Only the sick of soul want war.
PLEASE UNDERSTAND, I FORBID the use of these images for profit—not even for me or on my behalf.
I encourage everyone to take the same action, but if your modesty prevents you, use my images.
Paste them on Facebook, distribute them by email and post, or print them, until there is not a corner of the Earth that does not know that the majority of humanity calls for Peace.

I am of course really into peace & love and all of that stuff but shall pass on taking the same action myself.

The facebook page is shown below.

If you'd like to discuss World Peace or to see more of Maribel, just pop along to our quirky Italian restaurant  Real Man Pizza Company in Clerkenwell at any time – perhaps this Wednesday for Ken Scott's gig?

3743 days ago
I was just sitting outside Real Man Pizza Company having a fag and looking a bit of a mess thanks to a quite surreal night with Colourful James in Clerkenwell, of which more later, but it involved, at a tangent, Johnny Depp. And a bloke shouts out from a passing cab - "well done on Pinsent Masons - keep on going." Thanks for the encouragement, I shall do so. The uber expensive bully boy lawyers whose fees will sink Sefton can expect my next broadside within 24 hours.

3744 days ago
On a writing catch up I was sitting at a table in Real Man in Clerkenwell and it was 2.30 AM. Suddenly the shutters rattle again and again. The last time this happened it was a religious loon and I ended up walking her via various churches to Islington nick as she had reported herself to the old Bill as being a loon. I rather feared the worst as there are some strange folk in the corner of Clerkenwell. I was right to fear the worst.
For it was Colourful James. As you might expect he had already had a few.  It is now 4 AM and Colourful and I have set the world to rights. A glass or two for me still leaves me sober enough to drive and write. Colourful (after a glass or three on the house) will not be at his sharpest at 7 am. Perhaps I should have gone to the sociology conference at Warwick University after all?

3745 days ago
By popular demand the voice of Wiltshire retro rock, Mr Ken Scott, will be playing another gig at The Real Man Pizza Company in Clerkenwell – on Wednesday 18th September from 7 PM. So if you fancy a pizza and a bit of rick from the Stones up to more recent material that I am too much of a fogey to be able to name, we'd love to see you.
Ken was the man who saved AIM listed ILX but stepped down as its CEO last year and is now involved in far too many projects for his own good. He always hates me for saying this but he was a stand out as a self-made CEO on AIM of Afro Caribbean origin. Someone with good taste in men once  said that Ken looked a bit like Sidney Poitier (apart from when he grew a daft white beard a few years ago which made him look 103). But he is a great singer and guitar player and that is why September 18th is a diary date to make now.
I shall be there, as will be Ken's former colleague, Mr Caption Contest himself Jon Pickles. I look forward to seeing you on the 18th in Clerkenwell at www.therealmanpizzacompany.com

3749 days ago
A last minute cancellation means that as things stand I shall be standing next to two empty seats in the Trevor Brooking lower tomorrow. I know it is only Stoke but that would be a waste so if anyone fancies joining me - we can meet either at the Ground if you are coming from the East or at Real Man in Clerkenwell if you are coming from the West  - get in touch. First come first served - email me on [email protected]

3749 days ago
Perhaps they were all psychic and sensed pending news but Clerkenwell's finest celtic Italian restaurant Real Man Pizza was a buzz all day yesterday. First up was blog reader Gareth to whom I promised a Piss off Argentina T-shirt in a caption contest a while ago. We will not go into details as to how much of a while. Gareth was in town, popped in for lunch and was – as you can see – presented with his shirt by myself (wearing my Sod off Spain T-shirt which is getting stacks of positive comments). You can buy both shirts only HERE

3751 days ago
Maribelle our senior waitress is from Spain but has worked in Gibraltar and is a right-thinking sort of bird and so was keen to model the new Sod Off Spain T-shirt which arrived at Real Man in Clerkenwell today.
You can show your support for our countrymen in Gibraltar by wearing your own shirt, which can be bought here.

3756 days ago
Just a public note to Darren Atwater and Martha Gall who tonight are celebrating their first wedding anniversary. Given that Darren works out of RMPC three days a week they are not celebrating with us in Clerkenwell.  Darren was the second (of six) RSH employee to leave and come to work with me (Steve Moore won the gold medal) and a good friend in good times and bad. He mucks in at RMPC donning a waiter's outfit when needed. But he is really the brains behind www.shareprophets.com.  Apparently Martha's parents are delightfully right wing and their opinion of the son-in-law soared when they started reading this blog and realised who he worked with. To two of London's three finest Canadians ( the Goddess is the third), The deluded lefty and I wish you a very relaxing and romantic evening. 

3756 days ago
I was up all night working on some Real Man business and at 4 AM the phone rings. I am, as you know, a nice guy so I answer. "Can I have a delivery please?" slurred the voice.
"Er…I am sorry but no. We close at 11 PM on Thursdays" said I. No you don't said the drunk. I suggest you look at our website and we do. So what's the address? www.therealmanpizzacompany.com I said and the drunk asked for a minute to check it out.
I gave him his minute and he came back: "I want to make a complaint about you." Ok said I, address it to the manager at 91-95 Clerkenwell Road, EC1R 5BX. Good night. And I put the phone down.
Three minutes later it rang again. I answered. "I want to order some cheese."  Heck, we do not deliver at 4 AM and we do not deliver some cheese I said. "I want to make a complaint about that too." At this point I was beginning to lose my patience and so politely said "I am going to put the phone down now, my next call is 1471 and if you call back I shall call the Police and report you for harassment.  I put the phone down and he did not call back.
Some folks ….

3776 days ago
My partner's parents would rather she had hooked up with a nice respectable dentist or accountant than with myself. I really don't blame them at all. And if they could only have seen the mayhem last night in The Corner of Clerkenwell that is Real Man Pizza their doubts and revervations would have gone off the Richter scale. Put it this way, I awoke to find myself lying fully clothed on a sofa just inside Real Man's front door. I cannot remember how I got there and I do not feel terribly sharp today.
Colourful James was an early arrival at Real Man with two women in tow. As they sipped Camparis and James downed Curious lagers I stayed sober and responsible knowing that the CEO Of an AIM listed company was on his way for a catch up meal with me.  He duly arrived and we were joined by a colourful member of the PR community and four bottles of wine later we had put the world to rights.
They trundled off and I was just starting to think that I could do with a sleep when fifteen younger people turned up asking for a pizza. The pizzas flowed, the wine flowed, I was sucked into the conversation by an Irish bird and a bird with a ring in her nose which we all agreed she should remove. The dancing on the tables started, more wine flowed, the limoncella flowed…
And so today is a light blogging day.

3777 days ago
It was late in the evening at Real Man Pizza in Clerkenwell and another hectic day at our quirky Celtic Italian restaurant was drawing to a close when this couple wandered in. They ordered and then asked if they could sit outside. Sure – no problem. And then the bloke asked for an ashtray!
How very European. When the smoking ban came in we, like all bars and restaurants, got rid of our ashtrays. Keeping hold of them would in today's puritan climate be like stashing hard corn porn behind the counter. I may be a smoker but I have to accept that I am a filthy, disgusting human being guilty of the greatest crime on this planet.
And so when folks smoke outside Real Man they just drop the butts on the pavement. Camden Council pisses away thousands of quid a week sending round vans with posters saying that if you drop a butt on the street you can get fined £80 or whatever but that is what folks do. Because in Aitstrip One ashtrays are just another relic of the 20th century.

3786 days ago
Ken Scott is a remarkable fellow. Last year he parted company with ILX, the AIM listed company he saved and turned around. He probably would not appreciate me saying this but he was – I think – the only UK born Afro-Caribbean CEO on AIM at the time. He is a thoroughly nice guy and he is also a great singer and guitar player.
Ken sung at my 40th (impromptu) and plays gigs around Wiltshire where he lives. And occasionally he plays live in London. One such day looms. From 6.30 PM next Monday 29th July Ken will be performing everything from The Stones through Oasis through to a few modern songs (that I don't get) at Real Man Pizza Company in Clerkenwell.
Entrance is free and the music and pizza starts at 6.30. I shall be there manning the full bar.
You can check out Ken's work on his Facebook page

3786 days ago
In 40 minutes time I head off from chez Spiros. By 2 PM I shall be back in The Corner of Clerkenwell which is home to naked artist Pauline Amos, Real Man Pizza Company, colourful James and so much else. I do not want to leave Greece but if I have to go somewhere there are far worse places to go.
See you all at the quirkiest celtic Italian restaurant in London, Real Man Pizza, as of mid-afternoon 

3802 days ago
And now for something completely different at Real Man Pizza Company, our quirky Celtic Italian restaurant in Clerkenwell. Naturally we still sell Coca Cola and both English and Italian lemonade. But now we add to the list a premium cola and lemonade - it tastes very different and is from hip Dalston in Hackney. We are always keen to support small independent producers so Real Man is delighted to add both Dalston Cola and Dalston lemonade to the menu.
xxxxx

3810 days ago
At Real Man Pizza on Saturdays, kids eat for free. And as a result we have an increasing number of junior customers coming in to enjoy the Pirate's menu of pasta, pizza (including chocolate pizzas), garlic bread and of course our 16 flavours of ice cream.  
Saturday's star pupil was George.  He tried to drink his father's Curious beer. He fought granny over control of a knife he seemed keen to stick as far up his mouth as possible and his eating … he enjoyed his food.  You are welcome back at any time young man.

3810 days ago
It is two days since Friday but I am still irked by a total bitch who came into Real Man Pizza Company that lunchtime. Our Clerkenwell quirky Celtic Italian restaurant was packed out, having to seat some folks in the basement so busy was the session, and she came in with six very charming colleagues one of whom had been in earlier that week when we had had a long chat about this that and the other. I ensured they had the best table we have.
Noting that we were flat out, the other six ordered drinks quickly but she just said "You are Bob" to me. Er…no I am Tom. "Oh I was told you were called Bob". Her colleagues shook their heads. Eventually she asked for tap water after all her colleagues had been served. Her intent was not to make life easy.

This lady wanted the set menu. But would you mind not doing penne arrabiata with chicken but spaghetti arrabiata with chicken? I guess the concept of set menus is a just a bit above some folks but, since I rather like her colleague who was in earlier in the week, I assented.

3814 days ago
It tastes even better than it looks. The first customer to try this moist mixture of white and milk chocolate said it was "gorgeous". It is. Perhaps it is not an ideal part of a calorie controlled diet but it's summer, it's time to treat yourself. 
It is not on the menu as super head chef Reda served it up as a new creation just today. But you can ask for it, at any time at Real Man Pizza, our quirky Celtic Italian restaurant in Clerkenwell.

3820 days ago
The old Isle of Man flag was looking tatty. Besides that is a past life. And so a new flag flies outside Real Man Pizza, my quirky Celtic Italian restaurant on the Clerkenwell Road.
Colourful James
was here for a drink with
Pauline Amos
but they declined to mount the ladder. I suffer extreme vertigo but did not look down and headed up the steps
And after about half an hour the old Isle of Man flag was in the bin. Should I burn it ceremoniously? And now we fly the Pirate flag.
To those in the City who hate me
, to those who will be winning AIM Cesspit awards 
on Monday
, see if I care!

3820 days ago
THE CEO of an AIM listed company offered at the weekend to pay for 6 private investors to attend the AIM Cesspit awards dinner/Sefton legal case fundraiser with Evil Knievil and Lucian Miers on Monday 24th June in Clerkenwell London. Those 6 seats were allocated on a first come first served basis but two of the winners have now pulled out.

As such I have two free tickets on offer.

They will go to the first Shareprophets.com or TomWinnifrith.com readers to email a request for the seat to [email protected]
I look forward to seeing two of you on Monday

3821 days ago
Nope, the BB morons have no reason to celebrate. I was not assisting the Old Bill with their enquiries. Nor was I being questioned for revealing who was shagging who in the Downing Street Affair. Instead…. Well it is a long story but it started mid-afternoon. I am starting to worry that I am not a complete bastard after all and can actually be a good guy on occasion. I may have to seek counselling from someone really bad and immoral. Where's Colourful James when you need him most?
Mid-afternoon two ladies from Informa popped in to Real Man Pizza Company seeking prizes from local businesses for a charity raffle. Since I only support one charity (Woodlarks) my standard answer to such requests is No! But I found myself offering a prize of a meal for four. I clearly was on a slippery slope towards virtue.
And so after an evening of being exceptionally nice to everyone, sending staff home early so I could tend to the last few customers (two of whom hung around forever) I sat down fully intending to spend the whole night writing. But at midnight I heard the sound of banging on the shutters. I peered out and there was an Indian bird in obvious distress.  So I opened the door and through the shutter she said she needed to find a church to pray at, a priest to speak to and that the Catholic Church would put her up for the night as she was homeless but needed directions. Hmmm "We are a catholic restaurant hang on while I get an A-Z"
Before I knew it she was sitting inside Real Man and had made me turn off my music (AC DC by Joan Jett was playing at the time) and from my laptop she was playing her favourite hymn. She then explained

3823 days ago
Pizza, pasta, soup, ice cream, Nigel's American cheesecake – whatever you fancy – the menu for our two courses for £9.95 is a long one. And all the food is produced in our own kitchens from fresh produce (apart from the sixteen flavours of ice cream which comes from a local supplier). The two course for £9.95 runs all day Monday through to Wednesday at Real Man Pizza Company, the coolest and quirkiest Celtic Italian restaurant in Clerkenwell if not London. Actually are there any other Celtic Italian restaurants in London? We think not. Pictured below is a pizza not on the menu but which a customer asked for and which we tried and it is delicious. We always take requests however odd. This one is a Margherita with ricotta cheese. It is really good, honest!

3823 days ago
And so the on-going expansion of the menu at Clerkenwell's leading Italian restaurant, theReal Man Pizza Company, continues with the addition of a cracking new soup in our entrée section. Carrot sounds dull but Carrot & Fennel soup has a real kick to it and tastes fantastic.

And so  if you are a soup lover our kitchens are now serving three freshly produced home made soups either as a starter or as a main course: Carrot & Fennel ( pictured below), Minestrone and a sizzling fish soup. Yum yum.

3825 days ago
Saturday is always our quietest day at Real Man Pizza, our Celtic Italian restaurant in Clerkenwell. Folks come in throughout the day but it is rarely hectic.  As it happens, despite the rain, it is far busier than usual today but still there is time for me to amble down the street to replenish my supplies of (legit) tobacco. Generally Saturday is a catch up on writing day.
As I ambled down the road wondering how I was to conclude my (poisonous) Conviction sell of the month for Spreadbet Magazine I heard a loud female voice saying "hello Tom." Rather startled and not used to strange women greeting me as I ambled, looking a tad "casual" down the road I turned around as blond woman, stuck out her hand "Emma Kane, glad to meet you."

Emma, is a local resident but has so far declined my offer to pop into Real Man perhaps aware that regular customers include Lucian Miers and Aubrey Brocklebank. For Emma is the head PR bird at Redleaf Polhill, employer of foxy Bex, and indeed stepped into the void when Bex was on hols to look after Cupid.  Emma is intelligent which among PR birds is a novelty but is she also psychic? Is she aware of what my sell of the month is?

Foxy Emma has promised to hook up at Real Man soon. I quickly scuttled back to finish my article on…..

3826 days ago
At The Real Man Pizza Company, we are picky about our food. For example, our pasta and pizza dough is handmade every day by our chefs and we buy our absolutely amazing ice cream from a local creamery.
Today, it's our coffee. We have switched to Clerkenwell roaster Workshop Coffee, who source and roast their beans just down the street from us.  Drop by and taste the difference at Clerkenwell's quirkiest Celtic Italian restaurant.

3828 days ago
We like it when our customers are happy. And the verdict has been: people love our two courses for £9.95 meal. So we have made it an official Monday to Wednesday special at Real Man Pizza Company in Clerkenwell. 
That's a 12" personal pizza or homemade pasta plus a starter or dessert. (We have a special menu for this that makes it easy to choose.). Yesterday saw our busiest Tuesday in memory on the back of this and so now it is an every day offer: Monday to Wednesday at Clerkenwell's top Italian restaurant.

3833 days ago
Well there's fame for you….a helpful comment on the Mumsnet comments board from a mother who enjoyed our free food for children offer (especially the 16 ice creams) last Saturday. Well thank you&hellip
It was not just a one off… every Saturday here in Clerkenwell you can get a free, high quality fresh food (and ice cream if you want) for your children here in Clerkenwell.
What can your children devour? There is a wide choice. Check out our Pirates menu here.
Yes it includes, pizza, pasta and our 16 flavours of ice cream and more besides.
All day Saturday children can choose two courses from the menu and their food is absolutely free. The only condition is that you need to have the odd adult present and ordering a main course (at least) – the adult menu is far longer.
For every adult enjoying a main course, up to 1.5 children can eat free. We are not expecting anyone to saw a child in half. That just means that two adults can bring three children to eat for free.
The offer runs all day Saturday at Real Man Pizza in the heart of Clerkenwell.
Pictured below is a dish called linguine Manx – spaghetti, crab meat, Queenies (scallops from the Isle of Man), parsley with a hint of chilli and garlic in a creamy tomato sauce. Yummy yummy.
(The picture at top is from our previous blog post: What flavour ice cream is it? Pink!)

3833 days ago
One of the joys of being involved with a good, if quirky, restaurant is the customers. And so last in on a busy Thursday at Real Man Pizza Company was colourful James, the local spaghetti vongole loving art entrepreneur.Time for a quick pizza? Of course. And a pint of Curious beer? Of course. James being James it was not one pint. His guest was an artist called Pauline Amos who has an exhibition running at the Tramshed in Shoreditch just down the road from Clerkenwell. I used to live in the 'Ditch and know the Tramshed well. 
The exhibition is about how man has killed man over time. And so naturally at the opening Pauline had to take all her clothes off and allow visitors to paint her naked body. 'Natch. You don't believe me? The video is below. Given my interest in contemporary art, I shall be popping along at the weekend to see more.





3835 days ago
Maybe we'll change the name to the Real Man Veal Company, because that's what our lunch crowd is ordering. Veal Escalope is veal grilled in breadcrumbs with spaghetti and it's only £9.95 today at the Real Man Pizza Company  - the hippest Celtic Italian restaurant in Clerkenwell.

3837 days ago
You get all sorts hanging out at the Real Man Pizza Company and they are all welcome – the mix makes it more of a fun place to eat. But Saturday saw a pretty unusual card game take place with three wizards playing.
Real Man is just 20 yards away from a world famous magic store. It is not as if Clerkenwell Road is Diagon Alley but we do get more than our fair share of wizards popping in.
So pick a card said wizard one. The eight of diamonds was my pick. Miraculously he picked a card from the pack. It was the two of clubs. But then he tapped it and it was suddenly the eight of diamonds.

He then put it back in the pack and put the pack on the table next to his empty pizza dish.  Oddly, said he, I have one card that I picked earlier here in my pocket. He dipped into his jacket and out came…the eight of diamonds.
What do wizards eat? Prosciutto e funghi pizza (ham and mushrooms to you and me). And for the avoidance of doubt those are not magic mushrooms but our pizzas are so tasty that they always disappear fast from the table with no need for them to be cut in half first.

3837 days ago
The Veal Escalope in breadcrumbs with spaghetti was such a hit last week, we've brought it back. It's £9.95 today at the Real Man Pizza Company  - the hippest Celtic Italian restaurant in Clerkenwell.

3839 days ago
Fancy free high quality fresh food for your children?
Pop along to Real Man Pizza any Saturday and your wish is granted – children eat for free. Yes it's true. Check out our Pirates menu here.
Yes it includes, pizza, pasta and our 16 flavours of ice cream and more besides.
All day Saturday children can choose two courses from the menu and their food is absolutely free. The only condition is that you need to have the odd adult present and ordering a main course (at least)
For every adult enjoying a main course, up to 1.5 children can eat free. We are not expecting anyone to saw a child in half. That just means that two adults can bring three children to eat for free.
The offer runs all day Saturday at Real man Pizza in the heart of Clerkenwell.

3848 days ago
This is a Dominique creation - linguine is almost spaghetti but just a bit thicker. The fresh prawns and red peppers are cooked gently before being folded into a creamy tomato sauce into which the piping hot linguine is then added - you always add pasta to sauce not vice versa.
It tastes even better than it looks and it is today's £9.95 special at Real Man Pizza in Clerkenwell. You see we do so much more than just 20 thin crust pizzas at our little Celtic Italian restaurant.

3849 days ago
Can't speak Italian? Aha. Well that would be spaghetti and clams in English. It is a traditional Italian recipe with the fresh clams cooked gently in their shells in a white wine, garlic and parsley sauce until they open and then mixed in with the sauce included in the spaghetti.
It is not on our menu yet but it is available as today's special at Real Man Pizza in Clerkenwell and can be ordered every day as of now once you are addicted.
Why add it to the menu? James asked us to. He's a local resident and a hugely entertaining man. For you James…your wish is our command.

3855 days ago
Summer seems to be here at last and so the tables go outside. Clerkenwell Road may not be the prettiest in London but if you fancy a pint of draught Curious ale or a bottle of chilled Orvieto and a cigarette in the sun the tables are now out.
Or perhaps you fancy eating at an Italian restaurant outside. Dominque has set it all up for you at Real Man as you can see below.

3862 days ago
Scallions? Aha you are not Irish as is our manager Dominique  - we refer to spring onions chopped into a creamy sauce with smoked salmon gently re-cooked in a garlic base. . It looks great and on this cold day it is a warming lunchtime treat. It is today's special (£9.95) all day at Real Man Pizza Company in Clerkenwell.

3867 days ago
I think it was actually strawberry flavour but she loved it anyway. Dad meanwhile tucked into rum and raison, white chocolate and (wise man) salter caramel flavour. Just four of the 16 flavours of locally produced ice cream on offer at our Celtic Italian Real Man Pizza Company restaurant in Clerkenwell. The full list:
Milk Chocolate, Vanilla, Rum and Raison, Pistachio, Strawberry, Honeycombe, Mint Chocolate Chip, Root Ginger, Hazelnut, Peanut Butter, Salted Caramel, Dulce de Leche Granizado, White chocolate, and on the sorbet list: Lemon, Orange, Raspberry, Passion Fruit and Gin & Tonic.
How can you resist? She couldn't.

Meanwhile Mum opted for Nigel's homemade North American vanilla cheesecake with a fruit coulis. I tried to get a picture but it had all gone just too fast. So here's one Nigel made earlier.
Real Man is open all day Saturday with Dominique and pizza supremo K in charge so if you fancy high quality ice cream you know where to come.

3867 days ago
As fate would have it. Every West Ham game I have seen this season seems to have been a defeat. As such I head off from Clerkenwell to Upton Park this afternoon, taking along a Real Man Pizza Company loyal customer, with some trepidation.
Alan Pardew comes back to the Academy with his side still a good outside bet for relegation. Their recent form is poor and my sense is that whatever happens between now and May 19th, come May 20th Pards is set to get his P45. For a team that thinks it is a "big side" Newcastle has had a lousy season.
By contrast the Irons have started to play some pretty decent football of late. We are now almost certainly safe from the drop and one sense that Messrs Nolan and Carroll will have a point or two to prove today. The odds have to be on a home win, 100% certainty of top flight football next year and Pards being one game closer to black bag time. But I warn you, I shall be heading down to the Academy in a couple of hours, the Albatross is on his way.

3868 days ago
Introducing to you our head cook at Real Man Pizza Company, Fabio who is actually Italian - something of a novelty here. Trained as a chef in Italy, Fabio and his girlfriend moved to London for understandable economic reasons and to improve his English. The latter is work in progress. His cooking talents are not in doubt and he and manager Dominique are dreaming up an additional dish to launch on you after the Bank Holiday.
Talking of the Bank Holiday and the long weekend ahead remember, if you are wondering what to do after work tonight,  that if you pitch up at Real Man after 5.30 in a group of six our extra strong Curious beer is just £3.95 a pint, we offer a quality bottle of wine at just £14 and there is free garlic bread ( with or without cheese) for your party.
Dominique, Julia and the team hope to see you later at 91-95 Clerkenwell Road.

3870 days ago
It is May Day and so shirkers of the world, sorry workers, are uniting. Here in Clerkenwell a large band of unreconstructed commies, public sector workers who fancy a day off and assorted fruitcakes are holding their annual parade. Much though I would happily stay all day at Real Man Pizza monitoring the progress of the charming new waitress Julia and tucking into a portion of Nigel's amazing American cheesecake, I think it is time for a swift exit. One more article and I am off to Paddington.
Bugger the marchers are tramping by. No taxis. And so I bring you a selection of pics from the "workers" making their point. Scumbags.

3870 days ago
And so the happy band of brothers and sisters expands at Real Man Pizza Company with the addition of our latest waitress Julia who joined last week. She survived those first few days and will now be working five days a week here in Clerkenwell at our quirky Celtic Italian restaurant run by manager Dominique ( also pictured inset). Today's special: Julia.
Only kidding, once again - by popular demand - it is the garlic prawns and roasted red peppers linguine at just £9.95. And the other good news is that we have just had a fresh delivery of salted caramel ice cream as supplies were almost exhausted. What more could you ask for?

3882 days ago
The cook is off sick at Real Man Pizza Company, my quirky Celtic Italian restaurant in Clerkenwell. As luck should have it I am in town and as luck should have it we enjoyed our busiest Friday lunchtime in living memory. At 3 PM I emerged from the kitchen a sweaty wreck, cursing poor Fabio for being ill on this day of all days. And then I saw a long, long line of red buses parked outside.
I wandered out. The road was taped off. I asked what was up. It seems that a cyclist was killed at the junction just up the road. It rather puts my temporary issues into perspective.

3885 days ago
Due to the ongoing pick up in business at Real Man Pizza Company we are hiring a new waitress. And so from tomorrow afternoon a number of young ladies from across Europe are popping in to see Dominique and myself in Clerkenwell. All appear desperate for work and so will come in at less than 24 hours' notice.
How many British applicants? One. The most illiterate CV?  No prizes for guessing.
I despair.

3891 days ago
It is always a pleasure to welcome blog readers at Real Man Pizza Company in Clerkenwell and so today it was hello to Anthony from Northern Ireland who was over for the day and popped in for a pizza, a pint of Curious beer and a quick chat about Sefton and other matters. I am here one day in three and so if you are lucky you get to chat to Dominique. Anthony got the short straw and me. But you are always welcome. It was good to see you Antony…keep reading and come again.
And this gave myself and Dominique a chance to apologise in person, in advance for a joint musical offering which we have recorded – a new version of Danny Boy in honour of a certain oil company and its lawyers.  For those folks from Northern Ireland who we cannot meet in person we apologise in advance over the internet.  Watch this space….

3892 days ago
I know that some folks do not believe that we actually have Justice 4 the Sefton 2 T-shirts and a range of Piss Off Argentina produce as well as the It's Time to Leave range. And of course we still stock the "I'm a real man line." And just to prove it here is Dominique the new manageress at Real man Pizza displaying the entire range which you can pick up on Saturday at the UK Investor Show at Excel.
Remember that if you turn up at Real Man in Clerkenwell at any time on Friday 12th or Saturday 13th April clutching a ticket for the UKInvestor show you will get 20% off your meal. You can book a table at any time on 0207 242 3246

3899 days ago
I am in trouble. I am now six columns in arrears with 24n.biz the online magazine for SMEs. And so for the next 24 hours I shall be writing little else than articles with tips for small businesses. Enough is enough, it is SME time and so here is my second offering.
I can tell you that my restaurant in Clerkenwell is brilliant until I am blue in the face. As it happens the Real Man Pizza Company is brilliant but to quote Christine Keeler (or was it Mandy Rice-Davies) "he would say that wouldn't he?" Yes of course I would. But if my customers start to say how much they like dining with us, which of course they do, then maybe you might just perk up and pay attention.  Your existing customers should be your number one advertising resource. If they do keep coming back that is proof that they like you.

3906 days ago
If you happen to work near Clerkenwell we have a new offer for you and it all came out of a late night chinwag with some of our customers over a glass or two of Manx Spirit...
Chatting to a delightful group from our neighbours at Metapack (The UK's leading supplier of delivery management platforms for e-commerce) Aldo and I have come up with a new idea for those working at Metapack or indeed any of the other offices around us.
Fancy a drink or seven after work? Well why not pop into Real Man, your local Italian restaurant?. Come along any day of the week after five in a group of six or more and we will serve you our wine of the month at just £14 a bottle and a pint of the awarding winning Curious beer we stock either as a light or dark ale for just £3.95 a pint.
And we will send two helpings of garlic bread (with or without cheese) direct to your table as a welcome gift.
Every day of the working week, the offer stands.  In winter Real Man is warm. In summer we open the windows and it is light and breezy.  So if you fancy a few after works drinks with colleagues just pop in. We look forward to seeing you at Real Man.
Can't say fairer than that. Especially as Aldo does make very good garlic bread with cheese.
Full details can be found HERE

3918 days ago
I mentioned a while ago a wonderful breakfast we all enjoyed at Real Man Pizza in Clerkenwell sampling 20 different ice creams. We selected 16 and they have all now arrived – a new special ice cream menu goes live tomorrow.
But it is already clear which flavour is the winner. Salted caramel is to die for. In the interests of bringing you a photo of this culinary treasure I have just been forced to eat three scoops – waste not want not!. Mmmmmmmmmmmmmmmm

3921 days ago
Shot the other day, this is the new video for Real Man Pizza Company - it took about 25 minutes to shoot. K the pizza maestro was a natural. I needed a few more takes. If you like what you see pop in for a meal in Clerkenwell at Real Man any time Monday to Saturday - more details on the Real Man website

3933 days ago
You thought that this was my only blog? Noooooooh. I have started another one. Usually it is just one post a day but I hope to do more – it is my Real Man Blog! Today's article is below – I tend to use photos for this blog and and am working on trying to get some video content in. The subject is normally food or drink – there are no wild political rants on this blog – that stays here.
What appears below is today's entry – you can find the whole blog here.
What is Linguine Manx?
It is a recipe pretty much unique to Real Man Pizza Company – it was created by head waiter Aldo (who is actually a trained chef and a great cook) and by owner Tom Winnifrith and it tastes amazing. If you are in Clerkenwell you have to pop in and try it at our quirky Celtic Italian Restaurant..
Linguine – it is a bit like spaghetti but just a tad thicker. The Manx side? The dish contains Queenies, scallops from the Isle of Man. The Queenies are accompanies by crab meat, and also chilli, garlic, lashings of freshly chopped parsley and a backing of our tomato sauce. There is also a dash of Manx vodka just before the tomato goes in.. And then there is a bit more parsley added on top once the linguine is folded into its dressing. Salivating yet? You should be.
And hey presto a Manx Linguine as you can see below.
One of our lunch guests very wisely went for the Linguine Manx yesterday. His co-diner opted for Penne Carbonara ( penne folded into cream based sauce with bacon and freshly chopped mushrooms – once again freshly chopped parsley on top). The two dishes stand side by side below.
Suggested Italian wine for this combination: Tosca Bianco Villa Lucia, described as a fresh and vibrant white wine, medium bodied with aromas of orchard fruit and peaches and zesty lemon on the palate. Or perhaps if you want something a bit special a Riva Leone Gavi ( a delicate white with intense fruity and lemony notes)?
We do not just do pizza at Real Man but as with our pizzas, our pasta dishes use all fresh ingredients and combine the traditional with our own specially created and unique dishes.

3936 days ago
I have relayed to you in detail the scandal of how Heather Frost who has never worked in her life is to be given a £400,000 eco mansion for her and her eleven kids but says that if it is not good enough she will demand a bigger home ( see here ) – that was nauseating. Then came the news HERE that this welfare parasite could afford to buy a horse and stable it for £200 a month.
But brace yourself… it now emerges that she has also paid for flying lessons for her 57 year old (current) partner and to top it all that she spent hundreds of pounds last year hiring a fairground carousel to entertain her kids for a birthday party.
And we are paying for this with our taxes!
I offer a prize of a free meal at Real Man Pizza worth 30% of the monthly stabling costs of Heather's horse for any deluded lefty who can explain in the comments section below why Heather Frost shows that the benefits system is fair, is working and makes society a better place.
Post away.

3938 days ago
I feel it is almost poetic. It is less than 24 hours since the king of the Global Warming Nutters 'fessed up and admitted that the world had not got any colder for 17 years ( see here ). I am still celebrating that capitulation from the old crook Rajenda Pachauri and as I gaze out of the window at Real Man Pizza Company, the snow is falling gently on Clerkenwell. It is almost poetic. I am so glad thatI did not throw away all my winter woolies when Al Gore.Chris Huhne/Call Me Dave and the other nutters told me that winters were a thing of the past.

3938 days ago
Another one of my occassional articles for 24n.biz on tips for SMEs or small businesses.
The restaurant I took control of six months ago hit that magical point last week. Hooray! It is no secret that the Real Man Pizza Company, which I bought in September, was historically a consistent and heavy loss maker. But we have done the basic things that others neglected to do: cut overheads, squeezed suppliers, adjusted prices that hadn't changed since Harold Wilson was Prime Minister, upgraded, tweaked and improved the product offering. It was not rocket science. And it has worked. For a couple of months it has been making an operating profit. Last week it made a small profit including the central cost (me). So what next? It is the point any start up or turnaround business purchase dreams of hitting, but what next?

3941 days ago
This article is from 24n.biz where I write occassional pieces on small business (SME) tips. Out today…
It was promised long ago but like all IT projects there were delays but finally at my small business our new website is live. Check it out HERE – heck I have done one of the "to dos" already. More on that later. So have we achieved our goals?
Well I think so. There is some debate still about our introductory image – the Celtic Sea God Manannan Mac Lir. I think it arouses interest and will draw more folks in to discover more about our Celtic Italian restaurant in Clerkenwell. My business partner Nigel reckons that it will scare the kids away. We shall see. But my 6 point check list of primary objectives have all been achieved. Look at your website and ask:

3942 days ago
The latest article on Small business tips from me in SME online website 24n.biz is live:
It was a rather humbling experience. Our restaurant has an enormous flag above it. It is painted a bright red. Even Stevie Wonder could not help but notice it. Or so we thought. And so we strolled into the local printers shop 300 yards away from Clerkenwell's Real Man Pizza Company. restaurant and asked if they could drop off the posters back at our place later. Where are you? Really? I had never noticed you?
Jeepers the restaurant has been there for 45 years. Under its current name and design it has been there for two years. And there is a potential customer – an admitted lover of Italian food – working three hundred yards away who does not know that we exist. We joked about it but it is a very serious point.
It is all very well for you to plan to grow your business by tapping into new markets or reaching out to potential new customers but those should be steps three and four. Step one is ensuring that your existing customers are happy and trying to tap them for a bit more business. In the restaurant game that means persuading the odd extra one to have a coffee after the meal or perhaps to have a pudding – surely our new spaghetti all chocolate must tempt you? But it is the same in every business: you easiest sell is to an existing customer.

3943 days ago
Caitt Reilly is the job snob geology graduate who said that being forced to work at Poundland rather than just sit on the dole until she found a job that suited her was illegal. Needless to say some crackpot judge found in her favour. Incidentally that work experience did her some good as she now has a job at Morrison's with one suspecting that the supermarket thought the stint at Poundland was a more impressive part of her CV than a degree in geology.
Caitt seems like a sour faced deluded lefty with a point to prove but she is utterly typical of British youth today in believing that she can sit on her fat arse collecting benefits paid for with taxes paid by those of us who do work (often in jobs we don't relish) until something she likes comes along. That process can take years. And the more we churn graduates out with 2:1 degrees from useless Universities in pointless subjects the more you will get young people saying that a menial job is "beneath them." The only way to address this is by root and branch reform of the welfare system.
I contrast this with the attitude of young Europeans mainly from Spain and Italy who are flocking to London. Back home there are simply no jobs – youth unemployment is 50% plus and rising thanks to the joys of being in the Euro. And so the more enterprising ones

3945 days ago
Big excitement – the new website is live. Rather belatedly it can now be accessed from a mobile device and features Manannan mac Lir staring out at you. Okay, you do not give two hoots but we have been working at this for a good while and we are excited. The new website also features the new wine menu ( goes live in our Clerkenwell restaurant on Monday) and the upgraded take-away and in-house food menus.
In case you did not know, Manannan is the sea God who protects the Isle of Man with his cloak, that is to say the fog.
You can view the new site at www.therealmanpizzacompany.com

3948 days ago
Apparently the old recipe was not sweet enough. And so we have a new creation at Real Man – the improved chocolate pizza. In the service of our customers I have temporarily ignored my diabetes to sample one and it was amazing. It is an improvement. I am feeling my blood sugar race to new all time highs as I write. But it was worth it.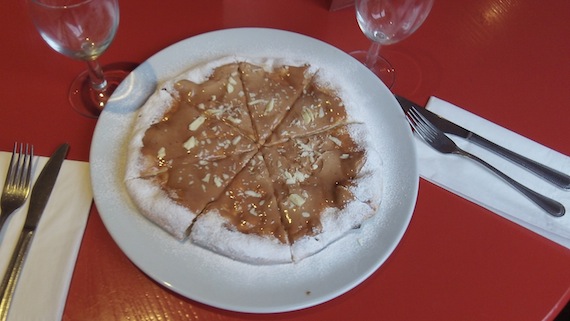 For chocolate pizza, chocolate spaghetti or a range or rather more conventional recipes why not pop along to Real Man Pizza Company in Clerkenwell
Mention this article today and there is a free glass of our new Gascon house wine with your meal tonight.

3952 days ago
If you want a cracking home made lasagne using real beef and fresh ingredients and topped off with a creamy tomato and basil sauce come along to Real Man Pizza Company. in Clerkenwell and myself, Aldo or Damian will be delighted to deliver. Mention this blog today and we wll give you a free glass of our new Gascon wine with your meal.
If you want to pay £1 for a beef Lasagne you go somewhere cheap and ghastly and buy a Findus product. Yuk. I'd rather eat a horse. Oh, it seems that is just what folks have been doing. The twitter jokes follow:
@GraemeGarden1 What's the fuss? For years we've been told that Ready Meals contain too much Salt and Shergar. #findus
@nealspinks
Is there a time limit on when we should post #findus horse meat lasagne jokes? I need to know so come on… Yea or neigh..?
@Old_Holborn
Now you know why farmers are so keen to round up all the badgers #Findus
@wiffen
#Findus now join the charge of the light brigade, admitting they have ridden roughshod over the traditional lasagne recipe
@ShieldsGazVez
Oh not #Findus as well. I think we should face up to reality now and admit that we've all scoffed at least three horses without knowing
@robfol
More proof that cheap food is bad for #horses!
@DowieSimon
My wife cooked me a #Findus lasagne last night she said "do you want anything on it?" I said a £5er each way
@OreMeta
Morning All, let's look on the brightside. At least you won't get Mad Cow's Disease from eating #Findus Lasagne
@spcb
Young pony to old mare: "Where do we go when we die Mummy?" Old Mare: "To a far-away land called Tesco. That's where you'll #Findus." Boom!
To read the best of the Tesco twitter jokes go HERE.
To read the best of the Chris Huhne, Liar, criminal and ex MP twitter jokes go HERE.
To read the best of the Lance Armstrong twutter jokes go HERE.
To read the best the #tweetlikealefty twitter jokes go HERE.
To read the best of the Ryanair ( after losing ash cloud cast) twitter jokes click HERE.

3959 days ago
My old friend Zak Mir wandered into Real Man Pizza at 6 PM last night with THAT look in his eye. I should have made my excuses and fled. A wide ranging discussion followed and the wine flowed freely until I finally kicked him out at 3 AM. Heck, Zak actually paid so it would have been rude of me not to accept his hospitality
Mrs Mir seems to let Zak off the leash about once a quarter at which point he descends on me with THAT look in his eye. Readers of this blog must just accept that on the day that follows I will be somewhat less productive than normal. My alarm is pre-set and so I am up and at my desk but I cannot say that I really have the appetite for much in the way of work.
There are five writing assignments that I must complete today and Clerkenwell's finest Celtic Italian restaurant has already taken 40 bookings for lunchtime ( about two thirds of capacity) and thus with the staff fully stretched I am on call as super chef. Once that is all done I am going back to bed. It will be relatively light blogging today. Blame Zak Mir.

3960 days ago
I was in a rush and so thought I'd splash out and get a cab from The Real Man Pizza Company to the Flux new media conference at Truman's Brewery today. According to AA Route Planner it is 2.2 miles and should take 8 minutes. It is damn simple just head down Clerkenwell Road to Old street, take Great Eastern Street, Commercial street and then Wentworth Street and you are there. I have lived around here on and off for almost 25 years.
But my taxi driver knew best. My journey lasted 25 minutes. He found every traffic jam going. It cost £15.60. It was the craziest route you could imagine. What can you do at the end? Sod all. Just pay up, walk away and mutter under your breath a lot of rude words. Most cabbies are honest – this guy was just a piece of work. But there is nothing you can do about it.
Coming back I walked. It did not take much longer and was pretty direct.

3976 days ago
My weekly (SME) small business tips column from 24n.biz focusses on a matter close to my heart… As you may know I am primarily a writer but my real love is my restaurant, the excellent Real Man Pizza Company in London's Clerkenwell. And so while some of my colleagues are writers others are cooks and waiters. I have always taken the view that one can only lead in one way, by example. This if a writer is rather slow in his or her output you show how much can be produced and whether by inspiring or by shaming you write away and hope that your lead is followed. Since I have been writing for 25 years that is not hard for me to do. But a waiter or a cook?

4114 days ago
The building behind my restaurant in London ( the excellent Real Man Pizza Company ) where I am sitting right now is a rather grim Peabody housing block called Scrope Buildings. Who or what was Scrope? It sounds like a cross between Grope and Scrotum and as we are not that far from Islington I suppose that is possible. George Julius Poulett Scrope (1797 – 1876) who was one of those folks who made the Victorian age so fascinating.
Born George Poulett Thompson, he was educated at Harrow ( he overcome that hurdle which has made men like Zak Mir and Dru Edmonstone barely literate and numerate) and then went to Oxford but quickly left to go to an inferior seat of learning in the Fenland swamps. At "the other place" he became fascinated by geology and particularly volcanoes.