West Ham
93 days ago
Forgive me, I start with last night's football and West Ham's triumph. I explain just how I will suffer on June 17th and its nothing to do with blisters. To the 90% who have yet to give to rogue bloggers for Woodlarks please think of the looming pain, 16 hours of non stop regurgitated Cadwalladr, and donate HERE. Then I look at: the Odey sex scandal, the Eurozone in recession while a free Britain is not, more on the fraud Tingo (US:TIO) including its 5 minute no Q&A (as promised) GM, at Zamaz (ZAMZ), BarryRoe (BEY) and then at house prices and housebuilders. 

94 days ago
So now 90% of you have not contributed to the rogue bloggers for Woodlarks appeal as we welcome student X, our 12th member. Please do donate HERE. In the podcast I mention West Ham and discuss IOG (IOG), the FRAUD Tingo (US:TIO), Powerhouse (PHE) and Bellescura (BELL) from the Adam Reynolds stable.

109 days ago
Well i say lucky, I am pretty sure that i was wearing this shirt for the 2006 FA Cup Final in Cardiff, the less said about which the better. Anyhow, despite it being somewhat ragged it seems the Mrs has not thrown it out which would, I am sure you will agree, have been grounds for divorce. Thus, as you can see below, I can now wear it for tonight's match where I shall be joined at the Raven in Farndon by another attendeed at the 2006 match, albeit a scouser. He promises not to mention events of 17 years ago and to become a Hammer for the evening.

114 days ago
The last time West Ham were in a cup final (2006), I was there. The less said about that match the better. The only bar we could find afterwards near the ground in Cardiff not packed with joyful Scousers, in which to drown our sorrows, was a gay bar. We had real sorrows to drown.

260 days ago
For what it is worth these are the 30 most read articles on this website during 2022. And there are some bloody good pieces here using the sort of hard data that the mainstream media ignores as it carries on spouting GroupThink gibberish. Enjoy.

536 days ago
I start with football and a question from last night's West Ham game about how society now views crime and criminals. Then onto the lessons from the collapse of Sensyne (SENS), the bastard child of Neil Woodford and sleazy Lord Drayson. I look at Canadian Overseas Petroleum (COPL) and at Bidstack (BIDS) as well as at Angus Energy (ANGS) and Sound Oil (SOU). Finally the odd case of NFT Investments (NFT) and the Bixby/Edwards/ Frangos/Storey/Peter Wall gang.

596 days ago
Goaded by a couple of readers, I try to articulate how I feel about the video of West Ham's highest paid player, Kurt Zouma, kicking his own cat around the house. In short: not good at all.

599 days ago
Ahead of West Ham vs Kidderminster and Wales vs Ireland I am obviously rushing to get things done. But this is a full length bearcast covering Kefi (KEFI), Love Hemp (LIFE) and Powerhouse Energy (PHE)

627 days ago
After the Dee silted up near Chester the main port moved down river to Parkgate. Eventually it silted up too and Liverpool became the departure point for Ireland. Had this all happened today the BBC and others would shriek on about man made climate change but 200 years ago folks just knew that God played his little jokes on nature.

637 days ago
I discuss the arrests made on 29 December in the USA and why the FCA should look at some of the activities of folks in the UK small cap world. Case studies include Eurasia Mining (EUA) and Chill Brands (CHLL). I then move on to Supply@ME Capital (SYME) and its news today, Wildcat Petroleum (WCAT) and also Verditek (VDTK), which I reckon is a zero for 2022 but since it can't be shorted is not one of my tips of the year. To JP, sorry I have no idea why Peel Hunt quit as broker to Bushveld (BMN) but I suspect it gave three months notice. Leaving SP Angel as sole broker can't be seen as good news. It is like firing our beloved West Ham as joint broker to retain the sole services of Chesterfield Town.

659 days ago
After admitting to Nicho the Communist our day one harvest of 3-4 bags, we at least started day 2 with a full quota of four harvesters following the arrival of B. His passport photo makes him look like a strapping member of the Waffen SS but he is in fact a charming fellow who speaks a lot more Greek than I do. Once again, the weather was unhelpful.

668 days ago
Yes, dear daughter, you shall go to the Women's Euros along with myself and Lucian Miers, the normal West Ham supporting team. But this time we shall be joining the GAWA, that is to say we are off to see Northern Ireland take on Norway who are rather good. I fear the worst, but we must all travel in hope in the Green & White Army.

725 days ago
As African Potash (AFPO) this company was booted off the AIM Casino after its Nomad quid when discovering – thanks to me – that the company had told grotesque lies to get placings away, it had committed fraud. Chris Cleverley, cousin of leading Tory James who is no longer claiming he wants to buy West Ham, then took Potash to the Aquis lobster pot, changed its name to Block Commodities (BLCC) and carried on telling lies to investors for which the company was censured and fined, after I pointed this out to regulators. Could it get any worse? You bet.

736 days ago
Early next week, an early Christmas treat, I bought for myself, arrives here at the Welsh Hovel. My gift is two, four foot long, wooden boxes which I plan to fill with sand in which to store surplus carrots, of which I have many, for winter usage. When the shops run out and you are all starving, bring me your gold and I can supply not only beans but carrots. I should, however, say that my carrots get uglier by the day.  

745 days ago
Football is not a beautiful game it is a business. Those who play it well earn a shed load because there is such a huge demand to watch them kick a ball around the park and for merchandise associated with the great and good. But those who demand equal pay and airtime for the women's game sometimes forget this.

748 days ago
It has been widely reported that lawyer Chris Cleverly is the key London player in PAI, the company that wishes to buy West Ham and that Cleverly, cousin of Tory high flier James, is colourful. As a diehard hammer I put this article outside paywalls so that supporters of the club, the Ferdinand Brothers who back PAI and the current owners are fully aware that Chris Cleverly is more than colourful, he is a serial fraudster and habitual liar. Everything he touches may see him prosper but everyone else gets screwed. I have exposed his frauds over many years, seen off his intimidation of me as an investigative journalist and ensured that his company was booted off London's AIM Market.

748 days ago
I start with the Chris Cleverly West Ham round-up and what says about our attitude to white collar crime in the UK. What it says disgusts me. I move onto Optibiotix (OPTI). i am still a bull but i explian to the company why it is so unloved. Then finally to Cineworld (CINE) a slam dunk short at 63p. This could be a penny stock after an inevitable debt for equity swap but, taking a 30 year view, I would not buy even then.

766 days ago
I have often said that getting my daughter to support West Ham was the sort of thing that social services might look into given the years of misery, disappointment and suffering that it has caused. So tonight you will indulge me and her. I know the season is just two games old and so the table is utterly meaningless but, we are back were we belong. After demolishing Leicester City tonight, West Ham is top of the league!

767 days ago
As a diehard supporter of West Ham United I am supposed to say that captain Declan Rice is wonderful, to look at his tackle and pass stats and say that he is the new Bobby Moore and worship the ground he walks on. Sorry. I cannot say that. I, increasingly, despise him more than I despise most Premiership prima donnas and that is saying something. As ever in football it is greed at the heart of it all.

821 days ago
Though he boasts of his East End heritage, my friend Lucian sometimes says, in his very posh English accent, that he is Scottish as his family has some estates up there funded, one suspects, from the slum housing they once owned in the West Ham heartlands. Lucian is about as Scottish as Rod Stewart or the late Duke of Edinburgh. But tonight he will be filming with a German TV crew in Glasgow.

924 days ago
The pattern has always been the same. We issued explicit warnings about London & Capital Finance, Blackmore Bond, Bassett and Gold, Buy 2 Let Cars, The High Street Group and Wellesley Finance. Companies such as my beloved West Ham United screwed over their fans and continued to support these rogues. The FCA was too busy publishing papers on the gender pay gap, Brexit, climate change or LGBT awareness to do anything until tens of millions of pounds had been lost. But heck it is was only the great unwashed who suffered.

985 days ago
I start with yesterday's Albanian lecture in honour of my late father. Then it is onto Colin Bird and Jubilee Metals (JLP), Rio Ferdinand and the Gym Group (GYM) and Toxic Dave Sefton and Iconic (ICON) in the wake of Nigel's bombshell from earlier. One of the three is a bit of a hero and, to give you a clue neither Bird or toxic Dave ever played for West Ham.  But would you want any of the three on the board of a company in which you are invested. I discuss all three situations in detail.

1007 days ago
Santa really is a jolly good fellow, spending a good bit of time at the West Ham shop. Hammers Socks for Joshua. Hammers Socks for the Mrs with "The World's Best Mum" written on the side and a mug for me. In fact, as you can see, one of two mugs he brought me.

1027 days ago
I support West Ham with a bit of a passion, albeit from the wilds of North Wales. I bring my kids up to support West Ham, something which many folks would consider a reason to report me to social services given the misery such support often brings. So my second team is, obviously, anyone playing Millwall. The tribal feelings are strong when it comes to our friends from South of the river in East London. I really want them to lose every game if only to ensure that we never have to play them again, given what has happened in previous games: pitch invasions, fighting and even stabbings. I was there the last time Millwall visited Upton Park and it was truly awful. Thankfully, only one person died. But you get the gist – I do not like Millwall football club or its fans. But not today. Well not completely.

1052 days ago
Some of us were always of the view that our leaders were somewhat over-reacting to a disease where the average casualty lived longer than UK life expectancy and where the survival rate is 99.97%. But yesterday Pfizer announced it has a vaccine which will protect 90% of those injected which would mean that your chances of perishing from Covid will pretty soon be less than that of being mown down by a bus carrying a West Ham team that has just won the FA Cup. So where does that leave Covid testing play Novacyt (NCYT)?

1067 days ago
Clinically insane sufferer from little man syndrome, Mark Drakeford, rules a land now into its third day of house arrest. Its third day when shops are not able to sell what are deemed non-essential items such as clothes for my four year old and also for another baby due shortly, or a card to send to someone suffering a bereavement, or a computer.  Today my laptop broke down…

1166 days ago
I start with a few words on MineProphets. I hope you all had a good time today. I end with a few words on West Ham which has brought myself and my daughter some rare joy in these past 24 hours. In between, I discuss Versarien (VRS) and also the strange case of broker Jub Cap and Chris Oil and what it says about the strange times we live in. I also discuss whether being long gold really is a crowded trade.

1264 days ago
I start wth a look at Carnival (CCL). then it is onto old pals, Cineworld (CINE), West Ham, Pinsent Masons and others and how this bailout is in fact allowing and will make the rich to get richer, reward them for past greed and will see the wealth gap widen in a wholly unacceptable way. What is happening at morally bankrupt law form Pinsent Masons is a particular disgrace.  

1274 days ago
In my dynamte expose of 2 April 2019, I published my first note on mini bond charlatans Bassett and Gold Plc based on the accounts for the year ended 30 September 2017 warning of the risks associated with this mini bond lender. Yesterday it went bust with West Ham supporters the main victims, the club ignoring my warnings as it greedily took Basset;s cash. So how much have my fellow supporters lost? This will shock you.

1275 days ago
I warned you on April, 2 2019 that this mini bond firm looked very dodgy and would end in tears. The FCA ignored me or did it?. My beloved West Ham certainly ignored me and many of its poor fans, having endured merde on the pitch all season, now  have to face up to the risk of massive financial losses as well. West Ham did not give a FF about its fans it just wanted sponsorship cash. Its despicable board would allow Satan as a sponsor as long as he had enough dosh. Anyhow, you read it all here first.

1404 days ago
Or maybe I am just misreading the data?

1460 days ago
Okay I too mention how my beloved West Ham disgraced themselves last night. I was there. It was awful. A long drive home. This morning I tried doing business with St James Place (SJP). What a nightm are! is there an honest IFA who can help me with a simple problem? I then look at Woodford Patient Capital Trust (WPCT), Big Sofa (BST), Eve Group (EVE), Xaar (XAR)  and what the shock news from Shore Capital (SGR) says about the state of the AIM Casino.

1474 days ago
I have watched West Ham women live, I watched them lose the FA Cup Final last year on the TV, gripped. I cheered on the brave Lionesses this summer. Supporting my daughter's sporting career in ways you cannot imagine, I take women's sport seriously. But to pretend that there should be equal pay for women's soccer players with the men and that both games are of equal status, as the BBC does, is to deny the facts.

1518 days ago
Over the weekend, I explained in bearcast why any half sentient being would not wish to tie the UK's growing economy to the neo-corpse that is the EU economy. My friend, our in-house Euro loon Jonathan Price likes backing losing causes, being a fellow West Ham supporter. And thus, he has taken the trouble to respond which is very good of him as I know that he knows that he is, like all London based liberal elitists, an expert and I am one of the 17.4 million who are too thick to understand the real issues of Brexit. Anyhow, Jonathan explains:

1594 days ago
As I am often abroad at election time I organise a permanent postal vote. Thus from Bristol in the South west region my ballot paper arrives and has been filled in ( and posted0 as you can see below. It is a treble pleasure.

1612 days ago
I am delight to see that a mere 26 days after we exposed the looming scandal involving my beloved West Ham United and its mini bond short sponsor Bassett & Gold, that the deadwood press ( The Sunday Telegraph) has picked up on the matter. As ever the MSM well on the ball, what a suprise that newspaper sales are tanking. But the story gets worse as I can now reveal….

1638 days ago
The scandal about the £240 million London & Capital Finance ponzi, which we have done so much to expose here, grows by the day. The real scandal is that it is just the tip of the mini-bond iceberg and those politicians such as Nicky Morgan on the LCF case should now, as a matter of urgency, be looking at other schemes that are still taking in money such as the West Ham promoted one we exposed HERE.  But back to LCF and Amber Rudd.

1639 days ago
London & Capital Finance, which we have done so much to expose here, is just the tip of what will prove to be an enormous mis-selling scandal where, naturally, the overpaid poltroons at the FCA have been 100% asleep at the wheel. Yesterday I raised massive questions about the West Ham promoted Basset & Gold scheme, today let's look at Future Renewables Eco PLC…

1723 days ago
I am not sure who makes me prouder this fine day: daughter Olaf or son Joshua

1728 days ago
I was  re-watching the movie last night and ask the question. I discuss signs that the FCA really is getting stuck in, albeit too late. I look at too good to be true investments starting with London & Capital Finance. I look at house prices and why I think that bad data gives far too rosy a view. I look at US jobs data yesterday and what that means for base rates. And I look at the big short positions in AIM stocks. Don't bet against the bears! Now off to West Ham. 

1728 days ago
In today's bearcast I have a hot rumour about Neil Woodford and I look at a moron called Craig who owns shares in Independent Oil & Gas (IOG) and is a classic moron. I look at that company at Circassia (CIR) - a Woodford dog - and at Gear4Music (G4M). Tomorrow I take my family and my son Joshua's godfather Lucian Miers to the London Stadium to see mighty West Ham in the cup so I'm not sure when Saturday copy will arrive.

1850 days ago
As if the Mrs has not suffered enough during the past five years, today she has the unenviable task of explaining to our, almost, two year old son Joshua why, when they arrive back in Bristol there will be no Oakley to greet them. For yesterday afternoon, Oakley went to a better place.

1892 days ago
I saw this cartoon and at once thought of my pal & fellow Hammer, the metropolitan elitist remoaner Jonathan Price who, as @BC3Pres torments me on twitter with dire warnings of how flights will be grounded, the power will run out and as we all starve to death how West Ham will be relegated the day after Brexit.

1920 days ago
ITV is a commercial network and covers the World Cup well enough. So why does the BBC need to bid for matches and cover it at all? Its remit should be high quality public service broadcasting not competing against commercial networks – using taxpayers cash – to show commercial propositions? But okay, we do not live in a low tax libertarian paradise, so there has to be BBC sport. However…

1959 days ago
"So who is this David Moyes?" Asked the Mrs after I said that he had been sacked. Surely not knowing who is the (now ex) manager of West Ham is grounds for divorce or at least a trip to Relate?  I ponder what as a Republican I should do tomorrow before hoping that both sides lose the FA Cup Final. Then I turn to the looming cash crisis at Sound Energy (SOU) how my most excellent broker, Mr Antony Laiker, stopped me being a real tit and losing a packet on Interquest (ITQ), at Scotgold (SGZ) and at Carpetright (CPR).

2044 days ago
No I have not changed my mind. I am still a bear and stand by my target price of 0.4p but after chatting to a number of folks I try to see if there is a bull case. And I record this before setting off to the Greek Hovel which is my main focus of attention pro tem to prove to my friend and fellow Hammer, Thirsty David Bick that I am still alive, I hope that he takes up my invitation to come and watch the foul mouthed ladies of West Ham in action.

2051 days ago
Naturally your dream St Valentine's date is a foul mouth Essex girl from the West Ham Ladies team isn't it?  A brief reflection on how they got on against Mark Slater's girls at the weekend. Then it is onto Amur (AMC) and why I just don't like it. I comment on Nighthawk (HAWK), Galliford Try (GFRD), Servision (SEV) and then someone else who won;t be getting 12 red roses from me today. Just more grief.

2052 days ago
West Ham United's St Valentine's day tweet is to suggest that we consider which three of those who have played for the club have had "beauty that has caught the eye". Apparently the top three "whose beauty caught the eye of the Claret and Blue Army, who swooned over their film-star looks and toned physiques in a West Ham United kit" are in reverse order Tomkins, Ljunberg and Dani. FFS. Ger real you fools.

2061 days ago
For reasons mainly to do with girls (well two of them) I have always been a Philadelphia Eagles fan. The last time they won a championship, Hurst, Peters and Moore were playing for West Ham - the two teams have a lot in common. Anyhow I stayed up late and for once fortune is not always hiding. Why did I get up? The market is a sea of red and I discuss that. I look at IQE (IQE) after chatting to Matt Earl, at Woodford Patient Capital Trust (WPCT), Inspirit (INSP) and at Shield Therapeutics (STX). Nomates Neil Woodford has not replied to my polite invitation of yesterday. 

2082 days ago
So yesterday saw Joshua go to his first proper football match - Brislington Ladies vs West Ham Ladies. A full photo report will follow later but the language from the Essex Girls in claret and blue was not very lady like. Listeners, I was shocked. On the markets I look in detail at Versarien (VRS), Greatland Gold (GGP), Velocys (VEL), RM2 (RM2)  and as well as Nomates Neil Woodford I also have some Julie Meyer news, I fear that "Praise Be the Lord" may be about to send me a letter.

2119 days ago
I popped up to see my father in Shipston on Stour in south Warwickshire last night with a view to heading on to Oxford early this morning for other family business. At 2.30 AM I awoke and looked out of my window and there was nothing to see. By 6.30 AM the global warming was deep, crisp and even and it was still snowing. It is now 9.15 and it is still snowing and the Oxford event has been cancelled. The snow is now at least three inches deep on the roof of my car and the forecast is for snow all day. The best bet, methinks, is to head for the motorway now and go back to Bristol in time to catch West Ham ladies in action at 2PM against Brislington Ladies ( my local team) in the FA Women's Vase 2nd round. Come on You Irons!

2134 days ago
My beloved West Ham are on nine points and in the relegation zone. We have just sacked one useless manager in Slaven Bilic, something we should have done ageas ago. But we have replaced him with David Moyes and many of us fear that he will make Bilic look like Ron Greenwood. So facing the biggest crisis since the last one I am deliughted to hear the big news today...

2157 days ago
I was just looking at a memory stick the Mrs was playing with and up came numerous glorious photos of the Christening of my son Joshua this summer. I know many of you sent us best wishes for that day so I share just three of them

2221 days ago
A man who deserted West Ham as a player to "go to a bigger club" in the form of Everton should never have been our manager in the first place. Last season West Ham were dire and Slaven Bilic should have been fired after we stayed up only becuase some teams were even more dire than we were. Decisions such as keeping Randolph in goal rather than Adrian cost us our normal status of mid table mediocrity. having been saying Bilic out more or less since his appointment, I am at least conistent.

2304 days ago
It was back in the mid nineties when I met Lord Sugar. I was a reporter on the Evening Standard and was sent to meet him the night before Spurs, which he then owned, was set to report its results. Nick Hewer picked me up in his white roller and took me up to White Hart Lane where the scum were playing, I think, Hereford in, again I think, a League Cup replay.
Natch, as a West Ham supporter my second team is anyone playing the scum so I sat in the directors box secretly cheering on Hereford or whoever it was. I did not join in the delirious joy as Spurs scored repeatedly.

2310 days ago
There was I sitting at breakfast at the excellent Messinian Bay hotel here in Kalamata. The tourist season has not yet started so there are few other guests. As ever, I grabbed a corner table well away from the herd so that I could tap away at my keyboard without disturbing folks. I checked my twitter feed and an Australian columnist who I admire greatly tweeted her shock at news that doctors had felt the need to warn millennial women that the new craze for putting a wasps nest in their underpants posed severe vaginal health risks.

2337 days ago
I did not want to hex my beloved West Ham so not only did I not seek out somewhere to watch the game but I switched off my PC so I could see nothing on twitter. In fact I made sure that I did not know the result until this morning. Here in a Greek Hotel as the bubbles tucked into their breakfast a loud YEEEES went up.

2403 days ago
Some bear raiders are on the pitch...they think it is all over: it is now! Nope not West Ham winning the World Cup but the stockmarket career of AIM fraud Cloudtag (CTAG). Nomad Cairn has brought forward its resignation from April 10 to last night, the £975,000 placing announced last week has been pulled and it is ouzo time for me while on the council estates the LSE Asylum rampers gnash their teeth. Come on guys, say it slowly "Yet again Tom Winnifrith was right and we are morons, we apologise for all the abuse we gave him, the Sheriff of AIM rocks!"

2448 days ago
I must take the blame for turning my daughter into a diehard West Ham supporter and as I inflict a lifetime of relegation battles and cup humiliations on her I accept that I may well be reported to social services for torturing her thus. But I want everyone to know that I am not responsible for young Joshua's new T-shirt which he is wearing below. Oh no...

2467 days ago
"His family and fans are devastated, a tweet from Elton John, the world Genius is used too often but, an icon of a generation, RIP ( insert name of celebrity here) yadda, yadda, yadda." I never liked the music of George Michael. 

2473 days ago
No-one quite got the exact answer I was looking for which explained why the Hindenberg was the odd one out in the four images below. The wrong answers are here.

2477 days ago
An easy odd one out contest. Which of the four below is the odd one out and why? Answers in the comments section below - deadline midnight Saturday 17 December.

2480 days ago
My rucksack containing 15 kg of olive oil weighs 24.5 kg. The limit to gt it on the plane without paying a surcharge is 23 kg. But luckily I have a whole night at Athens airport to write nasty articles about liars but also to get that weight down. Cunning plan 1..

2527 days ago
Would we try to find somewhere to watch the game? As we wandered back from kicking a football around at the park this was what my daughter and I discussed. Chelsea at home in what used to be the League Cup, I was convinced we would lose 6 nil and admitted as much. 

2538 days ago
As you may know, my daughter is a diehard West Ham supporter. She is also, incidentally, a total goal machine for her top of the table side. Her membership of Slaven Bilic's claret and blue army is good for me as it is someone to talk to after a game: The mrs is not interested and has never been to a game with me. I am ticked off by my daughter when I start talking about relegation but we can share the joy after the mighty Irons get a result as we did yesterday.

2581 days ago
Given that she is due to give birth to our son in nine days time I might just forgive her but the Mrs is pushing her luck.

Among the very few possessions of mine that are allowed in the house as opposed to the garage are a signed and framed Mark Cavendish shirt which, given what team it is from, is actually quite rare and a framed and signed Geoff Hurst 1966

2603 days ago
It seemed that almost as soon as Euro 2016 was over West Ham were getting thrashed in pre season friendlies. And now football is back. The Premiership starts tomorrow and the hammers kick off away at Chelsea on Monday. I should be excited.

But I am not. This will be my third campaign without a season ticket. Last year I saw precisely no ga

2607 days ago
I have wasted too much of my time with a long exchange of emails this morning with a humourless bastard called Jay Ryan who appears to be a DJ, TV presenter and web presenter in Liverpool. One of the few folks in a City wherer idling is in theb genes, to get up at 10 AM he seems offended by comments I made on twitter. Jay started it off with the offering below which I retweeted with the comment

2619 days ago
Tony Carr is the man who has enabled West Ham to retain its claim to be "The academy". For 43 years he has brought all sorts of youth talent through the ranks: Terry, Ferdinand (A&R), Cole (J), Carrick, Noble, Defoe, Oxford, Fat Frank Lampard etc, etc, etc. And yesterday he was made redundant with a payoff of just £14,000 which is the statutory amount. It is also less than one day's pay for some of our first team squad. It is a truly disgraceful way to treat a loyal club servant and it is a moment of shame for the club I support.

2632 days ago
How on earth did hapless Nomad Peel Hunt sign off on what Jim Mellon's FastForward Innovations (FFWD) terms a "strategic update" but is in fact nothing more than a shameless pre placing ramp.?  My comments are in bold. FastForward's are not.

2700 days ago
Comparing Israeli and former West Ham soccer star Yossi Benayoun to Hitler's Nazis, suggesting the evil Jews need to go to America, the tweets and quotes from Labour activists that demonstrate clear hatred of the Jews go on and on. As things stand five of the comrades face an enquiry but that list will grow. With each new revelation the idea of voting Labour becomes ever more unthinkable. But at least Jeremy Corbyn still has some friends...

I refer, of course, to Hamas,

2705 days ago
West Ham supporters will appreciate the reference to one great Cockney Hero, James Tomkins but now another legend of the East End whose veins also  flow claret & blue has shown why you don't mess with the Cockney boyz. I refer to an incident after UK Investor Show last night which saw the rozzers called.

2723 days ago
Slaven Bilic has had an amazing first season as manager of West Ham and if anything I warm to him after we got knocked out of the cup for simply admitting that on the day the better side won. It makes a nice change from managers blaming the ref or saying "we was robbed". But I cannot hide my disappointment, none the less. The winner of that replay had to be favourite for the cup as we entered the semi-finals and I just felt it might be "our season".

I did my bit

2725 days ago
I guess most people on the Bristol Uni public events email list are members of the Welsh Militant Tendency then. Or am I just a bit narrow minded? You see my email arrives and I am promised that this month "we have events to suit everyone." 

Goodie goodie thought I - an evening with blond lap dancers gyrating on stage before reading their favourite excepts from the works of Ayn Rand with a screen at the back showing a replay of West Ham winning the FA Cup in 1964, all washed down with free ouzo on tap. Surely that would please lots of folks? Oddly it appears not to be on offer. Instead I have a choice of:

2760 days ago
It is International Women's Day and I ponder how to celebrate now that the Mrs has cooked my breakfast and been made aware that my West Ham shirt needs cleaning. Then to the markets. Solgold (SOLG ) announced its placing last night - as I flagged it would at the weekend HERE - next up is Rose Petroleum (ROSE) where I flagged up the timing of the placing it must surely announce soon 90 days ago HERE. It is just about doing the bloody maths. I have a detailed look at Audioboom (BOOM) and then have a new message for the disgraced failed CEO pig that is [email protected]. My other podcast to which I refer on why the sordid deal with Turkey MUST make you vote for Brexit is HERE

2760 days ago
Living with a Guardian reading sociology lecturer I need no reminding that it is International Women's day. Natch I gave the Mrs a thankful pay on the backside after she cooked my breakfast and reminded her that my new West Ham top was a bit dirty and that she should not forget it when putting the clothes wash on. But how to celebrate this great event? With some photos of women from around the world who show that there are no glass ceilings, who demonstrate how powerful women can be, who are role models for our daughters and who will infuriate every feminist in town. Let's start with some athletes.

2762 days ago
Shares in Solgold (SOLG) raced ahead by 43% on Friday. But has anyone looked at the balance sheet and cashflow statements? It is just totally out of cash. All the money's gone. The RNS trail, is ramptastic and SP Angel (BTW what has happened to Mkango you scumbags) is bound to roger PIs with a post pump dump of a placing within days. This, and the idea that West Ham are the new Brazil and that all rugby players are homosexuals, is discussed in today's podcast.

2765 days ago
For some reason my daughter is a soccer nut and has followed her father over land and sea (okay I exaggerate) as a diehard hammer. When she trains with her club it is in her West Ham shirt and shorts (Christmas present) and after big games we always have a chat. I have just received a delivery at the front door from the West Ham store.

You see it had a special offer a few days ago - a replica Cup Winners Cup shirt from 1965 for £19.65. So natch I bought two, one for me which I am now wearing - having taken off my Pride of E13 T-shirt which the Mrs had suggested was a tad in need of a wash - and one for the daughter. I shall post it later today and know that she will share the thrill I enjoyed whe her shirt arrives.

There have been times when I wondered if Social Services would be concerned about how I had introduced the daughter to The Irons.

2770 days ago
There is a lot of talk among West Ham supporters about how we are now just two games away from the FA Cup Final. Others look at how we are 5th in the Premiership and talk of European football next season. Let's not get carried away. First things first...

2818 days ago
Before the FA Cup 3rd round tie against Wolves yesterday there were two big calls. Once again TV pundit Lauro called out West Ham to lose in one of the day's big upsets. Happily Lauro was once again wrong. The other big call was from our relatively new manager Slaven Bilic who said that he'd rather win the FA Cup than finish in the top four of the Premiership so ensuring Champions League football next year at the Olympic Stadium. These are not the sort of words long term Hammers are used to hearing.

2929 days ago
I cannot remember exactly when I was diagnosed with type 2 diabetes. I think it was around six or seven years ago. It was not a surprise. I had eaten and drink too much and the great West Ham supporting Tory blogger Iain Dale had described his symptoms and diagnosis a few months earlier. I knew what was coming.
There have been times since when I have managed it with medication and sometimes just by clean living and taking stacks of exercise.  There have been times when I just let myself go. Four years ago I was a 19 stone 6 pounds blob and really all over the shop. But relationship breakdowns, work crises, near bankruptcy and a nervous breakdown did wonders for my (physical) health sending me off to walk around the mountains of Greece and Albania. I may have been a bit of a fruitcake but I sure knocked my body into shape.
Of course marriage and owning a restaurant are not good for the figure but I think I sort of have things in some sort pf check but perhaps I was a tad complacent. I know that Iain has also gone through such phases. However, the Mrs forced me to register with a doctor and last week an eye test showed the first – albeit minimal at this stage – signs of an issue in my right eye. I knew what was coming next.
This afternoon I strolled down to the doctors, 

2935 days ago
The local evangelical C of E church seems to be on a recruitment drive and Debbie the vicar has posted a flyer through my door saying that next week she will be praying for my road. Do I have any special requests for her prayers?
Hmmm…could she ask God to ensure that I get a parking space next time I take the car out and come back to find the street chocca? Might the vets practice decide t overcharged me for treating my cat Tara and send me a large refund? Could God ensure that West Ham win its next match as easily as its last two?
Praying for my road…truly how incredibly silly the Church of England has become these days.

2972 days ago
Two bad things today. West Ham kick off what is bound to be another season of Premiership disaster and more importantly my cat Tara seems to be very sick. Seeking distraction I read the Sunday financial press and feel disgusted, a sense of being made nauseous by the stench of corruption everywhere. Afren, Quindell, the financial press, it is tempting just to give up on shares. Is not the whole game rigged by the crony capitalists? It is not. But a lot of it is as I explain in this podcast. I end by explaining why my emails will go unanswered for days and twitter ignored almost completely for the next seven weeks. I have an urgent deadline.

3019 days ago
Is charting cobblers? Of course it is. Zak Mir tried to pretend otherwise at Zakstraderscafe last night but ended up defending fraudsters and liars including Rob Terry and arguing that fraudbusters were the real criminals. The debate was one sided. It made the Brazilian mens national team against the West Ham ladies look like a level contest. To see the Sith Lord crushed watch below.

3077 days ago
Please do not get me wrong. I still support West Ham. It is West Ham till I die. But…I really enjoyed an afternoon at the Kassam yesterday as the mighty Yellows (Oxford United) beat Cambridge United two nil in a League Two encounter. To be honest it could have been 5-2 but Oxford were clearly the better - of two not very good - sides.
It was the first time I've seen Oxford play and it was a family day out. The stadium has only three sides so behind one goal is a wall. Occasionally the ball was hoofed over it and a lad was sent out into the car park to chase it. We sat behind the other goal with the loudest section of the 5,900 crowd and it was a great (and cheap) day.
The referee really did not know what he was doing. For once, the chant was spot on. But then nor did quite a few of the players. In the Premier League

3081 days ago
Steve Moore and I have done well with our share tip on GLI Finance (GLIF) and we still see upside. Here is its CEO Geoff Miller - a diehard West Ham Supporter - presenting at the UK Investor Show to explain what might seem a hard story, in words clear enough for all to understand.

3148 days ago
And so the FA Cup dream is over after we were thrashed 4-0 by West Brom at The Hawthorns. Fat Sam Allardyce is quoted as admitting that we were "second best" on the day. No shit Sherlock. FOUR NIL you might justifiably say that we were second best. Put another way we played like shite.
But I must admit that I played my part on our downfall. I did not watch the game. That would have made it six nil. I did not even think about it. However I allowed myself to dream.
I shall be heading back to the Greek Hovel in early May in order to avoid the General Election and to start a five month sabbatical working on a non-finance project.  But the other day I thought "what about the FA Cup Final?" I decided that were we win it I would fly back, take out a second mortgage and get a seat for myself and my daughter. Yes, I made those plans and that ensured that we would not get anywhere near Wembley.
I apologise to all West Ham supporters for my part in our 2015 downfall.

Looking on the bright side we are on 38 points. By my reckoning that is one win and two draws and we are safe from relegation. When was the last time you can remember us going into March contemplating the fact that we were certain NOT to go down?

3170 days ago
As you know I have guided West Ham to the brink of Champions League football by studiously paying no attention to every game played and avoiding going anywhere near a match or even watching on TV. When I have weakened and thought about attending a game, suddenly The Irons stop playing like Brazil and start playing like a Hackney Marshes side. I must warn you that with the Hammers travelling to my home City of Bristol this Sunday for an FA Cup game, my resolve weakened.
My daughter is in town and I tried to buy a pair of tickets off an online site. Luckily www.ticketbis.net offers the most useless service on this planet and treats potential customers like shite. I was promised calls back, I harried, a bloke called me asking for my business and said right now go buy tickets online only to find there were none. This company is run by a bunch of total wankers from Liverpool.  The sooner the welfare safari that is scouseland is towed off into the Irish Sea and sunk the better. I heartily advise that you never use this company ever, not even to buy a stolen hub cap.
So no tickets. That prevents an almost certain cup upset. However I should warn you

3177 days ago
City forex dealer Alpari has today gone bust, fessing up to taking a £30 million hit as the Swiss depegged its franc from the Euro . the ripples of this mess will spread out to the Academy that is Upton Park in East London. 

3184 days ago
I never thought I'd find myself writing in support of a convicted rapist but the footballer Ched Evans is at the centre of a witch-hunt egged on by vote seeking and spineless politicians which makes me feel rather ashamed to be British.
The transcript of the trial makes it clear that Mr Evans is a prize sleazebag. He insists that when he climbed into bed with his pal and a bird the pal had pulled, that the oral sex he offered to pleasure her with was at her invitation and that she consented to full sex thereafter. The next morning the victim bragged by text that she had bagged "a big one". The next evening she reported Mr Evans and his pal for rape. The pal (who went first) got off, Evans served 30 months.
There is a very legitimate debate about the leniency of sentence. I would regard two and a half years for rape as shockingly light. However based on the court transcripts I am not convinced that I would have been able as a juror to have found Mr Evans guilty beyond all reasonable doubt of rape. Yes he is a sleazebag but a rapist? I am not so sure.

But he was convicted. He served his time and now he is out. Yet it seem as if the media and political establishment is determined that he never ply his trade again. He is not allowed to play abroad because he is on the Sex Offender's register and when a UK club tries to sign him it faces such a barrage of hostility that it walks away. Nick Clegg was first to jump on this populist bandwagon.
David Cameron spouted some rubbish about how he could not take his son to watch a match in which Ched was playing. What utter nonsense. Posh Dave is a faux footie fan. A few weeks standing outside the posh seats at any club and he'd know from the chants that very few soccer players can be held up as role models. "Andy Carroll's 'avin a party, time to get the vodka and Charlie"

3209 days ago
I am really trying to be helpful here to Quindell (QPP) because I am just such a nice guy and its Christmas and West Ham are almost safe from relegation and that sort of thing. And in that vein I have drafted a letter for Rob Terry to send to Ray Zimmerman, the boss of ZAI Corporate Finance. It reads:
Dear Mr Zimmerman,

3210 days ago
In my weekly video postcard I have a few thoughts on Christmas including my Christmas Tree competion which you can enter HERE. I then turn to West Ham and make an urgent plea to Fat Sam and the West Ham board - pay for me to live in Greece until May and we can win the Premiership. Here's why.
In my weekly video postcard I look at why PLC fraud has become harder to hide  in the internet era but also at how companies that have committed fraud behave in their final months. Yes I am looking at Quindell again and that video can be watched HERE

3251 days ago
For longer than I can remember I have had seats at West Ham. Years of misery has been the only result. Worse still I have taught my daughter to support the Irons, taken her to games and she is now a diehard hammer. It is the sort of act that should get me reported to Social Services.
Last year was dreadful. West Ham were not only hopeless but dull too. I could take it no more and at £650 a pop my season tickets were not renewed. I dithered about a late renewal after a couple of summer signings by Fat Sam but our early exit from the Carling Cup kept me strong. I was not renewing.
It was at that point that West Ham started playing like Brazil. 

3362 days ago
I have yet to fix up my hosepipe based shower – that is a job for this evening. And as such after three days in the hovel I arrived at the conclusion that I must be rather dirty, not to say smelly. As such, noting that a sign just outside Kambos says beach 5.5 kilometres I ventured off for an early morning swim.
A Greek kilometre is rather different to a standard kilometre, that is to say 1000 metres. When the sign says 5.5 kilometres that means anything between 3 kilometres and nine kilometres. Just treat what the sign says as a very rough guide. And thus after about nine kilometres  I hit the sea and removed my West Ham 2005-2006 "We are Premiership" T-shirt, celebrating Bobby Zamora's magnificent 57th minute winner against Preston in the play-off final.  I then dipped my toes in.

3415 days ago
And so the Mrs and I trouped back to where we used to live to vote. Had she played a Labour dirty trick and not registered me or not? We walked into the polling station and I was told that I was not on the electoral roll but neither was she. Aha the Labour dirty trick backfires!
Er no… 
We were at the wrong polling station. And so off we trouped in the rain to another Church Hall and there we found that we were both eligible to vote. We grabbed our voting papers and like a salmon swimming back its home waters the Mrs put her tribal cross for the labour party without hesitation. 
I dithered as I pondered the wide selection of parties of the right. Conservative, Official fruitcake (UKIP), Unofficial fruitcake (UK Independence in Europe) two crackpot fascist groupings etc. In the end as I said I would do I held my nose and voted Tory. As a lifelong West Ham supporter I cannot side with a winning team. 
And then off to the old boozer we used to frequent for a bottle of plonk, a tasty burger and a fiercely fought contest of Trivial Pursuit. Modesty prevents me from recording who – as usual – emerged victorious in that battle but it was the player who selected the blue pie not the pinkish red one. 

3435 days ago
I watch West Ham beat Spurs, chat to a pleasant Anglo Greek bird who asks to borrow a lighter and turns out to be the daughter of a woman who has met my Dad in the scholarly study of Northern Epirus and it is off to the airport.  I know that it is a fixed fare but the driver starts the meter running.
We arrive and the clock says just under 26 Euro. Manfully he adds in a multiple of the tolls we have paid and we are still only at 31 Euro. So he turns round and having logged the 31 Euro as a print off he says "fixed fare 35 Euro" and shows me the a laminated card laughing.
I know full well that had we had more traffic and the total been 40 Euro he's have chanced his arm and asked me for 40 Euro because most tourists just pay. That is why he set the meter running for a fixed fare. As it happens the total despite his toll swindle is only 31 Euro so: I pay the 35 Euro. he declares 31 Euro for tax purposes (if that) and 4 Euro disappears into the black economy. I am afraid that this remains the Greek way. Too many folks here think that swindling a foreigner and cheating the tax man is all part of the game.
I accept that it is the Greek way. The taxi driver was just a laughing wanker. I know that. I do not bear a grudge against Greece or the Greek people. I love it here and will be back soon. But one day folks here will have to learn that taxes are not optional and that swindling foreigners so brazenly is not a way to win long term friends.

3435 days ago
I hope the game is on TV somewhere here in Athens and I shall be cheering on the Irons from Greece. Or will I be? Of course I will, hell's teeth this is The Scum at home is it not?
I cannot see Norwich winning at Stamford Bridge tomorrow (or for that matter at home to Arsenal next week) and thus even if we lose to the Scum we should be mathematically safe. And so I am just a bit torn.
Naturally I want to make it 3 out of 3 this year against the Scum. I cannot bring myself to hope for any other result and one would hope that the players are up for the match knowing that this is how the fans feel.  I am sad to say it but this is our Cup Final.
But if we lose or draw? 

3446 days ago
One of my ambitions in life is to get the hang of milking a goat. Okay, it is not quite playing for West Ham or changing the world bit it is achievable but a lot harder than you may think. A year ago I had lesson one which was captured on video HERE and was not exactly a triumph.
However I was back with the in-laws of the Mrs during Easter and the wonderful Stavroula (pictured below) consented to let me try my hand again.



3469 days ago
I have no idea what set him off but Oakley, my three legged cat, is in disgrace. Repeatedly he has been doing his ablutions not in the garden but on the first floor landing. He has been spoken to firmly and on a number of occasions but to no avail. The vet says we must not spank him and so we do not. But there is no alternative, an ASBO has been issued.
As such he is now confined to the kitchen where there is no carpet to tempt him and from where it is only a short hop to the garden. I think the problem is sheer laziness. All that Oakley does is sleep (historically under the duvet in the spare bedroom), eat (too much), drink and that is it. Not a lot goes through his brain because he is not a terribly intelligent beast. All in all he is ideally suited to become an investment analyst at Numis Securities.
From the bedroom the landing is s short hop, the garden involves going up and down the stairs and a long hop. So it is idleness that has caused the Anti-Social behaviour.  In due course carpets will be replaced with floorboards and Oakley will once again be allowed the run of the house.  But pro tem, and despite numerous mewlings and complaints, he must slumber in the kitchen on his West Ham blanket. The ASBO is being strictly enforced.

3482 days ago
On Saturday I wore my London Irish shirt from my playing days, I suffered for 95 minutes which seemed like an eternity and I thanked God for agreeing to my suggestion that West Ham lose but Ireland triumph. Today I am asked to celebrate St Patrick's Day but I will not do so.
For this day is a day when the whole world becomes Irish, hundreds of thousands don ghastly fake leprechaun hats and everyone gets drunk. By midnight the streets of Britain will be littered with discarded fake leprechaun hats, piles of vomit and folks collapsed on the street singing Swing Low Sweet Chariots as they remember who they really are. St Patrick would no doubt be truly honoured.
Party of my Irish ancestry comes from the Mathew family who were great temperance campaigners. The last of the line (named after its founder) died of an alcohol related illness some years ago.  I cannot say that I am a man of temperance, quite the opposite.
But as it happens I have made an agreement with my three legged cat Oakley. The vet suggests that, especially has he only has three legs with which to support his body mass, he is a little plump. In fact I think the word she used was obese. So Oakley is on the low fat Iams and is being forced to take some exercise. In sympathy I have been off the sauce since Friday and am also on a Spartan diet. The Mrs reckons, not unfairly, that I could do with losing a few pounds and so Oakley and I are suffering together. As such I have enjoyed three days of complete sobriety which is all rather a shock to the system.
I digress. The wholly commercial exercise that is St Patrick's Day is not something I shall take part in. On any other day of the year I'll happily sink a pint of Guinness at the drop of a hat. But today, I will as I now do every year, give the whole thing a complete miss. 

3498 days ago
Naturally I rather hope that events in the Ukraine do not spiral into World War Three as I rather sense that this really would be the war to end all wars. And everything else. But always seeking solace of a silver lining in every nuclear cloud here are my ten looking on the bright side reasons for cheer.
I do not have to worry about being on the hook for alimony for the next thirty years and any more sniping letters from lawyers.
We can stop panicking about where to house the cats when we go on holiday this summer
I will die vindicated in the belief that all that money the Government spends telling me that smoking will kill me was utterly wasted.
As the planet goes into nuclear winter even the BBC and its sister paper, The Guardian, will stop banging on about global warming caused by man-made carbon emissions.

3499 days ago
A friend of mine from my Shoreditch days says that he is heading off to a weekend of eating drinking and libertarianism on the 15th March and would I care to go. It looks great but then comes the libertarian dilemma.
If you are a pure thinking individual I would urge you to check out the Freedom Festival here
There are some entertaining speakers: Mark Littlewood, Norman Tebbit, Toby Young, Dan Hannan and I am sure that it will be great fun. However:

a) I am not convinced that this is ideologically pure enough for a true libertarian. I see there is a debate "is immigration a boon or a burden?" If you score straight A's on the Ron Paul crystal pure test you would not need that debate, the answer is obvious. There is another debate "is the conservative family falling apart?" Heck, when did we join that family to start with?

b) Maybe I am a libertarian because I hate the idea of being organised. One of the joys of Shoreditch life right inside the triangle was that the residents were a pretty crazed bunch. On a day to day basis I had nothing in common with the Lebanese cookery writer for the FT, the fat American artist gay couple, the super geek IT guy from Morgan Stanley or the Australian architect with his French wife who'd been there since the sixties. I struggle to remember the other residents but occasionally we'd come together like a Wild West town

3504 days ago
Whatever one things about the sheep shaggers, and as I explained on Friday I have mixed feelings, an evening match at the Millennium Stadium has a world beating atmosphere. It was a wonderful night. Wales played well, France were abject. I returned to Bristol rather worse for wear on the last train.
Worse was to come with Ireland against the Old Enemy. I really do loathe the swagger of English rugby with a passion. I loathed it when I wore the green jersey of London Irish

3504 days ago
My bear piece yesterday on Bulletin Board darling Monitise was always going to generate a stack of abuse from "the believers." I knew it, I expected it and I was not disappointed. Among those commenting was this week's Bulletin Board Moron of the week, Michael, who posted in the comments section on the original piece. The Moron writes… 
I rarely comment on articles especially after viewing your YouTube videos but one minor point in your article. When did West Ham win the World Cup as you state?
Not going to even respond to the rest of your points as your article lacks understanding of tech, mobile payments and plus football. Not to mention a lack of attention to detail.
Ends.
West Ham won the World Cup in 1966.  Real football fans know the joke well as they remember who skippered England and who scored the goals. I suspect that Michael is the sort of football fan who thinks that a headhunter at Stamford Bridge is, and always has been, the sort of fellow who finds City chaps a new job. That is an aside.
Michael as with all good BB morons plays the man not the ball. That is to say he does not like my videos and he asserts my lack of attention to detail without going into detail himself as to why I lack detail. That is because there is no answer to the points raised in the piece. But that does not make him a moron, just a fool.
My article was centred on hard financial metrics - slowing rate of sales growth, failure to deliver any operational gearing at all, aggressive accounting viz capitalisation of costs and above all the fact that Monitise is running out of cash fast. Michael seems to regard all these matters as irrelevant,

3518 days ago
Last week I expressed my shock that Ireland and West Ham had both won on the same day and wondered when this happened last? You see, I am used to supporting sporting sides that are just not very good. Well blow me down Ireland and West Ham have now both put in back to back wins on the same day – when did that happen last?
For Ireland it was a home game against Wales. Such occasions usually prompt a post-match call between my father and myself "At least Olivia will be happy." My daughter is like her mother (Big Nose) a proud Welshie. But not this time.

Ireland were ruthlessly efficient and made Wales (who are not hopeless) look just ordinary. The pack lead by Paul O'Connell was magnificent at the lineout, with the rolling maul and in all aspects of secondary play. The scrums were a bit of a mess but overall it was a powerful display. Throw in the kicking of Sexton and the tackling of the backs – and their strength under the high ball and Ireland looked really good.

Next up is the Old Enemy at Twickenham

3525 days ago
As you might have gathered, teams that gain my support on the sports field can rarely be described as consistent models of success. West Ham, Northants CC, Ireland & Ulster at rugby, Eire at football and England at Cricket. The less said about the last on that list the better – for now I have decided that supporting the England women's cricket team is less painful.

My big loves are, for my sins, Irish rugby and West Ham. For the former I can blame my father. For the latter I have only myself to blame. But this weekend both Ireland and West Ham won. I really cannot remember the last time this happened. 
At this stage of the season I usually have a conversation with God on the matter of sport. Heavenly father, will you allow West Ham to avoid relegation and as a trade-off I will give you that Ireland will not win the six nations. But would you mind terribly if we won the Triple Crown? I sense that God is not really interested in such discussions (although why he should have anything against Irish rugby is beyond me, surely he cannot support England?) and thus Ireland will probably not win the Triple Crown and as for West Ham? If the appeal against the red card shown to Horseface (Andy Carroll) on Saturday is successful – as I think it should be – we actually looked like a half decent side. 
Okay we are still in the 3rd relegation spot ( 18th) but in theory just one win would put us 11t

3537 days ago
I suggested that readers of this website write to Sam Smith, the self-important CEO of FinnCap the well paid Nominated adviser to disgraced AIM Cesspit ( until it was slung off) and now bust Silverdell. It seems that Ms Smith is too important to answer emails in question but readers are now getting a reply which is about as convincing as the West Ham defence.
Ms Smith is being asked to demonstrate that FinnCap did any due diligence on a series of RNS statements from Silverdell which were clearly misleading. Needless to say Finncap is not stating that it did completed full due diligence. Its compliance Officer Mark Tubby's detailed (NOT!) response is:

3540 days ago
 My season tickets for my beloved West Ham go unused yet again. We lost 3-1 at home to Newcastle and were crap and should have lost by more. Fat Sam Allardyce has Horseface back from injury and we are still crap. I do not want to watch a game until he goes.

So instead, in the face of almost non-stop rain I have spent the afternoon nailing together railway sleepers, buying five bags of horse manure (no the real stuff not anything to do with what West Ham serve up these days) and five of earth hauling them up a steep hill from the most dreary garden centre in Christendom and then into my house and garden to create a herb bed.

A day spent dealing with horse manure, getting drenched in the rain, putting my back out and all to grow some herbs or an afternoon at Upton Park. Until Fat Sam goes it is a nil brainer. 

3546 days ago
An early birthday present from Carlton Cole and Mark Noble sees West Ham out of the relegation zone but that will not change the fact that I am today 46, closer to 50 than 40. 
I did not expect to be spending this Birthday living in Bristol, married to a Guardian reading Sociology Senior Lecturer or less than 18 months into running a new business. Life is full of surprises.

I have now been working for 25 years and in the old days would now be just 19 years from retirement. For the Mrs – who did a Post Grad - the figures are 16 and 26. So Maybe I shall call it a day at 58 and live off the State (via the Mrs).  I suspect not, work is too much fun. 
My father's generation expected to retire at 65. My generation? It might be 58 it might be never. The one thing we do know is that it is not an automatic gold watch at 65.

For me a picnic at Chew lake looms followed by a walk with the Mrs and Uncle Chris Booker.. and then back to subbing Zak Mir's new book. Happy Birthday indeed.

3553 days ago
I cannot even be bothered to see who fat Sam Allardyce ( the world's 13th highest paid manager) blames for this latest humiliation for West Ham. We have been knocked out of the FA Cup in the 3rd Round to lower league sides before but 5 nil? Why was Sam not sacked last year as I suggested? last week as everyone suggested? Or today as every is again suggesting?
I cannot bring myself to talk to my daughter as I do after every game. This is just so dreadful. Why did I inflict the pain of supporting West Ham on her? Call social services.

3555 days ago
I have noted before that the way that AIM Cesspit listed Ukrainian dairy products group Ukrproduct (UKR) announces bad news smells like a six week old pot of cream left in the baking sunlight of the Steppe in August. And so as 90% of share-watchers enjoy their last day off, the company has slipped out another dire trading statement.
You can read my comments on the curious way this company announces the departure of directors, all signed off as kosher by corporate adviser Mr Dick, HERE

Today's statement confirms what we all suspected. EBITDA for 2013 will be sharply down on 2012. Blame higher milk prices, ripples in the soft cheese market, whatever – it is hard to imagine that doing business in the Ukraine right now is that much fun.
Worse still the heavy debt this company now carries means that the I (for Interest) number has gone up sharply. So what is the bottom line number (i.e. Profit before tax) going to be? I refer to today's statement.

"Net income will be impaired by the sizeable increase in interest charges arising from the EBRD loan leading to the negative net profitability for the year."
Put another way this company is loss making. It blathers on about how it "plans to return to positive profitability in 2014."
You know what? I have made plans for 2014. After watching West Ham lift the Premiership trophy on the final day of the season following a five month run of 3 points from every game with Carlton Cole scoring hat-tricks every match, I am off on a one week romantic break with Cheryl Cole in the West Indies. I cannot wait. Neither, I am sure, can Carlton and Cheryl.

3556 days ago
An old friend from my Investors Chronicle days will be joining ShareProphets next week – an expert writer on property, insurance and (oddly) biotech, He is also a bit of a sports nut. We have spent long hours discussing cricket and soccer. Sadly he supports Spurs but nobody is perfect. 
In his New Year greeting to me he wishes the best of luck to England's Cricketers and the footballers at West Ham United. An apt if cruel pairing.
I wonder if any other side could be added to that list of the biggest flops of Autumn/Winter 2013? I really am struggling to think of one that entered its current campaign with such high hopes and has proved such an abject failure at every single level. The Nigella Lawson PR machine?  The Ship of Fools global warming nutters trapped by record Antarctic ice? 
Any other suggestions?

3557 days ago
Another day, another "six pointer" and West Ham comes away with nil points, after losing 2-1 to a side that lost its last game 6 nil ( Fulham). As a bonus, club skipper Kevin Nolan was sent off for a needless and mindless lunge for the second time in five weeks and now faces a three match ban. Again. Good. He is useless.
First things first. Nolan should be sold for however little at once. Pro tem Jussi should be club captain until Mark Noble returns from injury.  Second up fat Sam Allardyce should (as I have been arguing for a year, warning of this) be fired at once. The World's 13th highest paid manager has spent more in the summer than all bar 6 UK clubs and West Ham are still utterly shit.

A replacement? No-one could do worse (with the possible exceptions of Glen Roeder and Avram Grant). Glen Hoddle, Malky MacKay, Paul Ince, Paulo di Canio, Harry Redknapp's dog – I'd take any of them tight now. I am sure the Board have better ideas than me (well sort of sure) but on the basis that no-one could be worse than Fat Sam, the P45 should be issued at once. 
Let Karen Brady take charge for a few days as an interim measure for all I care, things could not get any worse.

3560 days ago
As a consistent "Fat Sam must go" man for more than a year it gives me no pleasure in saying I was right. That the team that ranked 7th in summer transfer signing spending money languishes second from bottom is disgraceful, however it is spun. For the past year, my articles have been met with abuse ""get behind the team", "sod off and support Spurs", etc.) or excuses (injuries, bad refereeing decisions, it will all get better when Andy Horseface is fit to play, etc.).
But the facts are clear. West Ham has failed to defeat teams we needed to beat in recent weeks (Sunderland and West Brom) if we were to stay up. I do not give two hoots about beating Spurs in the Mickey Mouse Cup as I cannot see us getting past Man City in the semis. And even winning the MM Cup would be no consolation for relegation and all that that entails.

On New Year's Day we travel to Fulham who look to be even more useless than we are right now. If we come away with three points we might slither out of the relegation zone, old horseface might finally return from injury for the Newcastle game (18th January) and Sam's bacon might be saved.
Lose to the Cottagers and we could well approach my 46th Birthday (January 12th in case FS wishes to send me an early card – resignation letter enclosed) rooted to the bottom of the table. We learned with Roeder that if you hang onto a loser for too long it is too late to escape the drop. There are so many other managers out there who are available and who could do no worse. Indeed (with the possible exception of Avram Grant) it is hard to think of anyone who could do worse.
If the Board is serious about staying up a new manager must be in situe hours after the Fulham game ( whatever the result) with a chequebook ready to use ( a couple of defenders who could defend, would be handy whose purchase could be funded by the sale of, say, Downing and Collins). Standing by Sam is surely now utterly futile.

3570 days ago
I appear to have fallen out with another LinkedIn Group – the West Ham Supporters. My "crime" is that I posted links to articles wot I wrote about the Irons. Apparently to stay there I have to write the whole piece on that discussion group.
Hmmm. I am a writer and earn a living from writing articles. So how about a new business model for me? I shall stop writing for websites where I earn money and will just post articles direct on LinkedIn Groups or on Bulletin Boards and so earn no money.
Can anyone spot the minor flaw in that one?

If you are not a professional writer and you wish to post your thoughts (judging by the timings, in many cases when you are being paid by someone else to do an actual job) that is fine.

But if you actually get the cash to pay for cat food, vets bills, a round of drinks at the Conservative Club and other essential things in life by being a writer, but then give everything away for free I would suggest you have a problem.
On that basis I have quit West Ham LinkedIn supporters. A surprising number of folks from there read this website. They know where to find me…
I guess it is better to quit than to be evicted as I was from the LinkedIN Friends of Greece and UKIP groups.




3573 days ago
Spurs (7th) have fired their boss already this season. Today as it happens. Sunderland in 20th place, Fulham (19th), Palace (18th ) and West Brom (16th) have doled out managerial P45s already and Cardiff (15th) look set to axe their boss, former West Ham player Malky Mackay, within days.  So which team is in 17th spot and looking utterly useless right now?

Step forward my beloved West Ham. If Mackay becomes available surely a P45 for Fat Sam must be imminent? If Malky is not free I really do not care who we appoint: Paul Ince, Paulo di Canio, Marco Boogers, Harry Redknapp's dog, the late Nelson Mandela. I just do not care anymore. Fat Sam must go.

3581 days ago
Still with no internet at the new house of the Mrs, I spent the whole of Sunday working in what I thought was the local hostelry in our new Neighbourhood. At ten o'clock I started wandering home and as I reached the top of the quite steep hill and about two thirds of the way back I started wondering how I will cope with this trek in the snow. But then I saw a bright light burning across the road. It called me towards it….
In a rather tired looking Victorian building there it was. The Conservative Club. With the Mrs away I thought "why not?" and buzzed my way inside. This place is less than 250 yards from my front door with no hills involved. It has Wi-Fi (although the barman did not seem to know what Wi-Fi was all about), snooker and pool tables and very, very cheap booze indeed. 

It was just £5 to join and £16 a year to be a member (an extra fiver in the unlikely event of the Mrs, the woman formerly known as the Deluded Lefty, deciding to join as well). I rapidly worked out that at £2a pint/glass of wine I will get my money back very quickly indeed. All I needed was a proposer and seconder who had known me for 5 years and an understanding that I supported the principles of the Conservative party.
Hmmmmmm,

3581 days ago
My crimes? Questioning the party's immigration policies and also its Jew hating "friends of Palestine Group".  UKIP claims to be a libertarian party. Hmmmmm. I was never a party member but now I cannot even see the rants of the faithful on its LinkedIn page.
Libertarians tend to believe in free speech. Libertarians do not want the Jews driven into the sea. Libertarians do not want to restrict free movement of people in search of work. Libertarians would reform the welfare state in order to stop folk moving just to live on welfare but also to deal with indigenous welfare junkies. UKIP is about as Libertarian as Genghis Khan.
So I have now been booted out of LinkedIn UKIP ( having refused suggestions that I stop writing any criticism of the party at all) as well as UKIP Friends of Greece. My crime there was to suggest that Greece was corrupt and an economic basket case and that Albania (low tax, relatively honest) was a role model for poor Hellas.

I also got stick in the West Ham LinkedIn Group for wanting to fire Fat Sam Allardyce last season. I sense now that my views on that matter are now rather mainstream. But at least the West Ham LinkedIn group allows free speech. You can question and criticize. I guess the Cockney Boys are the only true libertarians left on LinkedIn.

3581 days ago
Losing to Liverpool is not really a shock. But surrendering from the opening whistle as West Ham did is not impressive. Fat Sam Allardyce has apparently once again used the word "unlucky" in relation to this latest humiliation. What planet is he on?
Liverpool attempted 36 shots during the game. In a sense they were unlucky. It could have been 8-1.

The only bright spot is that Kevin Nolan was sent off and so misses our next three games. He is having a dire season. The way the other results panned out yesterday and our abject form and tough set of fixtures ahead leaves me with a fear that come New Year (or even sooner) West ham could be bottom of the league with Fat Sam 

3581 days ago
Just like clockwork the exchange happened at midday on Friday. The little men had cleared out the flat in the poshest bit of Bristol which the Mrs had lived in since her postgraduate days and we set off to a rather less fashionable neighbourhood, where the sale proceeds have been re-invested in a lovely Edwardian house.
Okay, we are living out of packing boxes right now. But the space is enormous. The kitchen here is almost the size of the old flat. We have a garden with a vine which produces grapes which make wine – the former owners have left us one bottle from the 2012 harvest warning that it tastes appalling.
I managed to find the place alright driving back by car on my own at 1 AM this morning bringing with me the first six boxes of my books. The rest of my stuff will arrive in ten days time and then two households will be formally merged.
There are frustrations like having no Internet and thus also no TV for another ten days. And so I missed the X-factor last night and also Foyle. And I shall be forced to head off to "Grounded" later to spend the day working on-line drinking lattes (er... Rioja).

3583 days ago
My lack of support for Fat Sam is no secret but it seems that after losing away to useless Palace on Tuesday others are coming round to my point of view. The Premier League's third longest serving manager may not last the season. He should never have been reappointed.
Fat Sam has spent heavily to build a team around one man, Andy Carroll. Horseface may be back on the training ground at last but appears incredibly injury prone. Fat Sam should surely have had a Plan B – how to secure 2 points every two games when Carroll is NOT playing. He did not.
We now have a run of games against top sides lasting until West Brom on December 28th where if we pick up even three points (and I include West Brom in that run) we will be lucky

3636 days ago
Geoff Miller posted a piece earlier today on the West ham LinkedIn members group of which I am a member. The boss of AIM listed GLI Finance (GLIF) is quite a witty fellow and his piece reads.

I have added "West Ham Supporter" to my list of Skills and Expertise on LinkedIn, and it would be great if anyone that is connected to me could endorse me, and if you are not connected to me, feel free to send me an invite to connect.

Having thought about what skills and expertise should appear on my LinkedIn profile, I realised that the unfailing ability to genuinely look forward to every season, the extraordinary ability to ignore all the bad times and relive the good times again and again and again, to exclaim that WHU is the greatest football team the world has ever seen, and mean it sincerely and completely, should be reflected on my LinkedIn profile, far more than all the work guff that gets peoples' endorsements at the moment.

Hence I have added "West Ham Supporter" to my Skills and Expertise and I would like to invite everyone to endorse me.

I feel the same. If you are on LinkedIN (a tedious version of Facebook for grown-ups) you will see that I am quite often endorsed for things like blogging but on reflection my most consistent skill over the years has been "Supporting West Ham in Bad Times and Worse" and feel free to endorse me accordingly in my LinkedIn page.

3639 days ago
I once believed in Avanti Communications (AVN). I also used to believe in the tooth fairy, Santa Claus and the idea that West Ham might one day win something again. How naïve. A while back I became a mild sceptic. I am now convinced that this is a colossal accident waiting to happen and should be shorted aggressively. It is my top AIM short to pay for Christmas.

3644 days ago
Given West Ham's dire form of late I have only just plucked up courage to look at the result on the internet. I was assuming the worst away at Spurs given that, much as I hate to admit it, they are a good side. But blow me down, three nil at White Hart Lane. I was naturally straight on the phone to my daughter to discuss the matter. She has a friend at school who is a diehard Spurs fan and so "shall we sing a song for you?" We ran through a couple of ditties* for her to use for torment payback.
Fat Sam says it was his best result as West Ham's manager. For today at least I shall not argue with him. Beating the scum away is not something that has happened in 14 years and even the Mrs, who has learned how to ingratiate herself with my daughter with the phrase "my favourite player is Joey Cole" but is not entirely up to speed on life on Green Street, appreciates that this is big. 
We had thought that Downton Abbey would be our TV highlight of the day but we can safely say that MOTD 2 is now going to be even better.
It was one of our numerous Wedding vows that the Mrs promised to attend at least two matches a year at Upton Park and until today I was rather nervously looking at fixtures where – sans Andy Carroll – we had a half chance of nicking a point. Flushed with renewed optimism, as I am sure the entire Squad will be, I think I now have a far wider choice of games to choose from. Bloody hell, even the hitherto useless Vaz Te managed to remember where the goal is and netted one. What a day.
It is hard to find any minus points from today's game which was a deserved win. That Defoe was not sent off ( not for any offence but just for being Judas) is, I suppose, a source of regret but is irrelevant compared to the joy of winning this particular fixture. If you had to win just one game all season this would be it. But after this match (actually our second league win) there are going to be a heck of a lot more three pointers on the way. 
*For the avoidance of doubt, the ditties discussed did not include ( for two reasons) "we'll be running round Tottenham with, etc etc,etc."

3666 days ago
I watched the first half of today's 0-0 draw away at Southampton on the box. Two howling errors by James Collins in defence, a magnificent Jussi keeping us in the game and more chance of the BBC enjoying a sex scandal free week than of West Ham actually scoring. I gather that in the second half it was much the same with the only difference being the failure of Collins not in defence but at the other end failing to put away an easy chance provided by Mark Noble.
But it may be harsh to pick on the Ginger Pele.  West Ham's most telling statistic is shots on goal in four Premiership starts. In the first game against Cardiff we had four and scored twice. In the three games since then we have managed just two shots on goal. Maiga and Vaz Te could not score in a brothel. Frankly my cat or, even James Collins, are more likely to find the back of the net in the Premiership.
We are told that Croatian Fulham reject Petric and Carlton Cole are honing their fitness and should be ready soon while we all pray that Andy Carroll recovers tomorrow but big girl's blouse that he is, he will not. After today's dismal showing by our first choice fit strikers I do not care if Carlton Cole is slower than Cheryl Cole, play him anyway.
Ok. Petric might be over the hill and not good enough for Fulham and only half fit but at least he knows where the goal is.  I know Geoff Hurst attends most games at Upton Park. He might be 70 odd but I wonder if he still has a spare pair of boots... has anyone called Tony Cottee to see if he fancies a game?  My mate Barry Jenkins might be 50 and smokes 20 a day but he says that he scored a few goals in his time playing on Hackney marshes and he already owns a collection of West Ham tops so the club only need provide him with shorts and socks and he'll be available for the Everton game. Any other ideas?
2 shots on goal in the last 285 minutes of football (inc stoppage time)...

3666 days ago
I was once again back in my Clerkenwell rabbit hole. The dormouse was again pouring some tea of a herbal nature and produced a tray of cakes each one saying "Eat Me NOW or Pinsent Masons will frigging sue you."   "Surely we have been here before?" I asked the dormouse who just smiled and pushed the tray gently towards me.
A small mole appeared in the corner of the room, winked at me, grabbed a cake and gulped it down. Shroooooooooooom. Suddenly the mole was ten foot tall and was holding a smoking gun. He laughed, devoured another cake and was then carried away on a magical boat back to the Pinsents bunker on a journey past tangerine trees and under marmalade skies.
Curiouser and curiouser I thought. What might the mole have in store for us next?
Before

3676 days ago
Having failed to sign a striker in the transfer window, having recognised that Maiga couldn't score in a brothel and with Andy Carroll a bit of a girl's blouse on the injury front it appears that Carlton Cole ( released in May) is on his way back to the Academy.
Hmmmm.  This is seen as a short term stop-gap. Carlton was always loyal West Ham club servant. I  am sure that he will try hard. And he is better than Maiga. Almost anyone would be.  If it turns out to be true, welcome back Carlton – you may not be a name that strikes fear into the heart of Premiership defences but, on your day, you were not bad. And you are better than Maiga.

3680 days ago
It is 9.30 AM and I am sitting outside a small café in Russell Square, decked out in my West Ham hoodie contemplating today's match against Stoke and  tapping away at my PC, enjoying a latte and a fag and reading Jimmyliar's latest lies in The Times. "How's Sefton going? Said a voice. Rather fearing that Jimmy had sent a hit man to track me down I looked up.
"I am sorry", said I to the complete stranger," how can I help?" It turned out it was a journalist from Growth Company Investor who had followed the case and thought it was fascinating. Well done said he and we chatted about the amazing tale, the revelations and also about executive greed on the AIM cesspit. And then he scuttled off promising to pop into Real Man in a few weeks' time for a longer chat.
Having other journalists say well done is always a good feeling so many thanks to him for that professional courtesy. I wish him well with his career as he strikes me as a knowledgeable chap who knows his stuff and enjoys writing and is not doing it merely as a stepping stone to the dark side (financial PR).
And many thanks for the dozens of kind emails, tweets and a couple of personal visits yesterday.  Now to what really matters: Can West Ham triumph (without a decent striker available) against a piss poor Stoke?

3681 days ago
A last minute cancellation means that as things stand I shall be standing next to two empty seats in the Trevor Brooking lower tomorrow. I know it is only Stoke but that would be a waste so if anyone fancies joining me - we can meet either at the Ground if you are coming from the East or at Real Man in Clerkenwell if you are coming from the West  - get in touch. First come first served - email me on [email protected]

3683 days ago
Alan "he shags who he wants" Pardew was appointed as manager of Newcastle United in December 2013. The word is that a P45 with his name on it is slowly on its way. But as things stands Pards is the second longest serving manager in the Premiership. Only Arsene "with a packet of sweets and a cheeky smile" Wenger has been in situe longer. What an appalling indictment of how football is run as a business. 
Premiership managers trouser seven figure salaries. And it now seems taken for granted that after a couple of years (or half a season at Chelski) they are fired, getting vast compensation, before some other fellow gets a temporary stint at the helm. Sooner or later you end up with Mark Hughes in charge for a while. Hughes has managed six clubs within the past six years. Still only fifty, there has to be a good chance that by the time he finally retires he will have managed at least three quarters of England's top sides.

In business (and football) there is a good correlation between having bosses in charge for the long haul and success. Looking back at my own club, our glory years came when we had someone at the helm for a decade or more. The idea that you might get a Johnny Lyall managing a club he loved for years and years just seems so out of kilter with the modern game.
There is also the financial madness of this merry go round to consider.  Inevitably new managers want to reshape the sides they are in charge of and so the merry go round of bosses simply adds to the merry go round of players. More fees for agents, more "cuts" for the players, more losses for the clubs.
Footballeconomics makes no sense at all and the managerial merry go round is just one part of it.  That may well be highlighted further. If Wenger gets his marching orders (as may happen) and when Pardew is asked to spend more time with his wife (again), who do you think will be the longest serving manager in the Premiership? At two years and 84 days step forward West Ham's very own Fat Sam Allardyce. Amazing.

3691 days ago
You should always end on a high. And I am on a high right now. Last night I exposed Jim Ellerton for the fraud and liar he is. The Nomad to Sefton (Allenby) has told me by email that if my initial allegations re the Dillabaugh case were proven either Allenby or Ellerton had to go. If it is the former the shares are suspended and won't come back. If it is the latter the sole witness for Sefton in its libel trial against me will have resigned in disgrace. So I have won. I gather that the Sefton board is meeting this afternoon so, one way or another, the AIM career of Hawaii Jim is almost over.
I have already popped over to the offices of uber expensive bully boy City lawyers Pinsent Masons , champagne in hand, to record two short videos and when they go live that will be it from me.
Publicly I have put a brave face on this battle and on the Sefton dirty tracks campaign. But it has been a strain.  I fear that there is not a cat in hell's chance of me getting my costs back. Would I want to do this again or would I rather spend time with the bird, take up fishing again or do a bit of what I really want to do (goat farming)?
My priorities going forward are the restaurant, the UKInvestor Show, my partner (the deluded lefty) and my family, notably my step mother and ageing father - not necessarily in that order. As such the 666 shirt of investigative financial journalism united is (temporarily) retired. After today I shall confine my public comments on shares to my premium Nifty Fifty website. If you want to know my thoughts on shares pop along to Real Man Pizza and buy me a salad or subscribe to the Nifty Fifty
Shareprophets has 20 writers including younger investigative stars such as John Crawford and Ben Turney who I shall advise, if asked, but for now that is it from me on shares. The younger guys will take the battle against the AIM bad guys forward.  I have a book to write (on Sefton), articles to write for this website on West Ham, Greece and other really important matters and a life to lead.
Thanks for your support since this battle commenced. My 36 hour drinkathon now continues and anyone who fancies coming along to Real Man tonight after 6 is more than welcome.

3695 days ago
I am more than a bit excited, the inner child in me is in control. The new season is upon us and I am off to Upton Park tomorrow.  My old pal Neil Masuda (who as my babysitter made my sisters and I watch the FA Cup Final on the box when Sir Trevor scored with his head) will be coming along with his latest bird. Neil, as you may remember started his long and glorious career as a peddler of sleaze on Fleet Street by breaking the Howard Jones (like to get to know you well) three in a bed scandal when on his local paper.
Anyhow, myself, Neil and his bird will meet up at Real Man Pizza before heading to the Academy. Cardiff were promoted last season so anything could happen. With Andy Carroll injured it will be interesting to see who can actually get it in the net for the Irons. Anyway, another season is almost underway. Another 40 weeks of misery is upon me. Like an addict I cannot wait and as 3 PM looms and we start "I'm forever blowing bubbles."
I am excited already. It is almost as much fun as asking the Serious Fraud Office to investigate Pinsent Masons and Sefton.

3716 days ago
The postman has just strolled into Real Man Pizza Company ( 12.15) and among the usual batch of bills, cheques and junk mail were three envelopes from East London. Yessssss! My West Ham Season tickets are here.
Oddly the bread delivery guy and I were chatting about the season earlier today. He is a diehard hammer. We both reckon that another striker is needed but elsewhere we look okay. The midfield looks very strong although if Scotty Parker were to come back as has been rumoured we would not be objecting.
Cardiff on the 17th. Bring it on.

3750 days ago
So Old horseface has signed up for six seasons at the Academy. It seems as if the board has dug deep because £15.5 million to £17.5 million up front and £100,000 a week is not small beer. Is he worth it?
At one level patently he is not. The emergence of a new breed of clubs with unlimited financial resources which started with Chelski and has now spread to Manchester City and – thanks to its mug bankers – Man United means that wage and transfer inflation has run riot through the game. The prices clubs pay to sign and retain even ordinary players bear no relation to their economic value to the clubs concerned. Carroll is just one example of that.
In absolute terms Carroll is not worth the money. But then when you see really ordinary Premier League prima donnas getting £50,000 a week in relative terms he might be.
I accept that horseface picks up more than his share of injuries. But assuming he starts most games then I think that we can bank on the Carroll/Kevin Nolan partnership netting West Ham 20-30 goals next season. Their track record together is pretty good. Yes it does mean that folk like Jarvis will be required to supply stacks of crosses and there will be plenty of long balls played up from the middle of the park.
It may not be the beautiful game but 25 goals from this duo (plus the penalties horseface will undoubtedly secure for us) would go a long way towards ensuring another mid-table finish. Last year we scored 45 goals all season. A decent foil for horseface up front (as well as Nolan) and West Ham has a good foundation for another top half finish.
My daughter is delighted and shamefully I admit that I am too.

3755 days ago
AIM Listed Leyshon Resources (LRL) has announced that it has abandoned ZJS6, its second well drilled in the Ordos Gas basin. It states that it has encountered water in several zones and thus cites "technical problems" as its reason for pulling away.

The well did discover gas so is not a total wipe out but technically this will be very hard work and so quite rightly Leyshon has cracked on with the third of its planned eight wells in Ordos.

The shares have tanked by 30% on the news to 11.125p valuing Leyshon at just under £40 million (the same as Andy Carroll cost The Irons over five years if he signs with West Ham).  Which is worth more: Leyshon Resources or five years of old horseface? Discuss.

And so as a result the Leyshon Ordos scores on the doors are:

3758 days ago
I truly dithered about this one but already I find myself looking forward to a new season at Upton Park. I guess it is like dating. You break up with your bird (not that I have, as far as I know) after 8 months of pain and anguish. You were not having fun for a lot of the time and frankly sometimes she was just taking the piss with the sheer misery she inflicted on you. And she was pretty expensive too. Having a season ticket at West Ham can be like being forced to spend most Saturday afternoons heading round a shopping centre being forced to buy new clothes for the bird or worse still for you and then afterwards having to go to some overpriced vegetarian, alcohol free restaurant. The sheer misery of it all is interrupted only briefly when you find a new Ramones T-shirt to buy to add to the collection. But it is a rare moment of joy.
I stress that my partner inflicts none of this on me but I know that some birds regard that sort of thing as fun. And watching West Ham, knowing that you have forked out £650 for a season ticket can be like that.  Jeepers. Losing at home to Wigan in the Carling Mickey Mouse Cup. That was torture. The game at Reading on 29th December will long stay in my mind as a masterclass in making a ninth rate team look like Brazil.  But: You are my West Ham, my only West Ham you make me happy when skies are grey you'll never know how much I love you until you take my West Ham away.
And so after you split up with one bird and enjoy a short break of freedom, of being allowed to wear clothes with holes in them and of being able to wash up dishes before you eat rather than afterwards, what do you do?

3784 days ago
A 4 O' Clock kick off at Upton Park means lunch beforehand for my daughter and I at the Diner on Curtain Road. That always used to be part of my pre-match ritual but that was before my ex-wife threw away a lucky shirt (ok more holes than shirt) which had got West Ham to a Cup Final. Naturally we were relegated that season. You now know who was to blame.
Perhaps the Diner can restore its magic. My jinx on seeing West ham lose every time I attended this season was broken with the 0-0 draw with Newcastle. Reading are rubbish and were down a while ago. If we win we finish 10th. If we lose we could just plausibly finish 15th. It's an okay end of season tally.
In fact we have lost our last three games against Reading so that is a bad omen. Having said that will the Royals play for pride? No. They are professional soccer players so do not give a damn. Will the Reading "stars" want to showcase talent so a Premier League side might snap them up in the summer? Er…they have no talent to showcase. But will our boys "turn up"? Who knows.
At the end of the game the squad will walk around the pitch to say thanks. Will it be the last time we see Andy Carroll in a West Ham shirt? I fear that is possible – Monaco (flush with hot Russian billions) want to sign him. We shall see. At a sentimental level I fear it will be goodbye to loyal servant Carlton Cole. Who else will go in the summer? Heaven only knows. I hope that we say goodbye to Vaz Te and that is it. Sadly I fear it will pan out rather differently.

Will I renew my season tickets despite Fat Sam getting another two years? Heck I am almost tempted if only for the home game against Paulo di Canio's Sunderland. The messiah returns.  That match I shall not miss. It is almost worth renewing just for that game.

3799 days ago
It took me 80 minutes to get from Chancery Lane to Upton Park. Boris Johnson I blame you. You knew that there was a fixture at The Academy today almost a year ago. Yet you scheduled repairs across the network today. It was 40 minutes before I got to Bethnal Green at which point I was told that Mile End was closed. Panicked I shared a £15 mini cab to Green Street.
Getting home was an equal mess. The District Line stopped at West Ham and so after waiting 15 minutes to wade through crowds at West Ham it was the Jubilee line to Green Park and a Victoria line to Kings Cross. What a tedious mess. And there were other games in the Capital as well today. Could you not schedule works for four weeks' time when the football season is over and no-one in their right mind would be heading to Upton Park?
Oh cripes. Jeepers. We did not think of that. Jeepers again.

3799 days ago
My football mad daughter and I were at the Arsenal game a few months ago and as the crowd chanted "with a packet of sweets and a cheeky smile, Arsene Wenger's a paedophile" I dreaded the question "Daddy what is a paedophile?" Wenger is not a nonce as it happens but what would I say? "Er.. It is a sort of person who is often on the BBC." I guess that is true.
Today's game (a nil nil draw with Newcastle) was hardly a classic.  The bloke two seats down shouted Cisse loudly as the Newcastle player ambled from the corner flag towards his goal (which is where my seat is). He was ignored. Cisse. Again ignored. Louder still came the shout Cisse at which point Mr Cisse looked up and got an instant shout of "Wanker!" from the bloke two seats down who regarded this as a win.
Former West Ham boss Alan Pardew manages Newcastle. Not for much longer one suspects as they will – at best – narrowly survive but I sense they may not. Pards left Upton Park amid, no doubted unfounded, rumours about his private life. And so within minutes of the opening whistle the rhythmic chat went up: "Alan Pardew shags who he wants, Alan Pardew shags who he wants." After a few minutes of this the chant changed to "Alan, Alan give us a wave." Mr Pardew obliged. The Trevor Brooking stand then started off with "He loves us more than you" at the Newcastle supporters. A few minutes later it was back to "Alan Pardew shags who he wants, etc."
A couple more terms I am glad that I do not have to explain to my daughter.
With my record of having seen West Ham lose every time I have watched them this season broken and with the Irons now 100% safe from relegation I shall take my daughter to the last home game against Reading. "Going Down, going down" and "That's why you're going down" should not be too hard to explain.  

3799 days ago
As fate would have it. Every West Ham game I have seen this season seems to have been a defeat. As such I head off from Clerkenwell to Upton Park this afternoon, taking along a Real Man Pizza Company loyal customer, with some trepidation.
Alan Pardew comes back to the Academy with his side still a good outside bet for relegation. Their recent form is poor and my sense is that whatever happens between now and May 19th, come May 20th Pards is set to get his P45. For a team that thinks it is a "big side" Newcastle has had a lousy season.
By contrast the Irons have started to play some pretty decent football of late. We are now almost certainly safe from the drop and one sense that Messrs Nolan and Carroll will have a point or two to prove today. The odds have to be on a home win, 100% certainty of top flight football next year and Pards being one game closer to black bag time. But I warn you, I shall be heading down to the Academy in a couple of hours, the Albatross is on his way.

3833 days ago
Announced just before April 1st Paulo di Canio has been appointed the new manager of Sunderland on a 30 month contract. Good luck to him.  He replaces Martin O'Neill whose managerial career seems to be heading rapidly south and who was fired after Sunderland's most recent defeat. The team now lies just 1 point ahead of Villa and in form Wigan and the last relegation spot. If di Canio can turn this around he will be a hero. And it should not take much. Both Villa and Newcastle who are a place above Sunderland look pretty useless. Wigan are useless but always seem to escape the drop.
Di Canio has seven games to secure two wins and a couple of draws and ensure safety. Naturally I now hope that he manages to save his side from the drop (unless it is at the expense of West Ham who still need one more win). In response, David Miliband has announced that he is quitting the board in protest at di Canio's "past political views." That would be the David Miliband who is also quitting his poor constituents because he fancies earning loads of wonga in New York. Di Canio is a well-known anti-racist campaigner. Admittedly he is also a great admirer of Mussolini and Fascism, a philosophy rooted not (like Nazism in concepts of racial purity) but in the idea of a big state which controls the economy and spends lots of money. A bit like the last Labour administration in which Miliband served.
I cannot see how Miliband added much to Sunderland's board. As a London boy I am sure his support for the team was down to appealing to his constituents rather than a real passion. And the man was clearly happy for an excuse to sever another tie with the UK. I suspect that Miliband will be missed at the Wearside club almost as much as they will miss Martin O'Neill.
And sadly I am now resigned to Fat Sam Allardyce staying on at Upton Park after May for at least another two years.
The performance on Saturday by the Irons was exciting and attractive. But that has been the way this season. One game on and a couple off. It is not enough to get me to renew my season ticket. I may renew in a couple of years but £650 for 19 games when half of them are dire and I only manage to attend nine games (all of which are the dire ones) seems poor value for money.
I suppose that for a number of years I have felt less and less minded to renew my season tickets. The truth is that I have just fallen out of love with football.

3834 days ago
It was a good win. Three great goals with Andy Carroll's second and West Ham's third a wonderful strike. I will hold my nose and watch the BBC tonight just to see that again. West Ham looked dominant for most of the game, bar the first 15 minutes of the second half when I must admit to feeling a bit nervous. Overall a good day at the office. A few thoughts:
I cannot remember which West Brom player got himself a straight red in the 94th minute for sheer petulance but when folks say that most soccer players are morons, this guy strengthens that case. What a moron.
The Irons looked solid at the back and menacing up front. Rob Green always made me a bit nervous. Jussi made a couple of great saves and I feel quite calm with him between the posts. I suspect that radiates out to an assured defence too.
Now for the bad news. Wigan won as well and thus on 36 points we are still only 6 points (okay call it 7 because of GD) ahead of the trap door. I know that Fat Sam reckons 38 points is enough on the basis that it is hard to see Villa, Wigan and Sunderland each getting 3 wins (or two wins and two draws for Sunderland) from their last 8 games I am not so sure. Wigan always somehow manage to stay up and offer us another season of graceless mediocrity. Villa and Sunderland are big clubs who should have done better this season than they should. They might just have a run.
I rather hope that we beat Reading on the last day of the season when the Royals are already down but having seen the away leg first hand I bank on nothing. I would feel a lot happier if we could grab three points somewhere well before then. I have a horrible feeling that someone might get relegated on 39 points this season and that it might come down to GD at that. Three more points should be enough.

3834 days ago
Noble injured but Cole J. and Nolan back( as well as Linda!) I think I can live with that trade. The Premiership table is fascinating. I think we can now assume that Reading and QPR are down (23 points – 8 games to play. But the third team to go down? Wigan are on 27 points with 9 games to go and Fulham are in 10th on 36 points and 8 games to go. In theory any one of the 9 teams between Fulham and Wigan (including West Ham on 33 points with 9 games to go) could be going down with the Redknapp.
West Brom are safe (44 points), have lost their early season blinding form and have nothing to play for any more: no hope of Europe and no fear of relegation. Without that blinding start to the season West Brom would be fighting it out with the rest of us – its recent form should not drive fear into the hearts of the Irons. And so today who knows what will happen? If West Ham play as they can with Nolan offering steel and Cole flair we win. If West Ham play as we can (away at Reading or Wigan) it is 3 points for the baggies. You just cannot call this one.
A win and I would start to feel half safe. My instinct is that with a GD far better than Wigan and Villa (30 points) 39 points should be enough to stay up. We still have Reading and Wigan at home and Southampton away all of which are winnable games but I'd rather that we did not go into May 19th having to beat an already relegated Reading at home in order to ensure survival.
I pray for 3 points, going into April in 11th place and one win away from safety. My head tells me that 1 point would be a satisfactory and a not surprising result. COYI

3842 days ago
It looks as if we will be playing at home in an 80,000 seat Olympic Stadium for 99 years starting in c2016. Like everyone who supports West Ham I have mixed feelings. Green Street may be a shit hole but it is our shit hole.
I shall miss the various cafes where you can have some exceedingly unhealthy food before and after the match. I shall miss the Queen's dive though it is. I shall even miss my Jamaican barbours. And I shall miss Upton Park. For all its faults it is a ground with atmosphere. I have some very happy memories of the place.
But if we can start to fill the Olympic Stadium West Ham will have the financial muscle to be a Big Club and I know this will sound like heresy to some West Ham Supporters but I'd like to win something now and again. The question is can we fill an 80,000 seat stadium. Right now we sometimes struggle to fill a 34,000 seat stadium. There are c26,000 season ticket holders. If we are serious we need to double that number.
And that means that we need to engage a charismatic manager who can start RIGHT NOW to reach out to the wider community in East London and Essex and who will make a long term commitment to the club. If the contract of fat Sam is renewed in May then we can look forward to three more years of football which does not turn anyone on and three years with a manager who will not be there after 2017. And who does not have the charisma to reach out and get folks signing up for season tickets, etc.

If West Ham is serious about becoming a top six club it has to hire someone NOW ( well in May) who can deliver a seven year plan not only on the park but also in the wider community. There is only one man who can do that and that man is. Paulo di Canio.

3847 days ago
My daughter is finally getting the hang of supporting West Ham. She has assessed this afternoon's game and declared that West Ham has a "2% chance of winning." She may be a tad harsh but she is at last grasping the reality of being a West Ham supporter. We can all fantasise about Fat Frank being sent off, Joe Cole scoring a last minute winner for the Irons on his return to The Bridge, etc, etc. If we win we are on 36 points and within one victory of pretty much certain safety. Yeah, yeah, yeah.
But while we may have turned Chelski over at Upton Park, West Ham's away form this season has been dire. 9 defeats on the road is as bad as QPR and only Reading has lost more often away (12). Chelski has an 8-4-2 record at home and after today the odds are that it will be 9-4-2. There is simply too much of a gap in class between the big sides and West Ham. We might get the odd result but that is it.
After Ireland's humiliation yesterday I'd to think that God owes me one and will allow me some joy today. If he is reading I will settle for a goalless draw and Fat Frank sent off. How about that God? But I do not think God owes me one. I fear that my weekend of sporting misery will continue from 4 PM today. I cannot bear to watch.

3848 days ago
My formative rugby years were in the 1970s watching on a black and white TV screen with my Dad. Why do we support the Men in Green is asked my Dad: they always lose? Well my father and I still support the men in green. He taught me to do so as his mother had taught him and we have had a great couple of decades. But it is over. The good times have officially ended and we return to what I consider normality. That is to say a battle to avoid the wooden spoon.
This season has been terrible. For the first 45 minutes against Wales we looked like world beaters. Since then it has been just dreadful. Frankly the Irish ladies team (who, I think, won their grand slam) have played with more passion and discipline and – at times – skill.
It is the end of an era. Not once have I had a chance to call Aunt Valerie (an Ulster woman) to share joy in a way that she cannot with her husband Uncle Chris, as Ireland have triumphed. Calls to my father have been sad as we wonder if those glory years – a twenty year period when Ireland were not good but great as opposed to the normal fare of brave also rans – are just over.
I am not even sure that I would describe Ireland as brave these days. Back in the 70s we would pray for the rain to poor down on Landsdowne Road. Keep it tight in the forwards and fight with passion, pray and hope. The late Moss Keane, Fergus Slattery, those were the days. In defeat those Ireland teams were brave.
And now?

3855 days ago
It has been a given for months that QPR will be relegated. I found myself at Lunch yesterday next to a QPR season ticket holder and he accepts that they are going down but it is a funny old game football. I utterly despise Harry Redknapp but he can make awful teams look good. And QPR are awful. But have a look at the fixture list.
QPR's next three games, starting today, are Sunderland at home, Villa away and Wigan at home. All three are winnable. All the other bottom four clubs (Reading, Villa and Wigan) play either each other or sides they cannot win against over the next three weeks. And so one can construct a scenario whereby the Redknapp and his team sit on 29 points (three wins) and above the relegation zone as we enter April.
And the other teams will then really start to feel the heat. After April QPR still has a few games where they must fancy their chances: Newcastle and Stoke at home (the latter has a dire away record) and Reading away. QPR must still be odds on to go down and defeat today would be very bad news. But if Rangers can win the next three games then I would have thought they should be good to get 7 points from the 7 that remain and that might just be enough. Whatever my feelings for Redknapp I rather hope that QPR do achieve a miracle, it makes life more entertaining and as long as it is not at the expense of West Ham, my hopes are with them. Besides which I positively would like to see Wigan, Villa and above all Reading heading out of the top flight.

It would truly be the Great escape. But Harry has got himself out of tighter corners. It is just conceivable.

As for West Ham, now on 33 points and not playing for another eight days (Chelski away) you would have to hope that safety will be assured well before May 19th and the last game of the season when we face Reading at Upton Park. By then I suspect that Reading will already be down. They deserve to go down and 3 points for the Irons would be a good way for Fat Sam to end his spell at Upton Park.


3862 days ago
It was an ugly game devoid of skill and flair. If MOTD can find more than 90 seconds of highlights to show this evening I would be amazed. But having said that Stoke has a great home record and to come away with a one nil win is a great result for the Irons. At this stage of the season and on 30 points before today, who cares how we get the points just get us to safety.
And now we are on 33 points, nine (call it 10 because of GD) ahead of the drop zone. Two more wins should be enough, three wins from the last ten games really will be enough. I rather suspect that 37 points will be enough to ensure survival this season. So it is looking better.
But that does not alter my view. In May the West Ham board could offer Fat Sam Allardyce another 2 or 3 year contract and I despair that the Board seems minded to go with this option as it shows zero ambition. And so we will have two or three seasons of big ticket signings offering us a 12-16th place finish, no cup glory and football that three games out of four is a total turn off. Sam does not have the charisma or the youthful energy to reach out in the wider community in East London and Essex to build the widespread support needed to get the tills going ching ching and make West Ham a big club.
Paulo di Canio on a seven year contract would offer such a hope. West Ham's best days have been with a younger manager who has a long term relationship with our club and whose veins flow claret and blue. Give Fat Sam another contract and I shall not renew my season ticket. I shall always support West Ham but I am not paying £650 a year for more of this. Give the job to Paulo and I renew at once.
You get flamed on West Ham chat rooms if you are seen not to be "backing the club" but if I wanted to follow a dull team with no ambition I'd have switched to Fulham years ago. That is not the West Ham way. Can the board please show ambition and call Paulo the second that safety is assured.

3862 days ago
At 3 PM West Ham are playing Stoke. We always lose against teams from Grim Northern Shot Holes and Stoke is almost a definitive GNSH so i assume it is another nil points. I also assume that because our form of late has been dire. And the excused from Fat Sam Allardyce are just woeful. Please God may we avoid relegation. And please God may Fat Sam be let go in May and replaced with Paulo di Canio.
Among Fat Sam's classics from yesterday's Evening Standard were:
"If we had had Gareth Bale in our side we would have beaten Spurs."
Sam. You decided who to sign and who not to and God knows the chequebook was big enough.
"Now we have too many strikers fit ( 5) but not enough games to play in March (3)."
But Sam we keep losing. You could have seven games in March but lose every one and it makes no difference.
"We play better than the other side but keep losing"
Not always. We have been outclassed twice by Wigan and also by Reading away. They are rubbish sides. The fact is that our form has for months been fairly ropey.
39 points and our GD being so much better than that of Villa should ensure survival. West Ham is on 30. We have Reading at home to come and Southampton away. Get a win today and we are once again three wins ( given GD ) off the drop zone. Lose today and it could be less than two. If the rot does not stop soon then the pressure will mount as a relegation battle looms. It is vital that we try to come away from today's trip to a GNSH with at least a point.
But win, lose or draw we should not be on 30 points at the start of March given how much Fat Sam had to spend. This has been a disappointing season and only a thoroughly daft board would give Fat Sam another contract in May. Sadly on occasion West Ham has had such a board.
COYI at Stoke and viva Paulo.

3874 days ago
It had to happen sooner or later, Paulo di Canio's relationship with whichever consortium thinks it is managing Swindon Town these days has broken down irretrievably. It had become a bad marriage and di Canio has quit with immediate effect. Selling a key player behind the manager's back really is like shagging the wife's best friend. It was game over at that point.
Di Canio achieved wonders at Swindon and will, I guess kick his heels for a while not wishing to rush into a jon with the sort of club that sacks its manager at this point in the season – i.e. one heading for relegation. But come May the contract of Mr Sam Allardyce expires at West Ham. Even the biggest Fat Sam admirer must now recognise that this season is starting to look like a bit of a painful experience. We are on 30 points – still three wins away from probable safety and for from almost certain safety. I look at the fixture list and, I suppose, hope for 6 points from Reading and Wigan at home but frankly I cannot really plot a clear course to safety.
For all the money spent we will have 2 early cup exits and a league finish of 12th- 18th to show for it. That is why Fat Sam is now at 10/1 the bookies favourite for the next Premiership managerial P45 – although it is probably about time for Chelski to sack someone again.
My reason for wanting di Canio

3882 days ago
Greetings from deluded lefty central in Shipston-on-Stour. I think I got both sound and picture right this time! A short video as an afternoon of sporting misery beckons.
On the agenda
1. Cupid
2. S&U
3. UKInvestor Show
4. Market rotation bonds vs equities: Tom Stevenson
5. Inflation & equities
6. Gold and silver
7. The ability to price set
8. It is not a matter of life & death it is more important than that.

3882 days ago
The white bear in Shipston seems to be populated by folk who support Aston Villa and England. Given that we are on South Warwickshire that should be no great surprise but as a West Ham and Ireland support I have had enough. And it is going to get worse.
West Ham lost 2.1 and were useless. This is the third time this season that we have given hope of a kickstart to useless sides (Reading, Wigan and now Villa). I hope that we stay up although that is by no means guaranteed. But surely no-one can want another season of this nonsense. At the end of May Fat Sam's contract is up and he has got to go. West Ham will finish this season between 12th and 18th and with two early cup exits to our name. Enough is enough.
At half time Ireland are trailing and our captain could not catch a cold at the North Pole. So much for the Lions Jamie. My father is earnestly praying for divine intervention at Church right now but I fear the worst and if we are to be vanquished by the Old Enemy I'd rather watch in misery alone than surrounded by cheering England supporters. What next?
Oh, my sister Tabby and her family (England, Man United and deluded on all matters) arrive for supper. I have a long list of restricted subjects which I am not allowed to mention but she has none, I am under orders not to respond on any matter.
Postscript: No rows with Tabby. I bit my lip once but all very amicable. Her husband opined that only aristocrats read the Daily Telegraph ( theirs is a Guardian reading household, natch) and I was unable to hold back then generally all peace and brotherly love.

3882 days ago
For once West Ham are spoiled for choice. Andy Carroll, Mo Diame are fit and on fire. The starting eleven almost picks itself but – and I never thought I'd ever write this – there is competition among top class players to just get on the bench as an attacking player. Carlton Cole gets the nod but Maiga is back from Africa Cup duty and Wellington Paulista has scored three in three for the U-21s. It is an odd position to be in.
The last time I was at Villa Park was for that memorable John Lyall FA Cup Semi against Middlesbrough. The week after the great man died the crowd was asked for a minute's silence. The ref's whistle blew and you could have heard a pin drop. Suddenly someone shouted out "Johnny Lyall's claret and blue army. For a second there was shock & silence. Then everyone was chanting along. It was truly emotional and of course we won the game ( Marlon Harewood goal). The video below recaptures what was a spine tingling moment.
After the game, I headed back to the station in a cab shared with three Middlesbrough supporters and my old friend Derek Musgrove.

3883 days ago
Lo and behold a resurgent Wales beat the Froggies (who are now 0 from 2 but were pre tournament favourites), Scotland thrash Italy in what was meant to be the wooden spoon game and today's match in Dublin could be the Championship decider. Although I would not rule the sheep shaggers (Welsh department) out yet.
England are, of course, the old enemy and when they arrive in Dublin full of swagger and arrogance as they do now, the desire for victory is greater than ever. And there is also the romance: in Brian O'Driscoll's last season of six nations rugby might the men in green pull off a famous victory? If they play as they did in the first half against Wales they might win. Play as they did in the second half and there will be misery in Sheep Street, Shipston.
For I am back with my deluded lefty father and step mother. It is the former who brought me up to support "the Old Country." For me tomorrow afternoon is a simple matter. Lunch. Then the White Bear to watch West Ham away at Villa. And shortly before 3 my father will arrive. I shall remove my West Ham hoodie to reveal an Irish shirt, we will switch bars and off we go.
My father has a dilemma. At 4 PM my step mum is preaching in Shipston Church. If Ireland are behind he will not want to watch and will head off to Church to pray for a BOD inspired comeback. If it is even Stevens he has assured my step mum that he will go to Church where he will pray earnestly for an Irish victory. So, I asked him: what if Ireland are 50 points ahead with 30 minutes to go: God vs. Pub, a chance to watch a famous victory with your son, the landlord ( also wearing green) and a bunch of miserable England supporters, or your second church service of the day? Hmmm. He admitted that would be a tough call. But it is – sadly – also an unlikely scenario.

3893 days ago
Pete Finch is a Bulletin Board Moron who does not like me. He has posted a couple of comments on an article I did the other day. Sometimes he logs on as [email protected] and sometimes as [email protected] but he is a consistent fellow.

3898 days ago
God I am getting old. I knew Aubrey Brocklebank's dad about twenty years ago. And now I find myself talking to the son. It is rather like hearing the name Potts at West Ham. I think gosh Stevie must be getting on a bit and then realise it is his son Danny on the pitch. Anyhow AB is a fund manager now doing a spot of writing and being a switched on fellow I am happy to help promote his ideas. As it happens his second article as a journalist is once again on Dignity (DTY) which I wrote about the other day as well. We seem to agree. 'Natch. Over to Aubrey…
Buy and build strategies can, in principle, be a good idea. They can, theoretically deliver shareholder value. The simple idea behind them is that the acquiring company buys a business that trades on a multiple of 5 and by being able to trade on a multiple of 10 has effectively doubled its value; albeit a paper gain only.
Dignity has recently announced the acquisition of Yew Holdings (or at least part of their estate, subject to OFT clearance). In order to fund said acquisition Dignity have raised money at 1060p. At that price Dignity trades at historic EV/Sales of 4.3 and rolling EV/Sales of 3.99 – They have paid an EV/Sales of 5.66 for Yew Holdings.
Making a few assumptions about the business (26% tax rate, depreciation at 3% of sales) we see a net profit of £4m for Yew. Factoring in the Cap Ex, and brokers fees, Dignity paid a total of £60m for this business. This is a Price Earnings of 17.15! When the rolling PE of Dignity was 13.51 (at time of acquisition) it must be questioned how much value this adds to the company? A PE of that level can only be justified when there are significant growth opportunities.

3904 days ago
I have looked at the table from the bottom up since the start of the season. If you have been a West Ham fan long enough that is your routine. And gradually that exercise has taken less and less time. Today's game is a match we really must win.
QPR have new signing Remy but are not that good. Rednapp has started to turn things around but on 14 points from 22 they have just 16 games ( of which four are against big name clubs where they will secure nil points) to get to 40 and safety. In effect they have 12 games left to secure 26 points. Thus QPR have to win today. I really hope they do not. West Ham's financial woes started with 'arry's ludicrous transfer wheeling and dealing which ultimately did not benefit the club. Who did benefit? Answers on a postcard to a luxury mansion in Dorset. 'arry then went to the Scum. He is uncle to Fat Frank Lampard and that gives me three good reasons to hope that QPR join Reading in heading back to the Championship.
West Ham are on 26 points. So we have only another 14 points to bag to be (probably) safe and 17 to be safe beyond doubt. Wigan, Reading at home, Southampton and Villa away and …QPR at home are the games I am sort of banking on. But the fact is that our recent form (bar the home cup match vs Man United) has been piss poor. I hope Joe Cole plays and we might get a result. But I am getting increasingly nervous.
I shall comment on managerial change at Southampton later. But even the most blinkered Fat Sam Allardyce fan must now accept that this is not a season to be proud of. League cup disgrace,

3909 days ago
It was a great 45th and rounded off with this present in the picture below. I have been wearing it ever since Saturday (even in bed). If you are no au fait with soccer, West Ham is known as The Academy becuase while other clubs buy in talent we nurture it.
So when West Ham won the World Cup in 1966 the backbone of that side (Hurst, Moore & Peters) came through The Academy. Today's West team contains graduates like Noble, Tomkins, Collinson, Cole (J) and the younger Potts & Moncur boys. And elsewhere in the Premiership academy graduates include Fat Frank Lampard, Rio & Anton Ferdinand, the well known multi-cultural awareness campaigner Mr Terry and Michael Carrick.
A great present.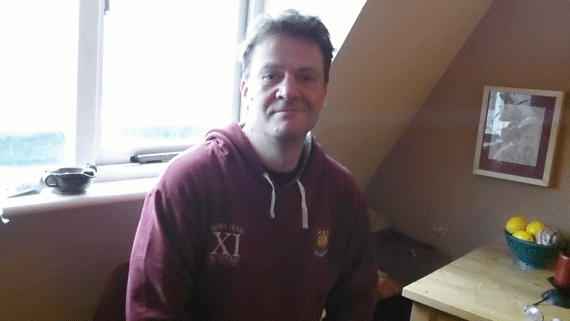 3915 days ago
God I am getting old. I knew Aubrey Brocklebank's dad about twenty years ago. And now I find myself talking to the son. It is ather like hearing the name Potts at West Ham. I think gosh Stevie must be getting on a bit and then realise it is his son Danny on the pitch. Anyhow AB is a fund manager now doing a spot of writing and being a switched on fellow I am happy to help promote his ideas. As it happens his first article as a journalist is on Dignity (DTY) which I wrote about earlier today as well. We seem to agree. 'Natch. Over to Aubrey…
"In this world nothing can be said to be certain, except death and taxes." [1]
Price 1,088
Market Cap 595
Price/Earnings 20.0
Price Book 35.1
Yield 1.3%
Dignity is a much loved small-cap stock. Panmure, N+1 Singer, Numis, and Investec are all bullish on DTY and have buy notes written about it. Only Peel Hunt is less bullish, though not enough to write a sell note. Supposedly this is a very secure and stable business and is deserving of a PE ratio of 20. Certainly from the price chart alone I might have to agree.

3918 days ago
It is a 5.15 kick off so for now I can relax and look at how the other games are unfolding. I was chatting to a Newcastle supporter yesterday and the mood at whatever the stadium is called these days must be very bleak right now. On 20 points in the league (just two points above third bottom Wigan) and today out of the Cup thanks to Championship side Brighton. The side has injuries, its best player has just gone to Chelski ( and scored already) and I suspect that West Ham old boy Alan Pardew must – at the back of his mind – be starting to think that a P45 is on the way. Newcastle thinks it is a big club and unless Pards turns it around quickly, he looks like toast.
As for West Ham, Fat Sam has been active in the transfer market. Two new strikers (Maguire and Chamakh) are on board given options other than Carlton Cole up front with Carroll still injured and Maiga off to the African Cup ( and perhaps shipped out in the transfer windown anyway). But Joe Cole will almost certainly be playing today. With him, Jarvis (he of the covershoot in gay magazine Attitude fame), and Noble (if on form) playing behind Cole we do look able to score goals. Top scorer Kevin Nolan is back from suspension and although he is not universally loved I welcome his return. He may slow the game up a bit but a) he scores and b) he adds a bit of grit in defence which is where I always panic.
Injuries means that we have recalled young Danny Potts from his loan spell at Colchester.

3919 days ago
Lucian Miers often finds himself overshadowed by the larger than life figure that is Evil Knievil (Simon Cawkwell). The two men sometimes share ideas and bear raids but on other occasions they disagree. They are very much their "own men." I sense that perhaps because of his casual and light hearted approach to life, folks underestimate Lucian. That is a mistake.
Known as East London's most feared short seller, Lucian is about as much of a cockney as myself or Prince Charles. His family used to own rather large amounts of real estate in the area around Upton Park and hence "the Bard of the Boleyn" is a devoted West Ham supporter. But he is (like Cawkwell) quite a posh public school educated fellow. And like Cawkwell he did not quite make it passed the final interview when it came to applying to Oxford. That is not to say that Lucian is not very clever, just that he is perhaps not a true academic.
The highlight of Miers career as a stockbroker was his short selling of Pan Andean Resources as the world and his wife bought the stock on the back of hopes (and puff pieces in the Daily Mail) for South American drilling success, Miers took the trouble to call the site of the well on the phone to be told that it was dry and that the directors were at that stage flying back to Ireland.

3920 days ago
Yossi Benayoun has not flourished in his second spell at Upton Park and so has returned to a career sitting on the bench at Chelski. I wish him well but in terms of who is coming back to Upton Park I could not be happier, it is Joe Cole, a midfielder who can run with the ball, pass and who will add both skill and also attractive play to the side. We now have genuine options in the middle of the park.
I remember a bloke who sold flowers outside Finchley Road tube station telling me about his nephew who was a 15 year old at the Academy and who would be better than Rio, Fat Frank and the others of that era. That was Joe Cole. Unlike the others Cole was not keen to leave Upton Park in the years we struggled. And this week he could have gone to rejoin 'arry at QPR but instead came home. Of course that is largely as Redknapp himself admitted – because Rangers will, notwithstanding the Chelski result, almost certainly still go down in May.
But Cole has always been liked by the supporters. And he clearly regards West Ham as his home club – we must hope that he plays out his career in East London. In signing him, the board shows that it has ambition. This does not change my view that Fat Sam Allardyce needs to go in May and di Canio also needs to come home as manger. But it means that the next few months should not be quite as grisly as I had feared.

3921 days ago
Forget the fiscal cliff, my share tips of the year or why Fat Sam should be sacked as West Ham manager in May. Forget my pilgrimage to Margaret Thatcher's birthplace, my Christmas culinary triumphs or my witterings about music – I am currently listening to Lene Lovich in case you were wondering. Judging by tweets, postings ion the blog and emails what folks want to know about is Oakley, my eleven year old cat who as of the week before Christmas has only three legs. Quite right… first things first.
He is not quite himself but the trend is positive. No longer does he have to wear the collar of shame to stop him scratching where his leg used to be before it was removed to deal with the tumour. He can scuttle around the place at quite a rate when he wants to. Which is not often. He can now jump up onto a bed. Rather frighteningly he was also able to jump out through a window and onto a slippery ledge four stories high. I panicked (being someone who suffers from chronic vertigo). He waited until I had left the room screaming and then hopped back through the window and sat there calmly grinning at me as I rushed back in.
Tara, my other eleven year old cat, is now sleeping alongside him and seems to have come to terms with his new shape. Indeed she rather enjoys the fact that Oakley demands to be carried to food since she can nick most of his meal before he realises it is there. In some ways he is back to his old self, crawling up the bed so that he can look directly into your face all night. In other ways there is still a bit of hesitation. There is a tendency to hide away most of the time under a bed or behind a door waiting to be fetched to be plonked onto a sofa.
He seems to be slowly coming to terms with what has happened although the poor creature will never understand. It is only two or three weeks ago that his leg was removed and so I am not surprised that he has not fully adjusted mentally. But the trend is positive. Thank you for all your kind wishes. I shall endeavour to post a couple of new photos next week.

3922 days ago
Skipper Kevin Nolan is out thanks to suspension. So much for the lack of yellow card discipline you get with Fat Sam. The good news is that for the same reason the hopeless liability, sorry should that read bedrock of our defence, that is James Collins will also miss the game. Norwich will be gutted about that one.
There are no key players returning from injury and so the four man midfield lining up behind Carlton Cole and Vaz Te upfront will be Noble, Jarvis, O'Neill and Taylor. I cannot say that this strikes me as either rock solid or threatening. Having said that Norwich have a few key players missing too and so it is hard to call the result.
What we do know is that if we win we go to 26 points and that would see some clear claret and blue water between us and the teams battling to avoid going down with the Rednapp and with woeful Reading. That is to say Villa, Southampton, Wigan ( who are bound to escape as the bastards always do) and – arguably – Fulham. If we lose we will have won one game in nine and have been sucked back into the relation mire.
So this is a must win game. I am doing my bit by staying away as West Ham never win when I attend. Having witnessed the Reading debacle first hand I cannot say that I am optimistic so I am off for a long walk and will say a prayer.
Whatever the result I am more and more certain of one thing. The deal with Fat Sam was that we might not like his style but we paid that price for not having to start January contemplating the awful possibility of a relegation dogfight. Whatever happens today, I stand by my view of the other day that in May Sam must go and we need to appoint di Canio as our new manager on a long contract.
COYI, I say rather weakly.

3923 days ago
There will be folks who say that you should back the manager when the club is in trouble. And make no mistake, West Ham is heading for a bottom half finish and if we do not start winning a few games (1 win in eight now) we could still be going down with the Rednapp. And with dismal Reading. My suspicion is that one we get a few players back from injury and with Gold & Sullivan prepared to chuck cash around in the transfer window we will stay up. But it is not a given. And in May West Ham must decide whether to renew the contract of Sam Allardyce. I do not think we should and here is why we should say farewell to Fat Sam and bring Paulo di Canio to Upton Park at once. I start with Sam.

3925 days ago
Vaz Te missed an absolute sitter late on. James Collins handed Reading an early goal with his speciality suicide back passes. It was an ill tempered and unattractive game with neither side showing any flair. Both teams looked like the sort of sides that deserve to get relegated. I am struggling to remember the last time I saw a football game this bad. The girlie's soccer at the Olympics maybe?
Reading will not play many teams that gift them goals in the way Collins does far too often. And 9 out of 10 Premiership strikers would have snaffled Vaz Te's chance. If this is the best this side can offer (and judging by the crowd's unbridled delight, I sense that it is) then on 13 points, Reading are indeed "going down with the Rednapp." Reading are just a crap and boring side and there is no doubt in my mind that they will not only go down but that 'arry's QPR will overtake them in the final furlong leaving the Royals bottom of the table. That would be a fair place for them.
But as for West Ham, we were awful. I stayed to the end but could not wait to get away. I cannot say that I took anything positive away from the game at all. No-one played well and some

3926 days ago
Will Reading get relegated this season? Is paedophilia a national sport in Belgium? Do sheep get nervous when they cross the border into Wales? Is the Guardian a paper fit only for lighting fires with and using in the cat's litter tray? Is the Pope a Catholic? Of course Reading (and QPR) are going down.

3933 days ago
Unlike most writers, I do actually run my own small business so my tips come from real life. I know what it is like to be in at the deep end. You wake up in the middle of the night recalculating cashflows, thinking about that next order or about a troublesome member of staff. Your other half asks you what you are thinking about and you dare not admit that it is ( yet again) work rather than what you are meant to be cooking her for a romantic meal. I just say I am thinking about West Ham's next game. That ends the conversation. Please do not let my other half know that there is a summer break for soccer otherwise I am in deep trouble.
But this time of year is different. There will be virtually no business done next week. My restaurant is closed. No-one will be reading any articles I publish. In fact is anyone reading this? So whatever great plans you make, whatever business decisions you take cannot be implemented until Wednesday January 2nd. That, for what it is worth, is the first day back at work for my colleagues. The restaurant re-opens and the writing begins in earnest again. But I cannot see us doing much trade that week either.
As such the great plans I have for 2013 can wait until then. The sales calls that I tried to make pre Christmas but where I was foiled by Christmas parties and year end audits can start again then. The new wine and beer menu can be printed then

3938 days ago
My correspondents in Stoke assure me that West Bromwich is a Grim Northern Shit Hole and that alone should make me nervous ahead of a 4 O'Clock kick off at the Hawthorns today. West Ham has a dire record against GNSH sides. Adding to our woes, the injury list grows by the day with Linda McCartney the latest casualty. Losing Diame last week was a blow and a midfield of Noble, Nolan and O'Brien is not quite the rock it once was.
Up front Carlton Cole has got the big C – confidence. Well what to make of it all? West Brom started the season superbly but has now lost three on the trot. Having said that, West Ham's last five games have seen us pick up just 4 points so neither team could be described as a "form side." So, on balance the home team must be favourites. And that brings me back to the question of relegation once again. I am sorry to be gloomy but have you looked at the table recently?

3943 days ago
There was something from Sunday's West Ham match which I forgot to mention showing that the spirit of entrepreneurial genius is alive and well in the East End. Walking back from the ground was a man selling Arsenal loo-paper at £5 a roll. Being a little short sighted it took a whole for me to see why this was not a rip off. Lovingly depicted on each sheet of loo paper was a picture of a different Arsenal player. The entire squad plus Arsene Wenger. I passed on the offer. Of course had it been Spurs loo paper that might have been different.

3944 days ago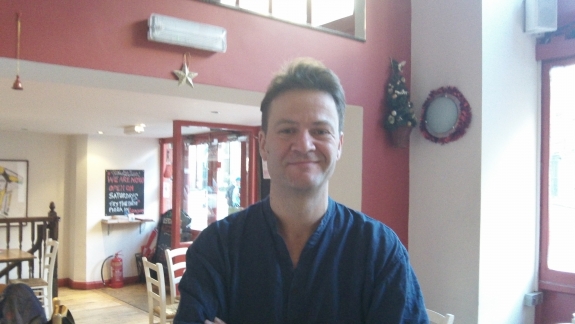 Green Street is not only a film (starring the hobbit) about football violence at, ahem West Ham, it is the road that runs alongside the ground. Once every two weeks it is a beery place packed with fat white faces. The rest of the time it is pretty much an ethnic ghetto. I wonder how many of the folks who live there support West Ham. How many of them loathe the club. I don't know. There is little interaction.
But, having an hour to kill yesterday I interacted and wandered into the "Unisex saloon" for a hair cut. I was the only non afro Caribbean there.

3945 days ago
Do you prefer to lose when your side just play plain badly and deserve to lose or when you are good for a draw and are just unlucky? I thing I feel more resentment at over paid football woosies who do not really care when the former happens, with the latter it is just one of those things about life. It is not fair. But that still makes me cross.
And so it was yesterday. Losing Diame to injury was a blow as he was inspirational. Arguably that turned the game. But I still think we were good for a point. Hat off to Joe Cole for not celebrating his goal. There is not a lot more to say.
West Ham are now 11th. West Brom, Everton and Reading ( away) loom. Since we always lose to Everton (it is after all in a grim Northern shit-hole and we always lose to teams from such places) we then look to the other two games.

3945 days ago
Sign on, sign on, with a pen in your hand, and you'll never work again. Sign on. Sign on.
Or perhaps given the time of year and a chance to think of those less fortunate than ourselves a few choruses of "Feed the scousers, let them know it's Christmas time." Actually I have no hard feelings for Liverpool. My Aunt Lucy's family are all Liverpool fans and my sister was born there. She clearly picked up the Souse mindset in those early days. As a Doctor paid £50,000 plus for two days a week she fits in well: living off the state and not doing much work.
When football Santa grants me the chance to decide the league table, I won't really be thinking about Liverpool. Naturally Santa and I will start at the top. West Ham to come first. Then Santa and I will head straight to the other end. The old man in the beard does not need to ask the first question. Spurs to finish bottom. And then

3952 days ago
I did my bit by staying away as my presence always ensures West Ham defeat. But even with this heroic sacrifice I did not expect a result like this. Unbelievable. From Stamford Bridge to Upton Park you can stick the blue flag up your arse. Frank Lampard's fat, Joe Cole's er… not here, you're going to win fuck all this year. And more to the point it looks as if West Ham might not be relegated.
Yup I am still looking bottom up. 15 games down 22 points and 8th. Had we not been cheated by a linesman with a guide dog against Man City and did not have this nasty ingrained habit of messing up against second rate teams from grim northern shit-holes who we should beat ( Stoke and Wigan) we would by now be on 29 points and challenging for European football. But one step at a time. Avoiding relegation first.

3953 days ago
There is good news. Since West Ham almost never win when I go to Upton Park you will be glad to hear that I am not attending today's game (Kick Off 12.45). My tickets (Trevor Brooking lower) are with the Bard of the Boleyn, my disreputable pal Lucian Miers and an even more disreputable friend of his dragged from a gutter somewhere plus the (ultra posh) Goddess who makes the second visit of her life East of Canary Wharf. She seems to think that she might support Chelski (not knowing anything about football) but perhaps her second visit to The Academy might dissuade her. I do hope she does not scream an inappropriate comment at an inappropriate time.
The bad news is that despite my absence anything other than a Chelski win is very unlikely. Yes the team with no history

3953 days ago
How many clubs in the Premier League make a profit? Er.. Man United sometimes bit not much of a profit and certainly enough to justify its market valuation. But the rest are all losing money and so in an industry pursuing Hari Kiri economics it is no surprise that last year the top 20 soccer clubs in the UK pissed at £77 million on agent's fees alone. Leading the way was Man City with £10.5 billion frittered away but it is the next few big spenders that says it all.
The next most generous were Liverpool (£8.6 million) and QPR (£6.8 million) not far ahead of Harry Rednapps's Spurs. Liverpool have had one of their worst starts to the League in decades. QPR are bottom of the league and have already fired their manager.

3958 days ago
Not only did my beloved West Ham lose at arch rivals Spurs but some of the travelling West Ham supporters engaged in patently anti-Semitic abuse. I think you know my views on Spurs ( intense dislike) but also on anti Semitism ( rabid dislike). My mind is filled with various thoughts.
I know what will have been said or rather hissed. There is a hissing noise mean to be reminiscent of the gas chambers. Adolf Hitler is Coming for you – a variant of Tottenham Hotspur we're coming for you, will have been chanted. I remember hearing "There's only one Adolf Hitler" being chanted at a Spurs game a long time. I cringed with shame.

3959 days ago
Nervously I look at the Championship and see that the form side is Millwall. Now 6th they are on fire and have got to be thinking that they can still secure an automatic promotion spot if the current form continues. I was at Upton Park the last time West Ham met Millwall and have no desire to go to another Derby game ever again. In the absence of Millwall our nearest rivals are Spurs who we play at 4PM today at White Hart Lane. The scum. It is more than the fact that Spurs are local rivals.
There is the little matter of Master Defoe. Judas.

3964 days ago
On form going into the game West Ham should have been favourites. I had this one down as one where three points should have been taken before Lucian Miers reminded me how badly we do against sides from grim Northern shit holes.
Certain readers who live in the truly grim Northern wastelands insist that Stoke is in fact in the Midlands or the South. I find it hard to believe. Stoke used to have coal mines and apparently 24.2% of the non pensioner population live in households where no-one has a job. They elect a donkey with a red rosette, the biggest employer in the town seems to be the State and its most famous living sons include darts legend Phil Taylor and Robbie Williams as well as Lemmy from Motorhead. I rest my case: Stoke is a grim Northern shit hole.

3965 days ago
My good friend Mr Rowley from Stoke has fled to Nepal to miss this game. I have handed my tickets to Lucian Miers as my presence at the Academy does not tend to bring West Ham good fortune. So that is a reason for optimism. But, as Lucian points out, our record against sides from grim Northern shit-holes is a poor one and so he fears for the worst. I am afraid that despite our recent form so do I.

3967 days ago
West Ham are not playing until Monday night and so nothing needs to be said about may favourite team today. Naturally I was delighted to see Spurs routed by Arsenal and the sending off ( entirely justified) of Adebayor is a bonus as he now misses the looming visit of West Ham to White Hart lane as he will be suspended.
At the bottom of the table, not an area which – to my surprise – features West Ham, QPR lost 3-1 at home to Southampton, one place above them at the start of the day. This leaves QPR on 4 points after 12 games and the only team in all four English leagues not to win a game all season. Mark Hughes, QPR's manager, really must be set to encounter a P45 before long.

3973 days ago
I had it down as 1 point at best. But Kevin Nolan returned to whatever St James' Park is called these days to haunt his old club. West Ham defeaedt Newcastle one nil to record our first league win against the Magpies since October 31st 1998. Sam Allardyce ( sacked by Newcastle after eight months in charge) will have enjoyed the win. It seems to have been a close enough game and sometimes lady luck smiles on you. A good day at the office – the league away record now shows 2 wins, 2 defeats and a draw: no disgrace.
A test of how long you have followed West Ham is how you look at a league table. Naturally I start at the bottom. My daughter is now a fully trained supporter and in her second full season seems to think you start at the top.

3973 days ago
I sense that my sorting solace this year will be Paulo di Canio's Swindon Town. As predicted here yesterday, Walsall away (I still have no idea where Walsall is, and am not sure that I care greatly) was no great hurdle. A fine 2 nil win now sees my second team sixth on 29 points. But with a cracking + 11 gold difference the Robins (I am getting the hang of being a Swindon supporter) are now just three points off second place.
There are, sadly, now no cup distractions.

3974 days ago
West Ham ( or Vest Hem for my Albanian readers – a fact my father picked up last week while visiting Europe's second fastest growing economy) travel to Newcastle for a 3PM Sunday kick off at whatever St James' Park is called these days. We have not won in the league against Newcastle since 31st October 1998 (3-0 at Upton Park, Wright 2, Sinclair) and frankly I cannot see that changing this weekend.
Newcastle has a couple of players out thanks to suspension and Alan Pardew also has a couple of late fitness tests to concern him. But West Ham

3975 days ago
I tipped oil and gas producer and explorer Northern Petroleum on t1ps.com, the site I founded in 2000 and edited until this September at 13.75p. The shares raced ahead to almost 150p but have since declined to just 64.75p. But news out today suggests that the company is making a step in addressing one issue it has, next up we await drilling news from Guyane.

3978 days ago
After 6 billion dollars and what seems like an eternity of evasion and unfulfillable promises America must decide today whether to re-elect President Obama or to replace him with Mitt Romney. What a god awful choice. It is just like Manchester United versus Chelski, you want both teams to lose. But after another evening with deluded lefties I think I have now decided who I want to lose less.
Rating the two men on a number of issues is a pretty thankless task but here goes on what matters to me.

3980 days ago
Well there is to be no more cup glory for Swindon this year. Dumped out of the FA Cup against non league Macclesfield at home two nil. One red card, three yellow cards and one of the goals was an own goal. One imagines that Paulo di Canio will have had a few words with his players and that they will not have been "cheer up, let's all concentrate on the league and promotion now." What a shocker.
As for West Ham a nil nil home draw against Manchester City is a bonus point. From what I have seen either side could have won and West Ham played with pride, skill and organisation. Surely this is a West Ham in a parallel universe or we have all been transported back forty years, it is all rather hard to believe. Anyhow, I am not complaining and feel that I did my bit by staying away, given how my presence seems to ensure defeat.

3980 days ago
Once again I manage to get both sound and light perfect. And this week no banging window either. I am getting the knack of it.
A charming girl called Zoë helped me film a CEO video last week which will be the first to go live on Nifty Fifty this week. Along with a raft of new investment ideas. For more details on that click here.

3981 days ago
I am under no illusions here. We can all work out where West Ham will get the 42 points needed to avoid relegation and none of us bank on Man City at home providing three of them. Man City is one of the three top sides in the Premier League and my expectation is that from the six games against them, Man United and Chelski we will do a Eurovision Norway. Nul Points. I would be delighted to be wrong.
The good news

3988 days ago
I switched off when West Ham went 2-0 down. Wigan looked the better side and took only a few of their chances. West Ham were piss poor. That is part of being a West Ham supporter. One week you look majestic the next week you give Wigan, hardly a class act, their first home win of the season and make them look (almost) good. What a load of rubbish.
That now makes 3 of the last 4 halves played by West Ham piss poor with only one 45 minutes of glory. Now West Ham face a string of tough matches.

3989 days ago
I have never been to Wigan in my life and will not be breaking my duck today. It is snowing in the North and with its Orwellian echoes the town sounds like the sort of place I can live without ever encountering. The same could be said of its football team and the Premier League. Wigan Athletic brings nothing to the top flight. No great history, no grace, no style, small home crowds, nothing, apart from a certain mean spiritedness from chairman Dave Whelan.
Ask any football fan who they want to see relegated this season and other than the obvious contenders (Man United, Man City and Chelsea) I would imagine Wigan would be up there. My personal wish list for relegation? Man United natch. Spurs – as always. And yes I'd probably go for Wigan.

3990 days ago
I have been a market reporter. I know how it works. Someone you know calls you with what seems like a good story. You run it. Your team is on the box that night. You file your article. Good job. But just occasionally you are being played. The question is by whom? And unless someone points out how you have been lied to you will trust that player again. So just to help Geoff Foster, the excellent market reporter at the Daily Mail: Geoff, my son, you were kippered yesterday on AIM listed penny dreadful oil stock Sefton Resources (LSE:SER). You may wish to put in a call today to see why.

3995 days ago
The first half was dire. It was nil nil but the Saints were far better than West Ham. But the second half was essentially one way traffic. Nolan, Noble, Noble (pen) and a blinder from Maiga offset by one cracking Southampton goal left it 4-1 to the cockney boys. Triumph. I watched it on the internet and was shouting pretty loud by the end. If the Irons can replicate that second half form week in week out this will be a great season. They will not.
And so after 8 games the Irons are on 14 points with a +3 GD. Exactly the same as Spurs and in 7th place. If you support Spurs you are at this point thinking that you might get a European spot. Naturally I hope that they do not.
As a West Ham supporter I find myself thinking that we are now exactly 1/3 of the way to safety.

3995 days ago
Last season in the Championship Southampton were better than West Ham. So far this season we are ahead on points but the reality is that we have had an easy start to the season while the Saints have had some tough old games. And so back at fortress Upton Park ( yes that is irony) this could be anyone's game.
Like West Ham, Southampton look a bit dodgy at the back but can score goals. With Vaz Te out I hope that Yossi gets a start as he could cause real problems. Start with my favourite living Israeli, Carroll and Jarvis and there should be goals.

4002 days ago
As regular blog readers know I have a boxed set of every episode of The Sweeney – the original 1970s series starring John Thaw and Dennis Waterman. It is one of those DVDs that I can always pull down and watch to cheer me up in bad times. And so I approach the release of the new movie, the Sweeney, starring Ray Winstone in Thaw's role ( Inspector Regan) with some trepidation.
Part of the appeal of the original series ( other than the violence, the wit and the nostalgia for a past era) is the repartee between Regan, Sergeant Carter (Waterman) and their boss ( the solid and straight Haskins, played by Garfield Morgan). They all come from different backgrounds.

4008 days ago
There is little to be said about the match. It was a great atmosphere. Arsenal took their chances. West Ham did not. West Ham were not completely outplayed and – at times – were on a par. Why Fat Sam replaced Vaz Te with Taylor and not Yossi defies belief. That could have made a game of it. But the better side won.
Naturally a London Derby is going to cause high volume tube traffic. So why the hell, Mr Mayor, did you schedule major repairs on the District line and block off sections of the Hammersmith & City on a match day? You promised that post Olympics the tube would run smoothly. Well I guess that was a Nick Clegg sort of promise. You git.
Getting from Liverpool Street to Upton Park is normally one change

4010 days ago
Family time overnight in Shipston on Stour. Everyone very tired and it was an 8.30 bedtime for me. Early to bed early to rise and my mind now starts to turn to the home game vs Arsenal. I am attending along with former babysitter Neil Masuda (the man who broke the Howard Jones three in a bed scandal) and The Goddess who is getting out her passport for her first visit to East London. An odd grouping.

4014 days ago
It is well known that my attendance at West Ham games brings almost certain defeat and thus I trust that Hammers across the world will thank me for not heading along to Loftus Road tonight. A 2-1 win sees the Irons on 11 points after just 6 games. Last time we were in the top flight it was sometime like December before we reached that number of points.
Put it another way, with 16% of the games played we are 26% of the way to 42 points (the highest ever points total to be relegated – er, West Ham) and 27.5% of the way to 40 points (almost certain safety). QPR, Norwich and Reading look pretty good bets for the drop. Surely Wigan who bring nothing to the top flight will slump at some stage. If you are a West Ham fan

4014 days ago
I am interested to see Iain Dale speculating about who will fill the managers chair come the end of the season. Alladyce's contract comes to an end and apparently there will be no discussions until Premiership survival is ensured. So that would be about late April then.
It seems that some within the club who want to see a manager who favours a more free flowing (i.e. less dull punt the ball up the pitch to the big guy) style of soccer. And as such the names in the frame are 'arry Rednapp and (my choice) Paulo di Canio.

4020 days ago
It is the Capital One Cup tonight. Wake up, really it is meant to matter. West Ham is at home to Wigan. Call me a fake hammer but I cannot get excited and am staying at home to watch a Midsomer Murders special instead.
Wigan is a poor team. Come May they will be in the bottom six and so they will rest players and focus on the League. West Ham are not a great team but a good enough one not to be in the bottom six come May but no chances will be taken and players will again be rested. Perhaps that means a start for Yossi instead of Vaz Te or for Tomkins ahead of Collins and Linda (McCartney) ahead of Matt Taylor. In all three cases I hope so and I hope all three have blinders and thus keep a first team place on Saturday.
I have always been a Yossi fan

4021 days ago
And so I left London on Saturday night. Chocolate pizza with my daughter, a spot of business in Wandsworth and then the 9.30 from Paddington. Is there an Agatha Christie novel with a title a bit like that? Since I am now on the 4.47 AM from Bristol and cannot access the internet I do not know the answer. And feeling a bit tired ahead of a hard day in London I am not sure that I care.
The journey down to Bristol was one that made me feel old (as I was surrounded by young people) and sad (as they were all such morons.)

4022 days ago
My daughter loved the game and the chocolate pizza at Real Man Pizza Company afterwards. For me, it was great to be back at Upton Park. The same seat as ever. A bloke called Roger standing next to me as he always does. I know nothing about Roger except that we always shake hands and he is a nice chap. There were some new folks behind – Ulster Hammers. I am glad my daughter did not ask me to explain why those around us were chanting "She said No" whenever Titus Bramble got the ball.
West Ham conceded a soft goal. On balance we looked the better side and Kevin Nolan's last gasp equaliser was the least we deserved.
The defence frailties continue to concern me. If our back four and goalkeeper keep on insisting on making howlers

4023 days ago
No more writing for me today. Something more important…my first home game of the season at Upton Park. In 150 minutes time my daughter and I shall be belting out "i'm forever blowing bubbles" as the teams walk on the pitch. If you are not a soccer fan you will not understand but that moment always makes the hairs on the back of my neck stand up on end.
No doubt we will be whingeing about Fat Sam before half time "Same old West Ham, always taking the piss". Yup I know it. But we have not been to a game for ages. We always chat about the score after every match. But this is it…off to the Boleyn we go. Then back to Real Man Pizza. Chocolate pizza for her. A drown my sorrows, glass of red for me.
Blogging (plus video + Tomograph) resumes tomorrow.

4028 days ago
Like me Ben Bernanke is always blowing bubbles. It is just that he does not realise that they eventually fade and die. Recorded before today's rather dull nil nil draw at Norwich (only highlight: Nolan not booked) the weekly video is back.
Recorded in the back garden of my father & step mother's house, forgive the relaxed attire. Step mother Helen is very kindly doing a wash.

4030 days ago
I founded t1ps.com in my bedroom 12 years ago. But as of Wednesday my involvement is nil. It is none the less surprising to find the site you founded publishing a vicious and untruthful personal attack on you as happened on Friday.
I do not blame the young men whose names appear on the piece and whose safe hands the site is apparently in. They were still at University just a few years ago and are innocents on a wider stage. I am happy to be judged on what I produce, not claiming credit for others actions or blaming others for failures.
And so I do not propose to comment again on what appears on t1ps.
Despite this one unfortunate misjudgement, as I noted on Wednesday I continue to believe that folk at RSH are very good people and I continue to wish them all well. Let's put things in perspective, West Ham are playing Norwich today. That is really important.

4042 days ago
I realise that my support for Paulo di Canio as the man who should be managing West Ham does not please anyone. There is the win at any cost, we love Fat Sam brigade. And there are those who say that he needs another couple of years of lower league soccer before he can be assessed fairly. Losing 4-1 away at hopeless Preston on Sunday does not help the race for a back on back promotion to the Championship but I still reckon Swindon will go up. And there are those who say that his eccentric political views are unacceptable. So what? Judge the man as a football manager, he is not running for elected office.
The latest chapter in the Paulo tale was his decision to substitute an underperforming goalkeeper just 21 minutes into the game against Preston. The goalie stormed off in a huff. He may even demand to leave Swindon. But Paulo is standing firm demanding that they guy apologises to the whole team for being so useless but more importantly for his reaction to being taken off. Well done di Canio.

4044 days ago
A three nil win was a fair reflection of a game West Ham dominated. But for the failure of the referee to spot a blatant push on Andy Carroll in the 18th minute, Mark Noble could have made it four. And, since this was the early kick off game West Ham are now 4th in the Premiership. It will not last more than a couple of hours but let me enjoy it while I can.

4045 days ago
Andy Carroll on a season loan was a start. Fat Sam has managed to hang onto players where there was interest from other clubs (Carlton Cole and Mark Noble – the two longest serving first team members) and now, at the 11th hour Yossi Benayoun is back on a season loan with Chelski still picking up most of his wages. Well done Fat Sam.
Apparently a number of clubs were interested but Yossi chose to come back to where he started in British football.

4045 days ago
Not a great tie in the 3rd Round of the Capital One Cup. The League Cup to you and me. Wigan at home. It hardly sets the pulse racing. Neither team is going to win the trophy (well it is a long odds bet). Both are far more concerned about avoiding relegation from the Premiership. Wigan are piss poor and surely this will be the season that they go down. But then we say that every season and they always survive. Fingers crossed that this time they are relegated. They add little to the top flight.
The good news is that West Ham can win and so too can my second team, Paulo's Swindon.

4046 days ago
He does not really wish to join the Hammers but bad boy England striker Andy Carroll is to join us on a season loan from Liverpool. If we stay in the Premiership we have the option to buy him. Apparently he will earn £80,000 a week (after tax) which is not a problem – West Ham has just sold Nicky Maynard to Cardiff for £3 million so that will pay the wages until next summer.
So as far as I can see the game plan is now Noble/Nolan lobs it up to try and land it on Carroll's head to score or Noble/Nolan lobs it to Jarvis on the wing to cross it onto Carroll's head to score. Great. Really attractive football.
Supporters say that Carroll may have had a shocking time at Liverpool but he had two blinding seasons at Newcastle before that; that he is more than just a tall bloke who can head the ball and that 20 goals from him

4047 days ago
The West Ham starting line-up last night featured in the backs a guy called Potts. Coming on as substitute was a guy called Moncur. Instantly I think of Steve Potts (Pottsy), the very short West Ham stalwart of 17 seasons and John Moncur (a midfielder who never really fulfilled his potential from the same era – early mid nineties). But it is Daniel Potts (son of Steve) and George Moncur (son of John) who wore the claret and blue last night. Am I really that old?
The match was in the Capital One Cup second round. It took me a while but that is the League Cup to you and me. The opponents were Crew Alexandra from the first division (3rd division in real money). The Capital One Cup has been incredibly devalued as a trophy in recent years. The biggest clubs play scratch teams against weaker sides because this trophy does not really matter and occasionally they do come a cropper. West Ham played a team with lots of youngsters from "The Academy" last night to rest players for the League match against Fulham on Saturday. Given how woeful the "stars" were at the weekend the youngsters could not have been worse and the Irons sailed through 2-0.
Do I really care what the 3rd round draw brings on Thursday? With one caveat, no.

4051 days ago
Away at Swansea was not a must win game for West Ham. The teams we must beat are Wigan, Villa, Reading, Fulham, Norwich, QPR – sides who we hope will finish below us at the end of May. Having said that, West Ham were dire today. Two goals were gifted to Swansea by utter howlers and the less said about them the better. The third Swansea goal was well worked and they could have scored more.
For West Ham there were few reasons to be cheerful. New signing Jarvis looks useful. Vaz Te will score goals this season. And Kevin Nolan was not sent off. That is about it.

4062 days ago
I shall not reveal which CEO of an AIM listed company sent me the following piece from the Sun Newspaper. I am shocked that this fairly cerebral fellow (though he hides it well) is a Sun reader but lets his shareholders also take a dim view, I shall not name him. The gist of the piece is that in terms of the cost of my season ticket at West Ham per home goal scored/home win I will get the worst value in the League. For the best value I should support Man City instead. Hmmmm… It reads:
MANCHESTER City offer fans the best value for money in the Premier League, a study found. Based on performances and season ticket prices, supporters of last year's champions pay just £7.73 per goal and £23.61 for each home win. Hotshot Sergio Aguero scored the last-minute title winner.
West Ham fans face the most costly season. Experts predict each home victory will cost £123.33 and £19.47 per home goal. Liverpool fans pay the most per goal — £30.21 — after a low-scoring season.
The study, by money saving website vouchercodes.co.uk, also worked out which supporters pay the most over a season.
By calculating the cost of a season ticket, shirt, scarf, pie and pint at each home game, Arsenal fans will shell out £1,175 — while for Wigan fans it is just £462. A spokesman said: "Fans need to consider wider cost implications before they commit to following a team."
Ends.
I shall not use vouchercodes.co.uk ( not that I ever have) on principle and I hope no-one else does. You support a team for all sorts of reasons but not because it is cheap or expensive to do so or because you get more home wins/goals per pound spent there. That is not what Sport is about.

4076 days ago
One of the minor matters that I have resented during the past few years has been the idea of dressing to a corporate standard. There are greater issues that have caused me angst but this is an easy one to address going forward. When I started t1ps my attire was T-shirt and shorts/jeans. When the office was in my home I used to work in my underpants. It was a time when life was simple, work was fun in that I did only what I enjoyed (mainly writing) and was – I think – quite good at what I did. And no-one told me what to wear. I remember Algy Cluff being a bit surprised to find me wearing Irish rugby shorts and a T-shirt with some vaguely controversial message across the front, but most CEOs judge you on your work, not on what you wear.
Gradually, the pressures increased to smarten up. I found a review of a talk I gave a long time ago where I was lambasted for wearing a crumpled shirt. Heck did the reviewer know that was an upgrade? Looking back I can see some inverse sort of correlation between freedom to wear what I want & to write what I wanted and my move to do other things and an increasing sense of frustration and unhappiness. However that was suppressed at the time. Maybe weight gain was a symptom of that.
And so, going forward, whatever I do it has to be on the condition that I will be looking rather casual as I do it. I guess that rules out a career at Morgan Stanley. Drat. But my lifetime love affair with the T-shirt can once again come out of the closet.

4094 days ago
There are two big soccer stories today both of which make me fall a bit more out of love with a game that is now anything but beautiful. I start in Scotland with Rangers FC who have gone bust and have now been voted into the Scottish 3rd Division. This means three things. Firstly, Celtic will win everything for half a decade because (apart from the brief Fergie driven glory years of Aberdeen) Scotland has only got two decent teams. Secondly, tiny Scottish clubs will get a cash windfall for a few seasons when Rangers come to play them. And thirdly within a decade we will be back to the normal duopoly.
Who cares? Scottish club football has not got enough money. I know Celtic were the first British side to with the European Cup ( 1967) but for two decades Scottish League football has been a third rate affair. We used to joke about how Scottish goalkeepers were all useless. You can make the same joke about the other 10 players in any given Scottish team these days.

4115 days ago
A personal note follows at the end. West Ham supporters will understand the reference to Paul Ince, a man who is – unfairly in my view – known by Lucian and his pals as Judas. I digress. I have today signed two contracts with the UK's largest website ADVFN. This does not mean that my relationship with t1ps.com changes.

4119 days ago
Judas, Judas go out the cries every time Paul Ince shows his face at Upton Park. Those photos in a Man United shirt ahead of his transfer in the dim and distant past have made him a hate figure at the club for whom he signed at 12 and where he enjoyed a heroic career. Ince was a lifelong West Ham supporter and other photos seem to have emerged showing him drinking from a West Ham mug years after he left the club. It seems as if, despite it all, he has a soft spot in his heart for the club and that "that photo" was a youthful error and the fault of his grubby agent. I can believe it – soccer agents are lowlife and most football players are borderline thick/naive.

4123 days ago
I have rather given up on radio when driving. The adverts on Absolute (and the inane DJs) drive me absolutely mad. The non-stop plugging of the Absolute brand is infuriating. I got the message the 94th time (which is normally after about 45 minutes of listening). The station promises no repeats of the songs it plays. That is not hard if you only play 5 songs an hour with the rest of the time being oft repeated adverts, usually for the station you are already listening to. Moreover, since at least one of those five songs will be a deathly dull offering from Coldplay, I have given up on the station. And so the drive up to Heysham last night was a CD drive with, as the main course Blondie, whose lead singer, as all men my age know, was Debbie Harry.

4125 days ago
Heaven knows why I find myself reading Carlton Cole's twitter feed. Okay the guy is a legend and a loyal West Ham servant but… I must be bored. But a few things strike me as odd. The first is his language. Carlton is a good striker but he is not that articulate. Would he really use the word conundrum in a tweet? What about protracted? Encapsulating? Secondly all his tweets seem to redirect you to a website on Facebook which is a commercial enterprise. And thirdly he appears to have tweeted during the playoff final against Blackpool at Wembley when I distinctly remember he was on the pitch and cannot remember him finding time to tweet before he scored our first goal. I am sure this is no conundrum but that there is a perfectly rational explanation.

4135 days ago
Historically England prepares for a big tournament thus: Appoint a new national saviour as manager on a multi year telephone number contract. Talk up the Premiership prima donnas as being the heirs to Hurst, Peters and Moore. The nation expects. Go to the tournament and play atrociously but scrape through to a knock out stage and lose on penalties as soon as possible.